D-I girls semifinals
Top seeds to meet as Naples, Stuttgart advance
---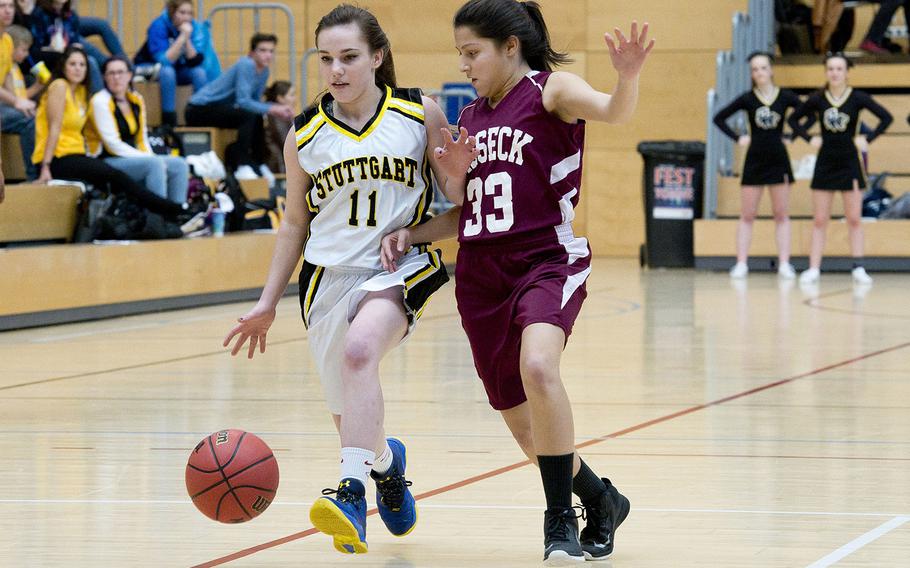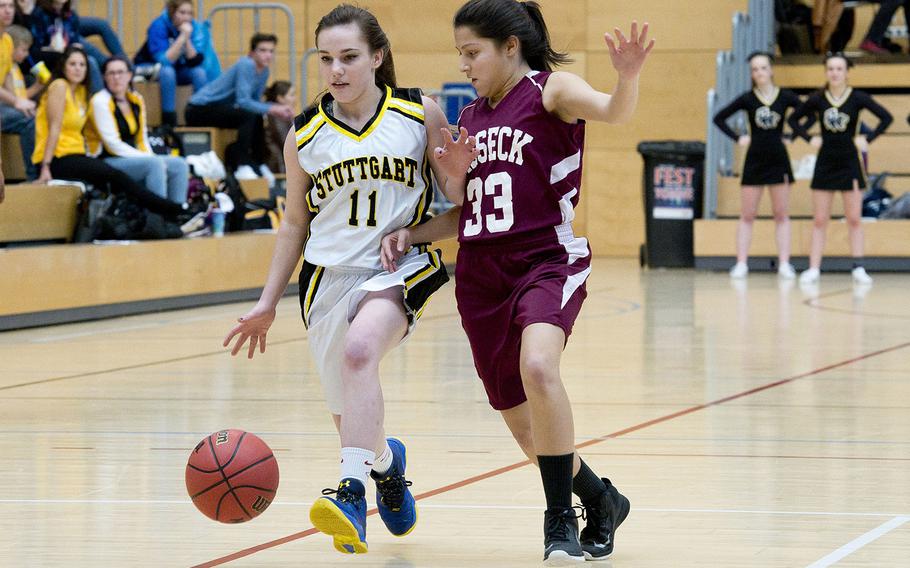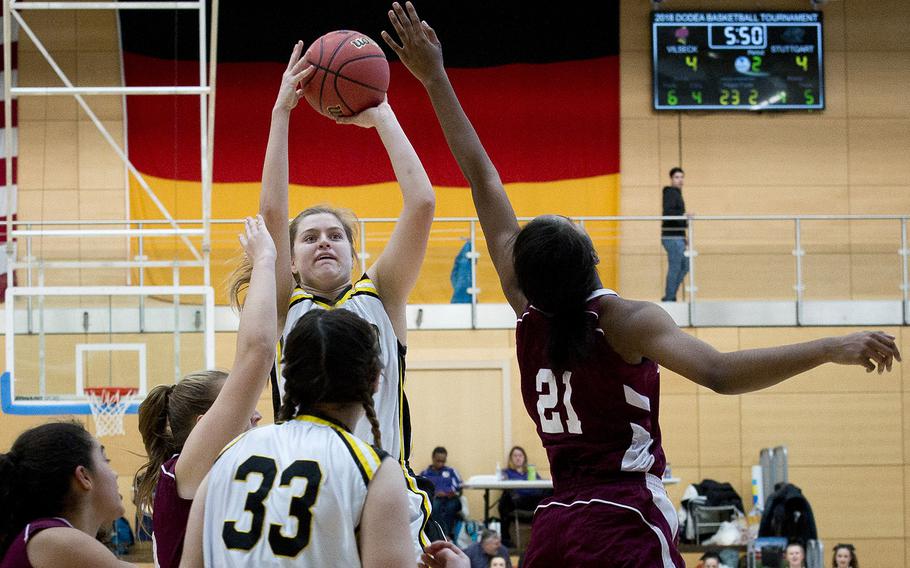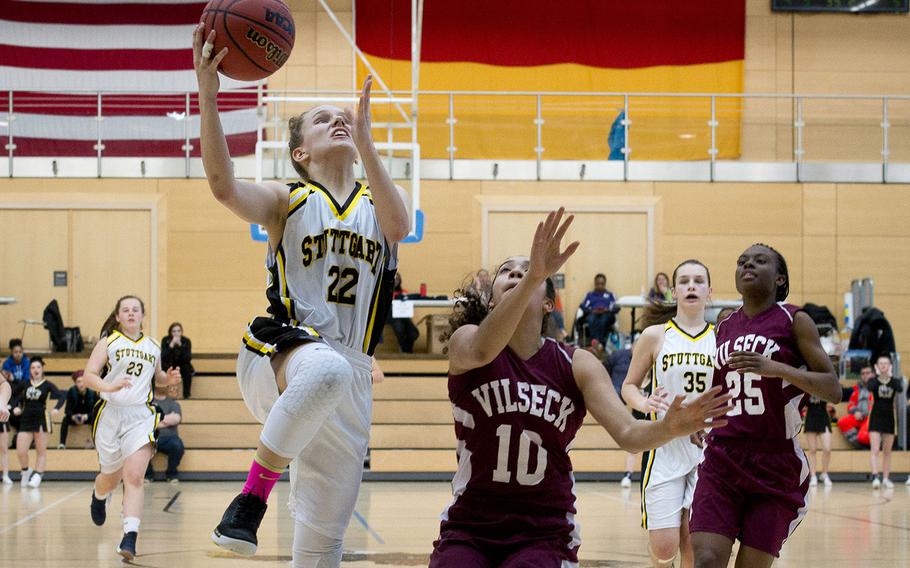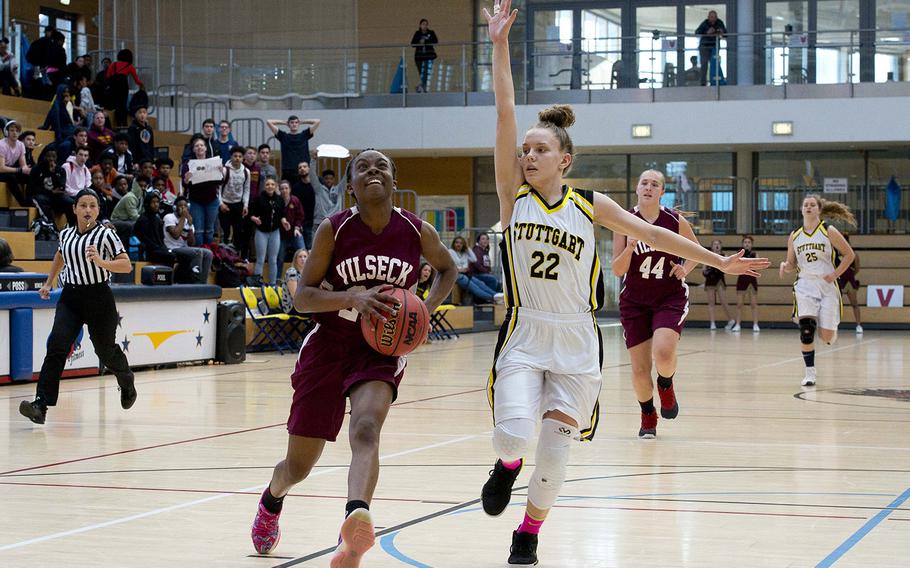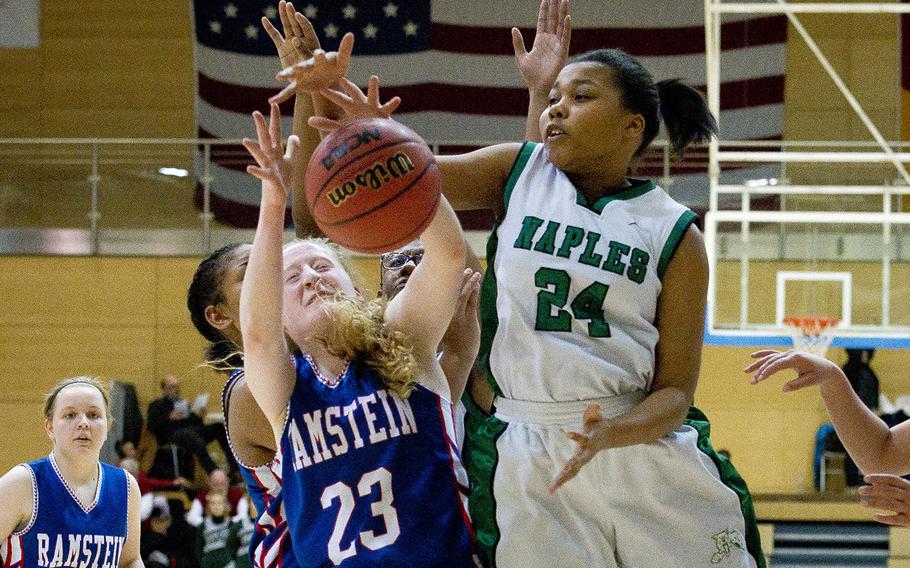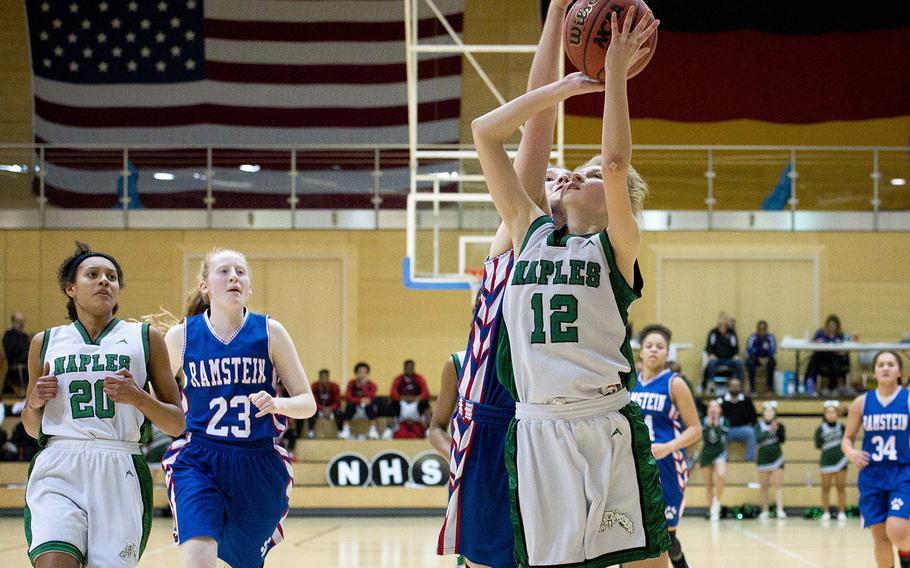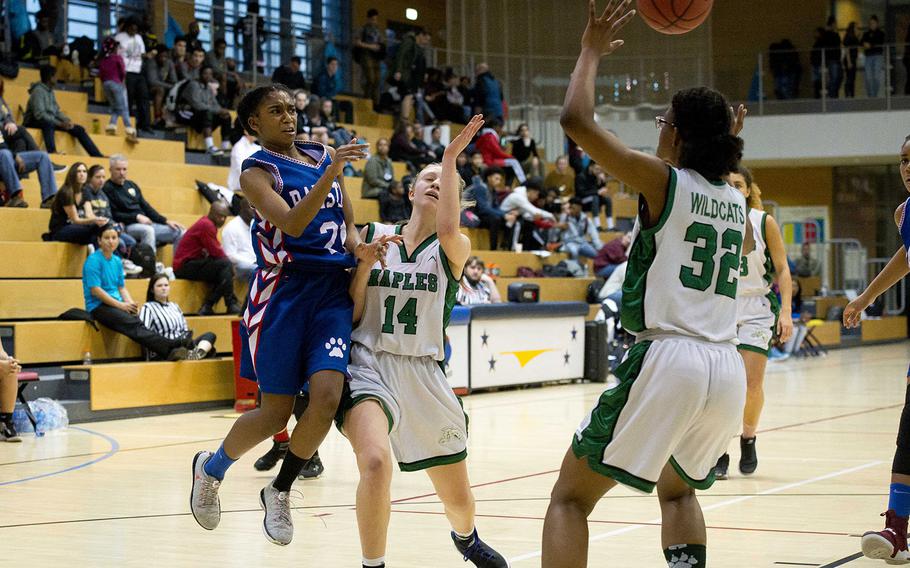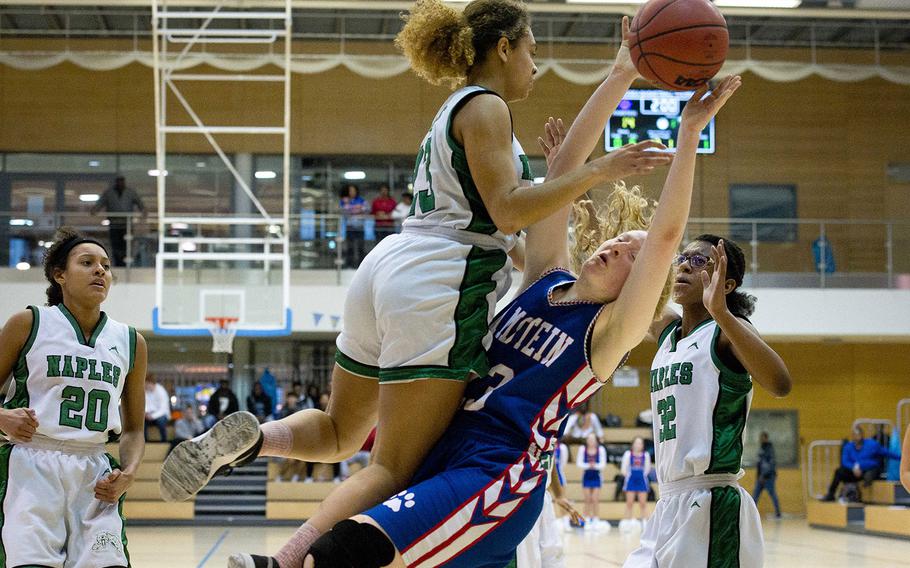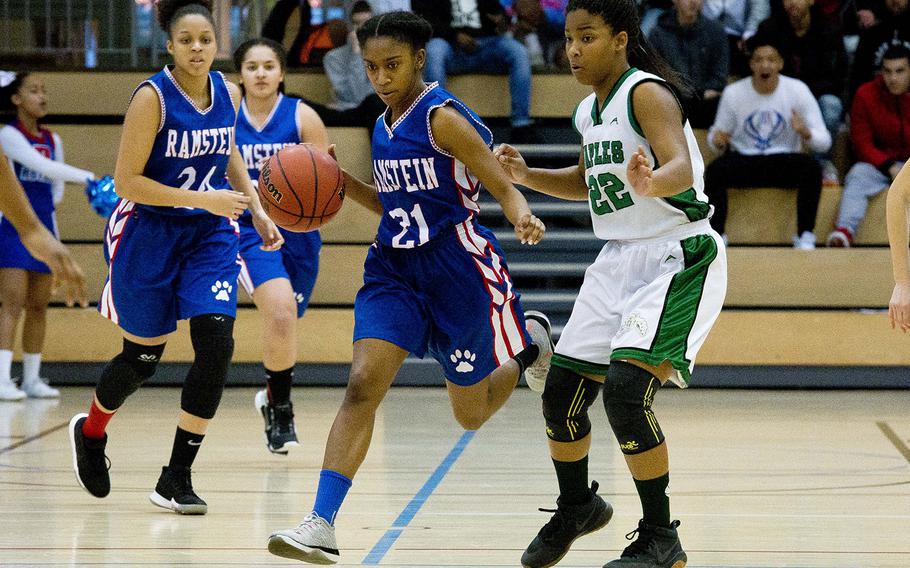 WIESBADEN, Germany – The top two seeds in the 2017-18 DODEA-Europe Division I girls basketball touranment will play for the championship Saturday.
But the process wasn't nearly as neat as that tidy outcome suggests. The top-seeded Naples Wildcats completed a dramatic comeback to knock off the Ramstein Royals 39-31 in one semifinal, while the defending Stuttgart Panthers survived the Vilseck Falcons' upset bid by a 25-21 margin.
While Stuttgart attempts a championship repeat, Naples is a win away from its first-ever Division I girls basketball championship.
Stuttgart 25, Vilseck 21: Point guard Adan Maher sank four free throws in the final minute as the Panthers survived the upset-minded Falcons.
Maher said she was "kind of prepared" for the high-pressure situation in which she found herself Friday. And she proved it with clean makes on all four of the crucial attempts.
"Never take anything too lightly," the Stuttgart junior said. "I took a deep breath and let it go."
Maher's shots held off a persistent Falcon squad that refused to accept defeat, even from the higher-seeded defending champs. Tynniesia Wilson made two jumpers to force the issue, dueling her Panther counterpart Maher in a final flurry of offense to redeem a sluggish, low-scoring game.
But Wilson's late shots weren't enough for an off-target Vilseck offense that couldn't produce enough to take advantage of Stuttgart's own errant shooting.
"It's a make or miss game," Falcons coach Adrian Crawford said. "They made a couple more than we did and we lost."
The Panthers responded to their offensive issues, ironically, on the opposite side of the court.
"If we can keep up our defense, our offense is going to come," Stuttgart coach Robin Hess said. "And that's what happened."
Though it fell short of its goal, fifth-seeded Vilseck carried over its strong finish to the regular season with a solid tournament showing. The Falcons finished tied with Naples and Kaiserslautern at the end of pool play, claiming one of the two semifinal berths largely on the strength of their 24-13 defeat of Kaiserslautern on Wednesday. Vilseck showed further resilience Friday, absorbing a 10-0 Stuttgart surge in the first half and staying close until the end.
Wilson finished with a game-high 13 points for the Falcons, while fellow junior Tedeja Marshall was effective on the glass and defensively despite her offensive struggles. Crawford expects the experience of an elimination game to benefit his developing program.
"Having the moment of them getting the opportunity to play here is good for them," Crawford said.
Stuttgart, meanwhile, is in the midst of its own growing process. This Panthers season hasn't gone as smoothly as last year's undefeated campaign, with regular-season losses to Ramstein and Naples forcing them from the top seed and into the tougher of the two Division I tournament pools. But they cruised through pool play and are now in position to end 2017-18 with the same result as 2016-17.
From Stuttgart's perspective, the success it's enjoyed this year is perhaps more rewarding than the outright dominance that defined last year's title run.
"It's a completely different chemistry than last year," Maher said. "I think you learn to appreciate it when you struggle through it."
Naples 39, Ramstein 31: The Wildcats overcame a substantial early deficit to earn their first trip to the Division I championship game.
Ramstein raced out to a 14-2 lead to open the game, but its offense evaporated after that hot start. Naples coach Tim Smith said the Wildcats "started out a little cold, a little nervous," but the team's switch from an ineffective zone defense to a sturdier man-to-man variety corrected the disastrous start. The results proved the wisdom of that decision, as Ramstein scored just 17 points in the three-plus quarters that followed its early push.
With its defense stabilized and its confidence largely intact, Naples undertook its next arduous task: producing enough points to close the substantial gap on the scoreboard. After pulling within a manageable eight points by halftime, the Wildcats launched an irresistible rally in the second half.
A three-pointer by freshman point guard Roxanne Sasse cut the Royal lead to three and triggered a Ramstein timeout midway through the third, and a putback by Jada Williamson cut the lead to one with two minutes remaining in the quarter. Mia Rawlins chased down a loose ball and shoveled a precise pass to a cutting Isabelle Flores to tie the score on the first play of the final quarter, and Flores knocked down a midrange jumper to finally give the Wildcats a long-sought lead. Naples made sufficient free throws down the stretch to seal the win.
"If you make baskets, you've got a shot," Smith said.
Sasse led seven Naples scorers with nine points, while Flores and Rawlins added seven apiece. Victoria Sasse made three fourth-quarter free throws to prevent a late Ramstein comeback.
Ramstein's Adelina Bonilla scored eight of her game-high 10 points in the Royals' first-quarter outburst, including a pair of three-pointers that necessitated Naples' game-changing adjustment.
The win continues a breakout season for Naples, a former Division II mainstay making its deepest Division I run since its promotion in 2015.
The Wildcats rebounded from a Wednesday preliminary loss to Kaiserslautern with a key Thursday win over Vilseck and claimed the pool's top semifinal spot via three-way tiebreaker math, setting up their clash with perennial contender Ramstein.
Despite its regular-season accolades, that kind of gauntlet is exactly what the Wildcats expected to find in Wiesbaden.
"It wasn't going to be easy," Roxanne Sasse said. "We had to push ourselves."
The title game will be a rematch of a close Dec. 9 regular-season meeting between the two schools, which Naples won 39-35 on a neutral court at Vicenza.
Twitter: @broomestripes
---
---
---
---