Division II girls
Top seeds survive jitters, rugged play
---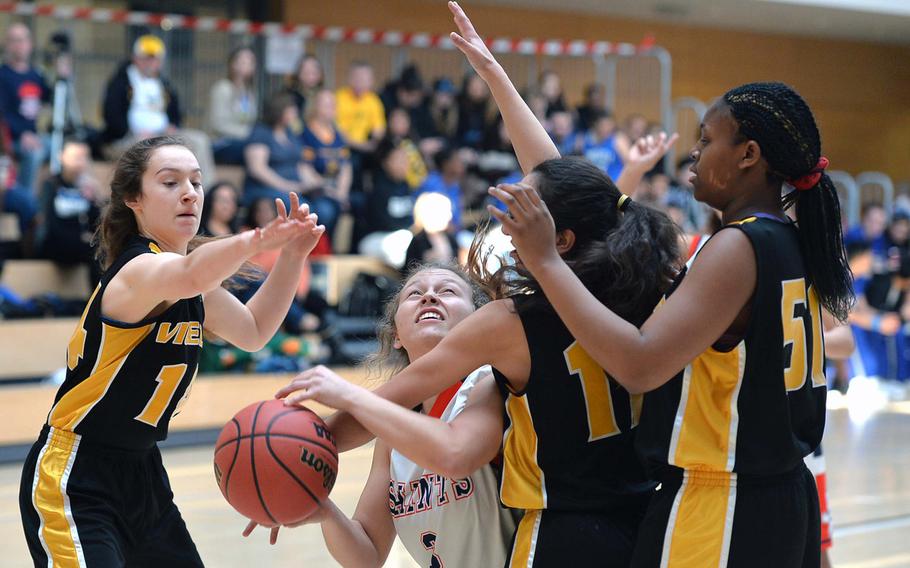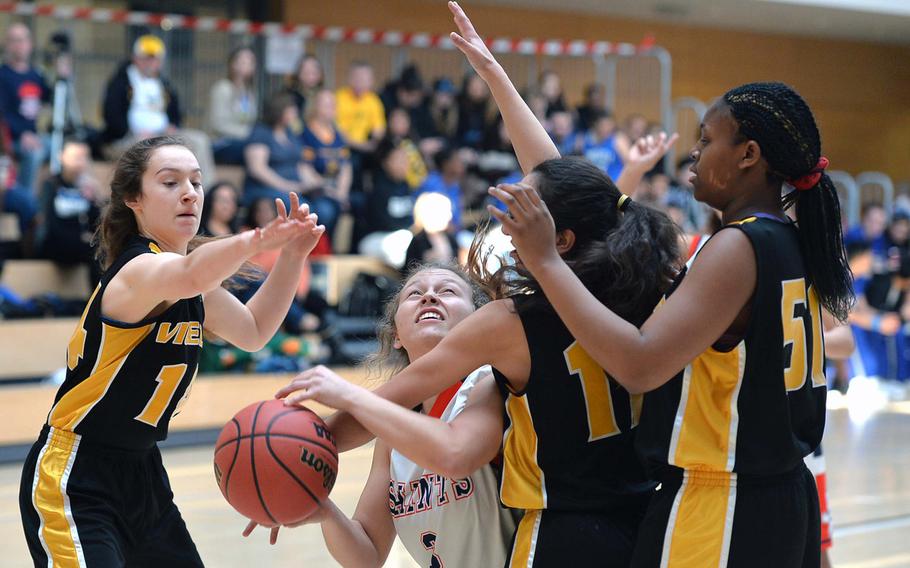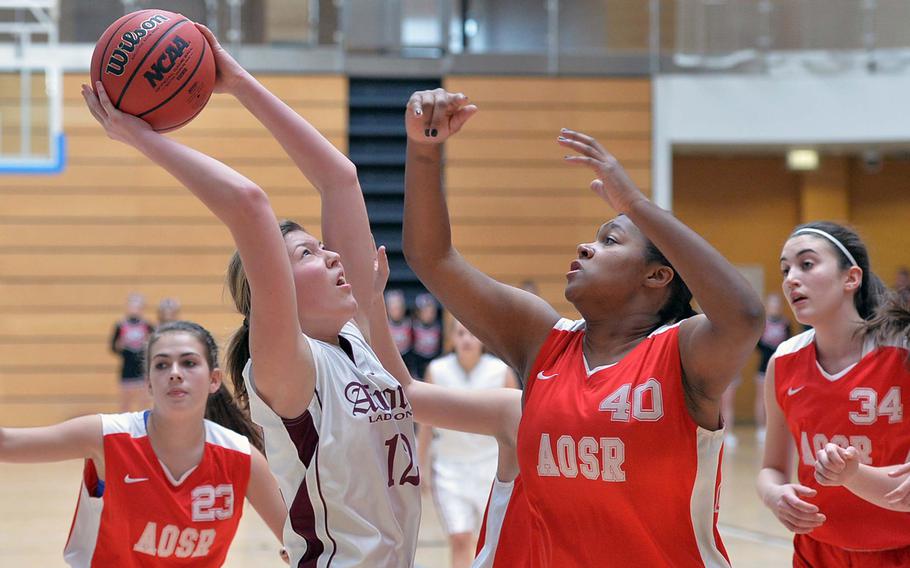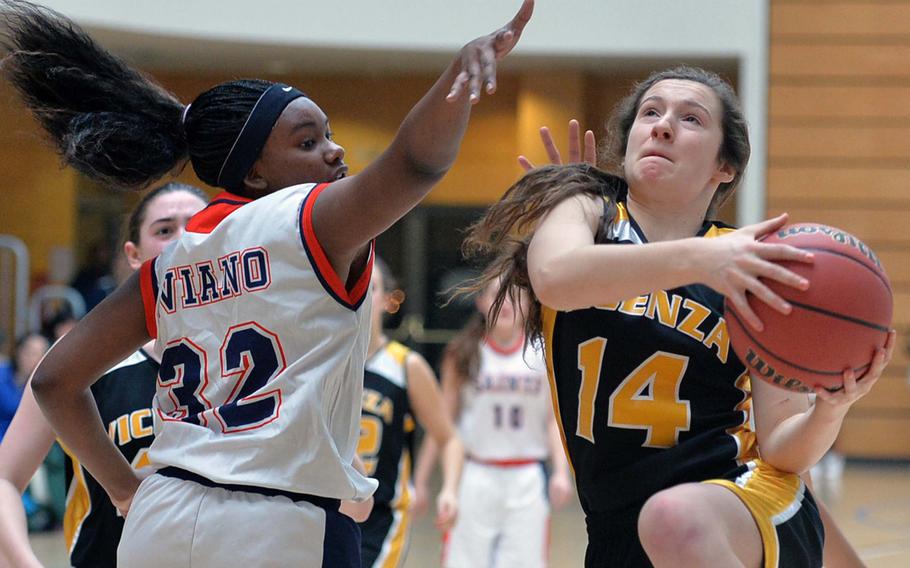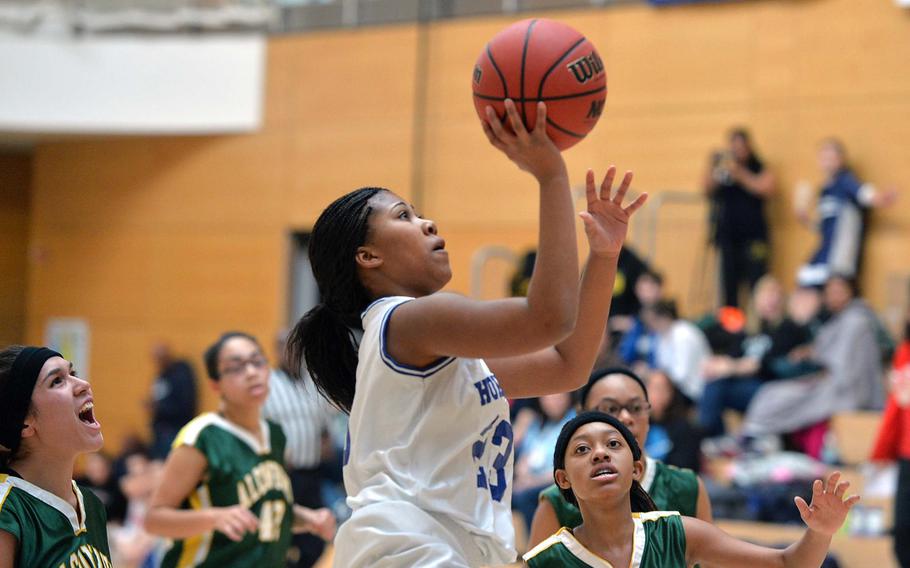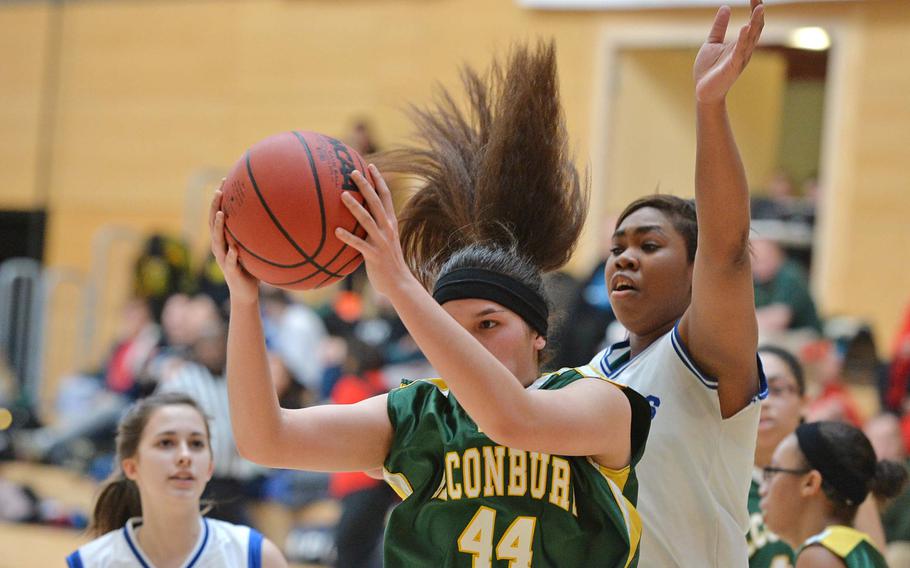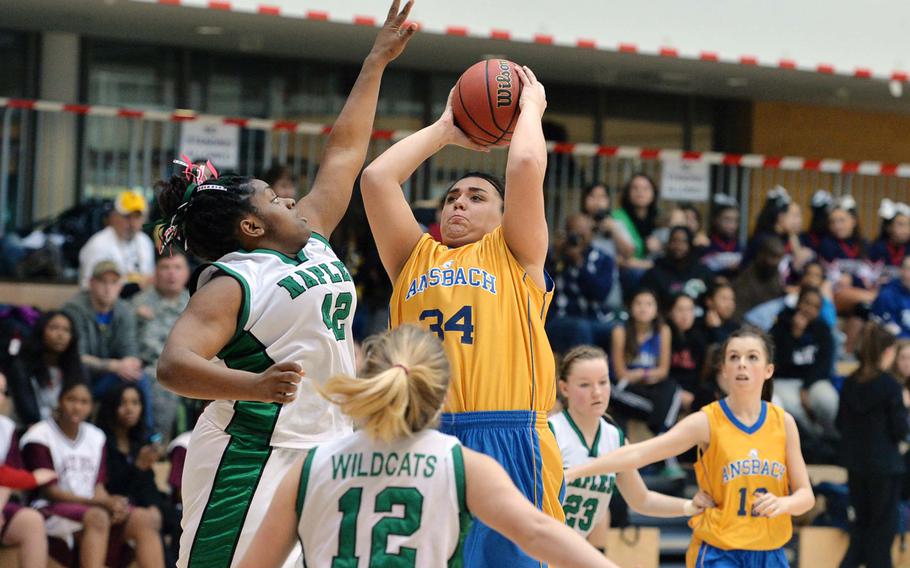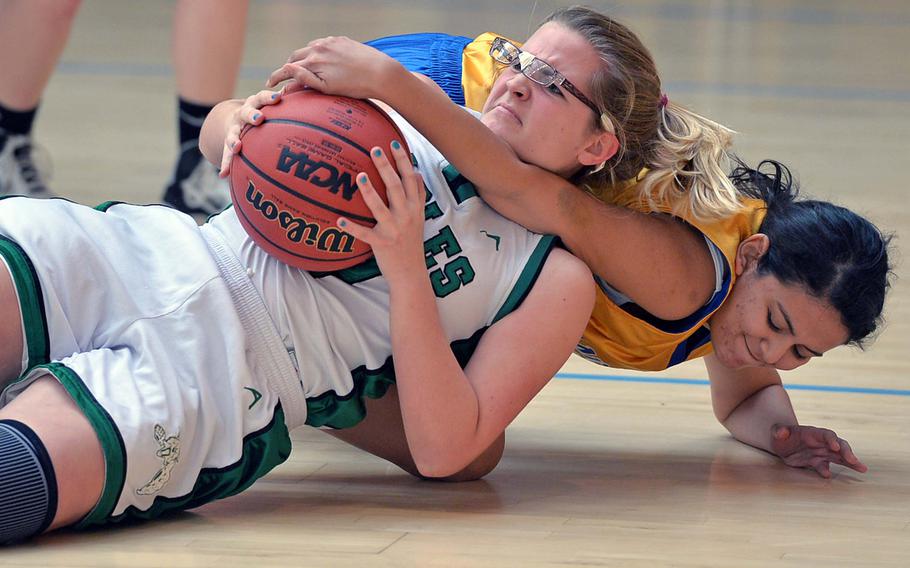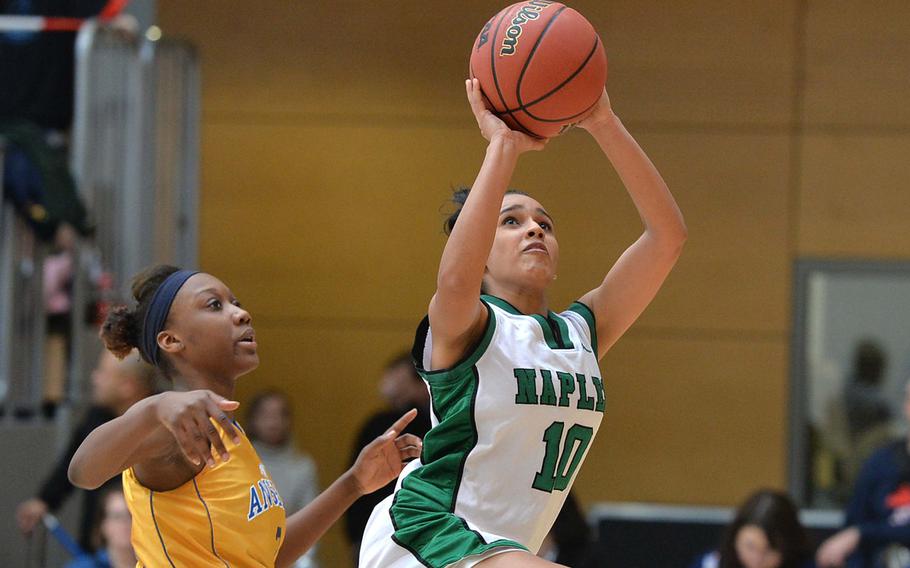 WIESBADEN, Germany – Top-seeded Naples fended off scrappy, No. 8 Bitburg and second-seeded Aviano barely squeaked out a victory against No. 10 Vicenza Wednesday, the first day of the Division II girls tournament in the DODDS European Basketball Championships.
Sixteen teams played two games in the first round of pool play. All teams play again on Thursday. The tournament ends Saturday when the finals are held.
While there were a few close contests, most games on Wednesday ended in lopsided victories.
And while there were no significant upsets, defending champion Bitburg put the rest of the field on notice when it almost toppled undefeated Naples in the day's last game.
"Hopefully tonight was a pretty awesome statement," said Bitburg coach Chris Howard, following the Barons' 18-16 loss to Naples. "It's a long season. We're beginning to gel and put ourselves in a position to play on Saturday."
Naples coach Amie Pennartz said she wasn't sure what happened to her team.
"I've got to go and find out what's going on," she said, as she headed to the locker room. She summed it up this way: "A lot of missed shots, missed opportunities with rebounds; a lot of turnovers and bad passes. A lot of things we have to work on."
But it was a win nonetheless for the Wildcats, making them one of four teams to notch two victories on Wednesday. The others were Black Forest Academy, Aviano, and Hohenfels, all top-five seeds.
Other highlights included:
Aviano 23, Vicenza 21: After losing to Aviano by 20 points in its last regular-season meeting, Vicenza almost pulled off the upset of the day, this time only losing by a bucket to the tourney's second seed.
The Cougars used a stifling defense in the first half to keep the Saints off balance, at one point building a 10-3 lead deep into the second quarter.
But early into the second half, fouls began derailing Vicenza's momentum; Aviano earned five of its seven points on free throws to take the lead 12-10 at the end of the third quarter.
Aviano stretched its lead to 17-12 with 3:49 left to play on a basket by junior guard Victoria Vigil and three free throws by senior Sadie Hellwig.
But just like that, Vicenza was back in the game, after junior Kianna Grant scored and sophomore Emma Knapp, on a subsequent possession, dribbled the ball full court, found the net, and drew a foul, making it 17-16.
Knapp missed the free throw. But she drew another foul and this time, she landed two perfect free throws, putting Vicenza up 18-17 with 2:07 left in the game.
But fouls came back to haunt Vicenza again. Seconds later, Aviano's Vigil answered with two free throws and Aviano was up 19-18.
Knapp evened the score again with another free throw but then Vicenza made several costly mistakes, including throwing the ball out of bounds and turning the ball over to Aviano's Jasmyne Hinkamp, who scored to put Aviano ahead, 21-19 with 1:13 remaining.
Vicenza's last basket was a layup by senior Sarah Weston. Aviano scored its final points on free throws, with junior Jasmyn Green going 2-2 at the line with 24 seconds left, lifting Aviano to a 23-21 lead. Vicenza couldn't answer, turning the ball over with two seconds left.
Aviano coach Laura Corder took the win – but gave all the credit to the Cougars.
"Vicenza really took us out of our game," she said. "We beat them by 20 before. This was not normal. We didn't come ready to play. They really did."
Vicenza coach John Kohut said his team changed up its defense and worked hard to reduce its turnovers against Aviano, dropping from an average of 38 to about 10.
"We had them. It was right there," he said.
Hohenfels 31, Alconbury 19: The third-seeded Tigers rebounded from a sluggish first half to earn a decisive victory against No. 11 Alconbury.
The young Dragons, a team with only one senior, were poised within striking distance of Hohenfels, 12-7, at halftime.
But the Tigers soon took control of the game, jumping out to a 20-7 advantage less than halfway into the third quarter after a succession of baskets, including a three-pointer by junior guard Shelby Atkinson.
The Dragons, led by the scrappy play of sophomore Jiya Green, who scored six of her team's final eight points, never let up and outscored Hohenfels in the fourth quarter. It was a last gasp effort that fell short, however.
Tigers coach Shawn Rodman attributed the low-scoring first half to jitters, on both sides. "We didn't shoot the ball that well," he said. But "a win's a win."
For Hohenfels, senior center Breann Gotel had 11 points and 11 rebounds, while senior small forward Kirsten Atkinson had five steals.
Naples 36, Ansbach 21: Naples earlier in the day had a tough game against ninth-seeded Ansbach. Players were often on the floor, tangling for possession of the ball, in a physical game that featured two powerful seniors on each side of the court, Ansbach's Alyssa Solis and Naples' Shanice Alexander.
It was Naples' first game this year against Ansbach, since its schedule is limited to teams in its region.
Pennartz said she knew the game would be physical and tried to prepare her players for the test. "We had a really rough first half," she said.
The Cougars played elbow-to-elbow with Naples in the first two quarters, clawing to within one, 15-14, at halftime. But the Wildcats regrouped during the halftime break and countered Ansbach's physical play.
Despite continuing to play tough, the Cougars only put up seven more points the rest of the way, unable to capitalize on turnovers and find the net.
Naples, meanwhile, strung together its best scoring run in the third quarter, outpacing the Cougars 13-5 to take a 28-19 lead going into the fourth quarter.
Ansbach coach Desma Colburn said she was encouraged to see the Cougars play Naples so well in the first half.
"We held it. The first half was fantastic," she said. "We came out really strong and kind of caught them off guard."
The Wildcats played better in the second half – "very clean, very sharp basketball," Colburn said.
Black Forest Academy 27, AFNORTH 12: It was the tale of two halves when the fourth-seeded Lions took on No. 5 seed Black Forest Academy.
At halftime, with the Falcons up by only one, 11-10, both teams were in the mix. But the Lions went on to score only one more bucket, unable to counter Black Forest's dominating defense.
The Falcons' defense didn't start out that way.
"They started out a little flat," said BFA coach Luke Wellbourne. "I called a time out and we decided we weren't going to play timid, that we were going to be more aggressive. They made the appropriate adjustments, it was great."
AFNORTH coach D.C. McDonald agreed that the Falcons "ran their defense perfectly. We had an answer for them; we just didn't execute."
McDonald said his players were frustrated by what the Lions perceived as fouls by the Falcons that weren't called.
"Let me just say this: There were a lot of things that weren't called that should have been called."
Leading scorers in the game were the Falcons' post players, senior Abby Eucker and junior Emily Campbell. Eucker had 11 points and 11 rebounds, and Campbell had six points, 10 rebounds and seven steals.
---
---
---
---