Cross country preview
Top runners will determine champions on Baumholder course
by
Gregory Broome
October 25, 2018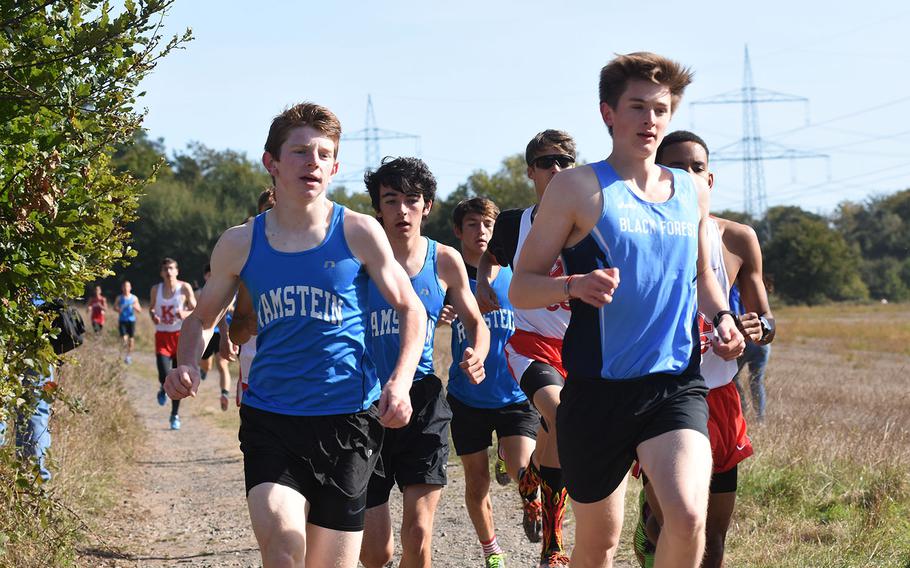 The field of DODEA-Europe cross country runners can be a difficult one to handicap. But that task gets a lot simpler Saturday.
Times are of questionable reliability in the regular season. Some runners blaze through flat courses while others struggle uphill, skewing the resulting times of each group. Varying weather conditions, particularly across a swath of land as vast as Europe, and quality of each meet's competition can profoundly affect results. Finally, coaches and runners bring different strategies and levels of urgency to each stage of the season.
All of those caveats are rendered obsolete on Saturday, when all of DODEA-Europe's best runners converge on Rolling Hills Golf Course in Baumholder, Germany, for the 2018 European championship meet. With everyone on the same course, under the same conditions, and with the starkest of motivations, there's nothing left but to win.
BoysA deep pool of potential champions will vie for the individual title here while three of Europe's biggest programs battle for Division I team honors.
Ramstein's Dashiel Rogers, Kaiserslautern's Joseph Purvis, Stuttgart's Landon McMinimy, Wiesbaden's Roberto Eiseman and Naples' Daniel Aleksandersen are all threats to unseat reigning champion Mac Roberts of Black Forest Academy for the individual title. Roberts was sidelined for the final meet of the regular season but is a go for Saturday, BFA athletic director Sam Stemple confirmed this week.
Defending Division I champion Ramstein and challengers Kaiserslautern and Stuttgart will stage an equally interesting competition for the large-school team crown. Each team has enjoyed victory this fall, including a narrow Kaiserslautern triumph when the three teams shared a meet Sept. 22. But the margin is so small that an uncharacteristically strong or weak performance from any member of those schools' top fives could swing the championship.
Division II Black Forest and Division III Hohenfels will look to defend their 2017 team titles.
GirlsThe exit of dynastic champion Kayla Smith of St. John's left the girls championship vacant, but there's a good chance it's headed back to Smith's alma mater.
Abby Michalec, a close runner-up to teammate Smith a year ago, produced not only the best returning finish from 2017 but the best time of the 2018 regular season at 18 minutes, 58 seconds.
Among Michalec's primary pursuers are Stuttgart's McKinley Fielding, SHAPE's Holly Moser, Kaiserslautern's Chloe Martin, Frankfurt's Grace Welti and BFA's Bianca Liberti.
Stuttgart is the heavy favorite to repeat as Division I team champion, having finished first in all of its regular-season meets this fall. St. John's and Hohenfels will look to extend their respective Division II and III reigns.
Twitter: @broomestripes