Boys soccer preview
Time for new blood atop Europe divisions?
by
Gregory Broome
March 12, 2015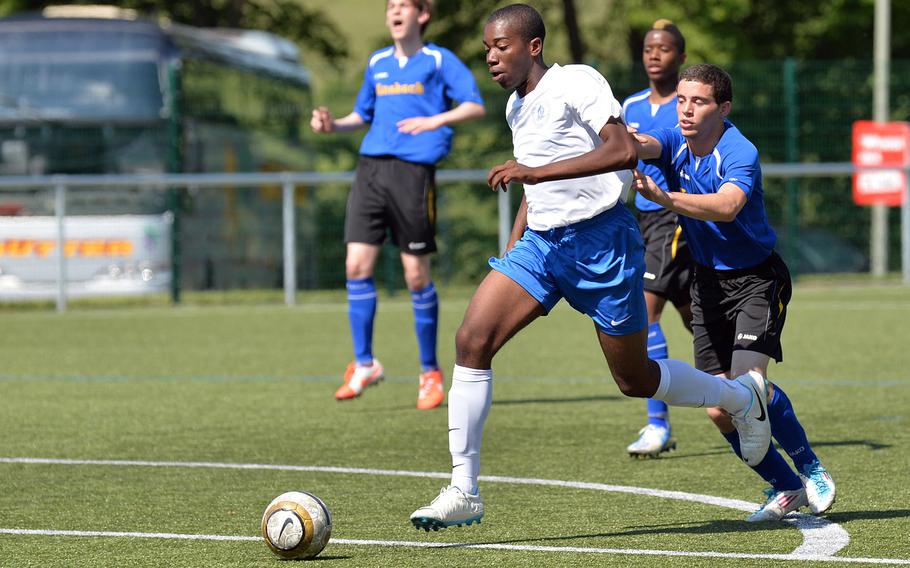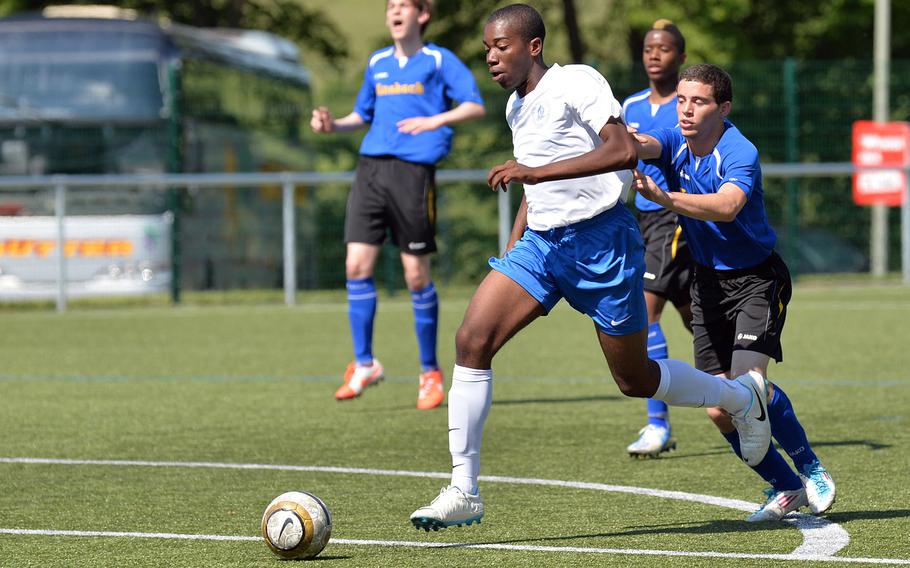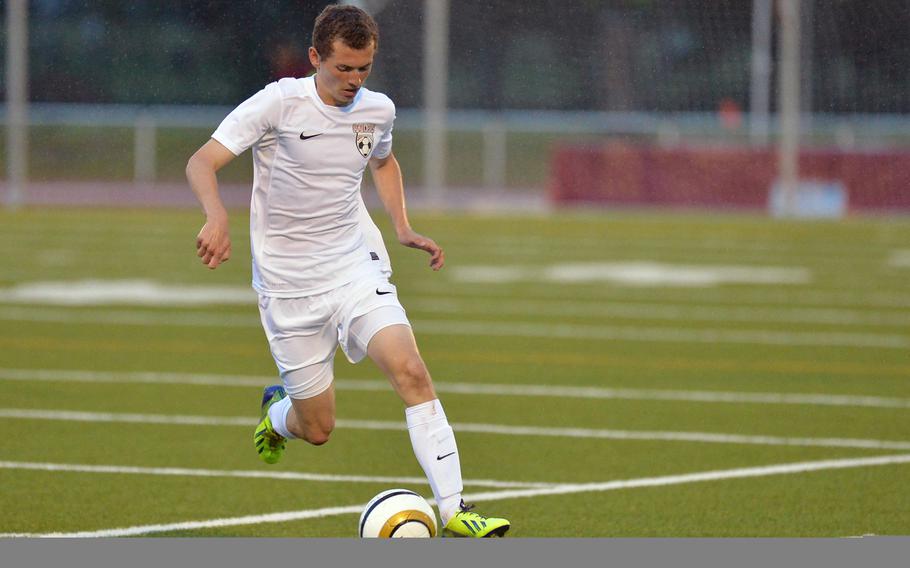 Three defending European champions will look to keep their cleats planted in the shifting ground of the DODDS-Europe boys soccer pitch this spring.
Offseason roster turnover has left Division I winner Ramstein, Division II champion Marymount and Division III titlist Sigonella in various states of readiness for the rigors of a title defense, while realignment has dramatically shuffled the field of contenders in play for each divisional crown.
Here's a look at the new structure of DODDS-Europe boys soccer on the eve of Saturday's five-game season-opening slate.
Division ILast year, the Ramstein Royals rode a senior-heavy team of stars to a Division I championship. This year, that bill comes due.
Graduation poached 12 players from the 2014 Ramstein roster and PCS moves claimed two more.
Senior Dillon Thompson is left as the elder statesman of a team featuring 12 freshmen or sophomores on its 18-man squad.
Ramstein's challenge is an opportunity for the rest of the large-school field.
Former Heidelberg coach Enrique John takes over as head coach of Kaiserslautern after serving as a Raider assistant last year and helping the school to a surprise berth in the Division I championship game. While Kaiserslautern's depth was dinged in the offseason, the team returns much of its core, including senior Sean Dunbar and junior Ryan Rimmler in the midfield.
Lurking, as always, is International School of Brussels. While on the fringes in most other DODDS-Europe sports, the Raiders won two straight Division I European championships in 2012 and 2013 before entering a rebuilding phase last season. That project might produce results this spring, however, as the Raiders welcome back nine varsity contributors, and ISB will see where it stands early with an unusual regular-season trip to play Ramstein and Kaiserslautern on consecutive days in late March.
The filled-out 10-team bracket should produce plenty of other contenders.
Division I mainstays Patch and Lakenheath will look to build on last year's strong tournament runs.
Wiesbaden's squad is young overall but has crucial midfield experience in senior Brent Blummert and junior Eric Arnold. Vilseck ranks as a potential upstart with 10 varsity players, including All-Europe midfielder Pierre Elysee, back from last year's solid entry and an intriguing influx of six underclassmen.
While Division II call-ups Naples and Vicenza have made Division I noise in various sports this school year, SHAPE has struggled to gain traction at the higher level. But the Spartans could leave their mark in boys soccer. SHAPE has 10 players back from a squad that finished third in Division II and is eying to repeat or improve on that run among a new group of opponents.
Naples has the potential to be equally disruptive. First-team All-European Davide DiCostanzo and fellow forward Miguel De Frutos headline an explosive Wildcat offense that should prove problematic even at the Division I level.
Division IIRealignment might serve to strengthen Marymount's grip on the Division II boys. The Royals have won four straight Division II crowns and have 13 varsity players, including All-Europe junior Lotanna Mba, back to attempt to extend that streak. The odds are in Marymount's favor, as Division II is the only of the three divisions to emerge from realignment with a thinner field of potential champions.
But that doesn't mean competition doesn't exist. Much of it comes from within Italy in familiar rivals American Overseas School of Rome and Aviano. The Royals will face both teams in the regular season, visiting Aviano on March 28 and hosting AOSR on May 2.
Last year's runner-up, AFNORTH, might again emerge as the field's top threat to Marymount's streak. Senior midfielder Claudius Karich headlines a group of six returning starters poised to push the Royals at least as hard as they did last spring.
Meanwhile, German-based programs Ansbach, Bitburg, Black Forest Academy and Hohenfels will look to launch deeper postseason runs through the streamlined bracket. Bitburg might be the best candidate for a breakout squad from among the group; the Barons return seven varsity players from a team that beat Vicenza and tied AFNORTH on the first day of last year's tournament before falling to Bahrain in a shootout.
Bahrain and Rota, finally, fill out a 10-team bracket that appears as perilous as ever even after the exit of three of its former powers.
Division IIIAs is often the case in DODDS-Europe's small-school division, the stage has been arranged for an evenly-matched championship race among several long-distance contenders who won't see each other until the tournament.
Start with Sigonella, the reigning European champion. The offseason claimed a healthy chunk of last season's core, but All-Europe senior Thomas Wray is back to headline a group of five returning starters and several intriguing new recruits.
Runner-up Brussels is in a similar predicament; incumbent seniors Hayden Pfefferkorn, James Cline and Michael DeFazio will take the lead on an otherwise inexperienced team.
New/old entries Alconbury and Baumholder have the potential to supplant one or both of last year's title-game participants, while incumbent contenders Florence and Menwith Hill should remain squarely in the mix and Incirlik and Ankara will swoop into Germany for the tournament with unfamiliar squads.
Twitter: @broomestripes