Europe DIII soccer
Tight games highlight small-school play
---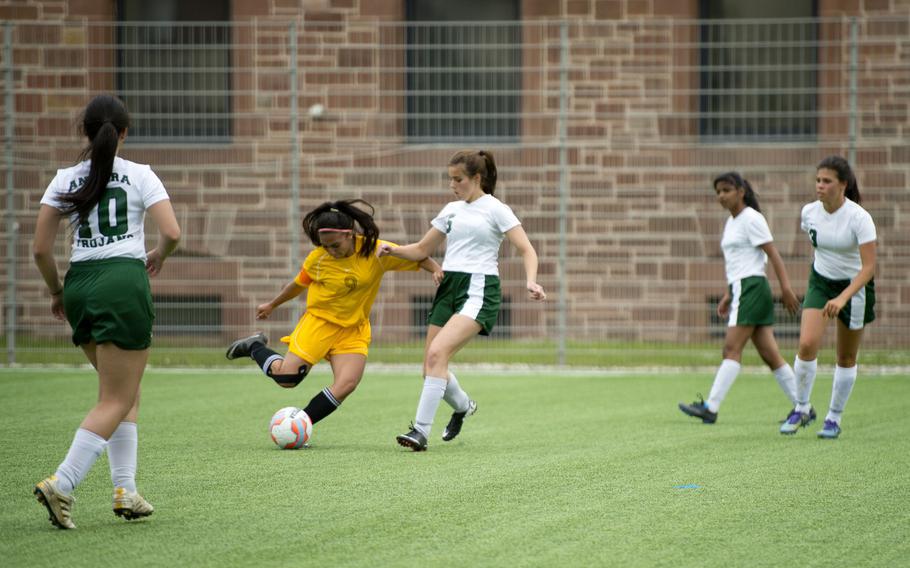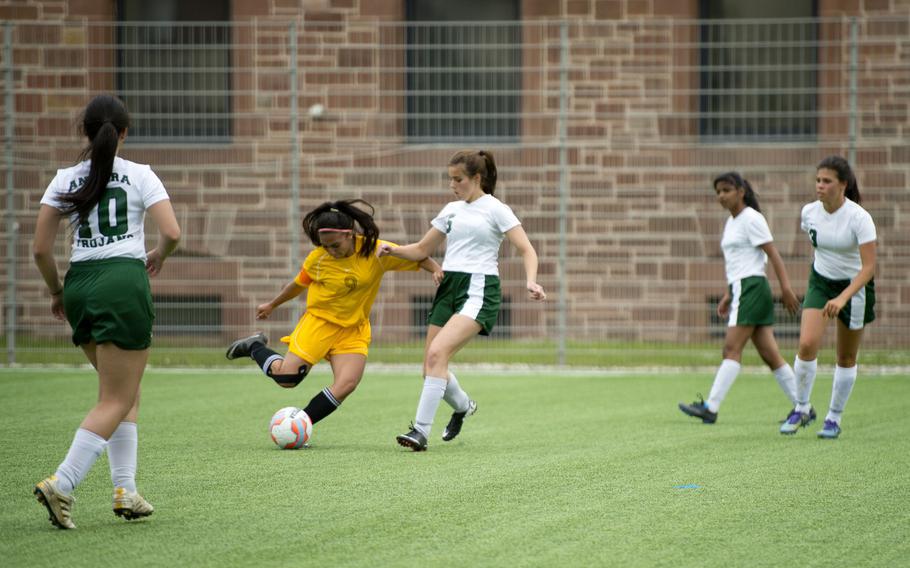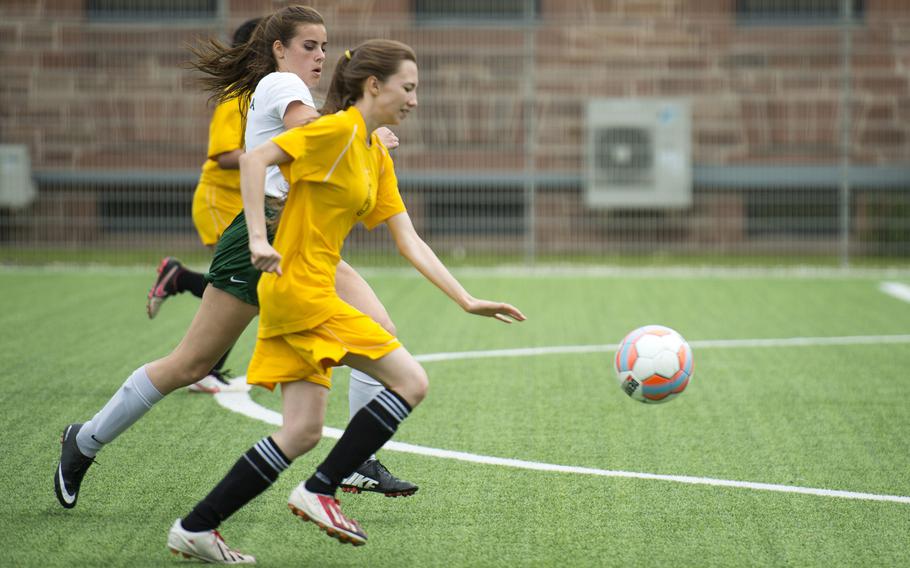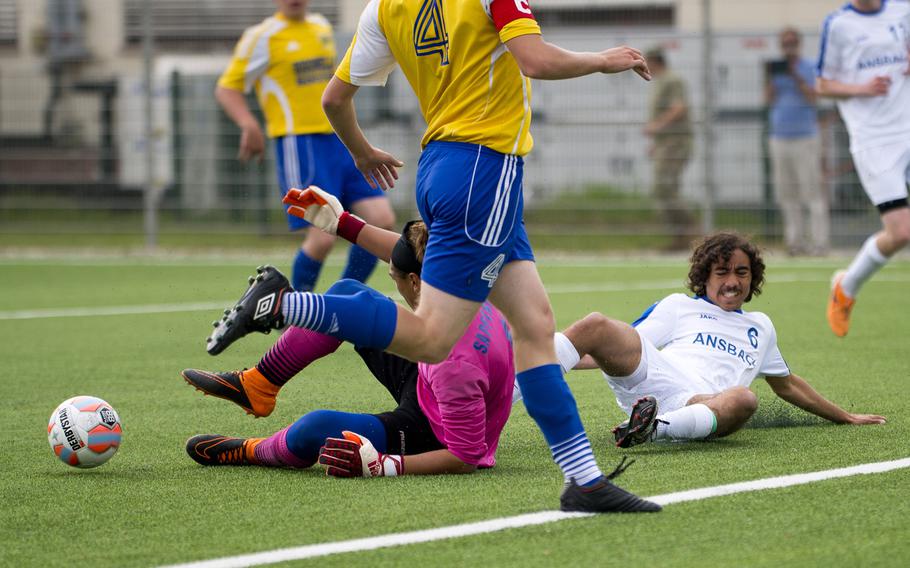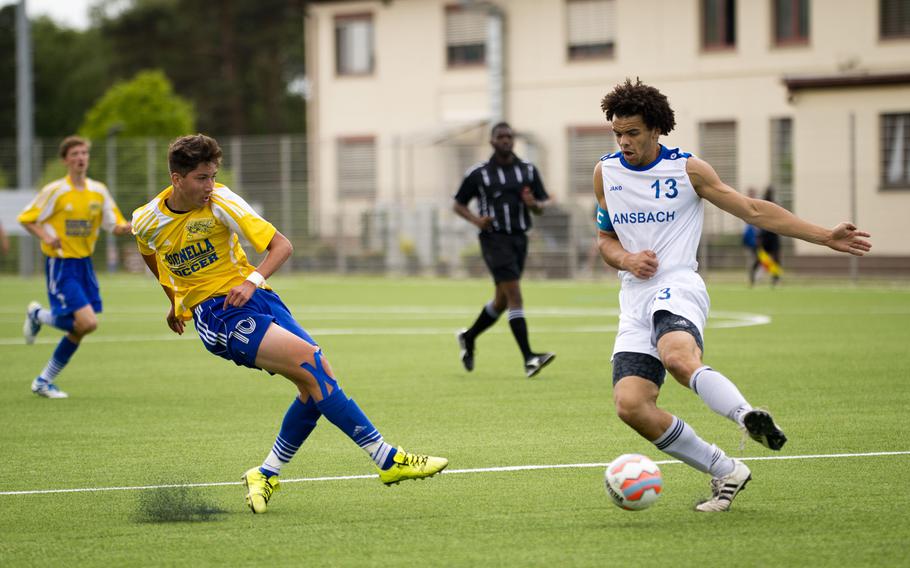 LANDSTUHL, Germany -- The schedule was light Wednesday as the 2016 DODEA-Europe Division III soccer tournament opened. But the pressure on the dozen teams involved in it was anything but.
The six boys and six girls teams in the field undergo three days of round-robin competition to set up Saturday championship matches. Within that structure, a loss in the single game each teamed participated in Wednesday might all but eliminate a team's margin for error for its next four games.
As a result, the small-school slate produced some of Wednesday's most heated matches at any level, starting the morning with two one-goal decisions and peaking in the afternoon with a spirited shootout between two boys contenders.
GirlsThe Sigonella Jaguars opened the day's six-game schedule by taking down the defending Division III champion Alconbury Dragons 5-4.
Sigonella was aware of but not intimidated by Alconbury's status as defending champion, as well as its strong regular season this spring.
"I was really excited," Jaguars midfielder Lynda Reed said. "I was ready for it."
While it ended the game in possession of a perilous one-goal lead, Sigonella was largely dominant. The Jaguars led 3-1 at halftime and 5-2 in the second half before a pair of late penalty kicks drew the Dragons close again.
"When we started achieving success against them, I thought it was well-deserved," midfielder Maile Puerto said. "We were working for it."
Caitlin Newman-Sanders was a major catalyst of the Jaguars' offensive effectiveness, dribbling through the Dragon defense for a pair of forceful goals.
"People kept telling me that they were really good. But honestly I didn't want to think about that," Newman-Sanders said. "I just wanted to play and have fun."
Reed also scored a pair of goals, while Violender Doke added another.
While Sigonella slayed the reigning champions, fellow challengers Brussels and Baumholder each recorded opening shutout victories. Brussels blanked Ansbach 2-0, while Baumholder handled Ankara 3-0.
BoysA matchup between the northern rivals Alconbury Dragons and Brussels Brigands needed a prolonged shootout session to determine a winner. The Dragons took the victory with seven successful penalty kicks to the Brigands' six, a fitting epilogue to the action-packed 3-3 regulation tie that prompted it.
Robert Diamond made the necessary saves in goal for Alconbury, fighting off the heightened anxiety of the situation to deliver when the Dragons needed him.
"It was really tense," Diamond said. "This is my job. I had to block the goal."
Diamond's reward for doing his job was not only a crucial win for his team, but the emotional payoff for playing through the nerves.
"I love it," Diamond said. "I get an adrenaline rush every time I make a save."
Anthony Stewart deposited the clinching penalty kick for the Dragons. In regulation, Jose Cordero scored twice and Val Evans added another goal for Alconbury to set up the shootout.
Twitter: @broomestripes
---
---
---
---