Girls soccer preview
Three's a crowd when it comes to D-I title game
by
Gregory Broome
March 12, 2015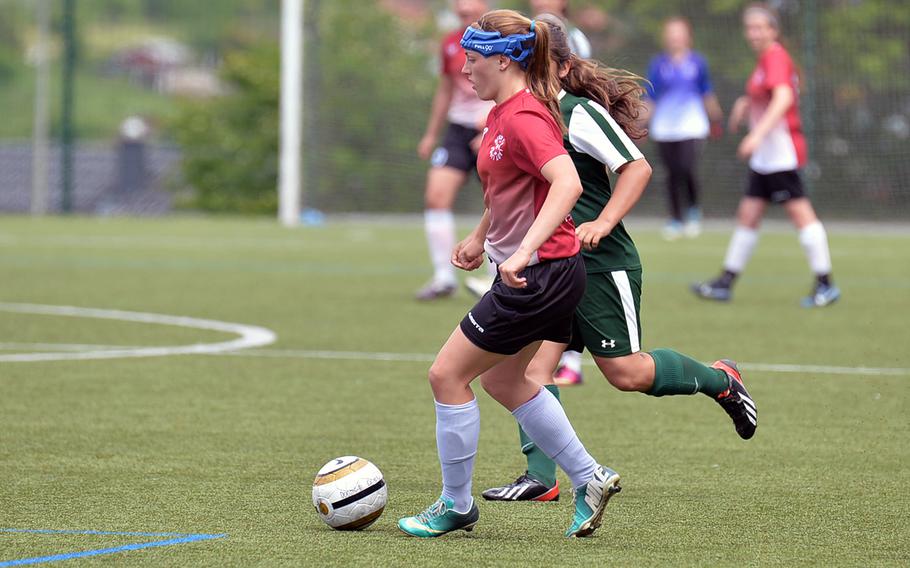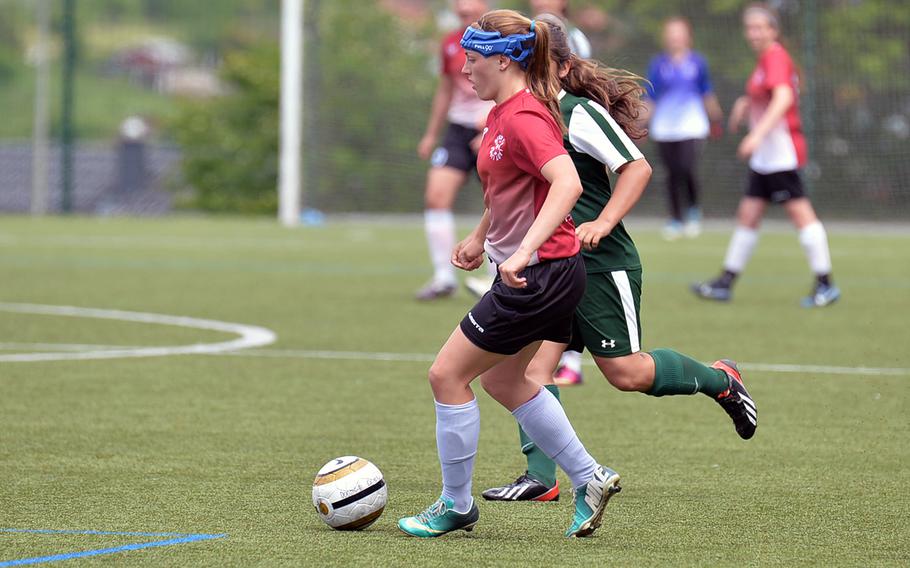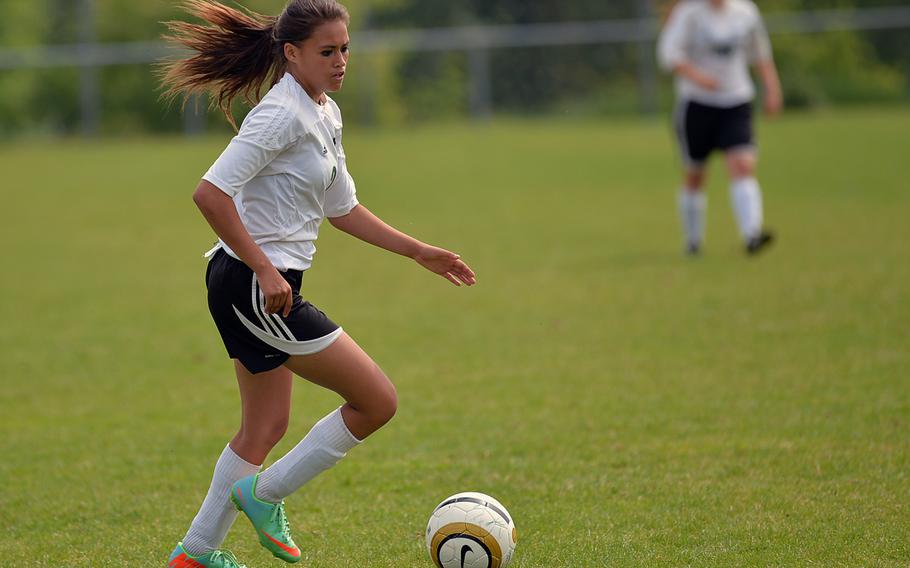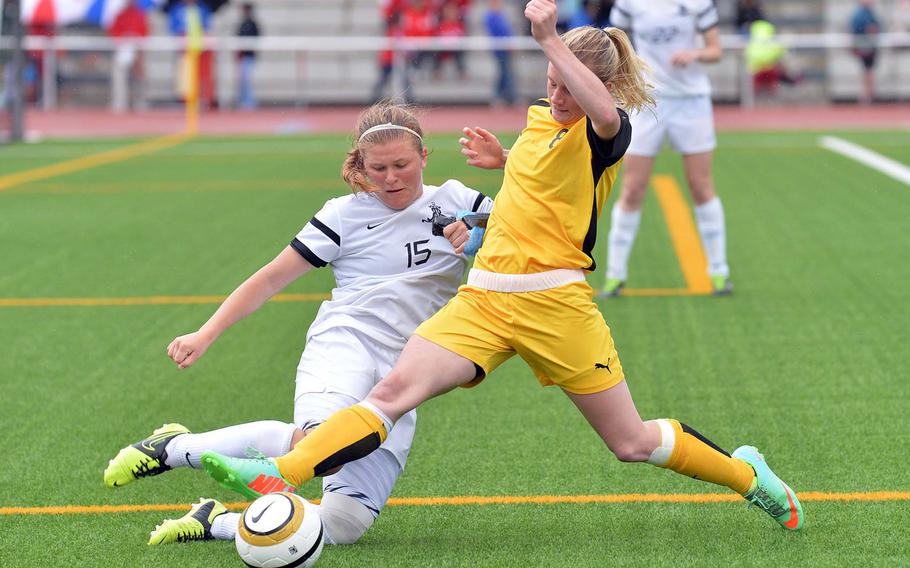 Something has to give.
The sweeping divisional realignment issued in late 2014 is expected to have a profound impact on the 2015 DODDS-Europe girls soccer season, which starts Saturday with three games in Italy, one in Germany and another in the United Kingdom.
The sea change should rival the one felt in last fall's girls volleyball season when Division II powers Vicenza and Naples crashed the Division I bracket, Vicenza bested Ramstein for third place and Naples took large-school fixture Wiesbaden to five sets in a stirring European title match.
Naples is again primed to lead the revolution. The Wildcats' move to Division I puts their championship dynasty at renewed risk against a whole new set of challengers while leaving a power vacuum surrounding their vacated Division II throne; meanwhile, new arrivals to the beefed-up Division III field throw fresh intrigue into the small-school title scene.
Here's a look at how the new pieces may fall into place over the next two-plus months.
Division IThe Ramstein Royals and Patch Panthers have alternated Division I championships over the last four seasons and have combined to claim the last six large-school titles. The Naples Wildcats have dominated Division II over that same time span; last spring, they won their fifth consecutive Division II championship.
But somebody's getting left out in May. At least one of those three storied programs won't reach a title game this spring.
Naples, Vicenza and SHAPE were boosted from Division II to Division I last fall in DODDS-Europe's realignment. The move abruptly ended the Wildcats' half-decade reign atop Division II while suddenly giving the Royals and Panthers more to worry about besides each other.
And Ramstein and Patch have given each other plenty to worry about over the last six springs.
In the 2014 European championship game, Ramstein defeated Patch 1-0 to avenge Patch's 1-0 win in the 2013 title tilt. That two-year stalemate followed a four-year stretch in which each won two titles, with Patch claiming the 2010 and 2011 crowns and Ramstein emerging triumphant in 2009 and 2012.
The ever-shifting title rests with Ramstein for now, and the Royals are well-stocked to retain it with an experienced group of 10 returning varsity players, including key senior defenders Dominique DuBois and Matty Spohr.
The 2015 version of Naples might not boast an offense on par with recent title-winning Wildcat rosters, but there's still plenty of talent on hand to disrupt the division. Head coach Rebecca Lucy returns an intact defensive back line, and junior Jillian Thurston should thrive in an expanded role on the wing.
As compelling as that three-team battle is, the newly-robust 10-team field holds other worthy challengers. Kaiserslautern and Wiesbaden will look to maintain their status as contenders after top-four finishes in 2014, while Vicenza will seek to supplant them in the Division I hierarchy after its own strong third-place showing in Division II.
Lakenheath and SHAPE turned in unbeaten regular-season records last spring before faltering in the postseason.
Vilseck and International School of Brussels will look to bounce back from winless 2014 seasons.
Division IIWhile realignment served to heat up the Division I race, it's all but cleared the decks of established Division II contenders.
AFNORTH is the only team from 2014's top four still playing at the Division II level. Champion Naples and third-place Vicenza moved up while fourth-place Alconbury slid down to Division III.
The Lions return just seven varsity players and four starters, but the ones that are back are good enough to slot AFNORTH in as a preseason favorite. Junior Caitlyn Helwig, a first-team All-Europe forward, should put the ball consistently in the net while the rest of the team settles into roles.
Aviano and Hohenfels might rank as the teams poised to best take advantage of the division's newly-cleared bracket. Both teams played above .500 regular-season ball and won more than one tournament game in 2014, placing them squarely in the conversation to join what will become the division's new elite.
Meanwhile, some of the division's other returning programs are in need of the fresh start offered by realignment. Bitburg and Marymount went winless in 2014, while American Overseas School of Rome won just once in the regular season and once more in the tournament. Ansbach and Black Forest Academy will look to improve on middling regular seasons and early tournament ousters.
As those teams battle for position in the revamped bracket, the division's geographic outsiders lurk as potential threats. Rota will get regular-season tests against Bitburg and AFNORTH, while Bahrain will remain a mystery until the tournament.
Division IIIReigning champion Brussels will have plenty of challengers for the small-school title. But the Brigands will be well-equipped to handle the onslaught.
Brussels returns six varsity starters from the team that edged Florence 1-0 in last year's title game. The Brigands are particularly solid on defense behind stalwart seniors Sarah Mobley and Laura Helbling.
Florence should be back in the title mix again, as will fellow Italian contender Sigonella, which finished third last spring, and 2014 fourth-place finisher Incirlik.
Menwith Hill, a perennially tough postseason out, will struggle to stay in contention as the school moves closer to its pending closure and players move out early.
That leaves an opportunity for new arrivals Alconbury and Baumholder, both of whom return to the Division III level after brief stints in Division II. The Dragons and Bucs should leap straight into the title hunt; Alconbury won the Division III crown in 2013, while Baumholder has six varsity players back from a team that played both Wiesbaden and Kaiserslautern to tie games in 2014.
Twitter: @broomestripes