D-II girls semis
There won't be a draw this time as Hohenfels meets AFNORTH
---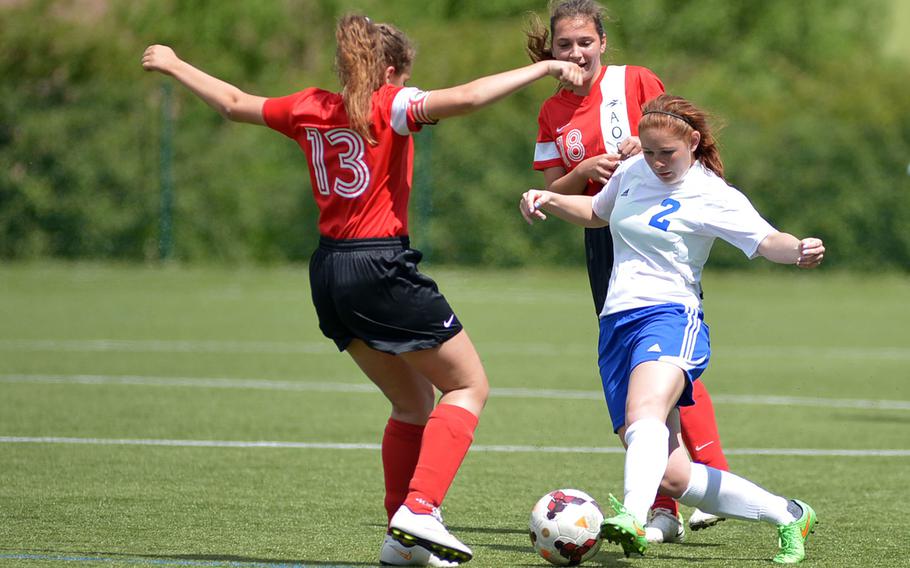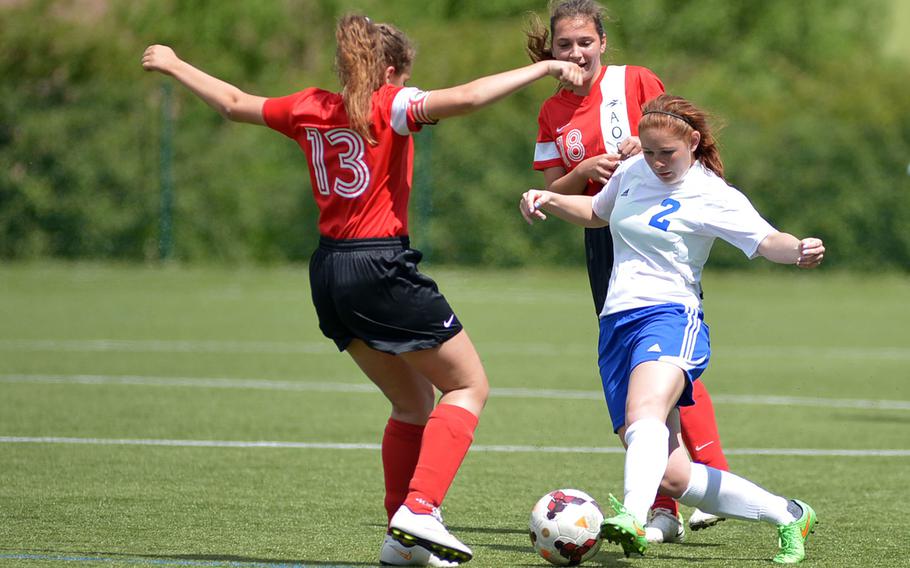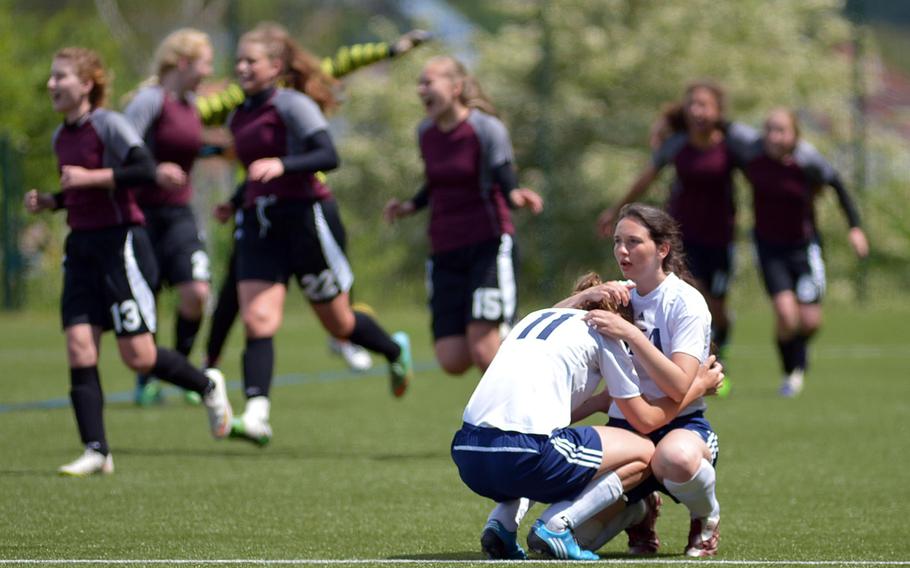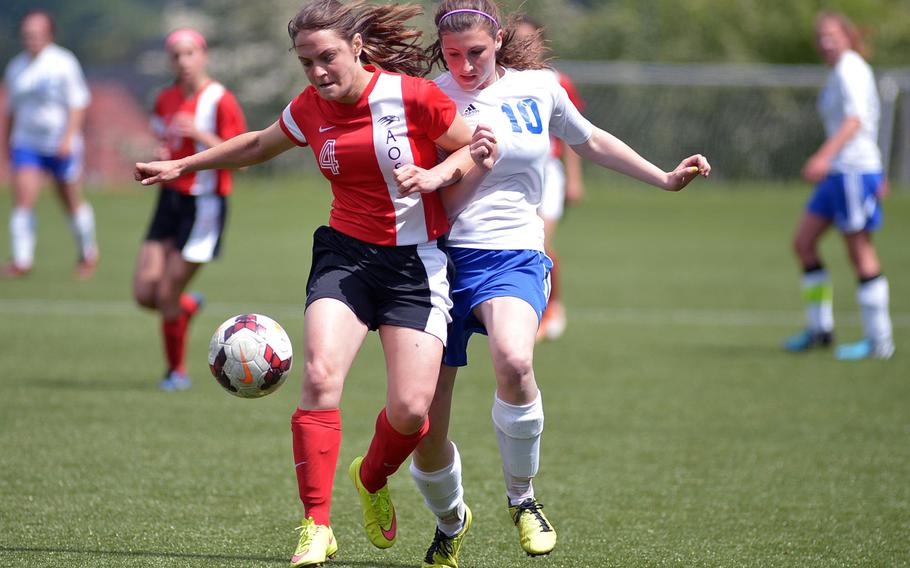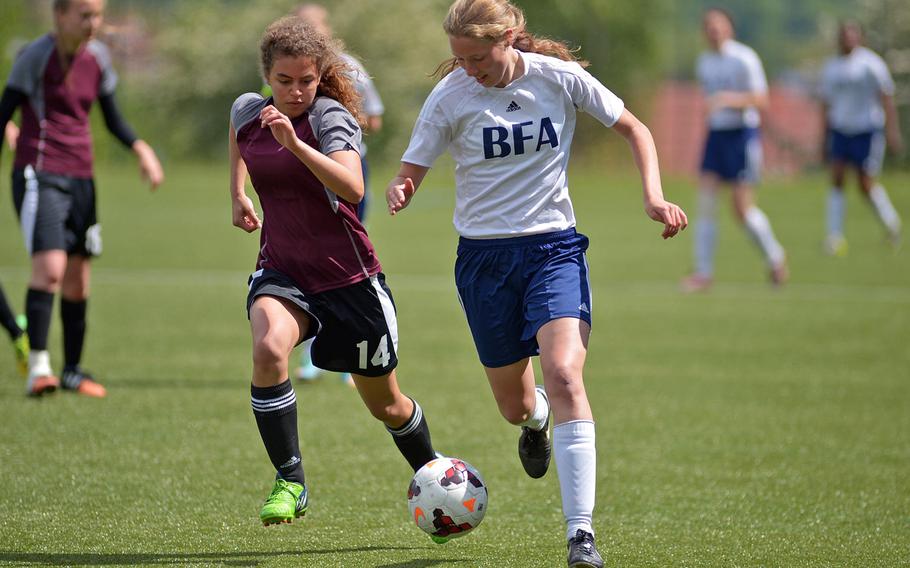 REICHENBACH-STEEGEN, Germany — Hohenfels and AFNORTH will battle for the DODDS-Europe Division II Girls soccer title Thursday after coming through their semifinals without giving up a goal.
Still, their semifinal matches could hardly have played out more differently.
Hohenfels dispatched the American Overseas School of Rome 3-0 in regulation, but needed a fair amount of defensive help to reach that score line. The lone goal in AFNORTH's game against Black Forest Academy, meanwhile, was an own goal in the final minute of the first overtime.
Since Hohenfels and AFNORTH fought to a draw Tuesday, it's reasonable to believe that the final might be close as well. But their disparate semifinal wins might foretell a different story.
AFNORTH 1, BFA 0: In a game in which neither side's offense was clicking and mistakes ruled, it was perhaps fitting that the only score was a defensive own goal resulting from a mishandled ball on what could have been an innocuous play.
They played to a 0-0 tie at the end of regulation, a direct result of each side's inability to generate an effective offense. Few passes on either side of the field found their intended targets, and while some were close, most shot attempts sailed wide or over the goal.
Nevertheless, both had opportunities to seal the victory in regulation, but both were wasted.
AFNORTH's Caitlyn Helwig had a handful of decent looks in the first half, one an early solo break past two defenders to take a shot that almost kissed the top of the crossbar.
Soon after, AFNORTH was awarded a penalty kick. Helwig, who had the only decent shot in the game to that point was the obvious choice to take the shot. Her attempt sailed right without BFA's keeper getting a finger on it.
BFA controlled the pace through much of the first half without finding a way to capitalize on their near monopoly on possession. In the second half, they got their best look all day when they were awarded a penalty kick. Lois Schotanus could do little more than grimace as her shot sailed well over the crossbar.
After a frustrating 80 minutes, they headed into overtime well aware that any goal could be the last.
The most solid play of regulation came not on offense, but from AFNORTH's keeper, Frida Ovregaard-Lunde, who made a diving save in the first half.
"I was nervous the whole time," Ovregaard-Lunde said. "We have a really great team, but it seemed like they were just exactly our opposites. We kept them out, but we couldn't score."
"I just kept believing that if we kept shooting, which they were not doing, then we would score."
They got the goal, but not the way either side would have liked.
With more than nine minutes in the first overtime period down, AFNORTH's Sophia Muñoz crossed the ball in front of BFA's goal. There were no AFNORTH shirts in the area, but a defender took a swipe as it sailed near the far post, inadvertently tapping it in.
Seconds later, the final whistle blew.
"I'm really happy that we made it through," Helwig said. "We missed several opportunities."
"Unfortunately, it was an own goal, but I think, because we were pushing so hard on them, I'd like to say we deserved the win. But they were right up there with us."
"You can see, one little mistake can" mean the game, Schotanus said. "I wish we had the other half" of overtime. "Because then we could have made up for our mistake."
Hohenfels 3, AOSR 0: After having to come from behind less than a month ago in their meeting in Aviano, Italy, the Tigers went up early and never looked back to dispatch AOSR handily.
An Amelia Heath goal in the opening minutes of the first half looked almost fluky, as both sides had yet to establish any kind of rhythm. While AOSR pressed hard to even it up, their efforts came to nothing by the end of the first half.
Hohenfels renewed their attack in the second half largely on the boot of Jessie Gamez, who scored twice in a handful of minutes to put the game all but out of reach.
Gamez beat the keeper on the right side only to see her shot careen off the post. She was able to gather it back in for a second attempt that found the back of the net.
Soon after, she broke through the defense and left footed it into the bottom right.
"We just kept pushing," said Tigers senior Shelby Atkinson. "We do it every game we play."
"We started out as a really young team and we've really grown and we've really progressed," Gamez said.
The Tigers tied AFNORTH 1-1 Tuesday, which would suggest their meeting in the final could be equally close. But in the championship, there are no ties.
"They (AFNORTH) gave us a run for our money," Atkinson said. "I think, I honestly believe we are the better team. I think we can pull together, for sure, and pull off the win."
---
---
---
---