Swimmers take to pool to find out who's the best in Europe
---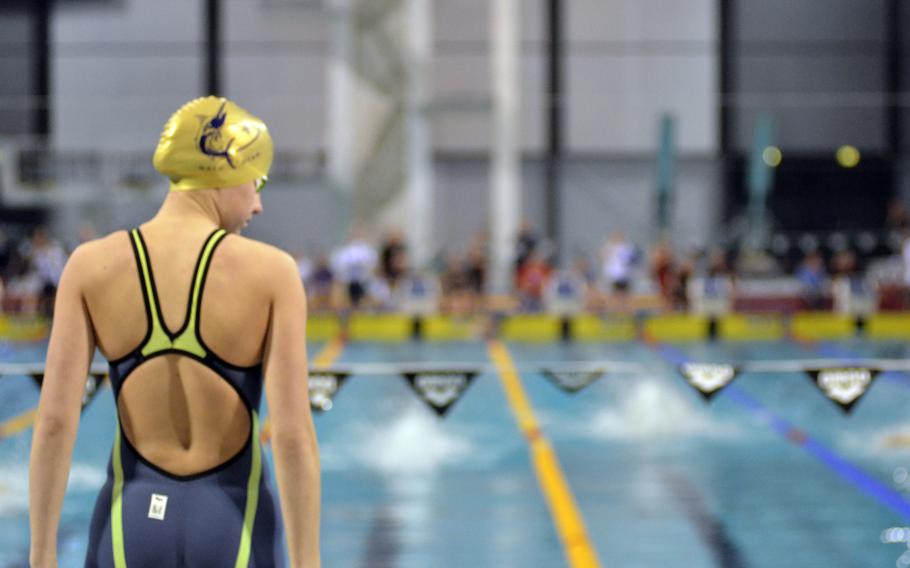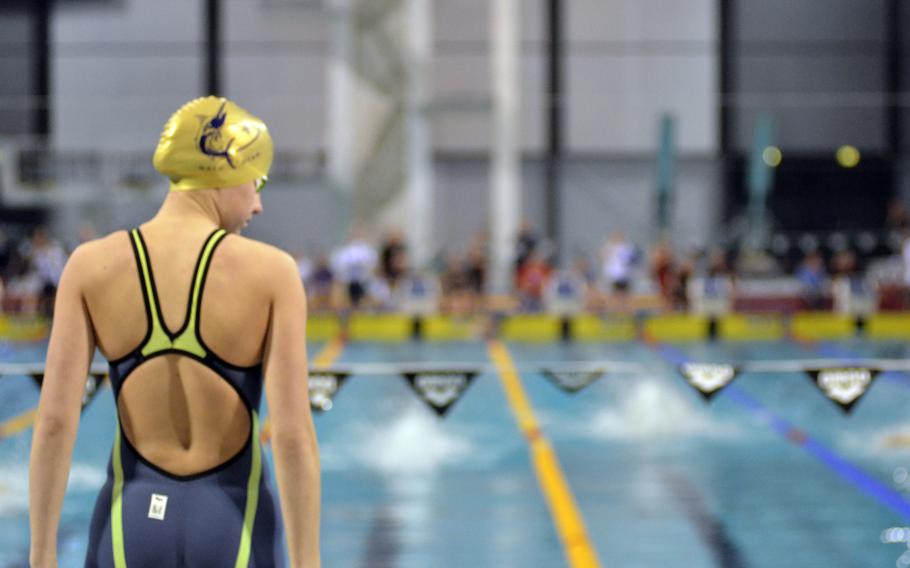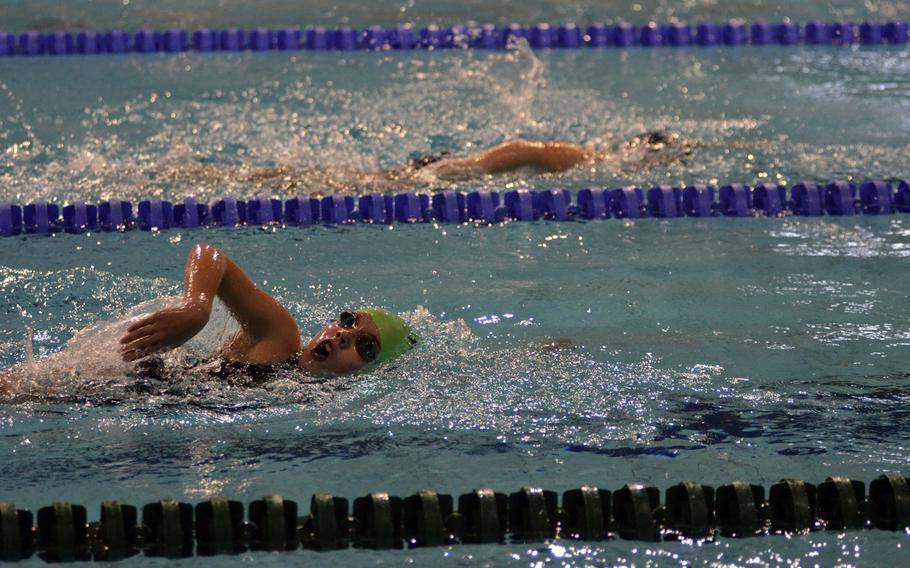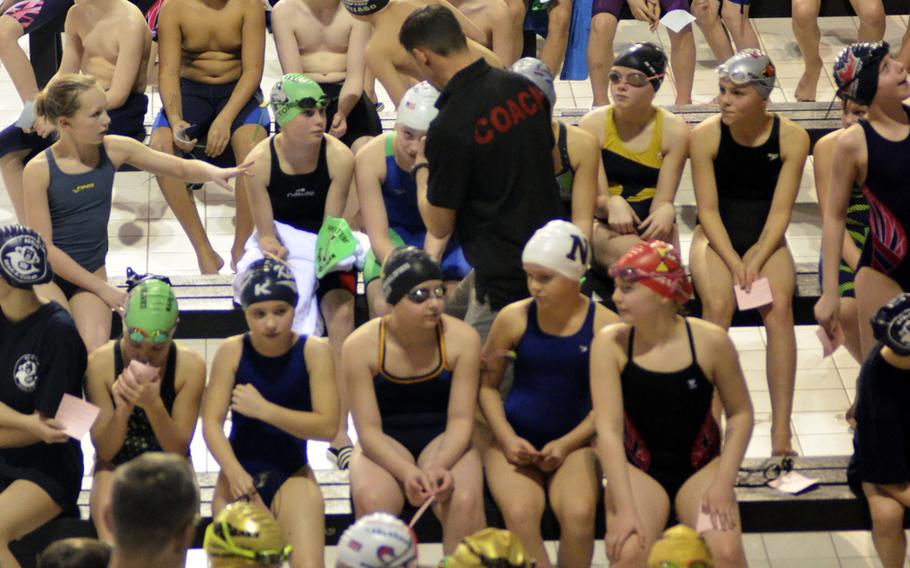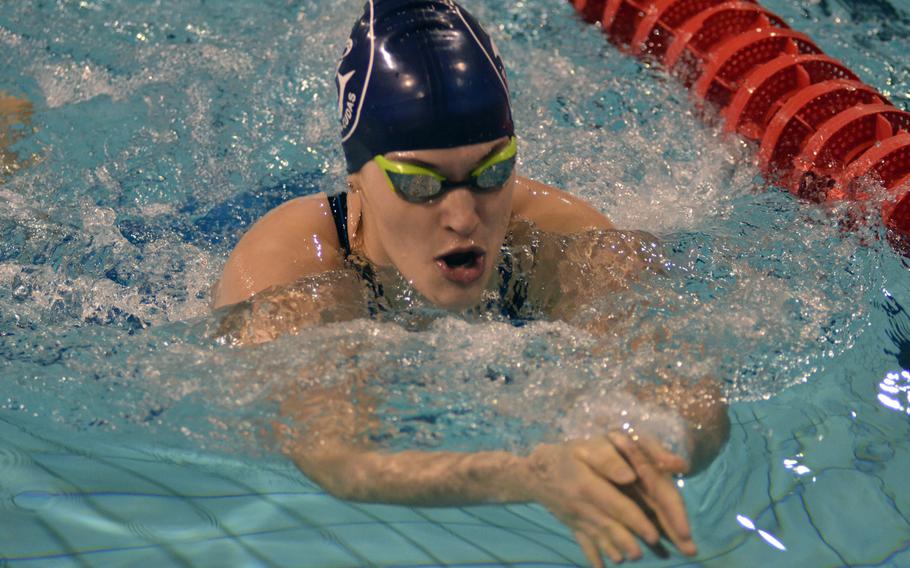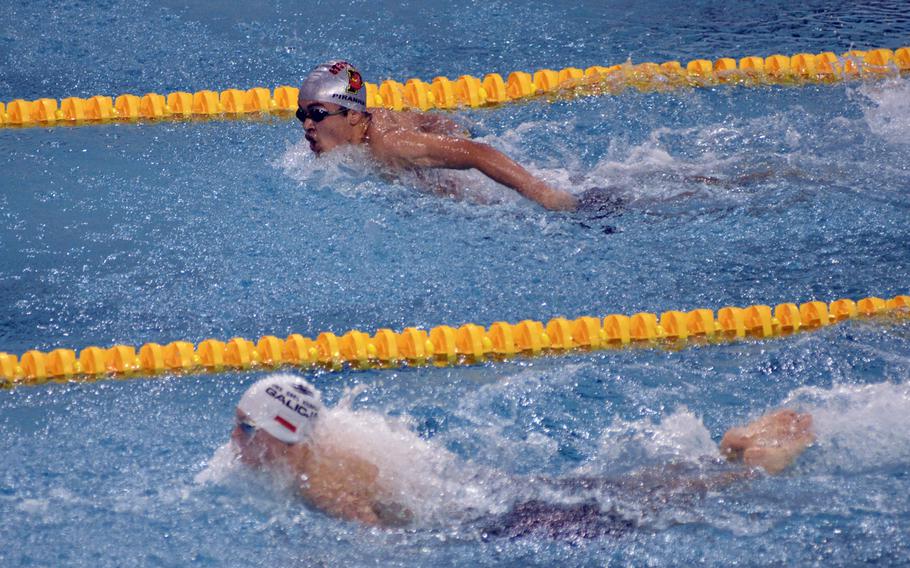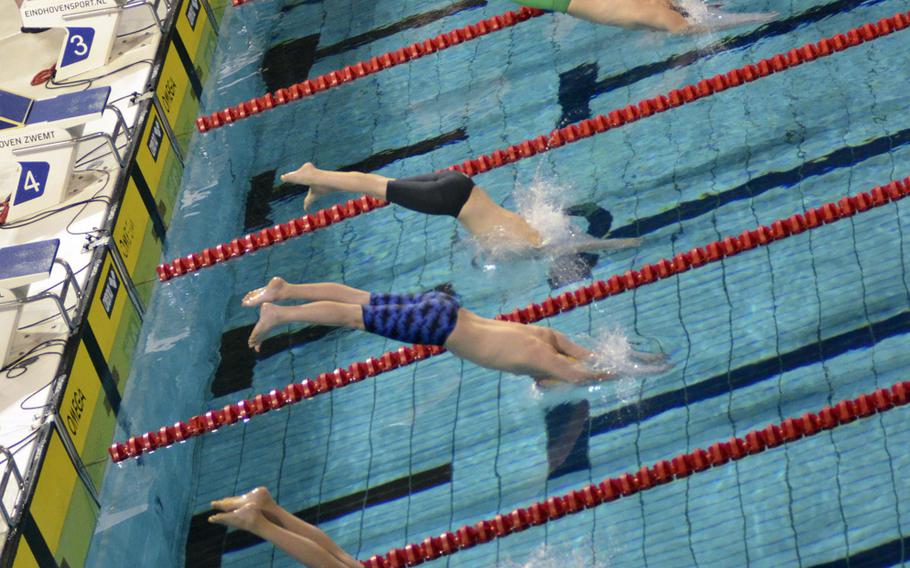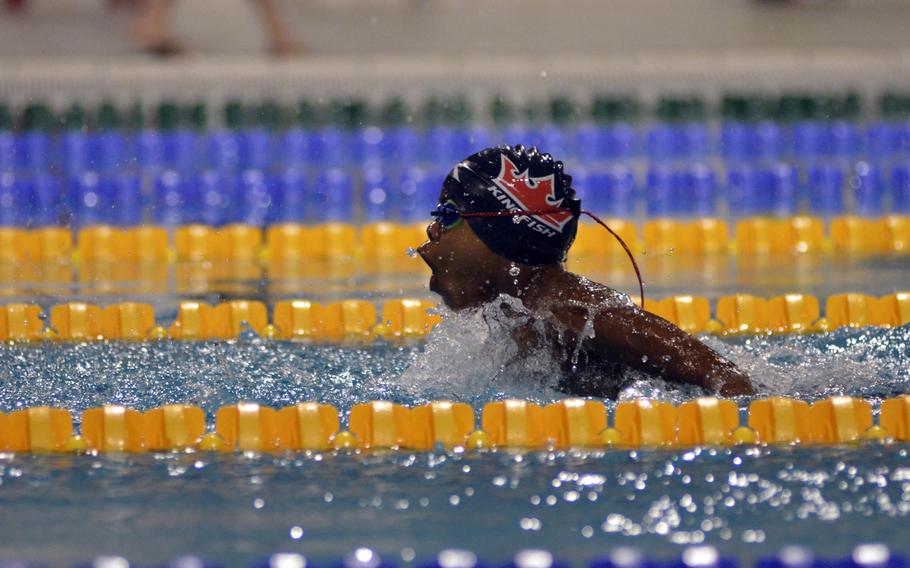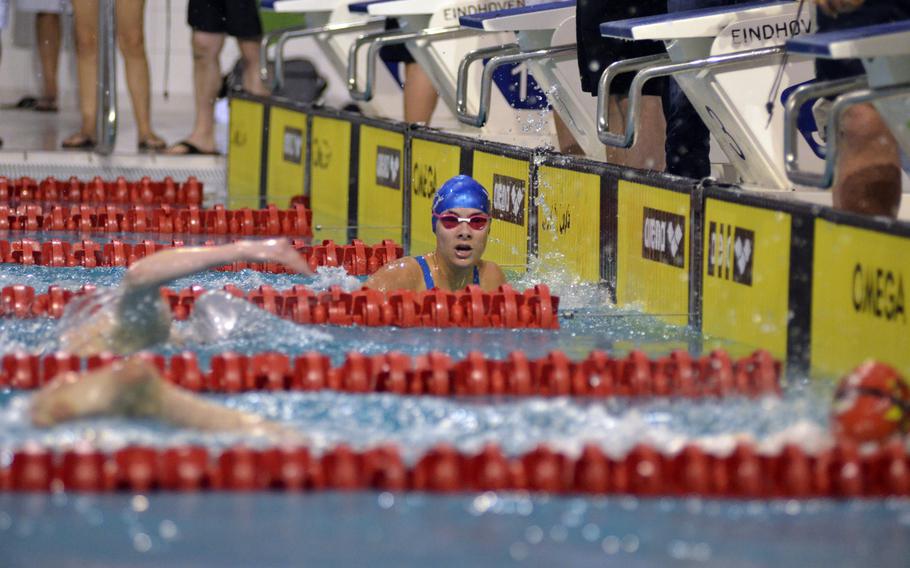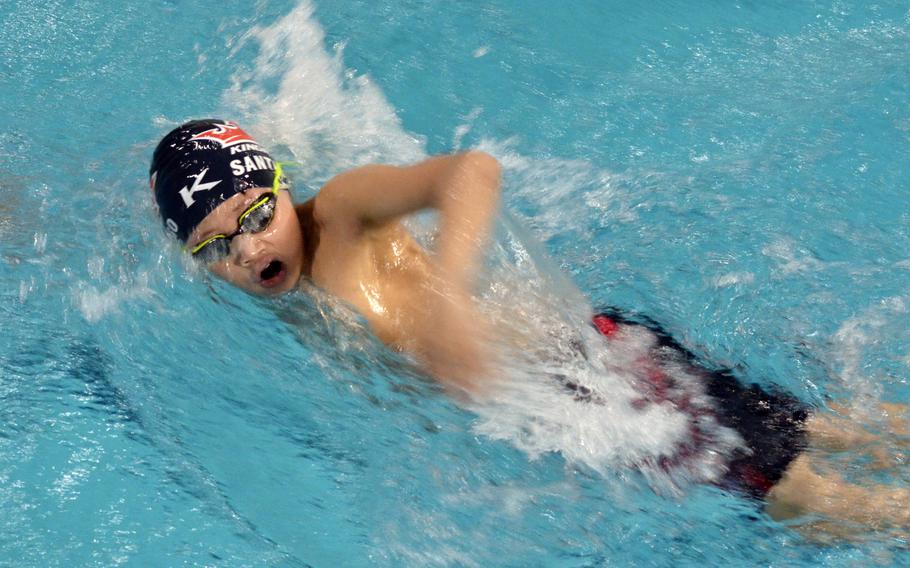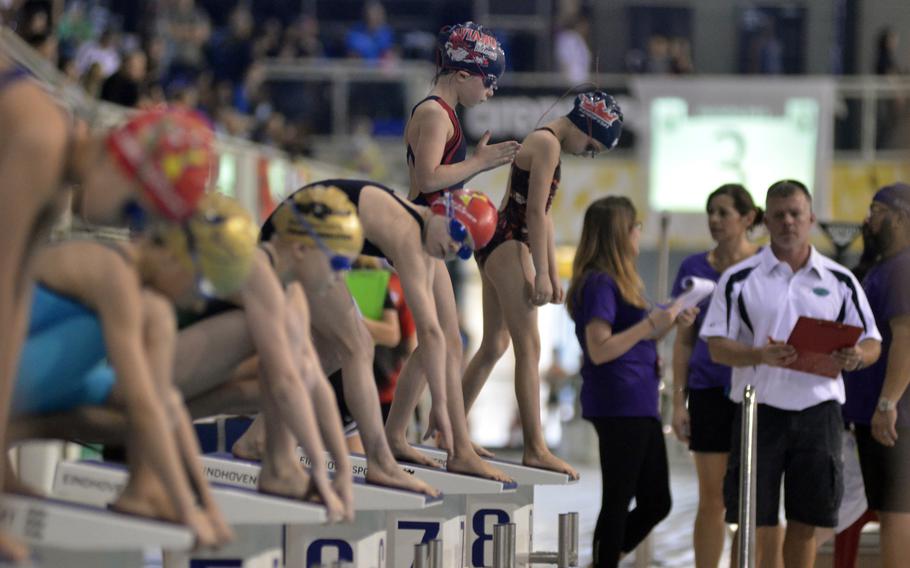 EINDHOVEN, Netherlands ― The annual European Forces Swim League championships began as usual with a big splash as 456 swimmers from 18 teams across 11 countries dove in Saturday to prove who was the best in their age groups.
"This is the culmination of the swim season," EFSL President Robert McDonough said. "This is where all of the hard work for the whole season really comes to bear for the swimmers to show their achievements. This is where all of their hard work pays off."
Sweat and the tears of joy or shame mixed with the pool water as swimmers won, lost and broke records.
Nine records fell on the first day of the two-day event.
Stuttgart's Ella Bathurst broke three of them: the girls 13-14-year-old division: 100-meter freestyle (59.39 seconds), 100 breaststroke (1 minute, 18.22 seconds) and 400 freestyle (4:44.36).
Geilenkirchen's Hylcke de Beer set two records in the girls 9-year-old category: 50 butterfly (34.85) and 50 breaststroke (41.66).
Other records were set by Lakenheath's Dominic Scifo (17-19 boys 100 butterfly, 58.30), SHAPE's Max Buchholz (8-under boys 50 breaststroke, 50.42), Stuttgart's Dane Bathurst (9 boys breaststroke, 45.88) and Kaiserslautern's Leon Pierre-Louis (8-under boys 200 free, 2:54.76).
But whether they won or lost, the swimmers and families made sure to enjoy the day together as they reunited with old friends, cheered for their teammates or simply gossiped between events.
Capt. Kevin Buckley, executive officer at the Guantanamo Bay Naval Hospital, traveled from Cuba to support his 9-year-old daughter Shannon who swam for the Sigonella Swordfish in her third championship appearance.
"We love the community and luckily I was able to take some leave to come here and cheer her on," Buckley said. "We have friends from Naples, Rota, and Vicenza and we've become pretty close through meets and it's nice to get everyone together in one spot."
While the competition in the pool stayed tense throughout the day, the stands became more like a giant family reunion.
"We are like a family because it is a family," Naples coach Jane Higgins said. "Anywhere we go you can count on our team and other teams just jumping in to help out."
Behind the scenes, 250 volunteers ensured that a day of fun and competition wasn't forgotten for any of the children swimming.
"We would not be able to put on such a successful event without the hard work and dedication of our volunteers," McDonough said. "You look around at the men and women involved in this league and based on their military service they know what it's like to sacrifice. The amount of sacrifice that they give on a daily basis is all because they understand that freedom isn't free and even after their day jobs are over they turn around and give just as much time and dedication to this league."
---
---
---
---