D-I girls semifinals
Stuttgart, Ramstein to meet for title again
by
Dan Stoutamire
May 23, 2018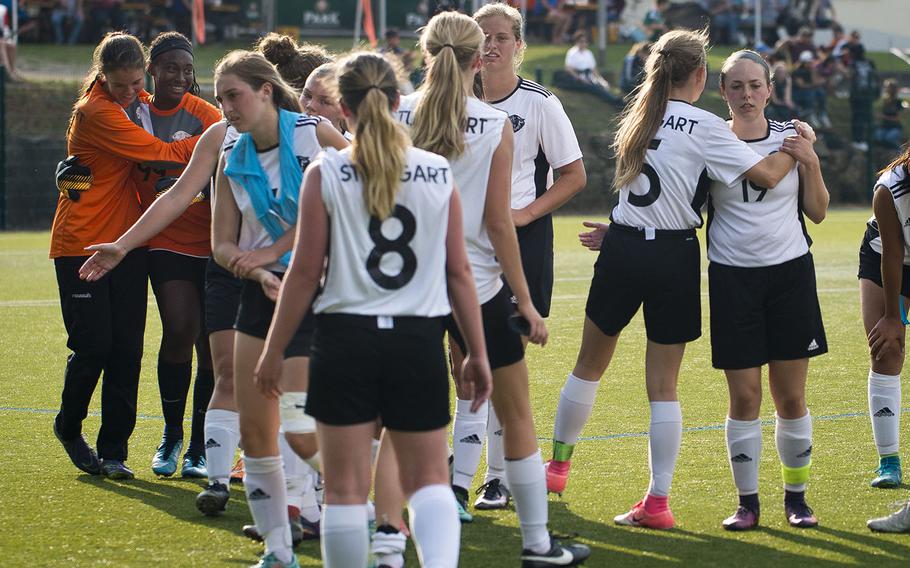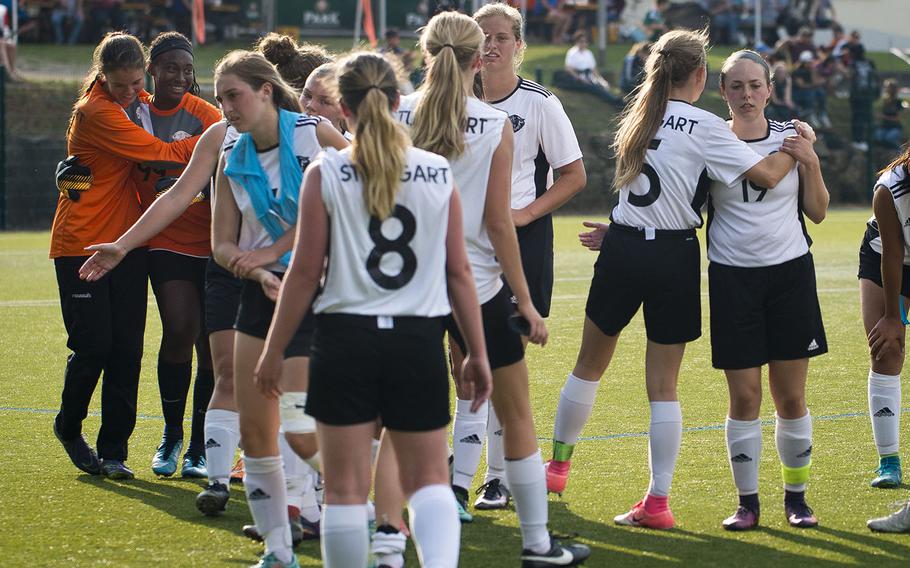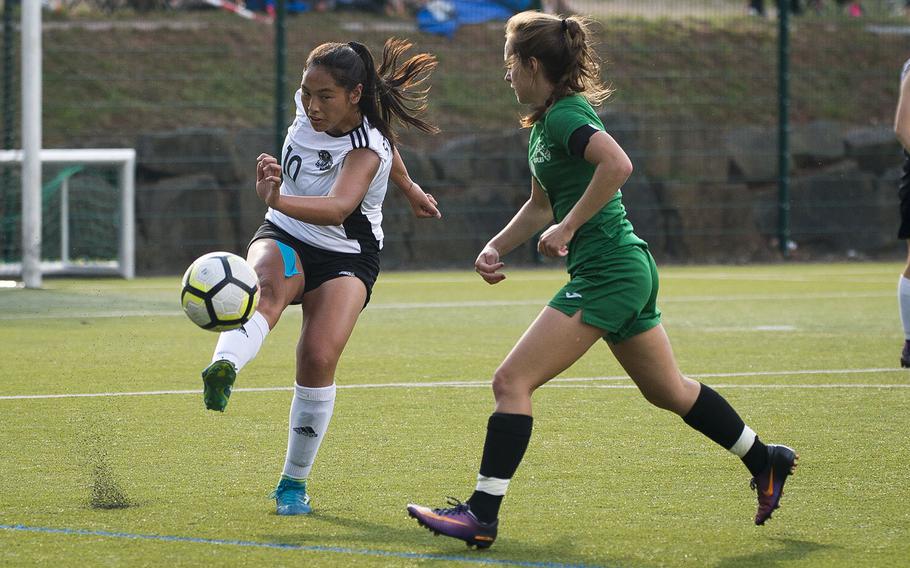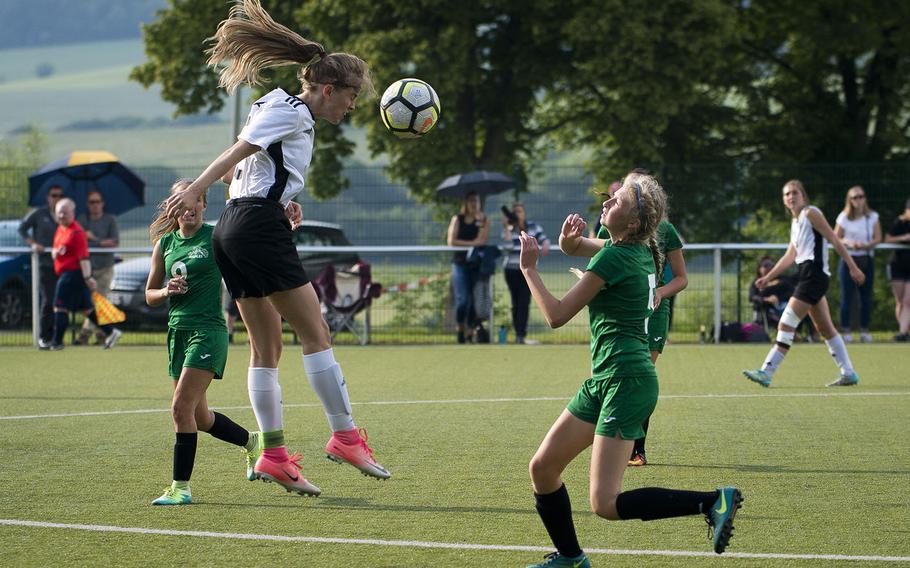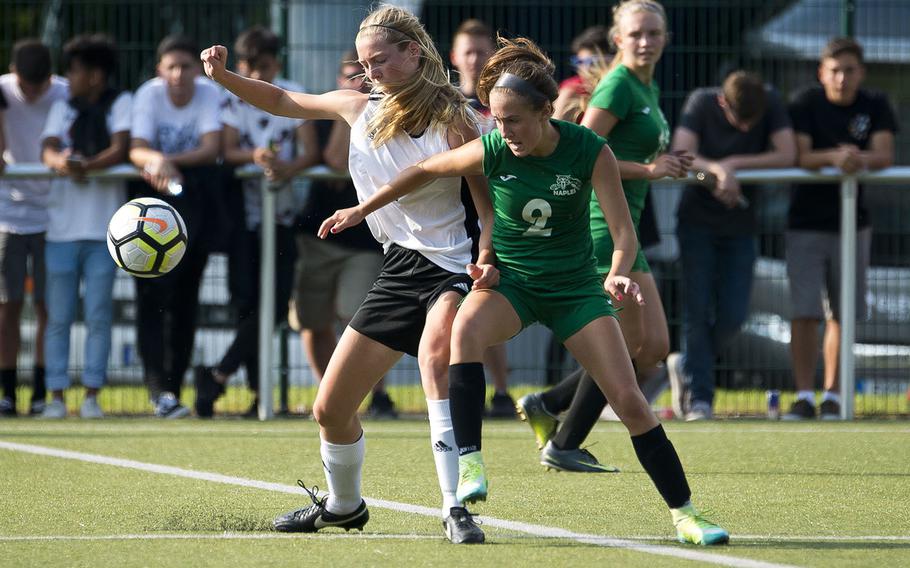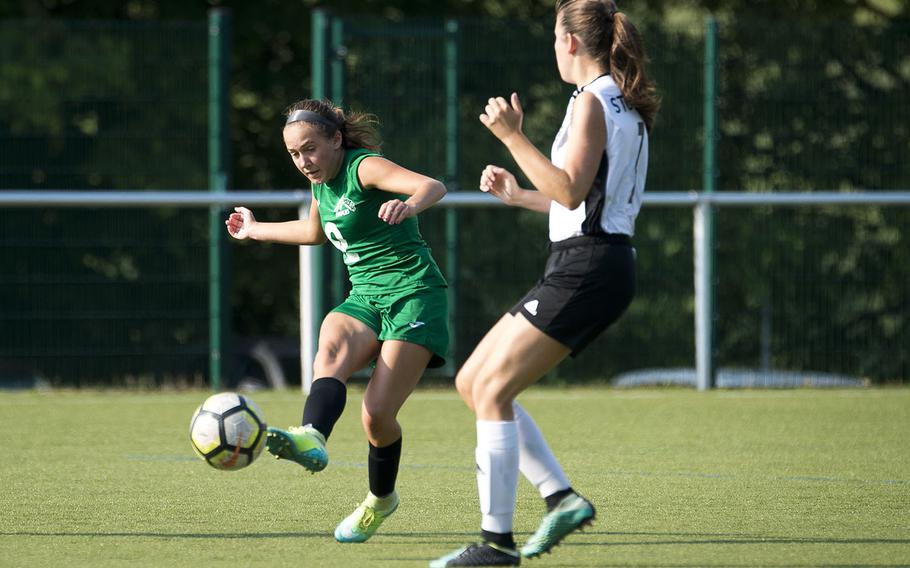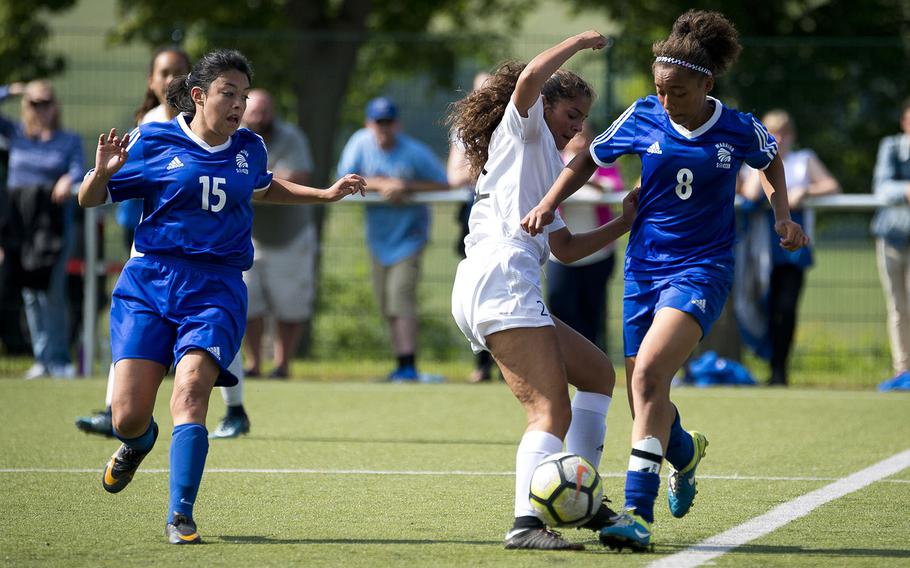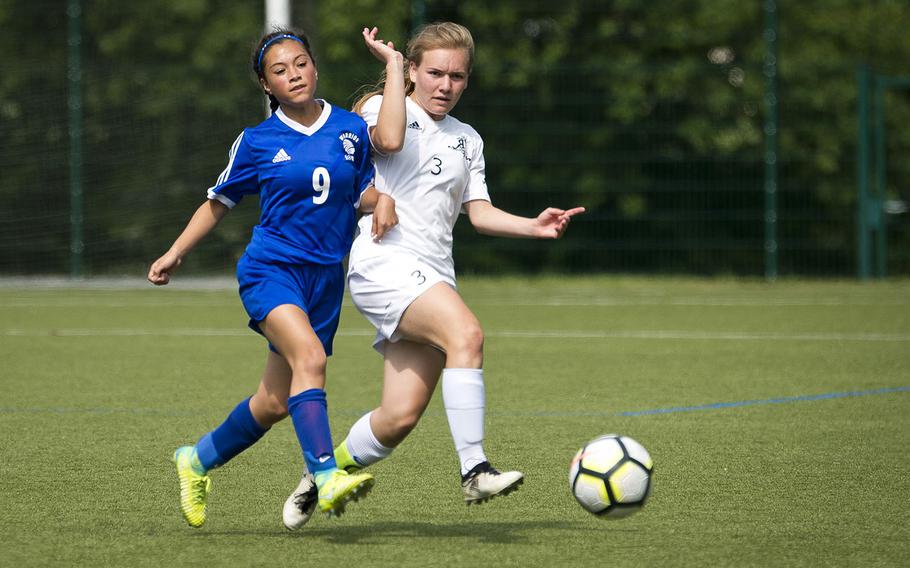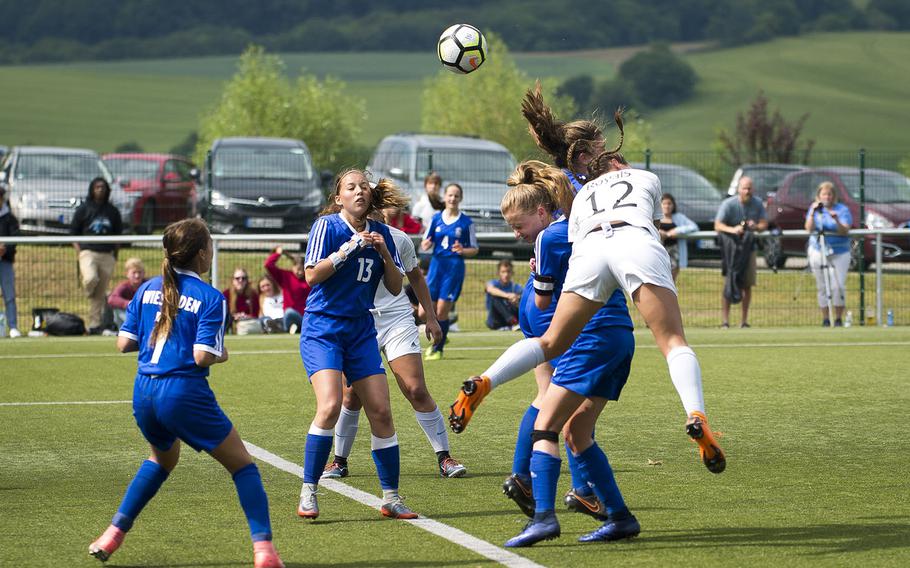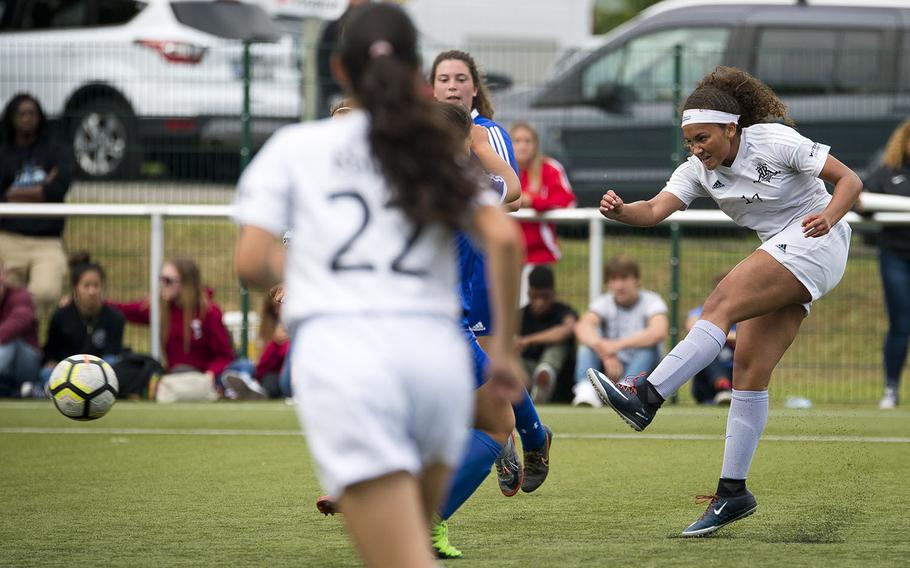 KAISERSLAUTERN, Germany — Ramstein and Stuttgart have battled many times over the years, with the DODEA-Europe Division title often at stake.
And though it's been three years since they last met in the championship game, that streak is over this year, thanks to semifinal victories on Wednesday. The two teams, which battled to a 1-1 tie on April 14 that was the only blemish on otherwise perfect seasons so far, meet at 5 p.m. Thursday for the title.
Ramstein 3, Wiesbaden 1: Ramstein maintained its perfect record in the tournament with an intense battle against defending champion Wiesbaden, which was not in the mood to let its title pass without a fight.
In the end, Royals striker Haley Deome took advantage of a tired Warriors defense to make the difference, scoring three times to see her team through to the finals.
Wiesbaden opened the scoring after winning a penalty on the edge of the box, and midfielder Peggy Sue Mathis – a force in the middle all game – slotted away the resulting kick with aplomb into the left corner, leaving Ramstein goalie Morgan Lewis no chance.
Wiesbaden had done well early marshalling Ramstein's talented attacking trio of Deome, Rocio Fernandez and Aurora Davis, but within 10 minutes of the opening score, Deome beat Warriors goalie Karli Wallace to a loose ball and finished with her left foot to even the score.
Ramstein continued to pile on the pressure, with Wallace making a string of impressive saves, but finally Fernandez found Deome with a cross, and the striker used excellent chest control and finishing to make it 2-1.
A third goal, via a penalty kick, from Deome made the game safe for the Royals, though Wiesbaden continued fighting until the end, with Mathis twice coming close to making the last few minutes extremely interesting.
"I thought the team did an amazing job – we were faced with adversity there but the girls didn't get rattled, they just stayed the course," Ramstein coach Jason Scott said. "We've got great leadership from top to bottom but it's the entire team, but they lift each other up and they play as a team."
Defender Liesel Mendenhall, who was everywhere on the back line for the Royals, often carrying the ball out of danger and starting a counterattack, praised striker Deome's finishing.
"As a defender it warms my heart to have a striker like that," she said. "She's just incredible, she knows exactly what to do."
Stuttgart 3, Naples 1: Stuttgart continued a strong tournament run with an impressive win over a resilient Naples team, using an early goal by winger Emily Smith to gain the momentum and never look back.
Smith scored within seconds of the game's start, storming down the left and finishing into the top corner beyond the despairing reach of Naples goalie Katherine Abresch, playing in relief of starting keeper Genesis Torrent, injured in Tuesday's match against Ramstein.
"I was pumped because we seemed to be a little nervous and on edge," Smith said. "After that what was going through my mind was to get back on defense and keep our lead."
In fact, the Panthers added to their lead, with winger Erin Taylor also finding space on the left wing and finishing from close range to make it 2-0. Naples responded with force, though, exerting pressure through the excellent play of Abigail Houseworth, and freshman Roxanne Sasse found the breakthrough goal before the end of the first half to make things finely poised heading into the second period.
Stuttgart raised its level in the second 40 minutes, however, playing with more confidence, coach Bill Ratcliff said. The Panthers added a third goal through Natalie Eddy after good build-up play from freshman midfielder Annika Seifart.
"We play very nice soccer when we play it like the way we want to play, one-touch," Ratcliff said.
The result was tough on Naples, who also reached last year's semifinals and were playing to win for Torrent.
"I think our team played our hardest, I wouldn't take anything back," senior Cora Houseworth said. "I think we played as hard as we could."
Meanwhile, the Panthers will be looking to do one better than last year, when they fell to Wiesbaden on penalty kicks.
"We've been training really hard and if we put everything we can out there, nobody can stop us but ourselves," Smith said.
Twitter: @DKS_Stripes