Wrestling AOY
Spencer's route: Tiny school to large school to European champion
by
Gregory Broome
March 2, 2015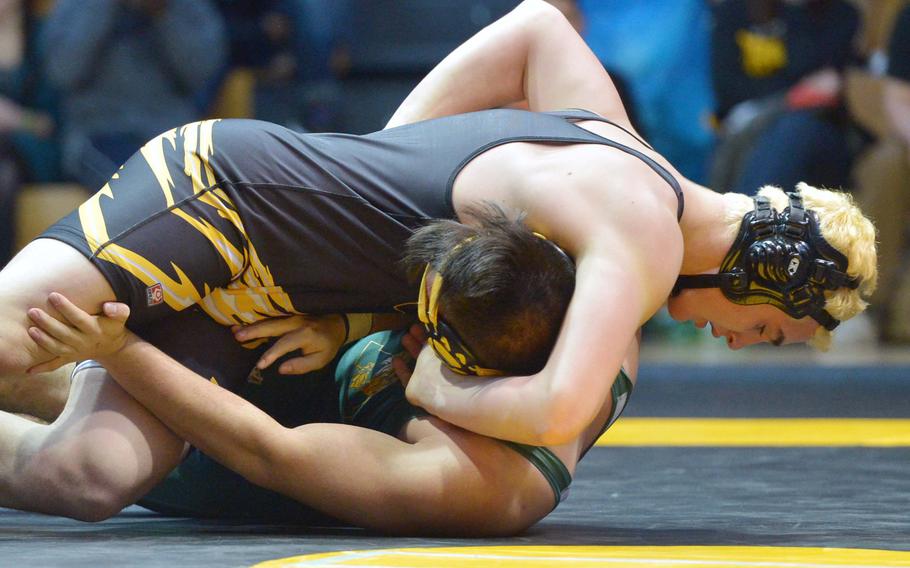 The Stars and Stripes wrestling Athlete of the Year should stand out. But at the DODDS-Europe wrestling championship meet Feb. 13 and 14 at Wiesbaden, Germany, Patch junior Eli Spencer blended in.
Though he was a little bigger than most of his peers, Spencer fit in seamlessly with the rest of his Panther squad. He wore the signature black-and-yellow Patch gear that has become an intimidating sight around DODDS-Europe mats. His hair was bleached blonde to match his teammates' in a show of solidarity.
So if one were to overlook Spencer among the dozens of wrestlers at the tournament, that would be understandable. Surely, that would change when his named was called and he took the mat.
Then again, maybe not.
Spencer's matches were also easy to miss. A trip to the concession stand would do it, or a brief conversation with a fellow onlooker. Even a quick glance at one's phone would provide the necessary distraction.
On Friday, the first day of the tournament, Spencer pinned his two opponents in the 195-pound weight class in a total of 61 seconds.
He stretched out his cameo appearance on Saturday. Spencer pinned his final pool opponent in one minute and 13 seconds. A 45-second pinfall win in the semifinals placed him just moments – literally – away from the European championship that had eluded him a year earlier.
In 2014, Spencer arrived in Wiesbaden representing tiny Incirlik, competing without the sprawling support system provided by Patch. Still, he reached the 182-pound championship match before taking a pin from Kaiserslautern's Bradly Lemon.
One year later, he got his shot at redemption, now as part of the vaunted Panthers. The new union was, to put it mildly, mutually beneficial. Spencer called Patch "the most amazing wrestling program in all of DODDS."
Patch coach Norm Matzke said he held up Spencer as a "sportsmanship example for the other wrestlers on our team to follow." Those other wrestlers voted Spencer among the Panthers' team captains. He went 25-0 in the regular season, all by pinfall.
And true to form, Spencer didn't waste time in seizing the chance to deliver his new team a title. He overpowered Alconbury's Chris Dufresne in 46 seconds to earn the fifth and final Patch individual title of the day and clinch the Panthers' Division I team championship. His match was the quickest of the 14 title bouts, ranking 11 seconds ahead of Lemon's triumph at 170 and 13 ahead of the win posted by teammate Matthew Bolduc at 126.
Speed of victory, obviously, isn't the only or even necessarily the most accurate measure of a wrestling champion's merit. But it's also not inconsequential. A single quick pinfall can be a fluke; a series of them is called outright dominance.
Given that almost unfathomable level of success, Spencer is the 2015 Stars and Stripes wrestling Athlete of the Year.
Twitter: @broomestripes