Sophomore standouts both defend singles titles
---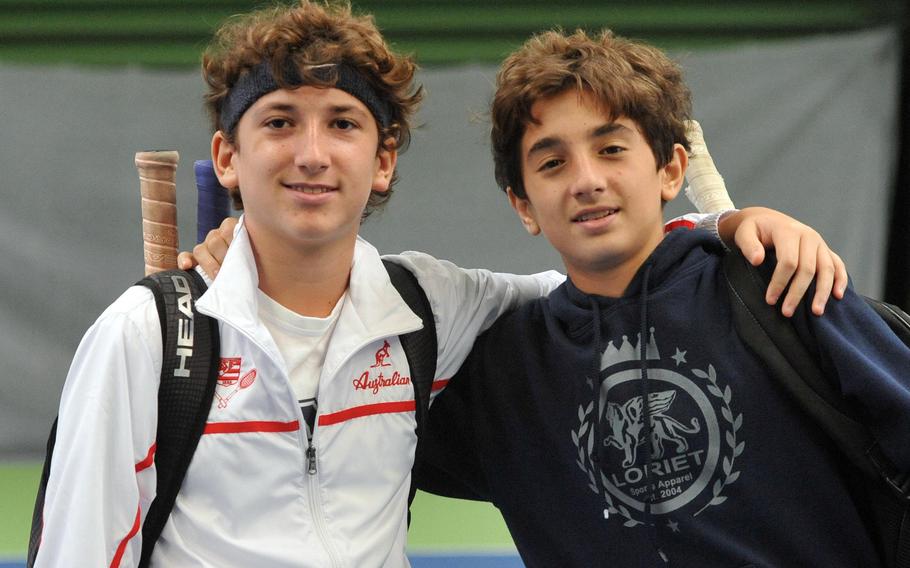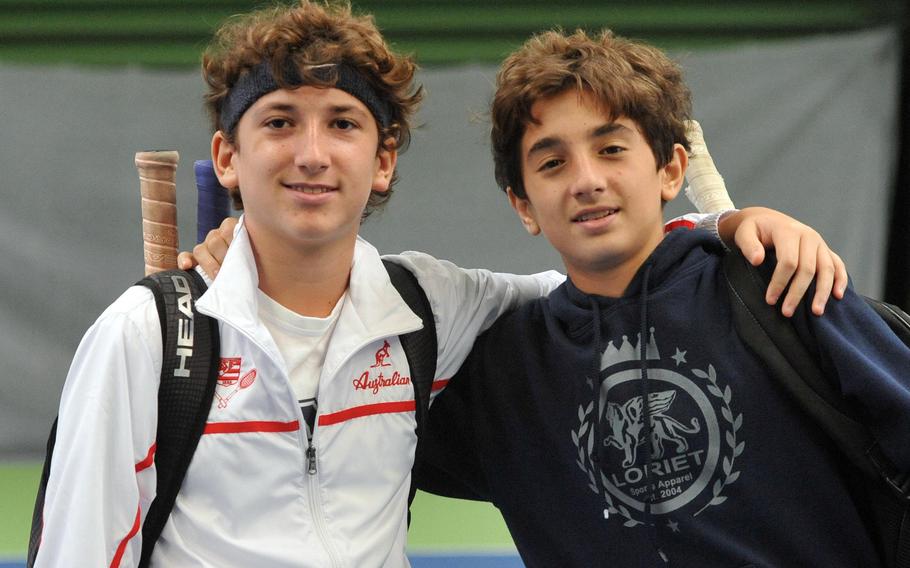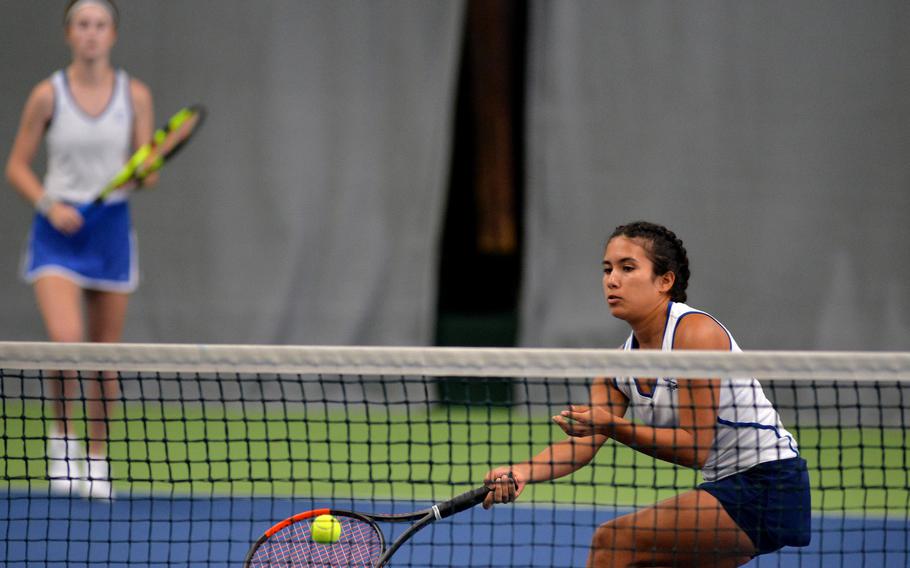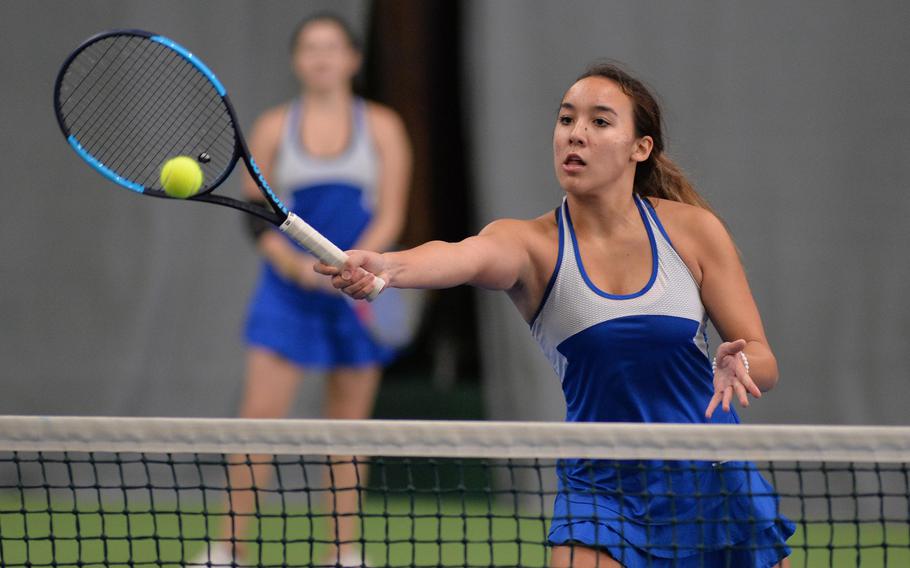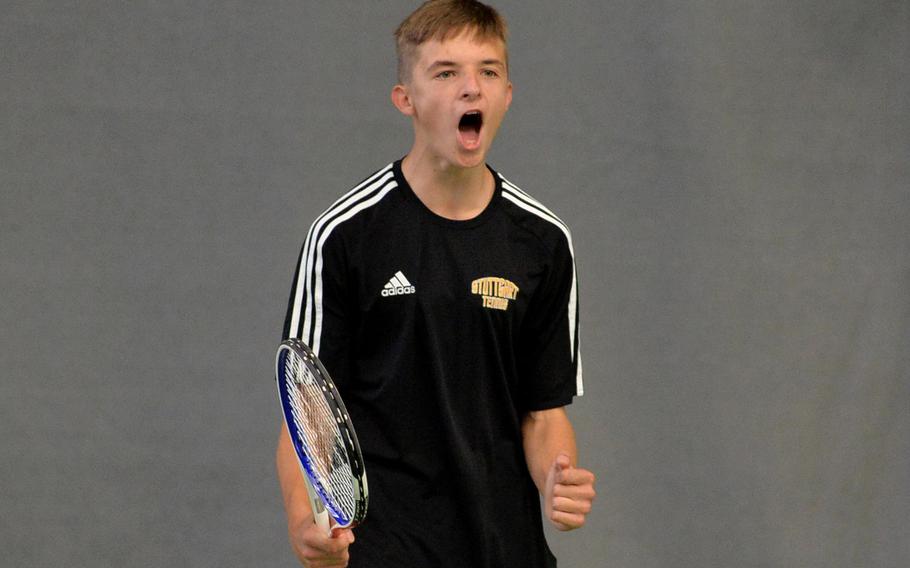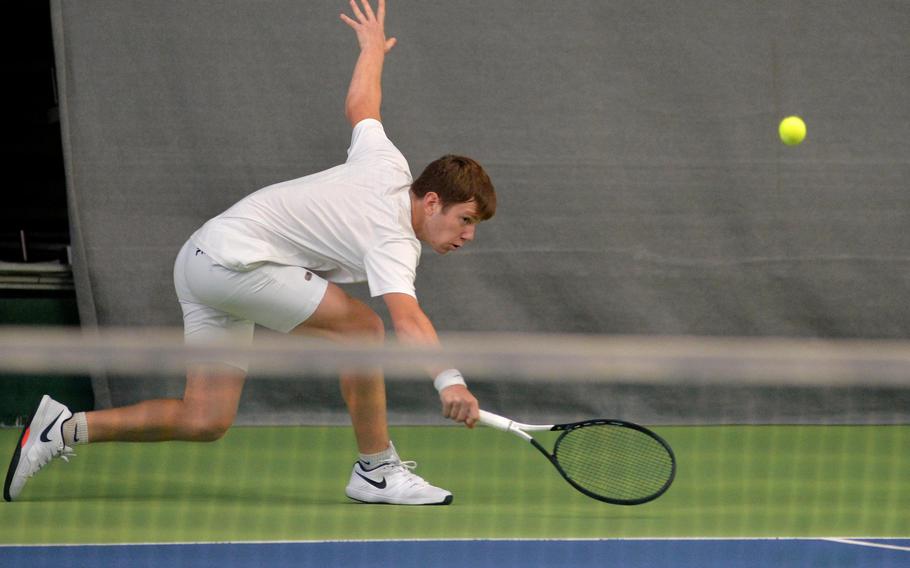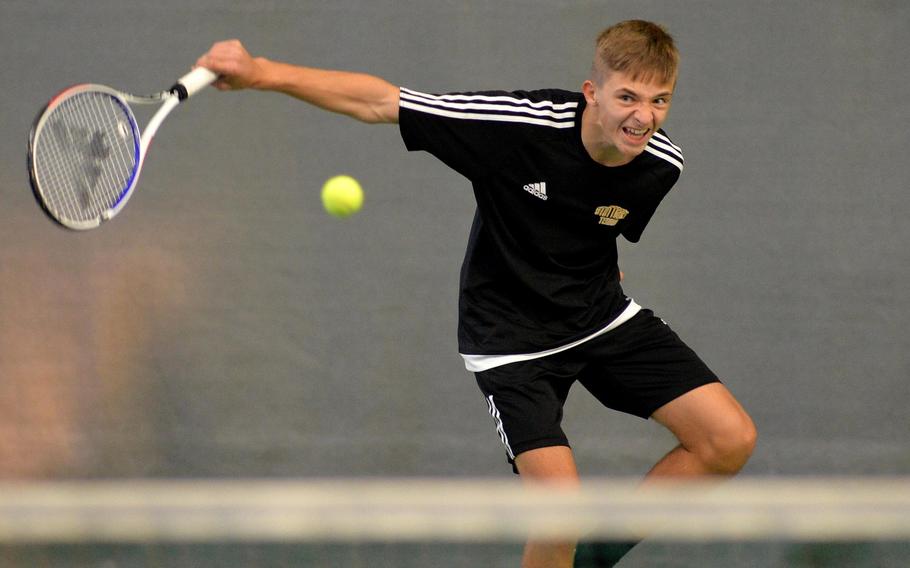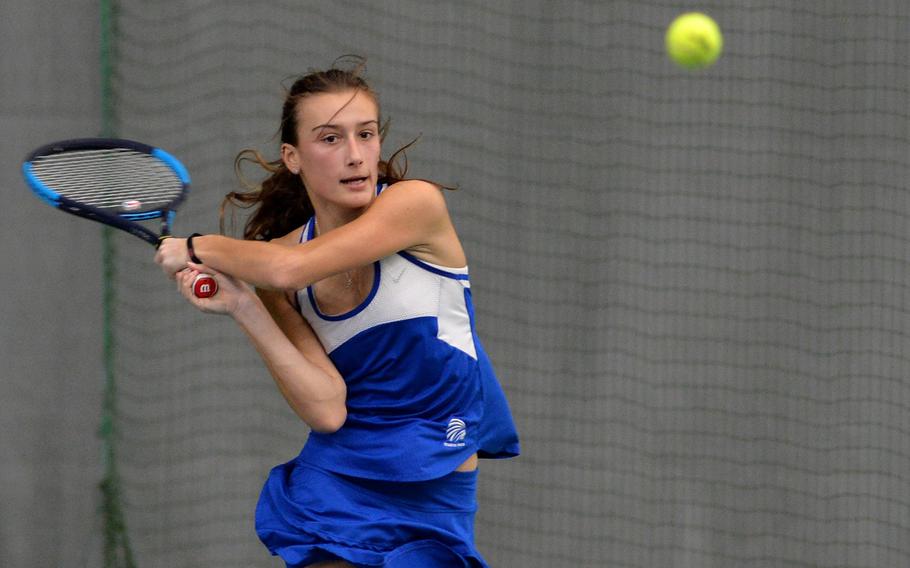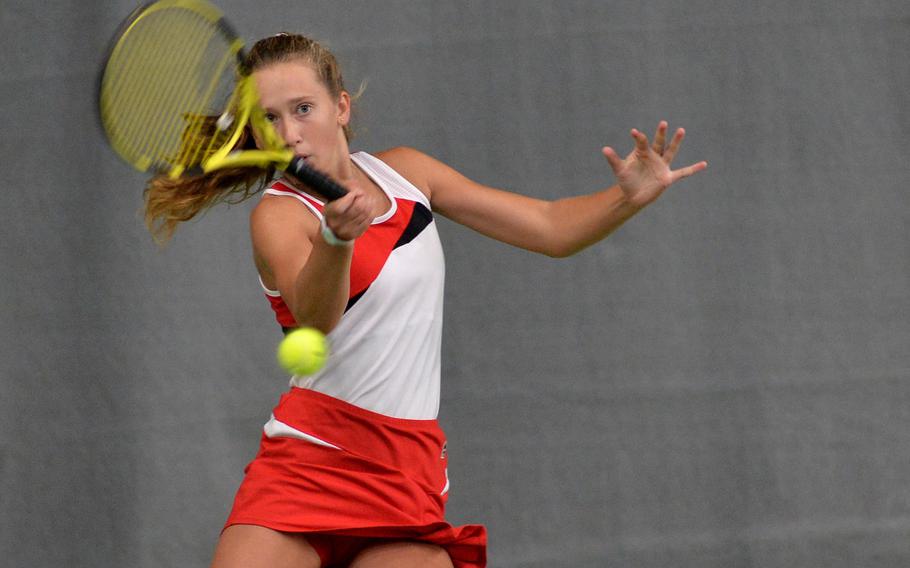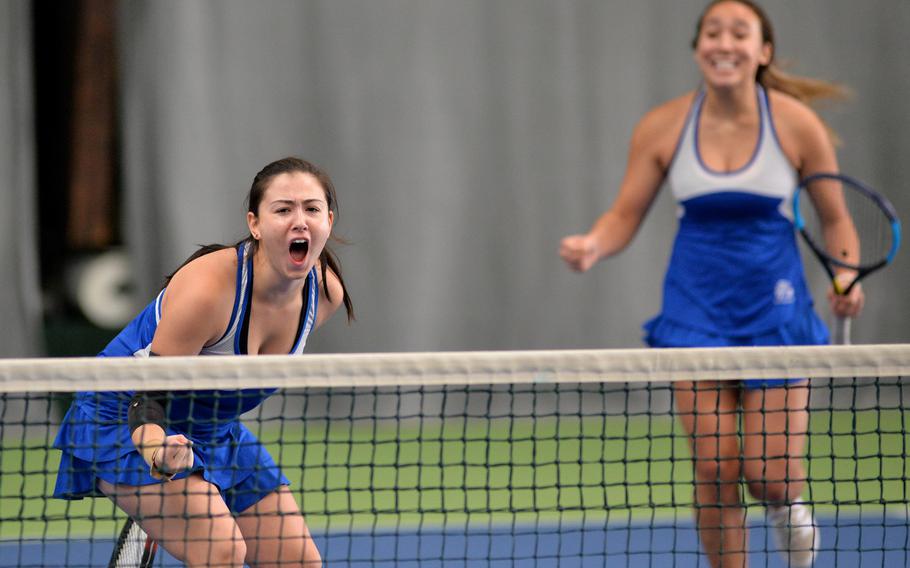 WIESBADEN, Germany – The two reigning singles champions defended their titles Saturday at the DODEA-Europe 2019 tennis finals, showcasing mental toughness to prevail in respective hard-fought matches.
In doubles, the two winning teams ended the three-day tournament undefeated.
Girls singlesIn one of the most anticipated matches of the day, defending champion Aiva Schmitz of Kaiserslautern defeated Wiesbaden junior Charlotte Kordonowy, 6-3, 6-2.
Schmitz was feeling the pressure of added expectations after defeating Kordonowy a year ago in the same tournament as a freshman.
"It does feel different," she said of this year's title. "Last year, I was a freshman and everyone kind of underestimated me. This year, everyone was like, 'Yeah, Aiva, she should win. It was definitely a different mentality going in."
Kordonowy hung tough early on, drawing to 2-2 in the first set and taking the first game in the second set before Schmitz took control and pulled ahead in a match punctuated by hard hits and aggressive baseline rallies.
Kordonowy made more errors as the pressure mounted, sending a few balls well past the baseline or into the net, the frustration growing on her face.
"You saw a shift," Wiesbaden coach Tom Rooney said. "Sometimes the facial expression tells you it all.
"It felt like Charlotte was trying to end the point more quickly by being aggressive," Rooney said. "We noticed the first set went quickly then she was going wide, going down the line and missing because she was trying to be a little over aggressive.
"Patience was part of it," he added, "but also the emotions. Once she fell behind, it's hard to be patient because you want to come back quickly."
Kordonowy said the pressure of "being so close and not being able to fully go through with it" got to her. "Mentally, I was really stressed.
"This is my third year in a row getting second," she said.
Schmitz, she said, "played really well on the court today. I'm happy for her."
Schmitz lost to Kordonowy in the regular season on the same court, a defeat she chalked up to being intimidated about playing on the newly-carpeted surfaces at the Vitis tennis center.
This time, she told herself she could do it.
"I'm still kind of shaking," she said a few minutes after her win. "I'm just really relieved I finished it off at the end."
Boys singlesStuttgart sophomore Amar Tahirovic defended his title as well. But it wasn't easy.
For the second time in the tournament, Tahirovic, the No. 1 seed, faced Marymount's Marco Garofalo.
Garofalo gave Tahirovic a bit of trouble in the preliminaries, but Tahirovic prevailed 6-1, 6-3. In the finals, it was a tougher battle, highlighted by long rallies that made for some nail-biting tennis.
As a crowd gathered courtside to watch, Tahirovic dug deep to upend Garofalo, 6-3, 6-4, by winning the final two games.
"When it was 4-4, he had a couple game points where I had to fight back to win the game and not let him take the lead," Tahirovic said.
The match, he said, was closer than he expected. "He had some nice rallies and some shots that made me run a lot and gave me a hard time," Tahirovic said.
"I found my way back and found a way to win," he said. "The match was great and the atmosphere was amazing."
The win capped off a two-year undefeated run for Tahirovic in DODEA tennis play.
Girls doublesThe Wiesbaden duo of senior Jordan Bennett and sophomore Hope Goodwin outlasted Ramstein juniors Dougie Allison and Isabella Guzaldo in three sets to win their first European doubles title, 4-6, 6-0, 6-3.
Wiesbaden won at Europeans a year ago in girls doubles but with a different team.
Bennett and Goodwin proved to have a winning chemistry, proceeding through the season undefeated.
Allison and Guzaldo, the top seeds in the other pool, were a tough test for Wiesbaden in the regular season, losing to Bennett and Goodwin in three sets.
The finals were no different.
Allison and Guzaldo took the first set, but Bennett and Goodwin rallied to an easy second set win to force a third, decisive set.
"After we went down (in the first set), we were obviously frustrated," Bennett said.
"Our coach came over and said, 'Don't think first place, second place. Just think I want to win this. Play your game.' And that's what we did."
Like Wiesbaden, Allison and Guzaldo marched through the tournament undefeated, having earned a spot to play for the title after beating Ramstein's wild card doubles team in the Friday semifinals.
Boys doublesThe swiftest match in the finals was in boys doubles, where the Florence team of junior Brando Fabri-Corigliano and sophomore Pietro Reali took a 6-2, 6-0 decisive win over Ramstein's Colin Kent and Troy Boehne.
Reali and Fabri-Corigliano, a No. 3 seed behind the Royals duo in one pool, beat Kent and Boehne in pool play en route to going undefeated. But they took nothing for granted heading into the finals, they said, after seeing Ramstein's scrappy win over a tough Wiesbaden team in the semifinals.
"Then we were worried," Fabri-Corigliano said. "So then (we knew we had) to keep all the balls in, play solid and try to make as little mistakes as possible."
Reali and Fabri-Corigliano said they needed their best play of the tournament to beat Ramstein.
"It feels very rewarding," Fabri-Corigliano said.
In other matches of note Saturday, Ramstein freshman Kassianna Von Eicken easily handled Marymount's Priscilla Ago to earn third place in girls singles, while AOSR's Guido Plebani edged Florence's Robert Been for third place in the boys singles.
Third-place in girls doubles went to Ramstein's Lydia Woodfork and Madalin Svan, who needed three sets to defeat Marymount's Eri Ishi and Francesa Buonpensiere. The Wiesbaden duo of Benjamin Petrik and Yumin Kim beat Marymount's Sergio Nogales and David Lopez Post for third in boys doubles.
Wiesbaden won the combined boys-and-girls team title in Division I, while Marymount took the smaller schools' team title.
svan.jennifer@stripes.com Twitter: @stripesktown
---
---
---
---