European girls soccer preview
Someone has to lose out in girls mix
By
Gregory Broome broome.gregory@stripes.com
May 14, 2015
---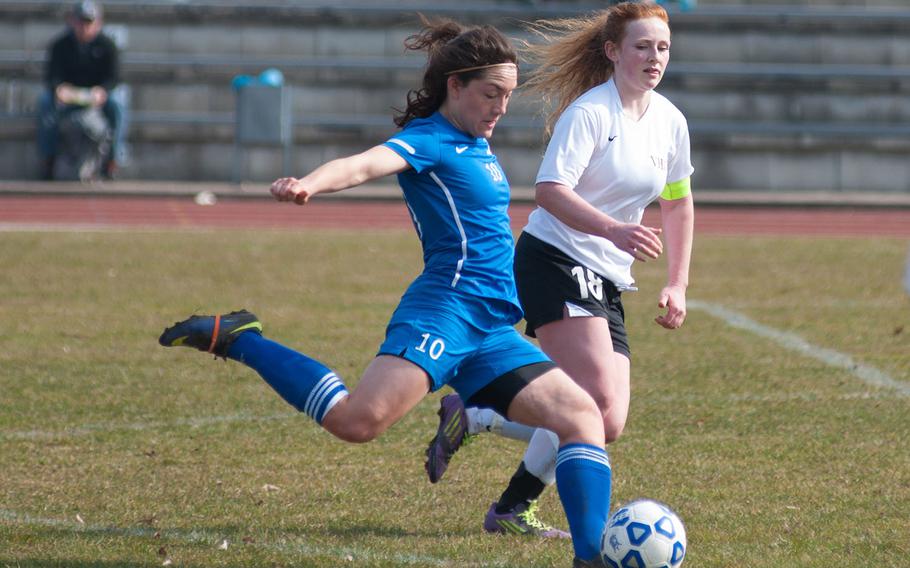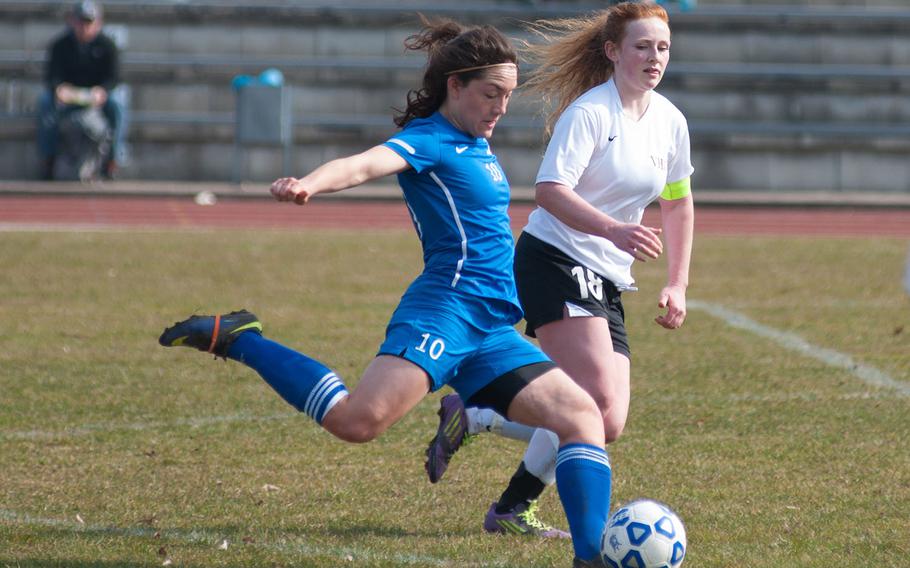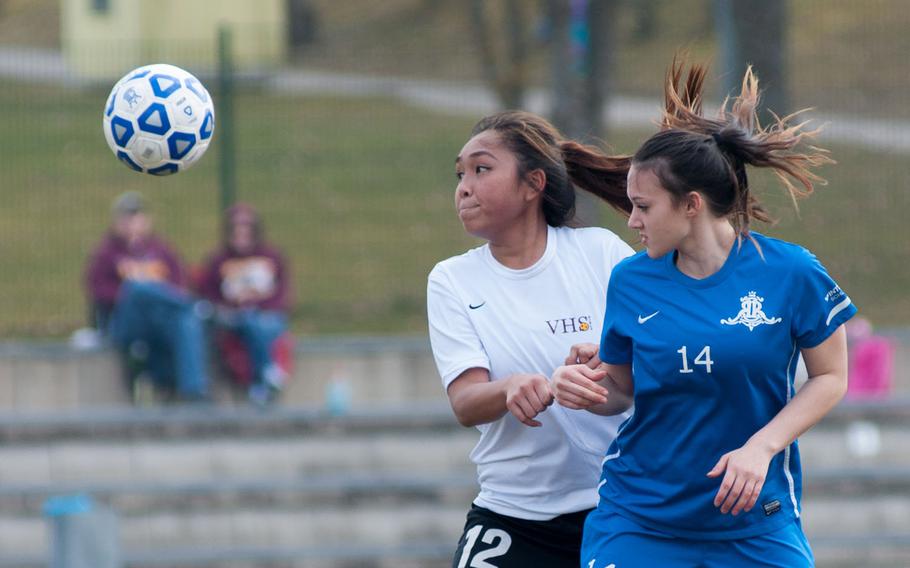 The list of schools winning a DODDS-Europe Division I or Division II girls soccer championship over the last half-decade includes just three names. This year, thanks to a recent divisional realignment, all three of those programs will collide in a single bracket.
In short, this tournament could be very interesting.
The 2015 DODDS-Europe girls soccer championship tournaments run Monday through Thursday at sites around the Kaiserslautern Military Community. The pool rounds play out Monday and Tuesday, while Wednesday features the Division I and II semifinals along with a handful of decisive Division III matchups. Three championship matches will be played Thursday at Kaiserslautern High School.
Division IEither Patch or Ramstein has won every Division I European championship over the past six years. Naples has hoarded every Division II crown over the last five. Only one of the three can possibly add to that legacy by week's end.
Patch, which claimed the championship in 2010, 2011 and 2013 and lost the title match to Ramstein in 2012 and 2014, appears the obvious favorite to do so. The top-seeded Panthers are undefeated, and their record includes impressive victories over both Naples and Ramstein. They beat the Wildcats 5-1 on April 25 and the Royals 2-0 on May 2.
That sounds straightforward enough. But Patch wasn't perfect; the team was stymied in a 1-1 tie with Wiesbaden on March 28.
Further, both Ramstein and Naples have enough talent to reverse their regular season losses to Patch, the only team to defeat either of them.
The second-seeded Royals boast DODDS-Europe's most prolific offense; other than that shutout loss to Patch, Ramstein scored at least three goals every time they played. They were just as effective on the opposite side of the pitch, allowing just the two goals to Patch and one score to Wiesbaden on the season.
Naples was similarly successful save for a season-opening scoreless tie with Vicenza and that rough loss to Patch. Excepting those games, the Wildcats outscored their opponents 21-0 in four games.
But teams such as Patch are the ones they'll have to beat if the Wildcats are to push their championship streak to a sixth year, and they'll have to do so despite slotting in as the tournament's sixth seed. The field contains more threats to the title-tested trio of champions.
Fourth-seeded Wiesbaden was steamrolled by Ramstein, but its tie with Patch and a convincing 2-0 defeat of rival Kaiserslautern on May 8 suggest the Warriors are for real as a title threat.
Vicenza, which joins Naples and SHAPE as new additions to the large-school bracket, only dabbled in Division I twice this spring, and neither produced a win. The Cougars were blanked by Patch and played Naples to a scoreless draw. But if the offense can seize a few opportunities in the tournament, the team is skilled enough to make a run.
Shutout losses to Ramstein and Wiesbaden indicate that the Raiders might not have the championship goods this year. The third-seeded squad will try to emerge from a second tier of title hunters that also includes Lakenheath, Vilseck and SHAPE.
International School of Brussels won't field a girls team in the tournament due to a scheduling conflict with the International Baccalaureate test.
Division IINaples' big new problem is a big opportunity for what remains of the Division II field. Now that DODDS-Europe has ended Naples' Division II dynasty via realignment, the throne is vacant and awaiting a new champion.
AFNORTH is the possible heir apparent. The Lions reached the title game last year, where they fell just short of ending the Wildcats' reign the old-fashioned way, and have a strong core back to seize the championship that got away. Two late-season forfeits and a season-ending tie with ISB marred what once was a pristine record, but AFNORTH should be at full strength for the tournament.
As they do in so many Division II sports, the Falcons of Black Forest Academy will present a substantial obstacle to AFNORTH's projected ascent. BFA was the only other team to win all of its Division II matches.
BFA was rewarded with the tournament's top seed, while AFNORTH tops the opposite pool as the No. 2 overall seed.
Third-seeded Hohenfels played the most robust divisional schedule of any contender. The Tigers won four of five games from Division II opponents, their only loss coming on a hard-fought 4-3 decision to BFA.
AOSR posted a winning record despite a tough schedule, making it a worthy dark-horse contender. Ansbach, Aviano, Bahrain, Bitburg and Rota round out the field.
Division IIIRealignment was kind to Division II on both extremes. The mid-sized field benefitted from the promotion of Naples, Vicenza and SHAPE, but it can also celebrate the reassignment of Alconbury to Division III.
The Dragons have been good enough this spring to transcend the usual divisional caveats. They've simply been one of DODDS-Europe's best teams. Their body of work includes a win and a scoreless tie, respectively, with Division I SHAPE and Lakenheath, and a string of solid wins in an undefeated season.
Only Florence can rival the Dragons' reputation. Playing on the opposite side of the continent, the Boars have beaten the likes of Aviano, AOSR and Sigonella.
Alconbury will enter as the tournament's No. 1 seed, while Florence is seeded second. Ankara, Baumholder, Brussels, Incirlik and Sigonella will look to interrupt that projected matchup.
Twitter: @broomestripes
---
---
---
---