Boys basketball roundup
Some drama, but few surprises as tourneys open
---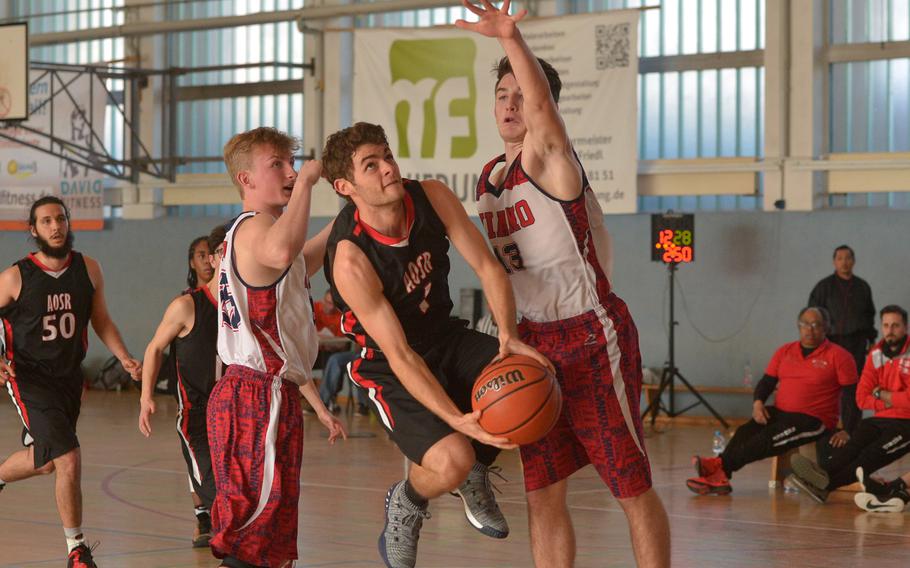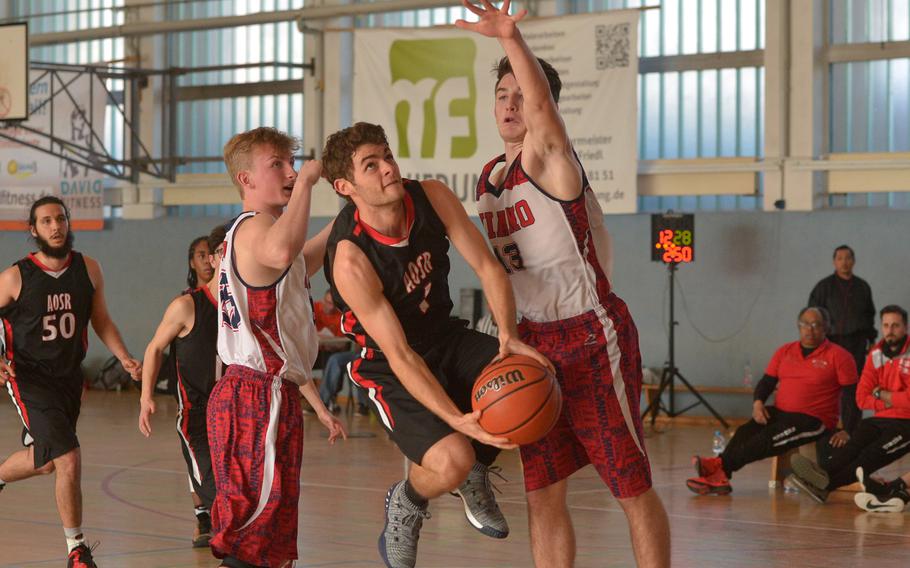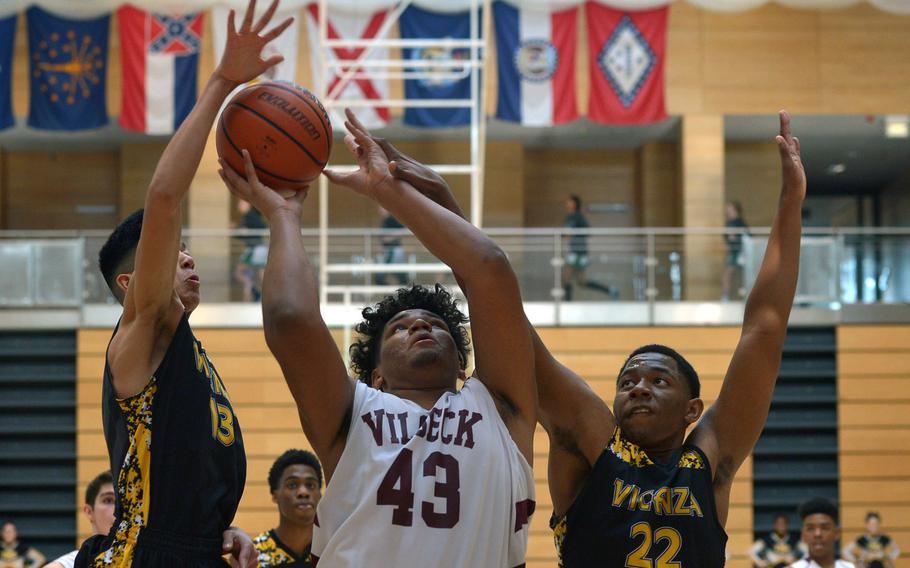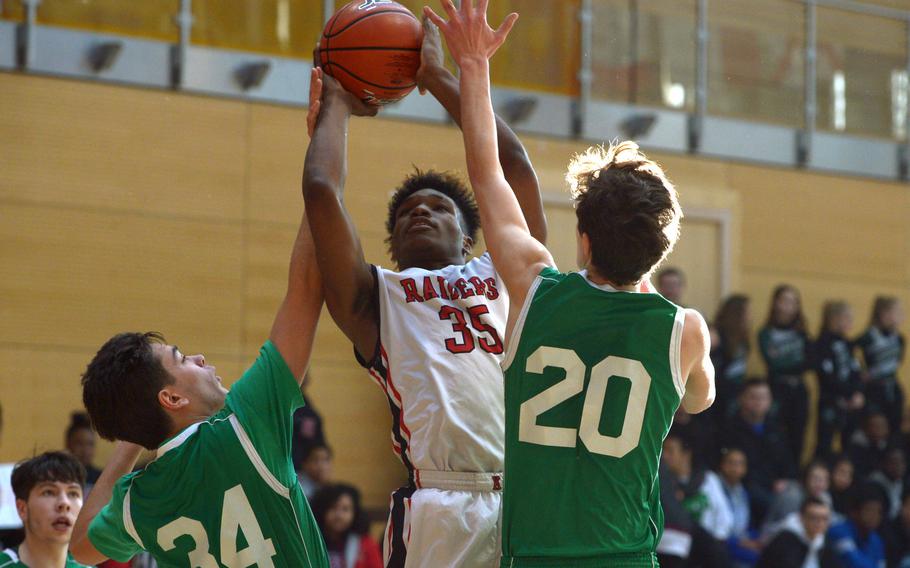 WIESBADEN, Germany — Day 1 of the DODEA-Europe boys' basketball tournament went largely according to plan, with few upsets and a pair of German powerhouses already eyeing the knockout rounds, which start Friday.
Some upstarts made life difficult for the big boys in pool play, however, with Vicenza taking Ramstein to overtime in Division I and Bahrain pushing Spangdahlem all the way in Division II. Division III teams played only three games, with competition starting in earnest Thursday.
Division IThe four biggest German schools made strong cases for inclusion in Friday's semifinals, with Wiesbaden and Stuttgart already assured of places out of Pool A with a pair of victories apiece, and Ramstein and Kaiserslautern in pole position in Pool B with two wins each of their own. Vilseck, Vicenza and SHAPE remain in contention, however, and could advance with strong showings Thursday.
Stuttgart 57, Naples 43: Stuttgart clinched its spot in the semifinals with a double-digit victory over Naples. Senior guard Mondwell Bukle and junior forward Ahmad Johnson paced the Panthers, something coach Anthony Bassett said has been the case all season.
"As go Ahmad Johnson and Mondwell Bukle, so goes Stuttgart," Bassett said. "When they play well, we do well."
The Panthers' full-court press stymied Naples throughout, creating easy chances on the break and preventing the Wildcats from getting into a rhythm offensively.
"They played us tough," Bassett said of Naples. "I think all the teams are playing with intensity, because this is the tournament, but they just couldn't break our press."
Ramstein 54, Vicenza 45 (OT): Underdog Vicenza pushed favored Ramstein all the way in perhaps the day's closest game, forcing overtime with a dramatic Abrien Brown three-pointer as time expired.
"It felt good – it's something I've never done before in high school, hitting a clutch shot like that, so it was a great feeling," Brown said. "(Coming so close) shows us we can beat any team, so that will be a good confidence booster for us."
Vicenza's elation was only temporary, however, as Ramstein's Naser Eaves dominated the extra session, scoring and assisting as the Royals pulled away.
"I was just thinking, it's 0-0, play our normal game, don't let the pressure get to me," Eaves said.
Ramstein will face off with archrival Kaiserslautern in both teams' final pool matchup Thursday evening.
Division IIA quartet of teams stood out in Division II, with perennial contenders Rota and Black Forest Academy winning all of their games, and Spangdahlem and Bahrain also looking like contenders, though Bahrain's narrow loss to Spangdahlem puts it some jeopardy in Pool B.
Aviano is also in the mix for a semifinal spot out of Pool A with a win over fellow Italian school American Overseas School of Rome.
Rota 59, Marymount 26: The Admirals came in ranked No. 2 in their pool, and demonstrated why with a comprehensive win over Italian school Marymount. Strong point guard play from senior Joseph Perches and deft interior passing and post play from fellow senior Andy Drake were significant factors in the Admirals' win.
Coach Ben Anderson was able to rest several key players in the second half, which might be important in the Admirals' upcoming matchups with Bahrain and Spangdahlem on Thursday.
Marymount lost captain Mario Freilino in the third quarter when he fouled out, and the young Royals were consistently thwarted by Rota's pressure on defense. Gianmaria Prestigiacomo was the Royals' standout performer on both ends.
Spangdahlem 57, Bahrain 53: Bahrain is always a wildcard at European tournaments, as its remoteness dictates a schedule without any DODEA competition during the regular season. But the school appears to be a strong contender for the semifinals despite losing a close matchup with Spangdahlem, among the favorites in Division II.
"It shows we can compete with all of the teams here, and that helps – even though it was a tough loss – we came close," Bahrain senior Dylan Meyer said. "Remembering that tonight, going into the one game we have tomorrow, will give us a lot of encouragement."
It was a game of runs, with teams exchanging the lead until the very end, when a technical foul on Bahrain gave Spangdahlem – still wearing its old Bitburg uniforms – some breathing room, with Javian Rouse and Kyros Bettelyoun hitting clutch free throws down the stretch.
"We did well staying in the game, keeping a strong mentality," Rouse said.
Division IIIAnsbach surprised many with an upset over favored Sigonella in the final Division III game Wednesday, one of only three games played within the division, where every school will play each other once and forgo semifinals in favor of the teams with the best records squaring off in the finals.
The Cougars' 41-39 victory puts them in good stead heading into a more intensive second day of play, where they'll face an undefeated Baumholder team, which defeated Brussels 41-32 in another Wednesday matchup.
Elsewhere, Hohenfels outclassed Alconbury 46-24.
Twitter: @DKS_Stripes
---
---
---
---