Small-school standbys Alconbury, Sigonella stay on the football sidelines
by
Gregory Broome
September 25, 2018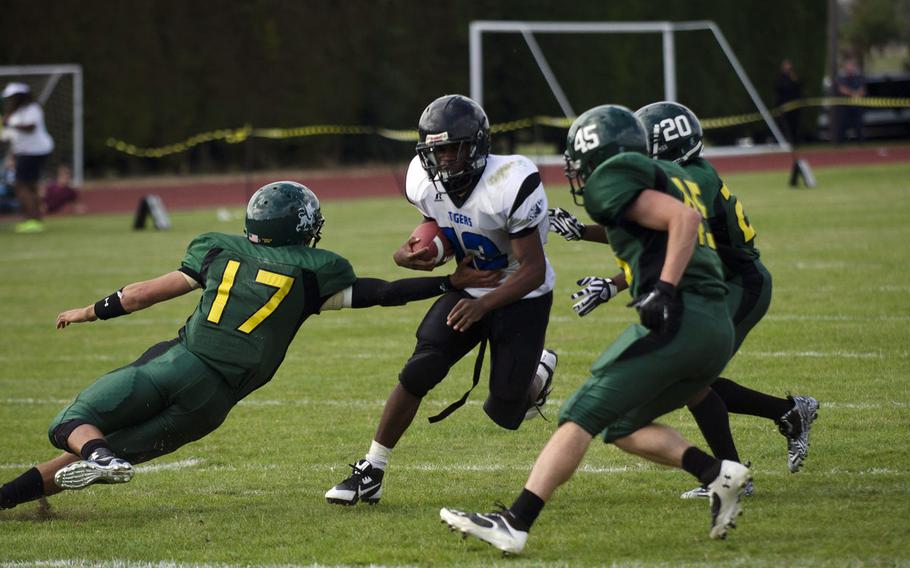 DODEA-Europe relaunched its Division III football program this fall, featuring AFNORTH, Ansbach, Baumholder, Brussels and Hohenfels playing a six-man game better suited to those schools' small student populations.
But there were two notable absences on that roster of participating schools: Alconbury and Sigonella.
Located on opposite extremes of the DODEA-Europe footprint, the England-based Alconbury Dragons and Sicily-based Sigonella Jaguars have collected plenty of Division III accolades in a variety of sports in recent years. While DODEA-Europe athletic director Kathlene Clemmons said "there was interest" from both schools, neither was quite ready to make the leap onto the gridiron this fall.
"If this season is a success and we make the decision to continue six-man football, we will have to look at the big picture, including budget," Clemmons said. "Both schools will also have input on what works best for their individual programs."
Each program is already evaluating such issues.
Alconbury played football as recently as 2015, even reaching the quarterfinals of what was then a 12-team Division II league.
Athletic director Wendy Collins said that while Alconbury "unfortunately" did not field a team this fall, a future Dragon football team is a possibility.
"As of yet, it's still undecided how we will proceed with football in the future," Collins said.
Similarly, Sigonella is observing how this inaugural season plays out before restarting a football program sidelined since its 2012 appearance in the Division III semifinals.
"We wanted to wait to see what it would look like in Europe and if it's something that will continue," Sigonella athletic director Michelle Chandler said.
Sigonella's situation also has a few notable complicating factors.
The Jaguars pivoted to boys volleyball after their football team folded, and Chandler doesn't want to "jeopardize" that fledgling program by poaching its athletes for football.
Furthermore, the boys volleyball team travels with the girls volleyball team to away meets, while a football team would play a distinct schedule and incur extra costs. The Jaguars would also need to arrange adequate equipment and facilities.
Looming over all of this is an unmistakable decline in high school football interest and participation, a phenomenon felt both stateside and overseas, and the questionable prudence of launching or relaunching a prep football program in that environment.
In short, the Alconbury and Sigonella football programs, for now, exist only in the realms of the past and the hypothetical.
"We haven't ruled it out going forward," Chandler said. "But there are a lot of aspects to be considered."
broome.gregory@stripes.com Twitter: @broomestripes