European D-II/III baseball
Sigonella edges Spangdahlem to retain title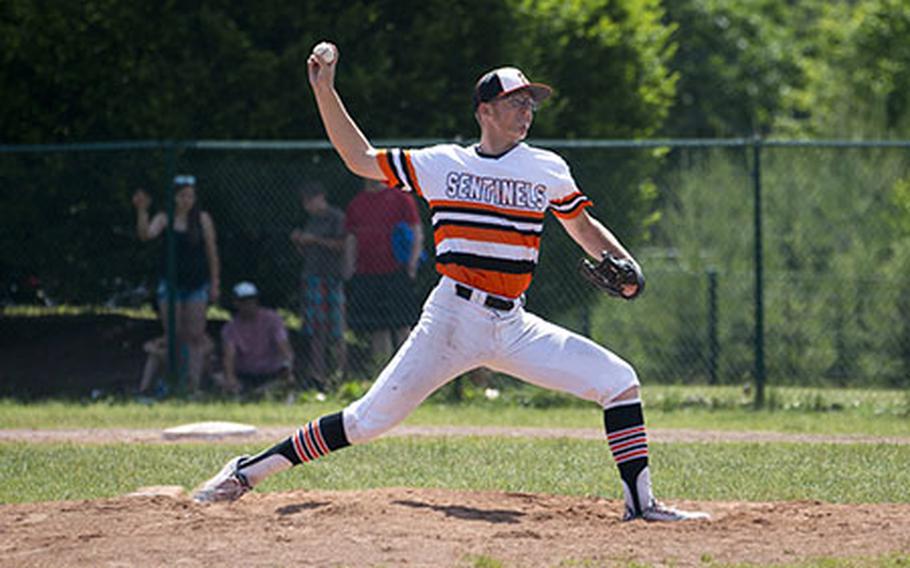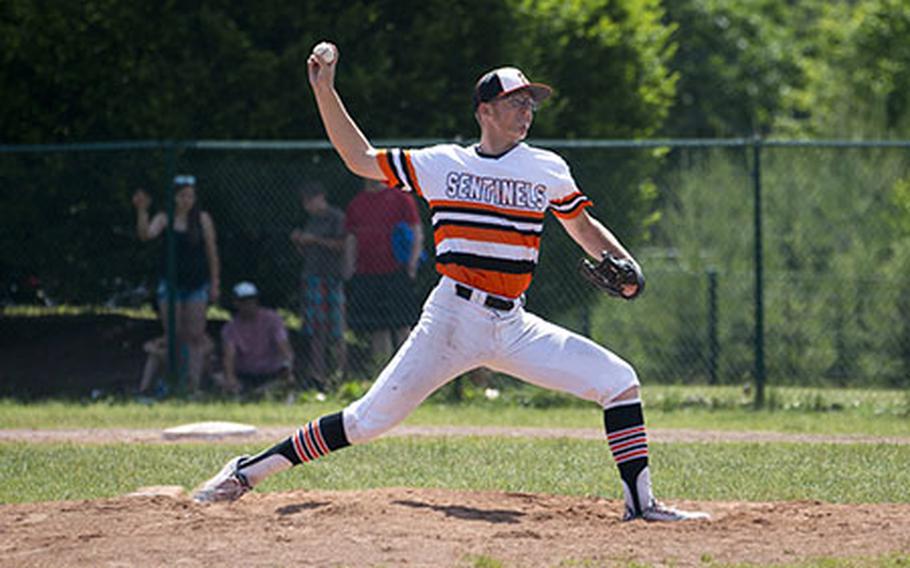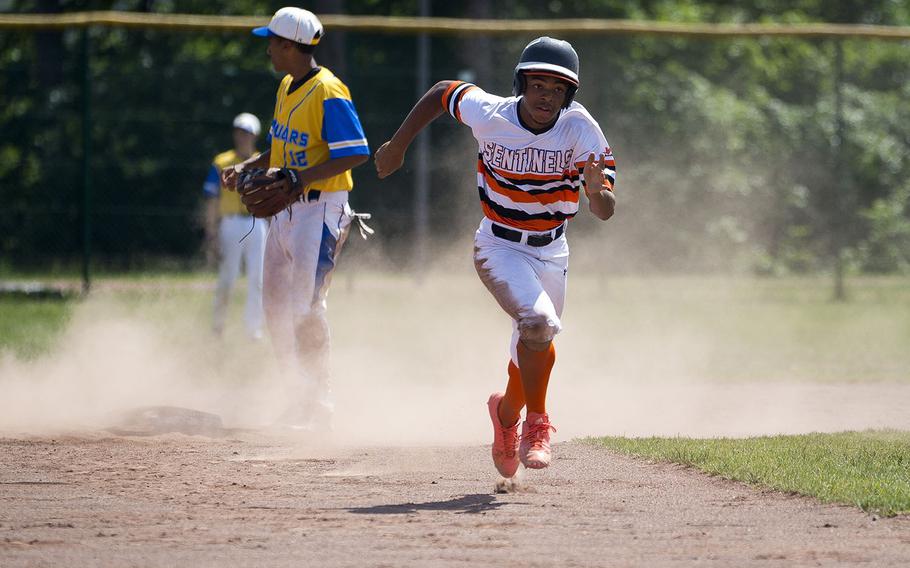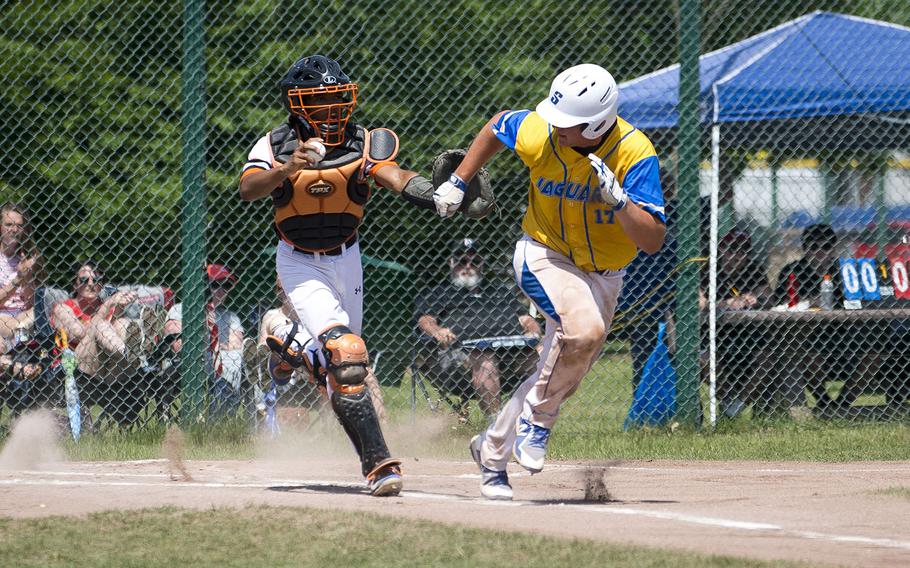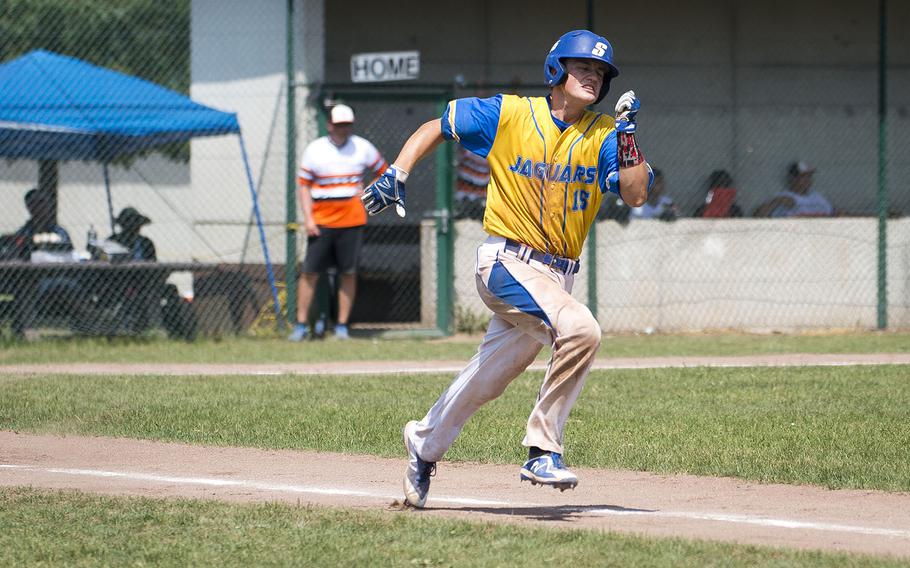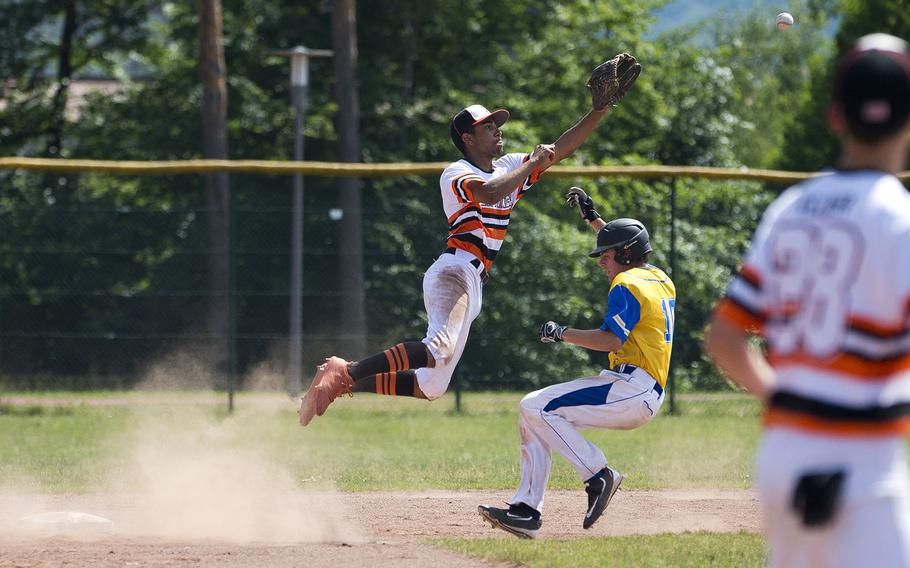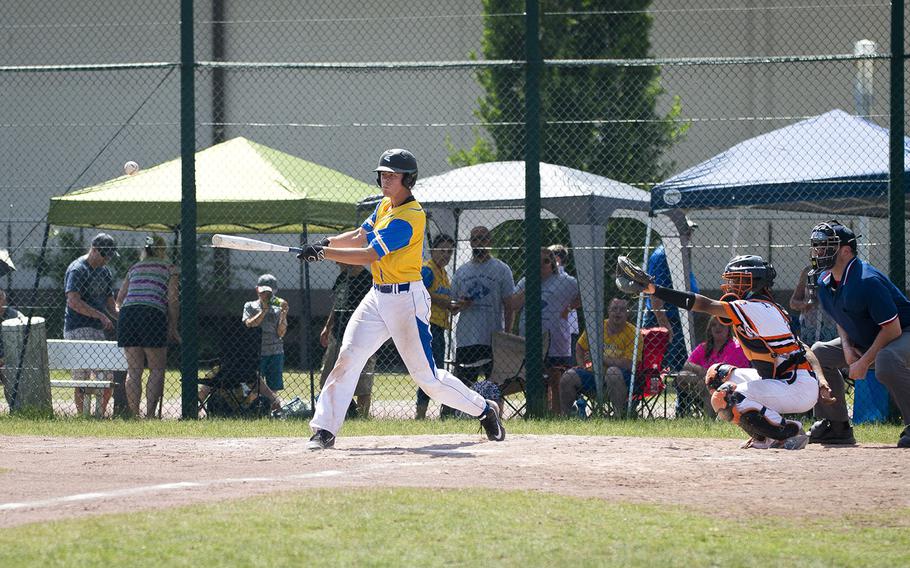 RAMSTEIN AIR BASE, Germany -- The game that was always expected somehow exceeded all expectations.
The Sigonella Jaguars edged the Spangdahlem Sentinels 1-0 on Saturday to win their second straight DODEA-Europe Division II/III baseball championship. A solo home run by Sigonella catcher Mason Carter served to decide a stellar pitching duel between Sigonella's Alex Ogletree and Spangdahlem's Max Little.
Ogletree struck out 16 Sentinels in seven innings of three-hit ball; Little struck out 13 Jaguars in his own seven-inning, three-hit gem.
Sigonella coach Matt McKown called Ogletree and Little "the two best pitchers" he's seen in his long Division II/III coaching career.
"It was a true baseball game. It came down to pitching and defense," McKown said. "Which is all you can ask for."
Carter provided the game-changing swing that decided the championship. The sophomore launched an inside pitch clear over the left field fence for a fourth-inning home run.
"I definitely tried to put the team on my back a little bit, being one of the leaders on the team," said Carter, who also capably handled Ogletree as the Jaguars' catcher.
Despite his near-impeccable pitching line, Ogletree had to battle out of trouble more than once.
The Sentinels loaded the bases in each of the two innings after Carter's blast, the latter threat ending when a potentially productive chopper made contact with a Lancer runner traveling from first base to second.
But Ogletree was simply dominant in a seventh inning that represented the perfect final act to his stellar DODEA-Europe career. The senior pitcher had 10 pitches left under the tournament's pitch-count rules; he used exactly that number to retire three Sentinel hitters and clinch the championship.
"The only thing I was worrying about was getting ground balls...and throwing strikes," Ogletree said. "The inning before that I was getting a little tired.
"I'm glad that I was able to go out there and do it."
Spangdahlem has a new identity this season, having switched monikers from the Bitburg Barons to the Spangdahlem Sentinels. But the program's title-game frustrations persist; it has now come up short in the last three European title games, including a 2016 loss to Rota and a 10-1 loss to the Jaguars last year.
"We just can't get over that hump," first-year Sentinels head coach Dan Little said. "Couldn't ask for a better ball game than that."
The Jaguars and Sentinels have been pointed towards Saturday's showdown ever since Sigonella's 10-1 win in the 2017 European championship game.
Sigonella powered through a 9-3 divisional record in the regular season and ended it on a five-game divisional winning streak. The Jaguars clinched their return to the elimination round with three wins to start the round-robin tournament and dispatched Rota 7-2 in a Saturday morning semifinal to earn the opportunity at a repeat.
Spangdahlem earned the tournament's top seed on the strength of an unbeaten divisional run through the regular season, and played up to that status this week. The Sentinels won their first three round-robin games before routing Sigonella 19-4 on Friday evening, though at that point both teams were more interested in preserving energy for the elimination round. Spangdahlem handled Aviano 11-3 in its Saturday morning semifinal.
The anticipated title matchup was a pleasant on-field conclusion to a small-school baseball season marred by a dwindling number of participating schools. Ansbach and AFNORTH, last year's third-place and fourth-place finishers, respectively, didn't field teams this year, leaving just five Division II/III teams to populate this week's bracket.
Twitter: @broomestripes