Softball - Day 1
Schools still have hopes to crash Ramstein-Patch party
---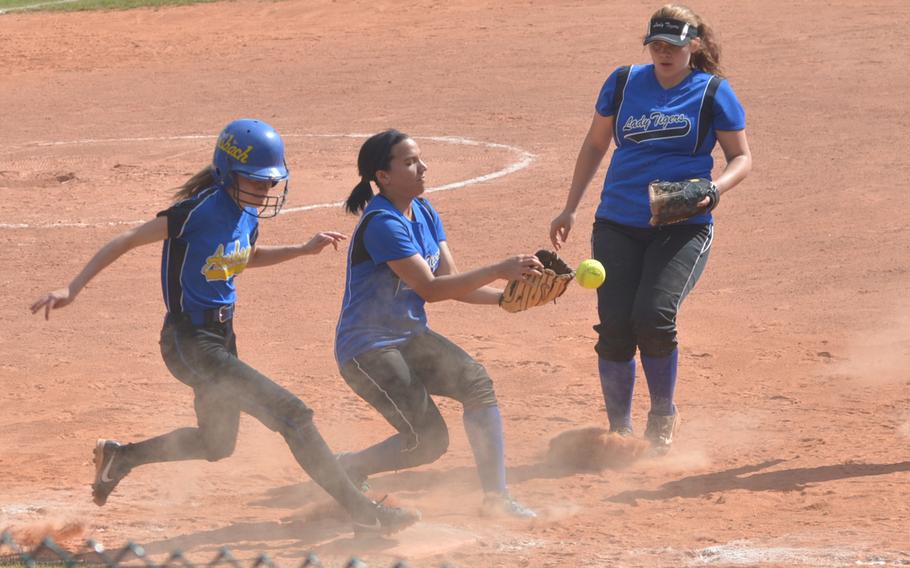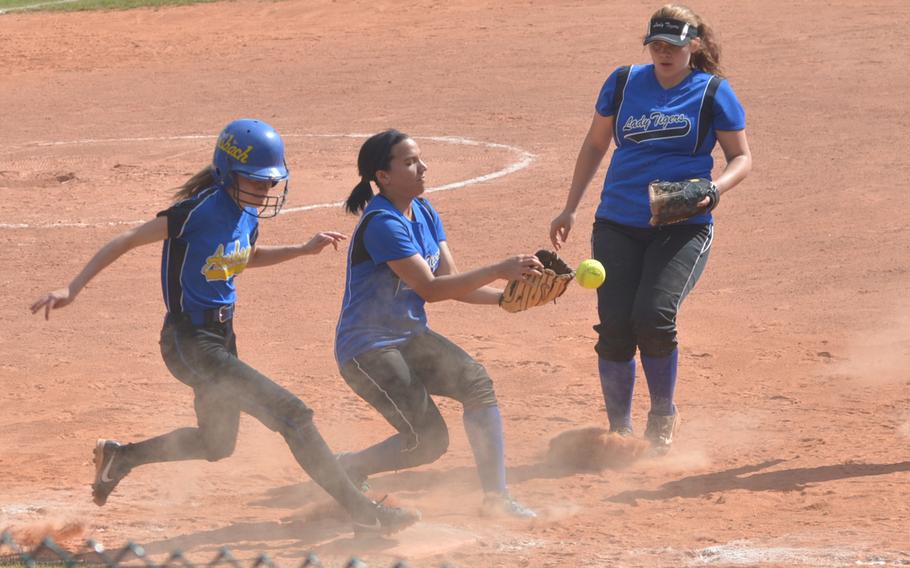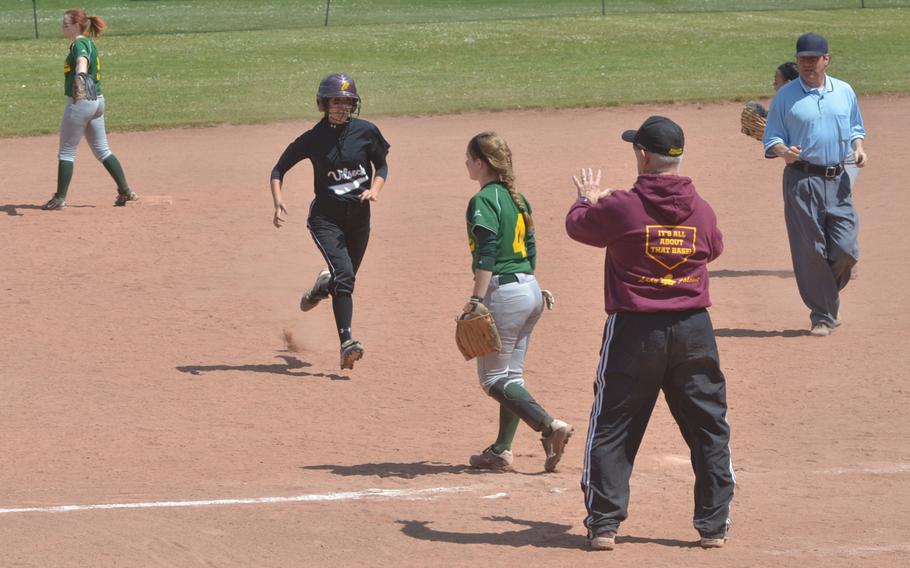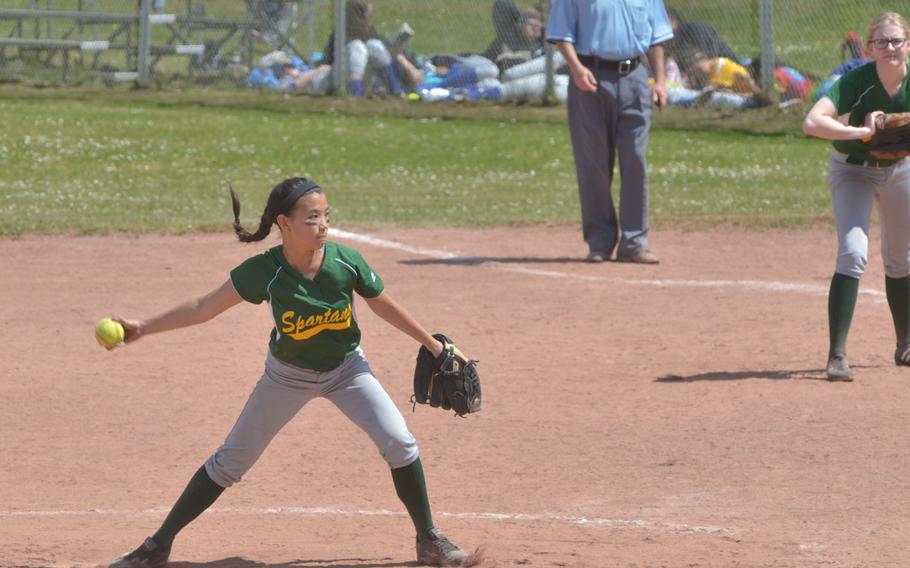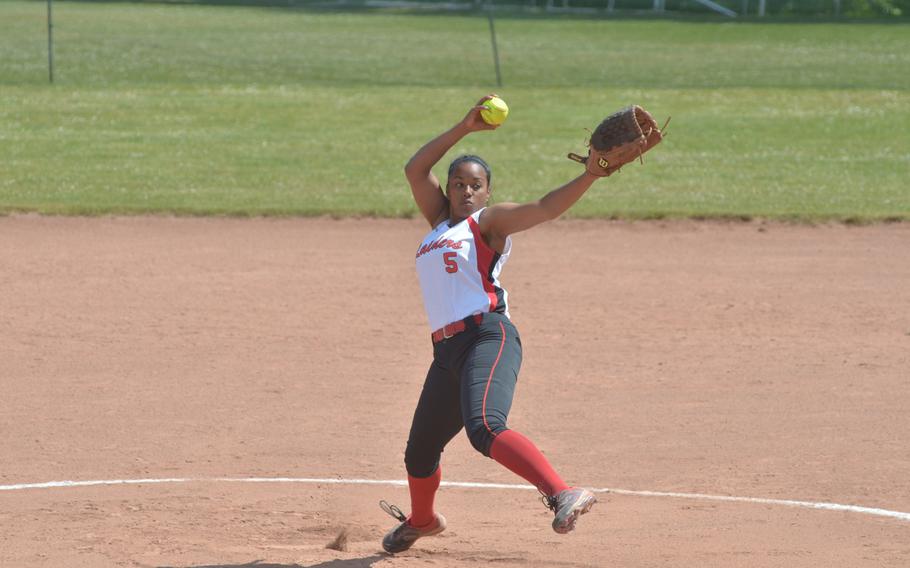 KAISERSLAUTERN, Germany — The top softball powerhouses in Europe cruised to decisive victories Thursday in the opening day of Europeans as top-seeded Ramstein and defending champion Patch kicked off a day of lopsided games across the board.
Ramstein opened with a 10-2 win over Lakenheath and Patch delivered in a 20-2 blowout of Wiesbaden, putting the longtime rivals on a path for a potential championship showdown Saturday.
However, during other opening-day games, several other teams showed they might be ready to contend.
"I feel like we can go all the way," said Vilseck pitcher Elana Montanez, who led her team to a 15-2 victory over SHAPE at Kaiserslautern High School.
Montanez overpowered SHAPE batters from the mound. After giving up a run in the opening inning, Montanez shut her opponents down in the next two.
Meanwhile, Vilseck batters unloaded, hammering nine runs in the second inning, followed by another five in the third.
SHAPE's Ceaira Daniel tried to rally her team, scoring a run in the fourth with aggressive base-running that took advantage of multiple Vilseck fielding errors. But it wasn't enough.
Vilseck went on to defeat reigning Division II champion Vicenza 4-2 in the final game of the evening.
Meanwhile, Kaiserslautern also made a strong showing as a tittle challenger.
Pitcher Tori Liggins shut out Naples through the first three innings while Kaiserslautern hitters delivered eight runs. Naples got hot in the fourth and fifth inning, putting up three and four runs respectively. However, it wasn't enough to catch the Raiders, whose 10 runs during the top of the fifth capped a 19-7 triumph.
Kaiserslautern assistant coach Darren Tidwell said he was pleased with his team's performance, but that there was room for improvement.
"We need to do a better job of fielding," he said.
The Raiders also topped Lakenheath 11-3 to win their second game of the day.
In the small schools division, Hohenfels opened with two wins, defeating AFNORTH 19-3 and Ansbach 16-5. Rota also secured two opening-day wins, defeating Bitburg 14-1 and Baumholder by a score of 11-2.
In its game against Baumholder, Rota relied on steady pitching and consistent fielding to limit Baumholder's opportunities. Rota used aggressive base running to take advantage of numerous Baumholder fielding errors.
Top-seeded Aviano cruised with a 26-0 victory over Ansbach and a 25-0 rout of AFNORTH.
---
---
---
---