D-II volleyball semifinals
Royals, Falcons will meet for championship
by
Gregory Broome
November 2, 2018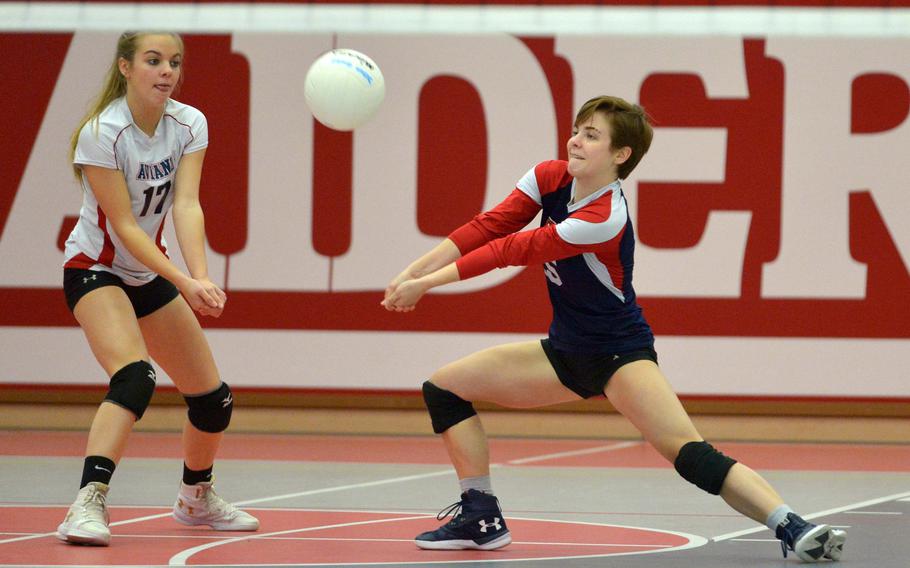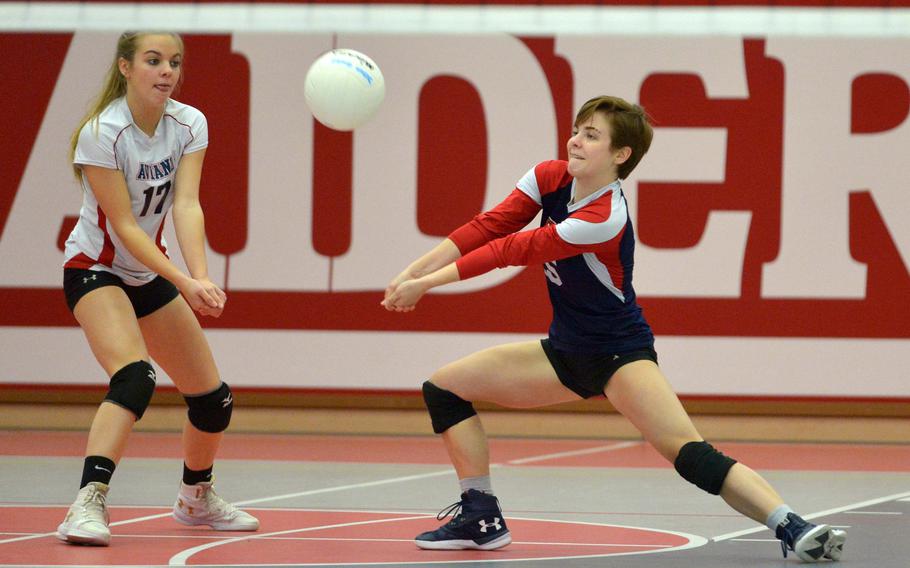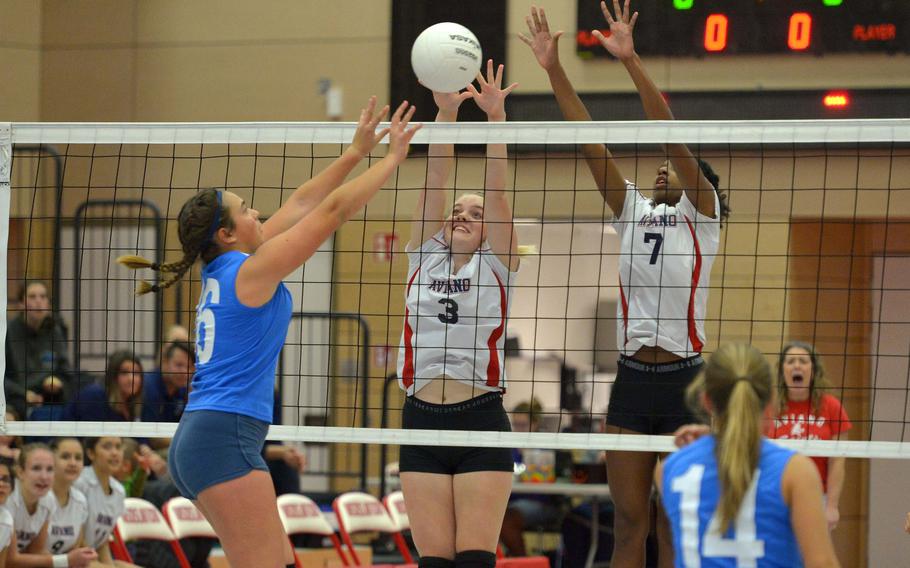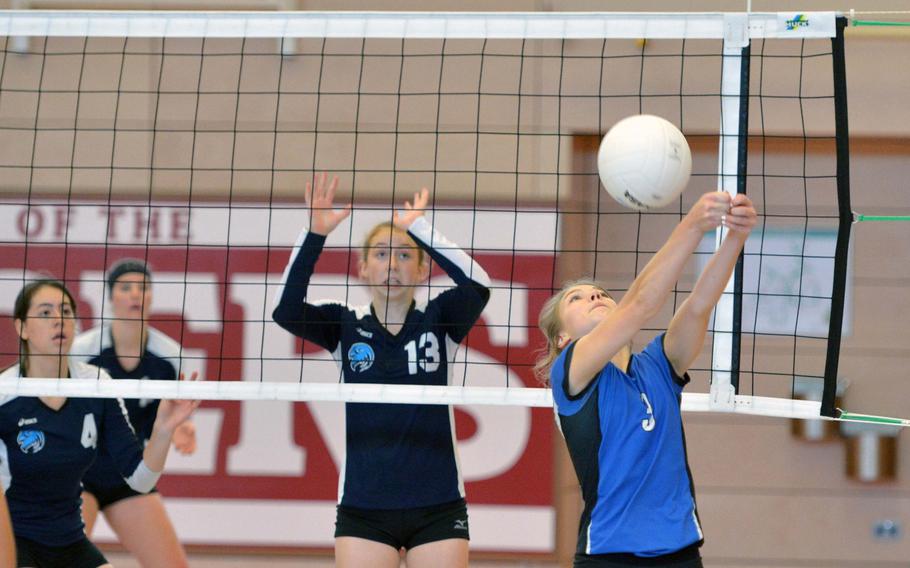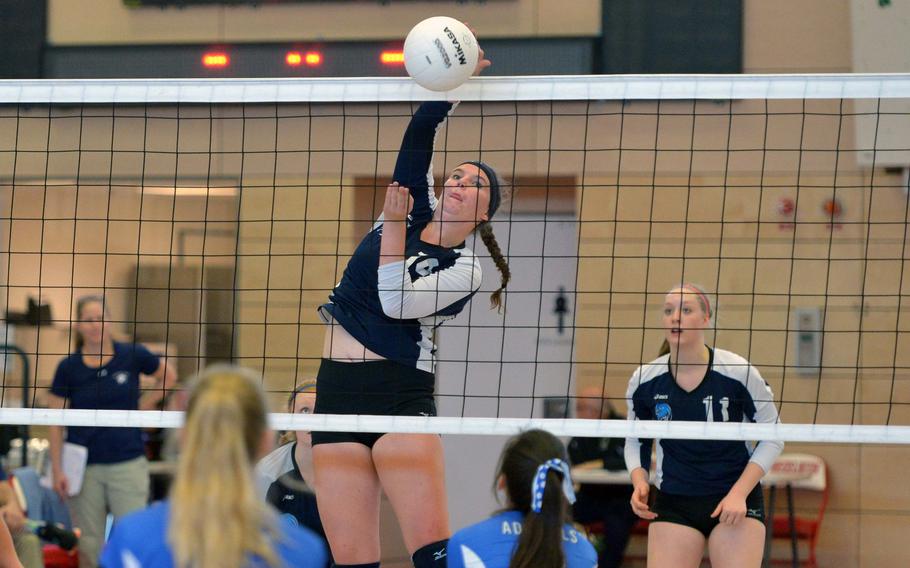 KAISERSLAUTERN, Germany -- The two top seeds of the 2018 DODEA-Europe Division II girls volleyball championship tournament survived a second day of challenges Friday, reaching Saturday's final match with semifinal victories after falling short in the same round a year ago.
The top-seeded Marymount Royals will face the second-seeded Black Forest Academy Falcons on Saturday at noon CET at Kaiserslautern High School in a championship showdown that is also a rematch of BFA's 25-18, 26-24 win in last year's third-place match.
Black Forest def. Rota 25-11, 25-22, 25-16: The Falcons methodically took care of business against a team they'd handled fewer than 24 hours prior.
But Friday's elimination match produced a "different atmosphere in the gym" than the Falcons' 25-21, 25-11, 27-25 preliminary defeat of the Admirals late Thursday, BFA senior Brooke Isreal said.
"We had to focus on making sure that we were playing clean and not getting too sloppy," Israel said.
The setter, who totaled two aces and three kills along with 18 assists in the semifinal match, said the Falcons managed to avoid "assuming that we can win" and instead simply proved it again.
"They are a good team," Israel said of the Admirals. "We wanted to come in strong."
BFA did just that with a dominant presence at the net and solid all-around playmaking elsewhere on the court. Senior Jessie Campbell handled much of the net work with 15 kills and five blocks, while sophomore Madal Roberts contributed six aces and six digs.
BFA is looking for a long-awaited championship breakthrough after a second-place finish in 2016 and a third-place finish a year ago. The second-seeded squad won eight of nine preliminary sets Thursday, including all three against Rota, to earn a bye to the semifinal round.
The sixth-seeded Admirals earned a 25-14, 25-10 quarterfinal decision over 2017 runner-up Bahrain on Friday morning to advance.
Marymount def. Aviano 25-23, 23-25, 25-19, 22-25, 15-11: The Royals avenged a thorough Thursday loss to the Saints with an epic five-set triumph.
Fourth seed Aviano made its preliminary power move late Thursday with a 25-16, 25-23, 25-10 sweep of Marymount, which was already reeling from an earlier sweep at the hands of fifth seed Bahrain. The Saints moved on straight to the semifinals, while Marymount reasserted itself Friday morning with a 25-23, 25-9 quarterfinal sweep of AFNORTH.
The Royals rounded fully into their top-seeded form against Aviano, a team they beat in four sets on two occasions in their undefeated regular season. Marymount stormed back from a 3-0 deficit in the decisive fifth set to finally oust the persistent Saints.
Marymount coach Ennio Varvaro cited two primary factors for the Royals' turnaround.
First, a "nightmare 15-hour trip" that left the Royals exhausted for Thursday's round of preliminary matches. Second, a strategic shift that more frequently placed Marymount's best net players in position to counter Aviano's high-powered hitting attack.
Still, the improved Saints gave the unbeaten Royals all they could handle on Friday.
"Today it was very hard to beat them," Varvaro said. "Much more difficult than during the season."
Twitter: @broomestripes