Track- Day 2
Ramstein sprints to record, girls title
---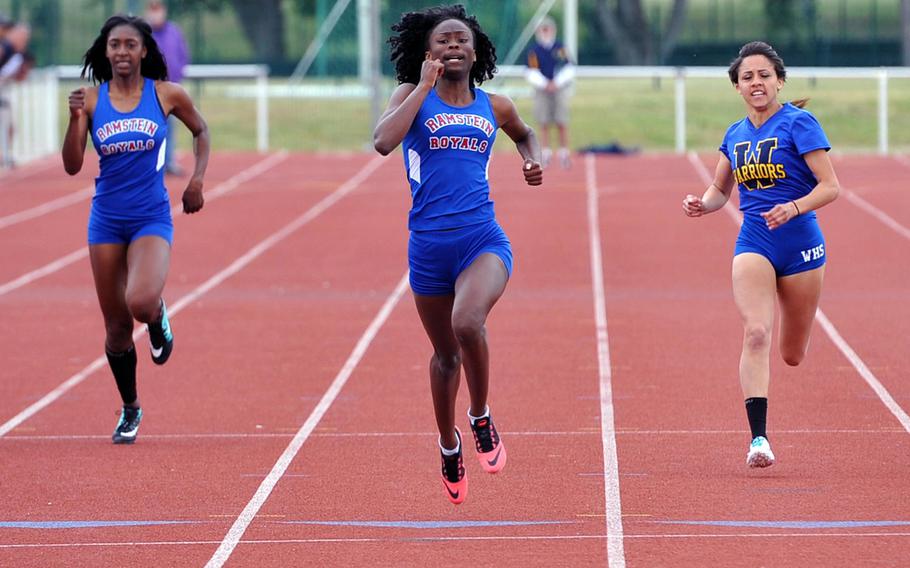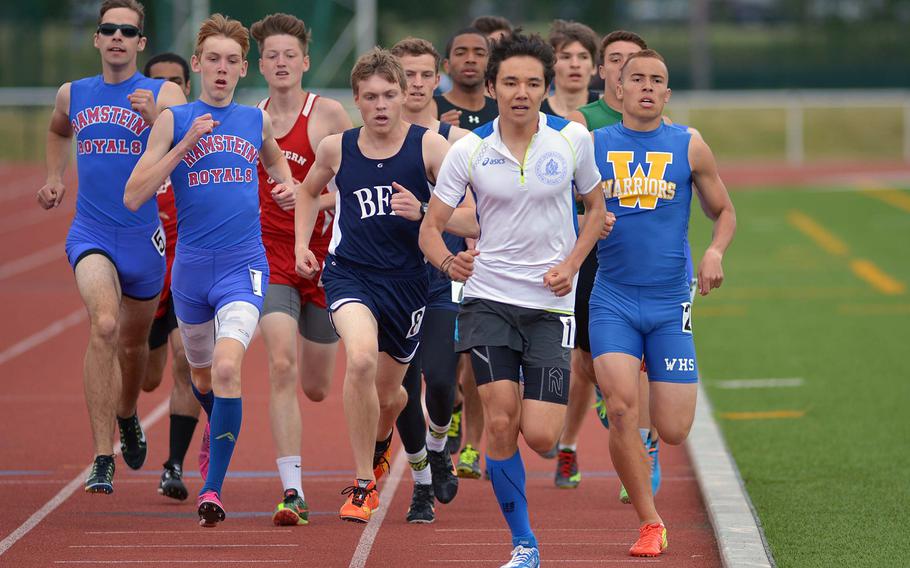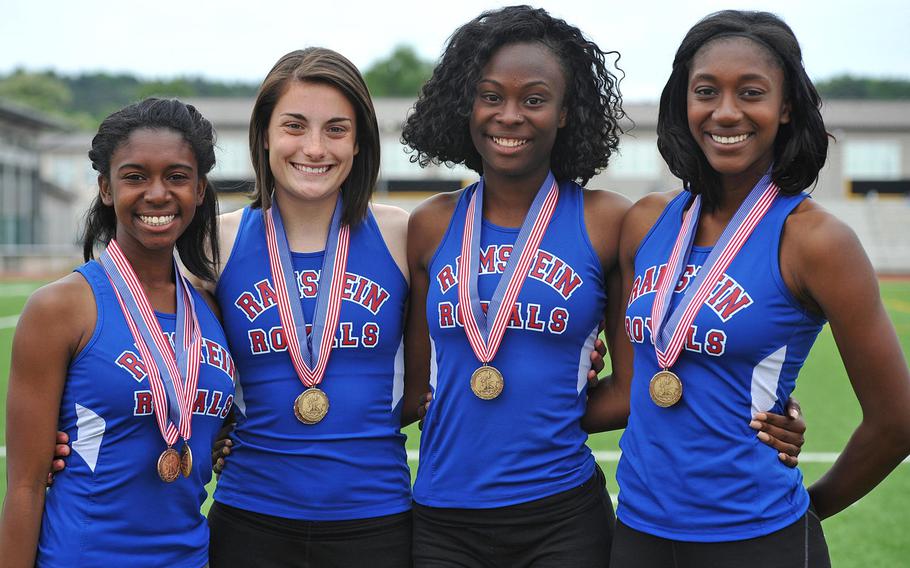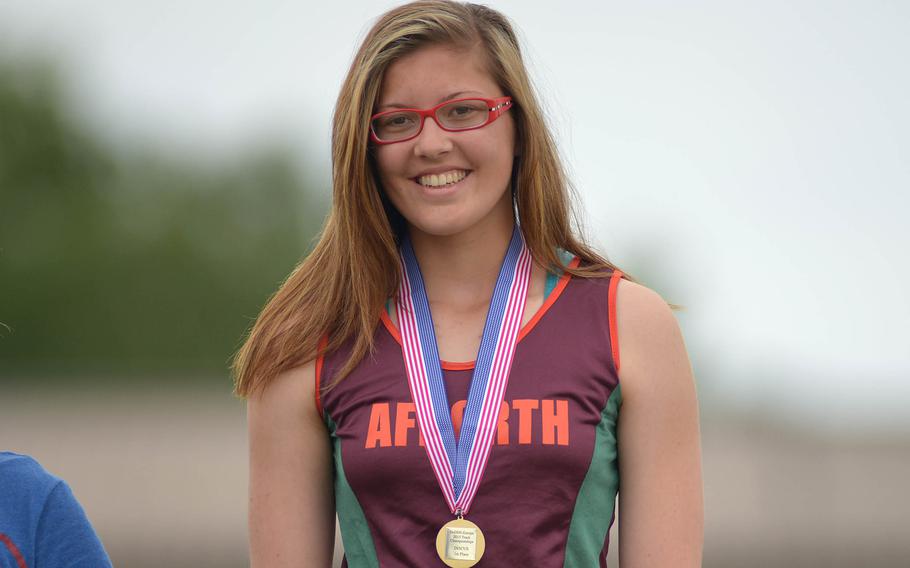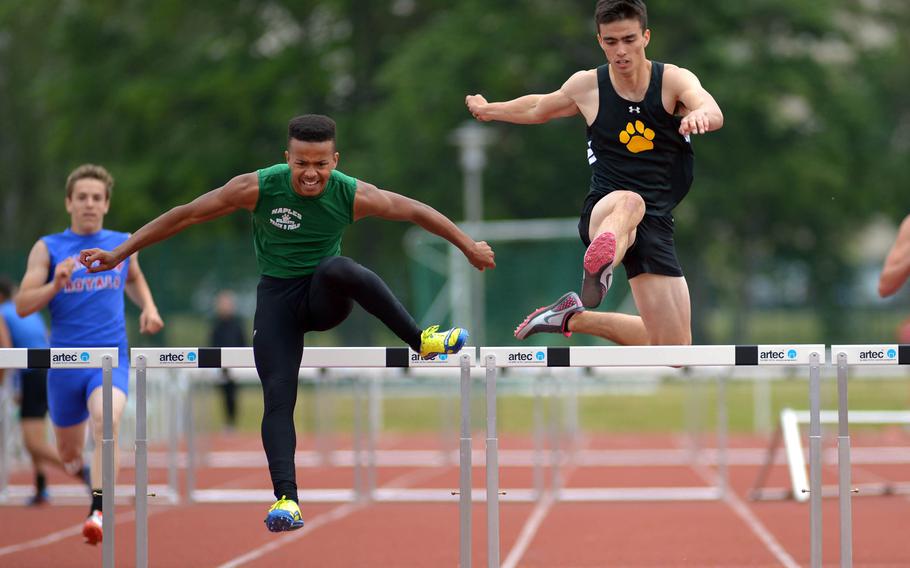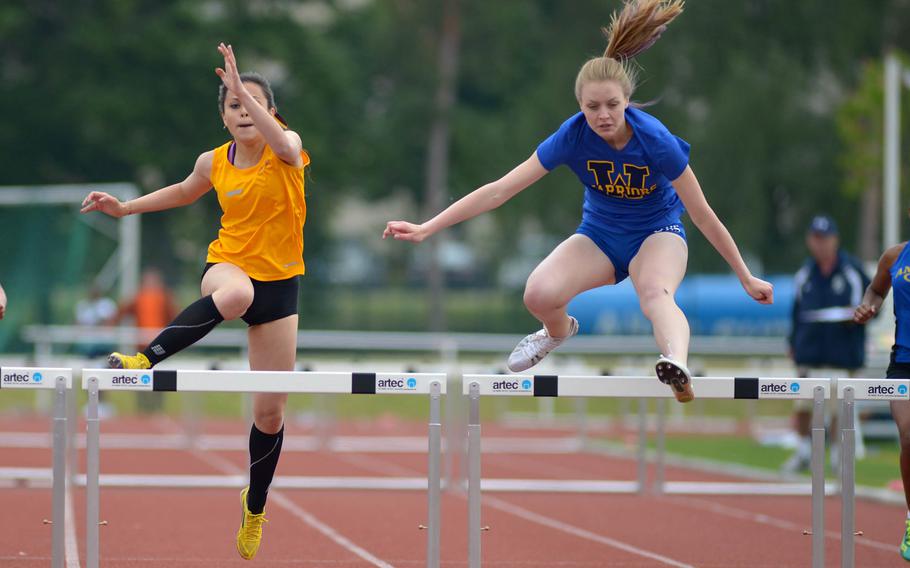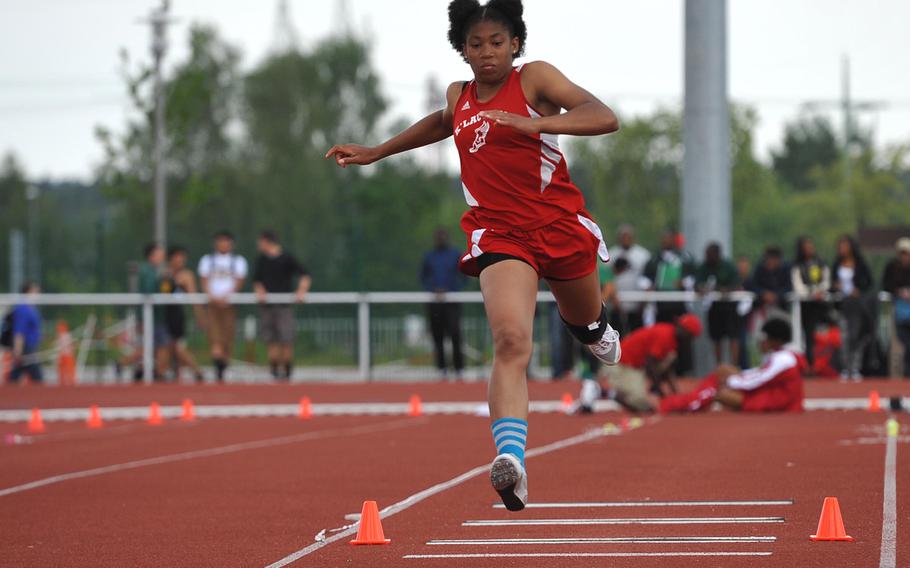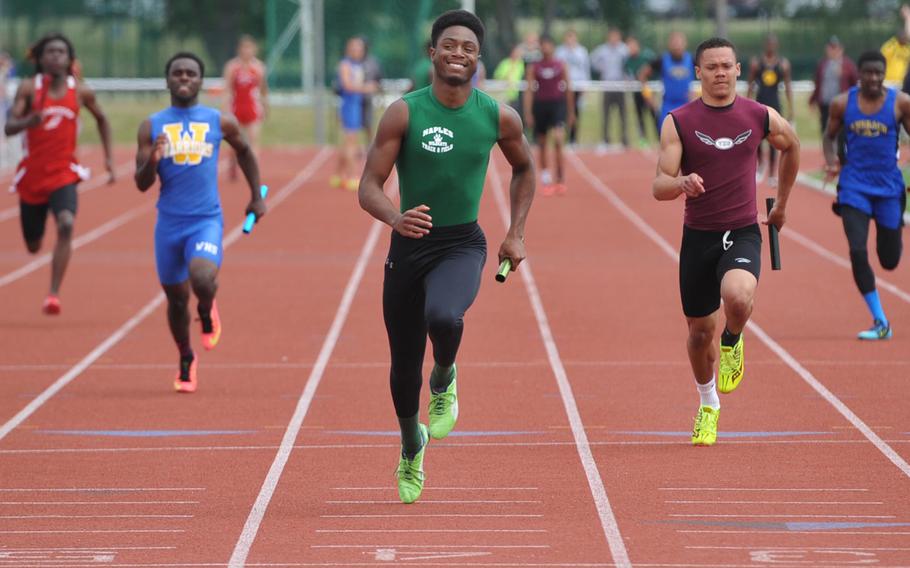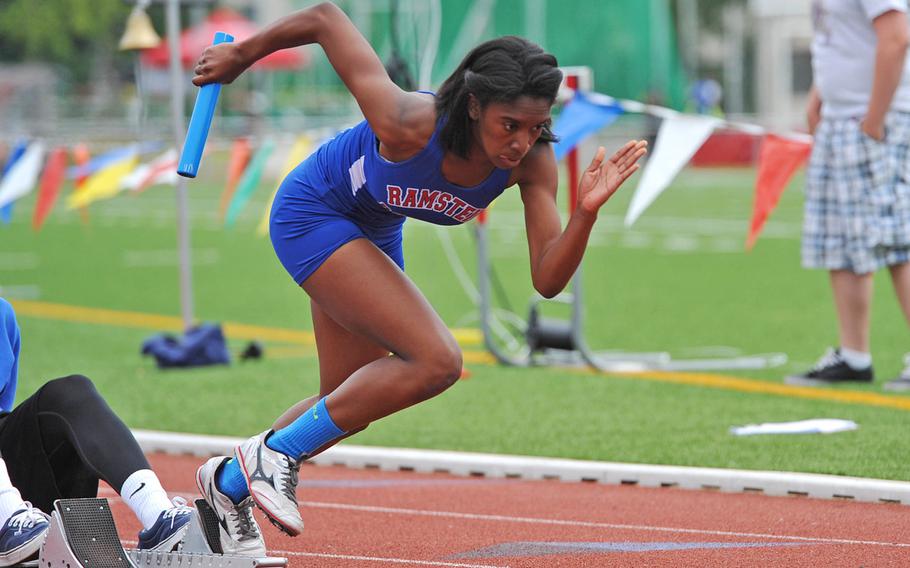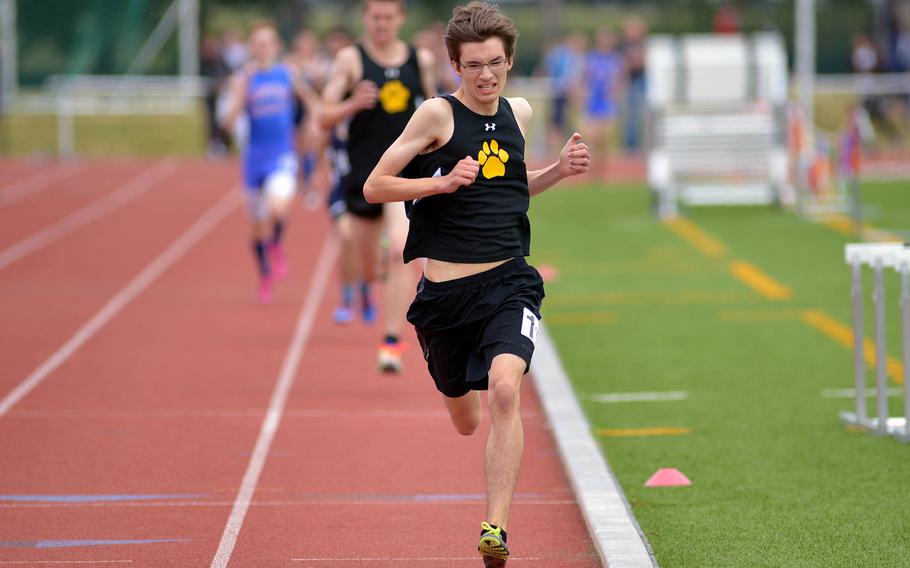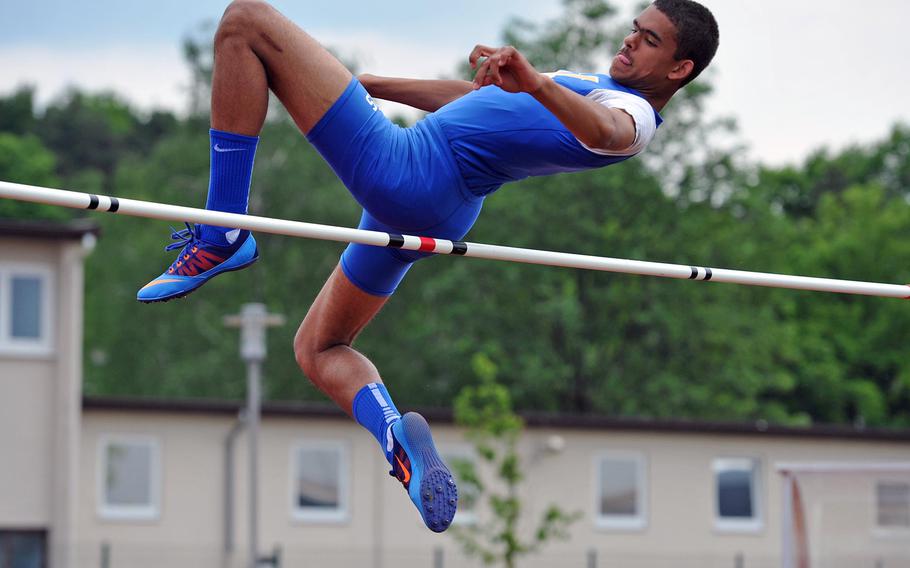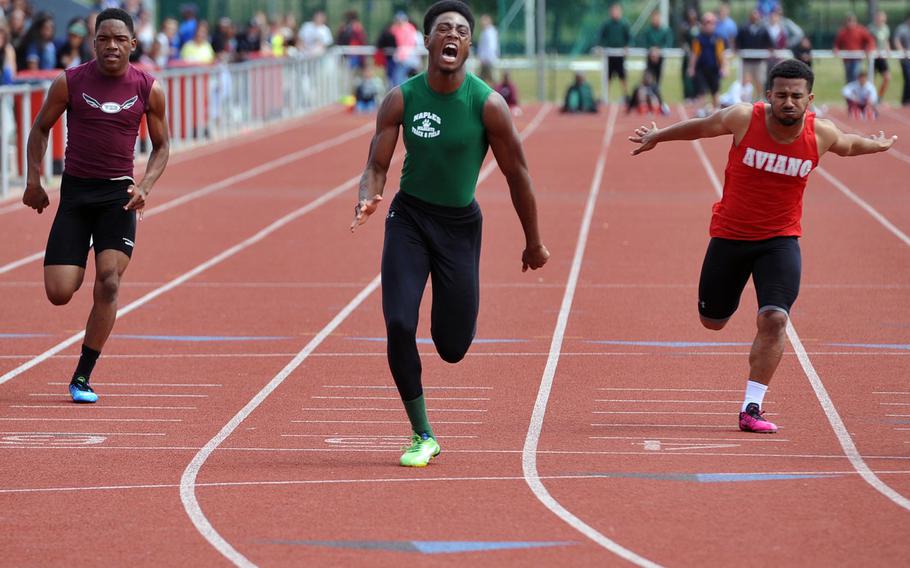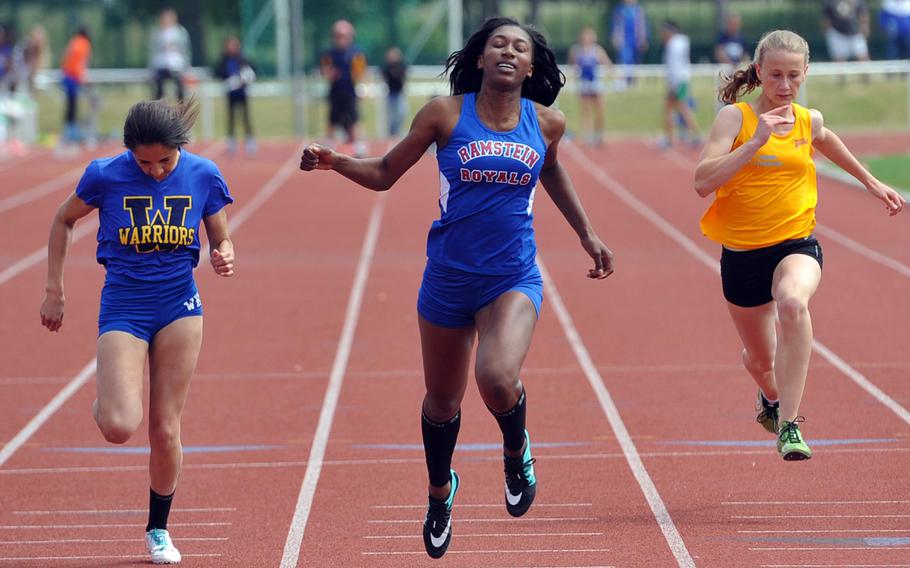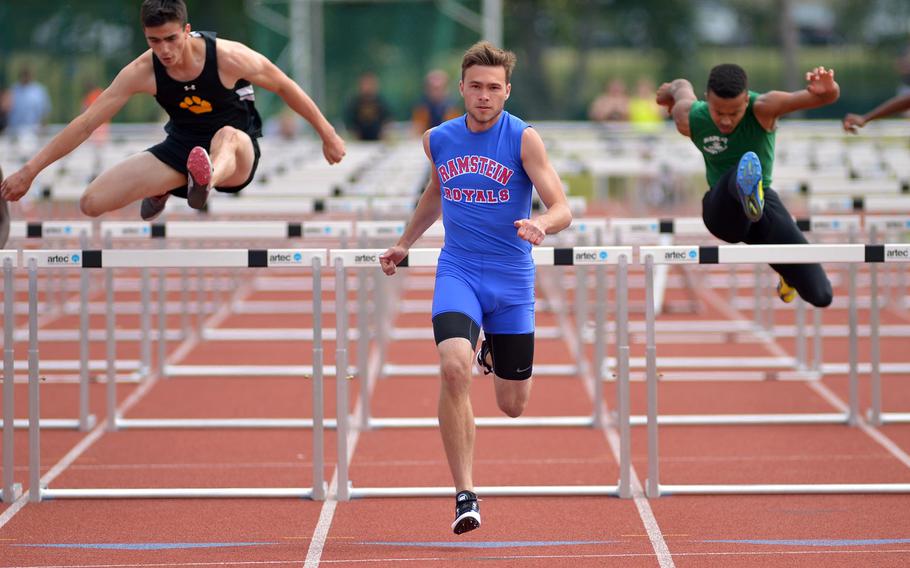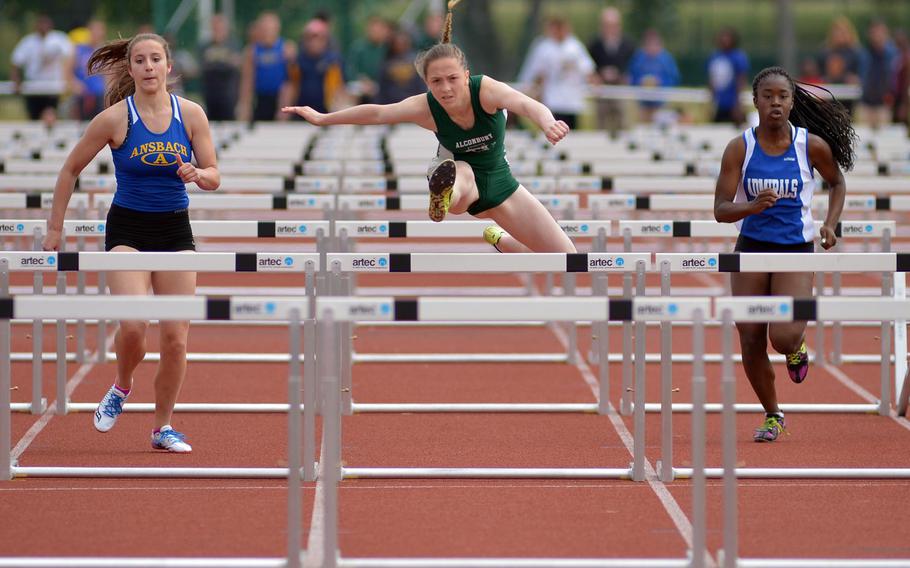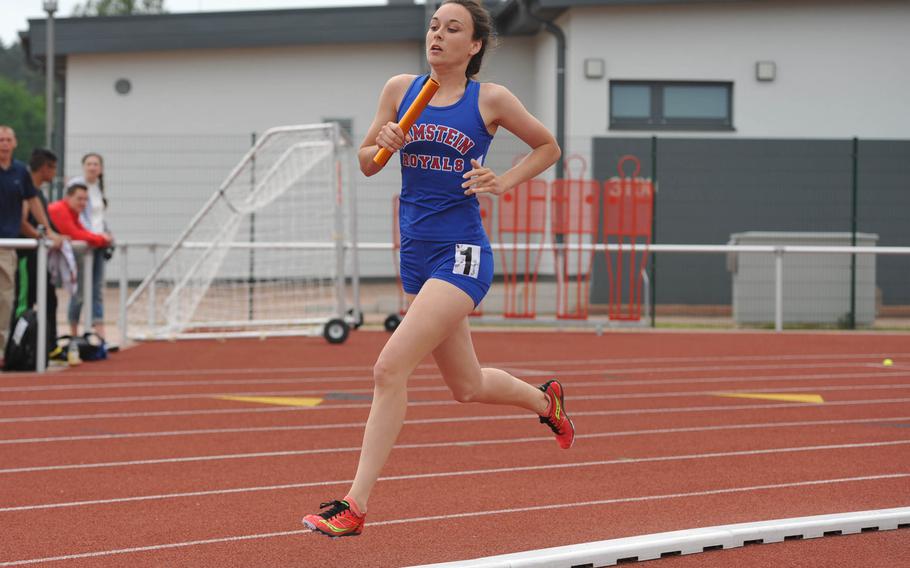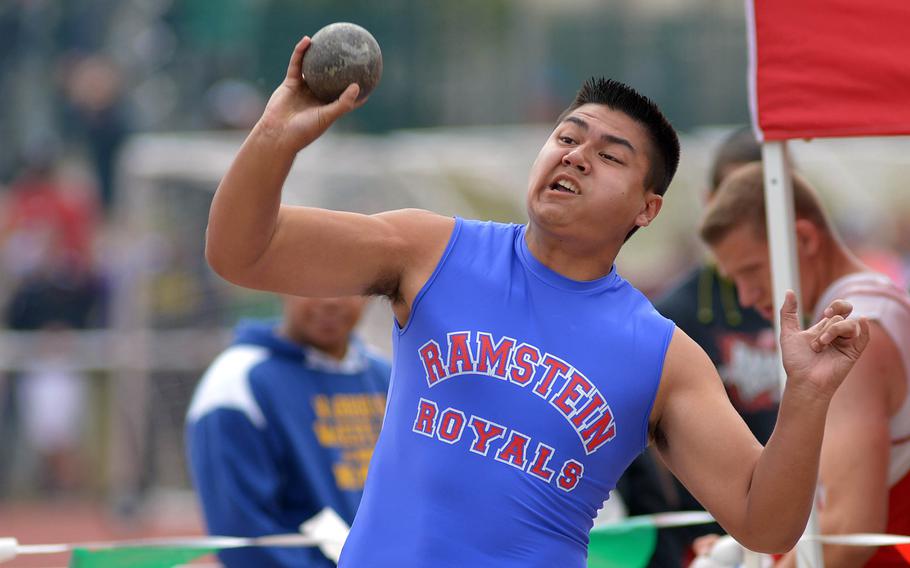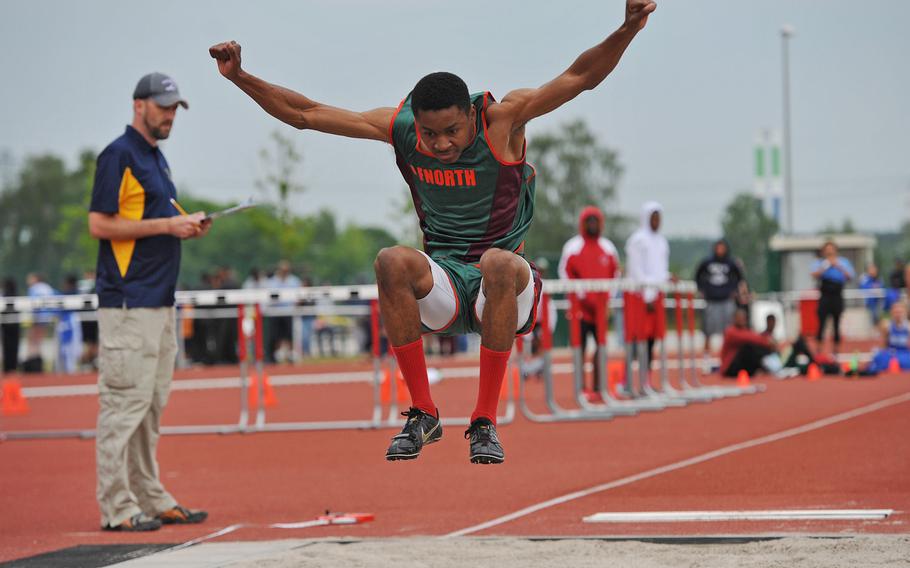 KAISERSLAUTERN, Germany – No one expected the 1984 record in the girls' 400-meter relay to be broken Saturday, the final day of the DODDS European Track and Field Championships.
No one, that is, except perhaps Ramstein, the team which erased Nurenberg from the record books in that event.
"This was our goal from the beginning of the season," the relay's anchor, junior Denee Lawrence, said shortly after she and her teammates found out they ran it in 48.45 seconds to top Nurenberg's decades' old 48.80 record time.
With a qualifying time of 50.53 entering the finals, Ramstein would not only need speed but perfection on each baton exchange to have a chance at the record. And that's exactly what happened.
"I think it was perfect," said junior Brittany Highley, who ran the second leg, after lead-off Yhari Dupree, a freshman. "We worked all season for this. It was worth it. It was amazing."
"From Yhari's handoff to me, it felt great," said Highley, who handed the baton to senior Sinoda Emanuel. "Mine to Sinoda's, once I gave her the baton, I knew she was gone. It was just beautiful."
The Ramstein girls dominated the sprint events, helping the Royals build a comfortable margin over Patch and defend their Division I team title.
Lawrence won the 100-meter dash in 12.40 while Emanuel took the 200 meters in 25.21. Wiesbaden's Amelya Hempstead had to settle for second in both events.
Highley teamed up with Jana Riz Rafia, Mayme Williams and Madison Morse to win the girls' sprint medley in a close race against Patch. Morse and Patch's Kelleen McGuinness went head-to-head on the final 800-meter leg, with Morse pulling ahead towards the end.
Patch won the boys' Division I team title while Naples, a new team in the large schools' division due to realignment, nipped at the Panthers' heels, finishing a surprise second ahead of Kaiserslautern.
Naples was led by speedster Cameron Copeland, who defended his titles in the 100-meter and 200-meter dashes, anchored Naples' winning 400-meter relay team, and was the lead-off runner on the Wildcats championship 1,600-meter relay team.
"I'm pretty happy," said Copeland, who - not surprisingly - was named the meet's most valuable boys' athlete in the running events. The senior was thrilled to finally break 11 seconds in the 100, clocking 10.91.
Copeland's teammate, Nick Snider, finally tasted victory in the 300-meter hurdles.
"I feel amazing," he gushed, moments after finishing. "It's been four years that I've been trying to get this. Last year, I got the second-place medal and it really humbled me and I worked harder than ever this off season to come and get this, and now, finally having this, is the most sweet thing I've ever had."
Patch's Alex Bowman could relate. The junior ran a gutsy race to win his first European championship in the 1,600, a feat that felt especially good coming after the gold in the 3,200 on Friday eluded him by less than a second.
"I was just worried throughout the whole race that I'd burn out or something," he said. Or that dark horse Jacob Benjamin from Black Forest Academy would again slip by him in a hard-charging finish. But Benjamin, the 3,200 champ, was third, behind Bowman's teammate, Alexander Donnelly, a senior who didn't even qualify for Europeans last year in the mile.
Donnelly said Lakenheath freshman Austin Burt gave the leaders a scare when he surged temporarily to the front of the pack on the second lap. "We thought he was the Marymount guy, who ran the sub 2" minutes in the 800 meters, he said.
That would be Riccardo Cirilli. The Marymount junior did not run the mile – but he entered the 800 with the top time of 1:59.93, nearly six seconds better than the next fastest entry.
Cirilli had to work to defend his 2014 title. Patch's Rory Manns overtook Cirilli on the homestretch and the two battled it out, stride for stride, with Cirilli edging Manns at the finish, 2:03.33 to 2:03.62.
"It was a mission, because when you're trying to sprint after doing almost two laps, oh gosh, it's hard," Manns said of trying to out-stride Cirilli. "It was a good race. He's a great competitor. He pushed me to get a better time."
In the shot put, Ramstein junior Clesson Allman wasn't expecting a gold. A No. 3 seed, he thought Menwith Hill's Jonathon Brugman "had it in the bag" when he threw 44 feet, 5.75 inches. But on Allman's final throw, he heaved it 44 feet, 7 inches.
"It came off my hand so smoothly, it was truly effortless," he said.
What does he chalk his success up to? "I woke up this morning and had my bowl of Wheaties and I felt on fire."
Kaiserslautern sophomore Wesley Donhauser, who won the discus throw Friday and finished fourth in the shot, was named the meet's most valuable boys' athlete in field events. AFNORTH's Eliska Valencouva, who out-threw the rest of the field in the discus throw by a whopping 21 feet, earned the same honors for the girls.
Patch senior Julia Lockridge was the girls' most valuable athlete in the running events. After breaking two DODDS-Europe records on Friday, in the 1,600- and 800-meter runs, Lockridge on Saturday was a close runner-up in the girls' 400 and anchored Patch's winning 1,600-meter relay team.
---
---
---
---