Ramstein rules regular season by routing Red Raiders
by
Gregory Broome
October 18, 2013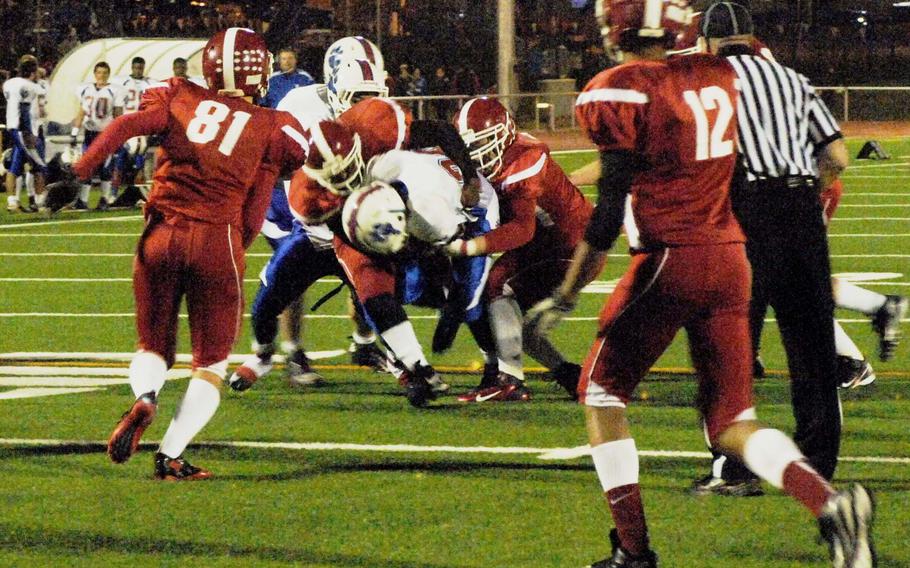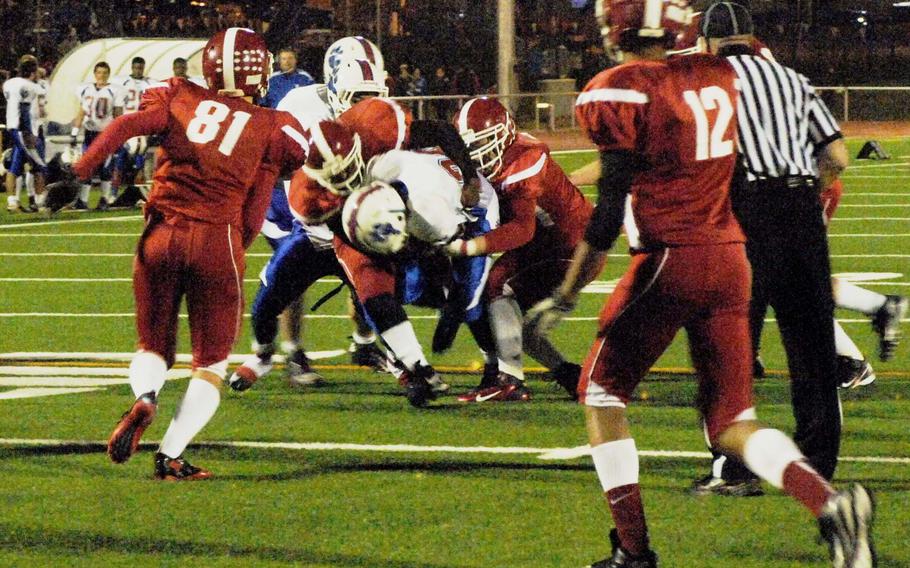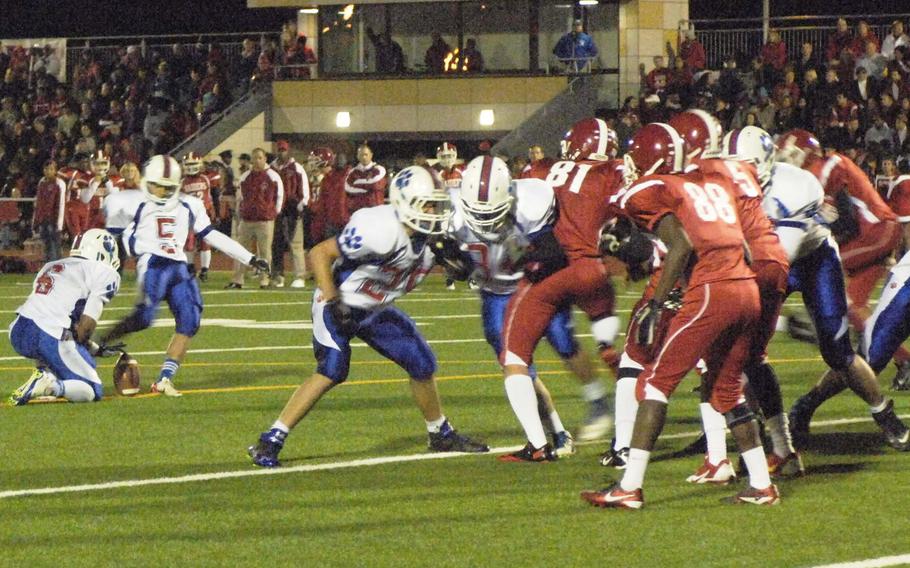 KAISERSLAUTERN, Germany -- New stadium. New attitude. New hope.
Same old loss to Ramstein.
Playoff-bound, motivated and flush with renewed confidence, the host Kaiserslautern Raiders were still no match for the archrival Royals on Friday night. Ramstein completed its undefeated regular season and clinched home-field advantage in next week's Division I semifinals with a resounding 46-0 victory.
"That's Ramstein football," Royals running back Tevin Johnson said.
The Raiders' only progress on the evening was from bad to worse, a letdown for a packed home crowd eager to celebrate a win.
The Royals scored twice in the first quarter and again midway through the second. A sequence in the final minutes before halftime sealed the Raiders' fate. Johnson powered into the end zone for Ramstein's fourth touchdown, then Gabriel Moreno picked off a pass on Kaiserslautern's first play of its resulting possession and returned it 23 yards for the Royals' fifth score and a 33-0 lead at intermission.
The visitors tacked on another 13 unanswered points in a quick and anticlimactic second half. The Royals dominated behind a three-headed rushing attack. Young Jae Oh gathered 82 yards and two touchdowns. Johnson totaled 58 yards and two scores. Santee Jackson chipped in 79 yards and a touchdown.
"The strength of our team is the run," Ramstein head coach Carlos Amponin said. "We have three distinctly different backs. You've got to prepare for all three of them."
The rest of the points came from Moreno, who also found the end zone on a 55-yard punt return.
While its defense was overwhelmed by the Royal backfield, Kaiserslautern's offense was hamstrung by the absence of inactive starting quarterback Tristan Dailey.
"I think that changes a lot," Kaiserslautern head coach Aaron Scalise said. But the coach allowed that Ramstein was the better team in a variety of facets Friday.
"Hats off to them, they did an outstanding job," Scalise said. "They controlled the field."
Ramstein (5-0 against DODDS competition) will open defense of its Division I championship Oct. 26 with a home semifinal game against either Vilseck or Patch, depending on Saturday's results.
Johnson said the rout bolstered Ramstein's already considerable confidence level.
"We were already confident in ourselves," Johnson said. "This just boosted it up maybe an inch more."
Kaiserslautern (3-2) would have claimed the top Division I seed with a win over Ramstein, a remarkable worst-to-first turnaround after two consecutive winless seasons. Instead, the Raiders fall into a tie with Wiesbaden at 3-2. Since the Warriors beat Kaiserslautern 42-32 on Oct. 4, they'll host the semifinal game next weekend.
"We are road warriors," Scalise said. "We'll see what we can do. We'll definitely regroup on Monday."
The winners of the two semifinal games will meet for the DODDS-Europe Division I title Nov. 2 on the same Kaiserslautern field that hosted Friday night's game.
Twitter: @broomestripes