Ramstein girls, Wiesbaden boys dominate regular-season golf finale
by
Gregory Broome
September 28, 2018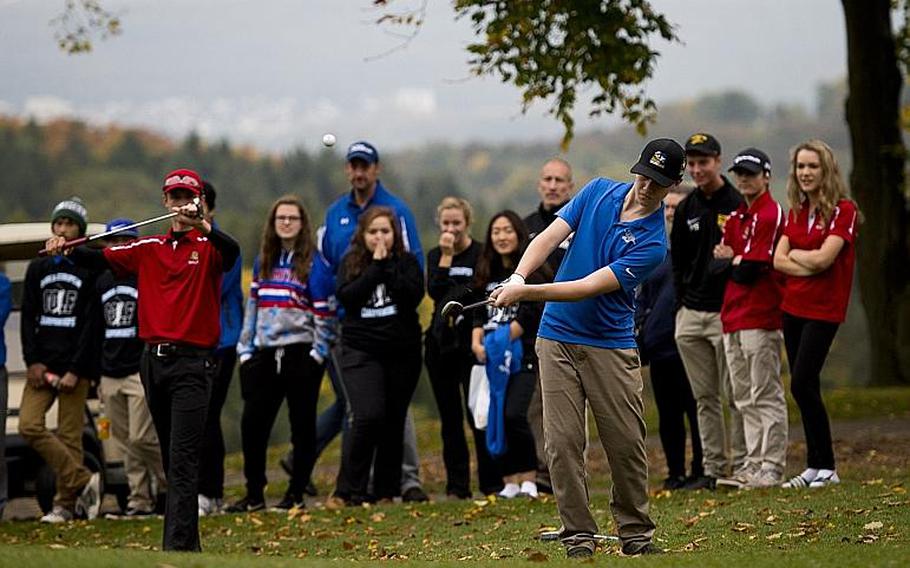 All but a handful of entries were present Thursday at Wiesbaden's Rheinblick Golf Course for the final regular-season meet of the DODEA-Europe golf season, held two weeks before the same course hosts the main event: the 2018 European championship meet.
Visiting Bahrain joined German schools Kaiserslautern, Ramstein, Spangdahlem, Stuttgart, Vilseck and Wiesbaden for the finale of DODEA-Europe's shortest regular season, just two weeks after it opened. Naples and Rota visited Lakenheath on Sept. 20-21 to wrap up their respective regular seasons.
Host Wiesbaden seized control of the boys' team race, outpacing rival Ramstein 116-96. The Warriors landed two boys in the top three and four in the top five, headlined by individual winner Bryan Cortese. Runner-up George Stephan of Kaiserslautern finished seven points behind Cortese's 41-point Stableford scoring total.
Ramstein was all but unchallenged on the girls side, however, claiming the top three spots on the individual leaderboard and a runaway 86-12 team victory ahead of Vilseck. Lauren Sutherland edged teammate Phoebe Shin 31-27 to claim the individual medal.
While Wiesbaden hosted the bulk of DODEA-Europe's top performers, several golfers turned in scores at Lakenheath that might make them a factor in the finals.
Lakenheath's Haydn Abercrombie recorded respective scores of 29 and 33 over the two-day meet, while teammate Sam Ricketts produced rounds of 28 and 24 points. Rota's Tyler Pazdyk made a late surge with a second-day score of 31.
The European golf championship meet, the first finals event of the 2018-19 DODEA-Europe school year, is scheduled for Oct. 10-11 at Rheinblick.
Twitter: @broomestripes