D-I boys semifinals
Raiders to try to knock off three-time champion Royals
---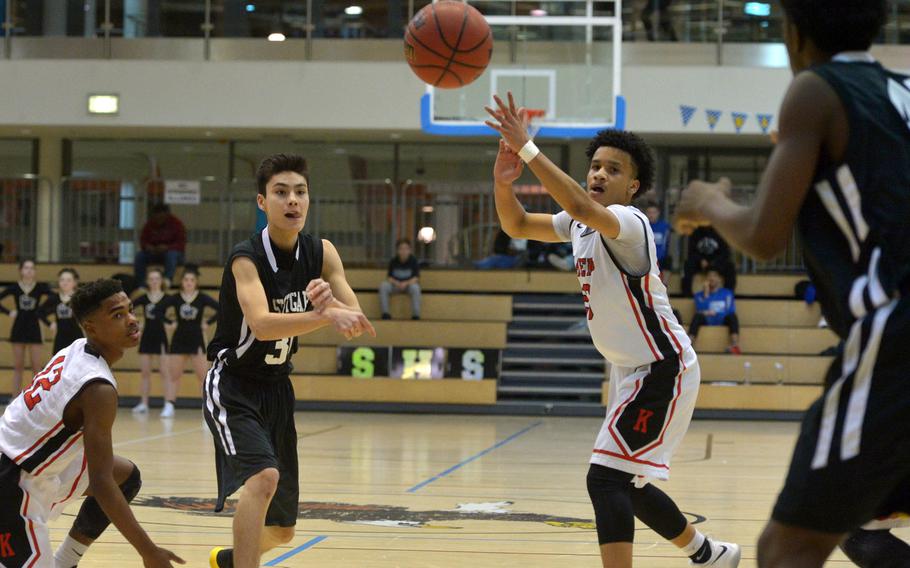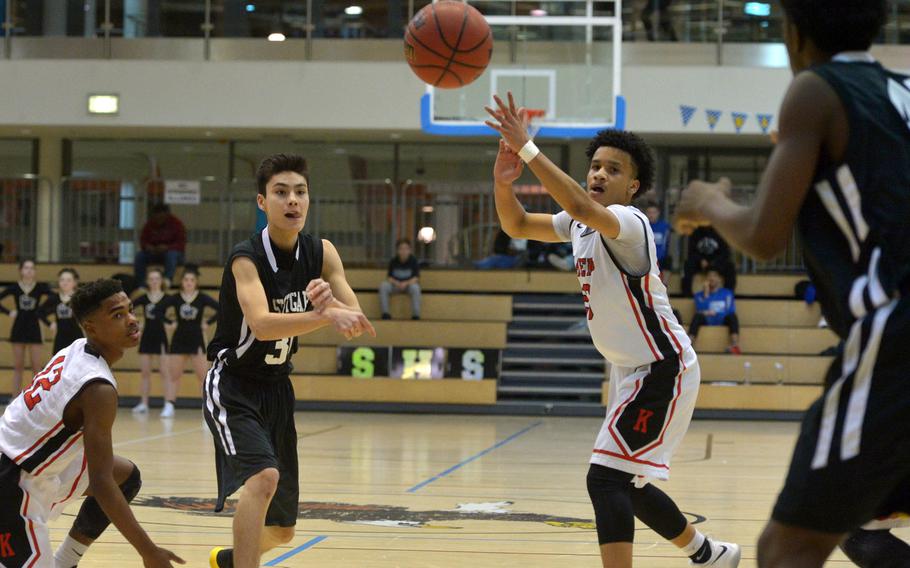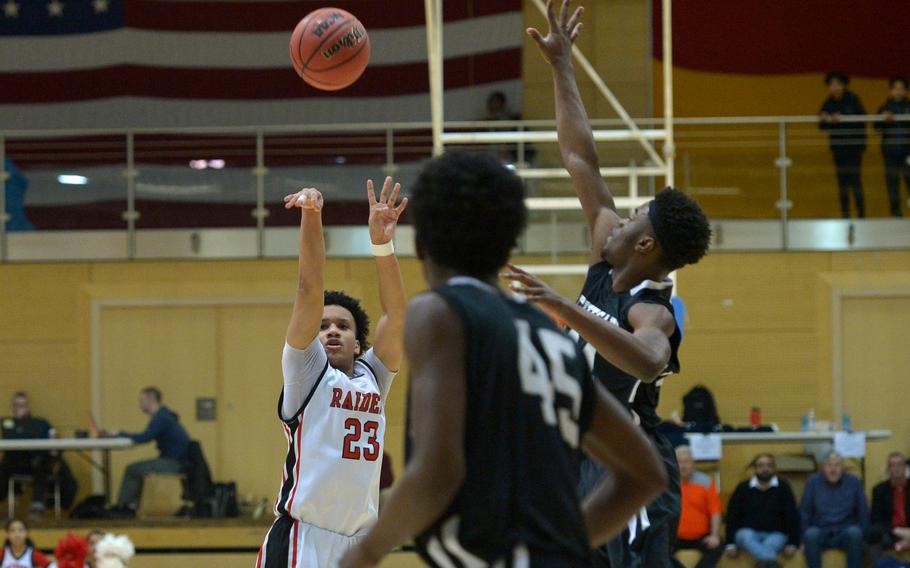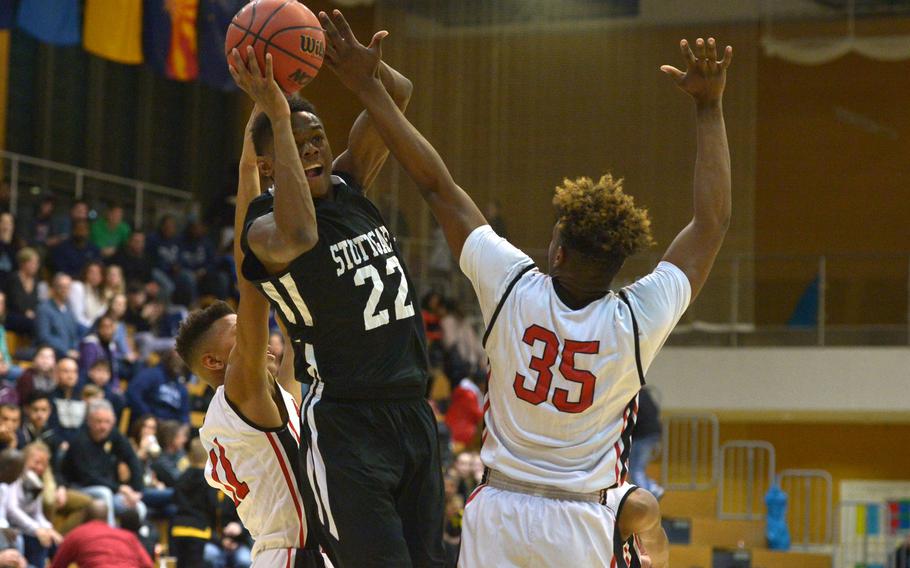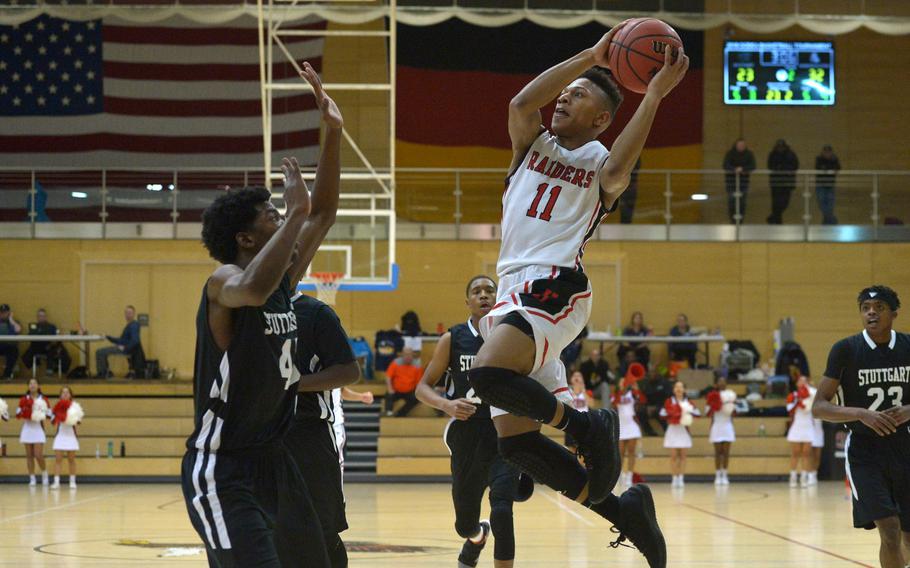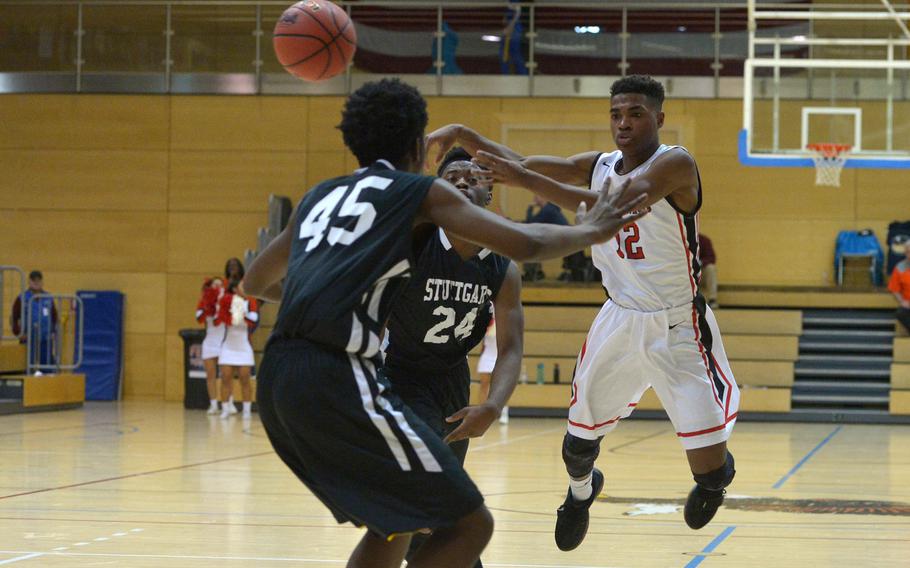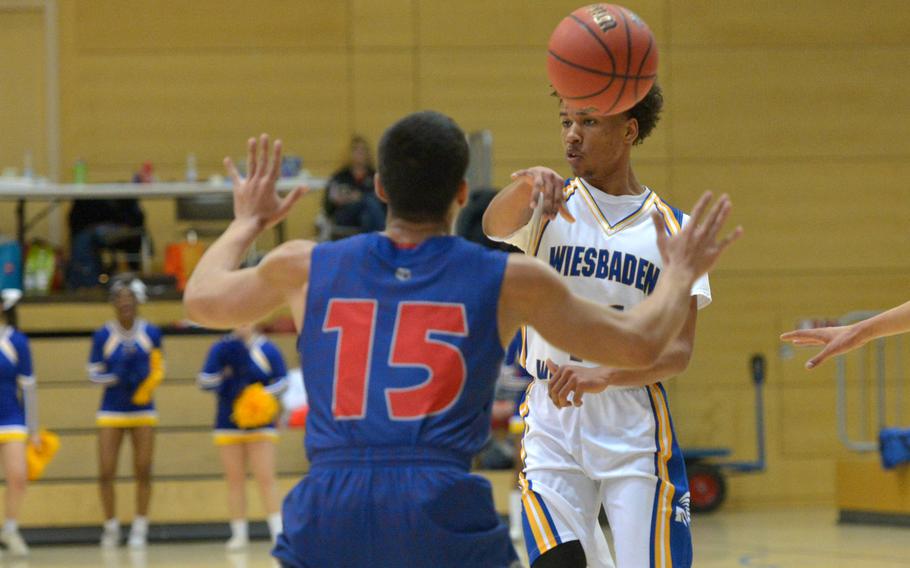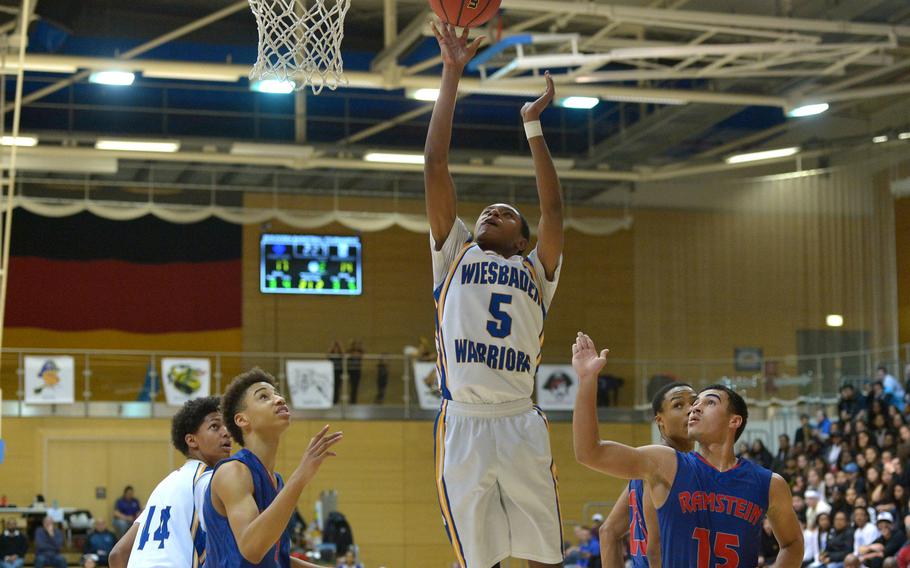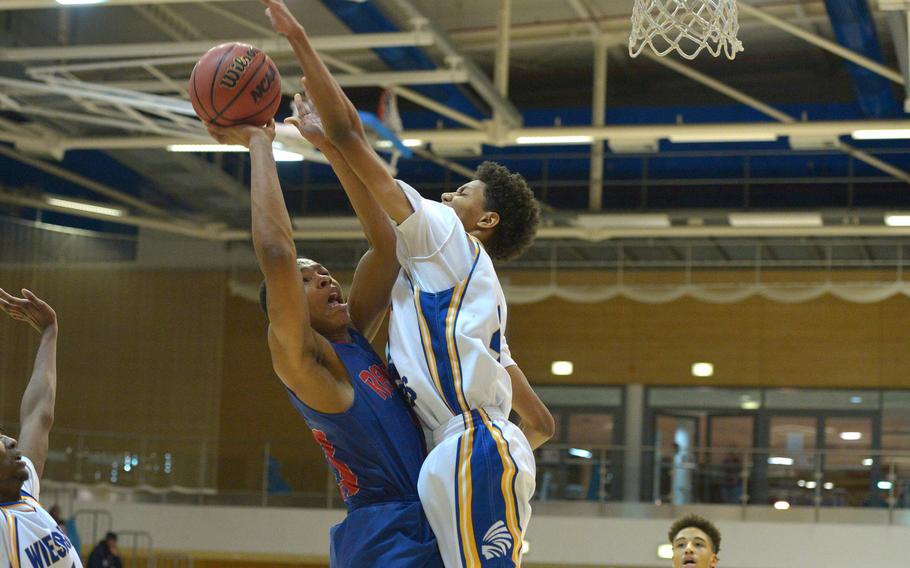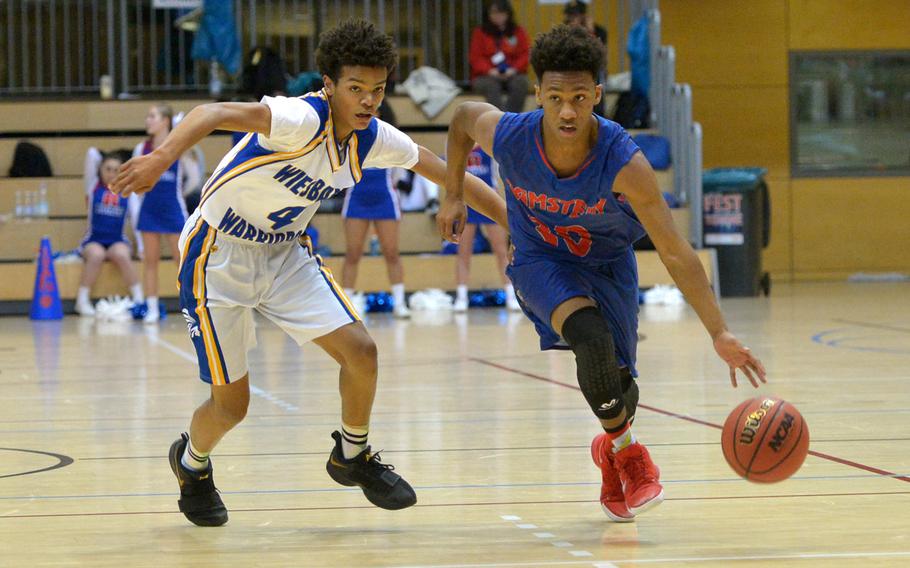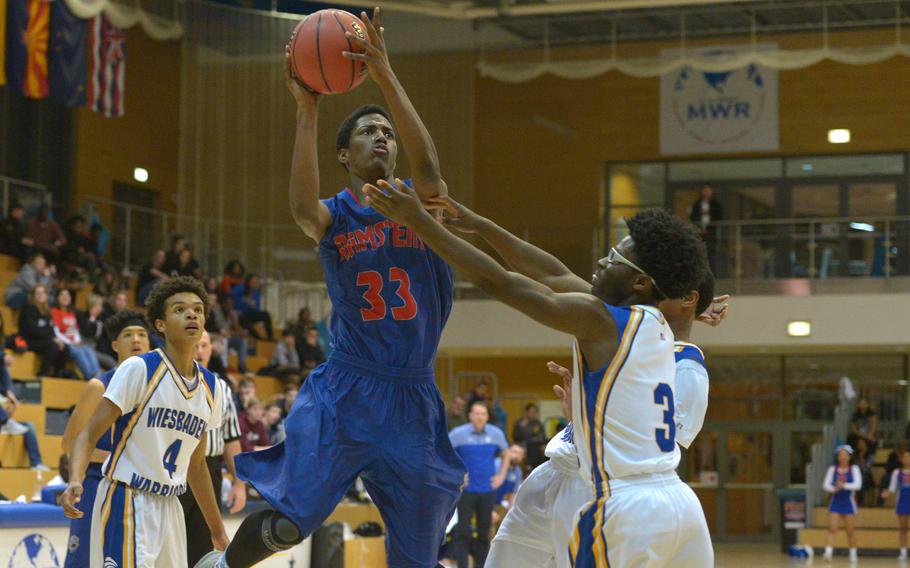 WIESBADEN, Germany — Saturday's DODEA-Europe Division I basketball final will be an all-Kaiserslautern Military Community affair with familiar opponents Kaiserslautern and Ramstein facing off after defeating fellow German schools Stuttgart and Wiesbaden on Friday.
Kaiserslautern will be confident after a strong all-around display against the Panthers and a 35-33 win over the Royals as recently as Thursday, but defending champion Ramstein promises to put up stiff resistance.
Kaiserslautern 65, Stuttgart 42: In the first Division I semifinal between German heavyweights, Kaiserslautern put on a shooting clinic that left rival Stuttgart without an answer, with Isiah Washington and Santo Starkey hitting on a combined seven of eight three-pointers in the first half en route to a 38-26 halftime lead - one that the Raiders never looked in serious danger of losing.
Stuttgart seemed on the verge of gaining momentum for moments, cutting the Raider lead to three in the second quarter. Admad Johnson's thunderous block of Kaiserslautern's Tre Dotson in the third seemed to give the Panthers energy, but Johnson was given a technical foul for taunting after the play. It gave the Raiders the breathing room they needed, and they continued to hit shots both inside and out.
Dotson paced the Raiders with 23, while Washington added 20 - 13 of them in a prolific first quarter.
"That's just in our offense, that's what we do, and we just killed it from the jump," Raider guard Ervin Johnson said.
Johnson said his team looked to impose its style on Stuttgart and keep Panther guard Mondwell Bukle contained.
"As a team we wanted to control the pace, make them play our game, shut down Mondwell, he's a talented player," he said.
The Panthers tried everything on defense, from a full-court press to man to zone, but the assured ball handling of Washington, Starkey, Dotson and Johnson meant their efforts were in vain.
Stuttgart assistant coach Al Elliott said it's tough to win against teams who shot as well as Kaiserslautern did, but said he was still happy with his team's efforts.
"I told them what I told them last night in the hotel, if you leave everything on the court and take a loss, no matter how big or how small, you know you left everything out there that you had to give, that you can be proud of yourself and proud of your brothers," he said. "I feel like we did that. We played hard, and we played tough."
Ramstein 44, Wiesbaden 41: When Isaiah Devane's last-second three-pointer went just wide, a second game in three days – this time for everything – was confirmed between Kaiserslautern and Ramstein.
In the night's second semifinal, three-time defending champion Ramstein rode strong performances from Naser Eaves and Sincere Dudley, as well as clutch shooting from Josh Gedeon, to a narrow win over a determined but shorthanded Wiesbaden team playing in front of a rabid home crowd.
The Warriors were missing a key player in athletic forward Josh Osakwe, who injured his left wrist Friday against Stuttgart. That gave coach David Brown little time to adjust.
"Josh is probably the only player in the tournament who can defend Naser Eaves one-on-one, so when you lose that everything changes. But (the Royals) are the three-time defending champions for a reason," he said. "It has less to do with Josh not being there and more to do with them being great, fighting for every ball – it was like a war out there."
Ramstein coach Andy O'Connor used a similar term when describing meetings between Wiesbaden and Ramstein.
"Every time you play Wiesbaden you don't prepare for a basketball game, you prepare for a competition, and we knew no matter what the score is they would always come back, and vice versa," he said. "I'm proud of my guys, they battled to the end."
The game was close throughout, with Wiesbaden staying within three points for most of the contest. Just when it seemed the Warriors had finally seized the momentum after a big Donte Hurt three-pointer and Jaylen McFadden drawing a charge, Dudley stepped up with a big rebound and putback and Eaves with a jumper to give Ramstein a four-point edge.
Eaves later put what looked like a clear exclamation point on the game with a slam dunk to make it 44-38, but Wiesbaden made a quick three-pointer and was within one shot of tying the game as time expired. Despite the loss, Brown was proud of his team.
"We always talk about playing for each other, and they did that tonight, but we just came up a little bit short."
For his part, Dudley kept things simple when asked how his team will be preparing for its matchup with Kaiserslautern.
"It's all about teamwork," he said. "We have to stay together, stay as a family on the court and execute."
Twitter: @DKS_Stripes
---
---
---
---