GALLERY
Practice made perfect at 2015 European Forces Swim League
by
Michael S. Darnell
March 1, 2015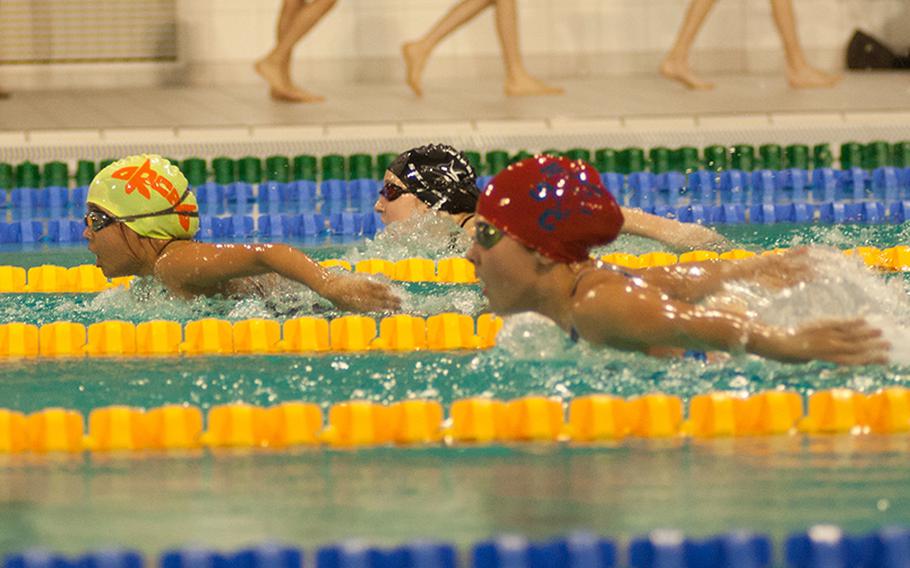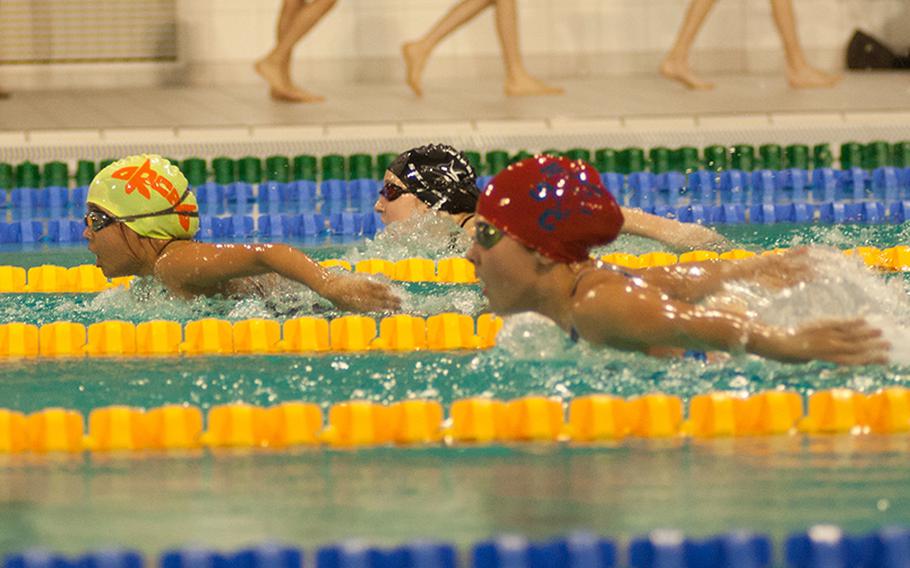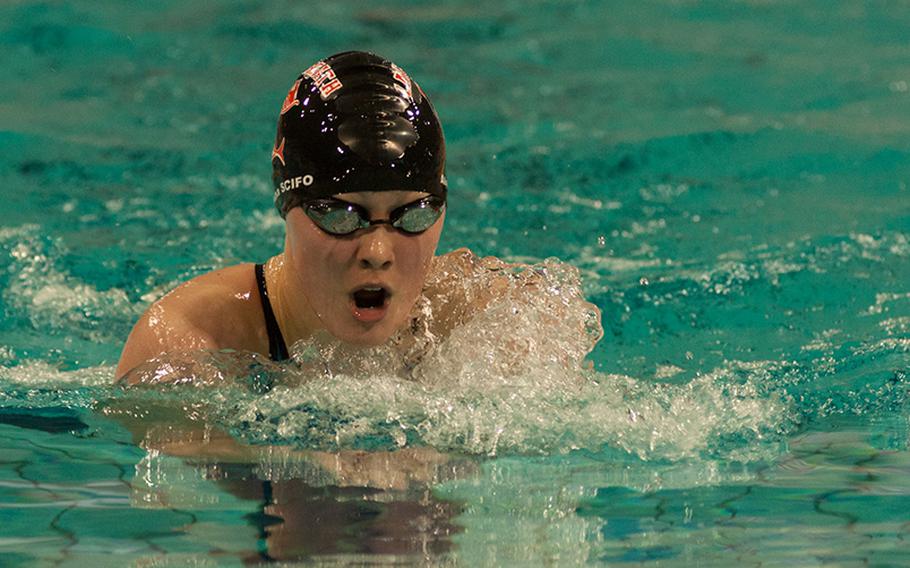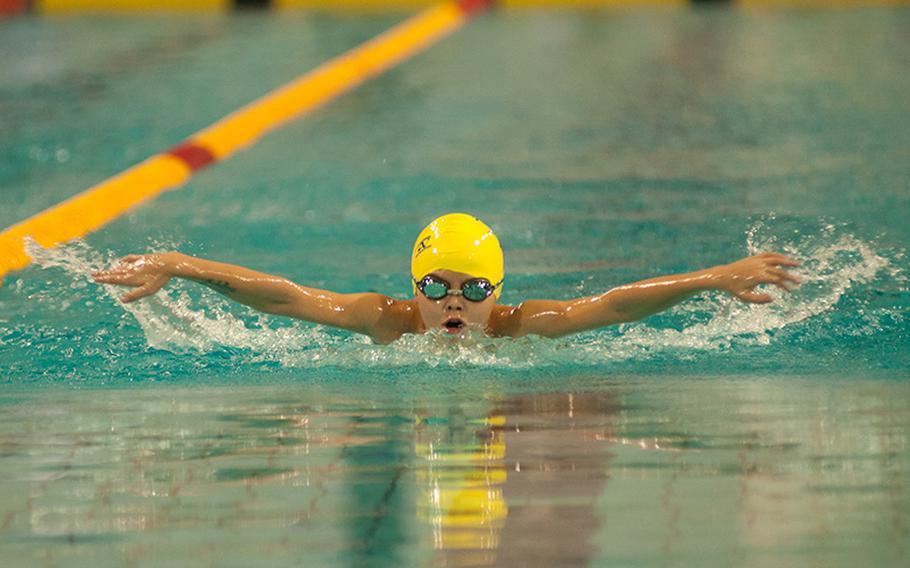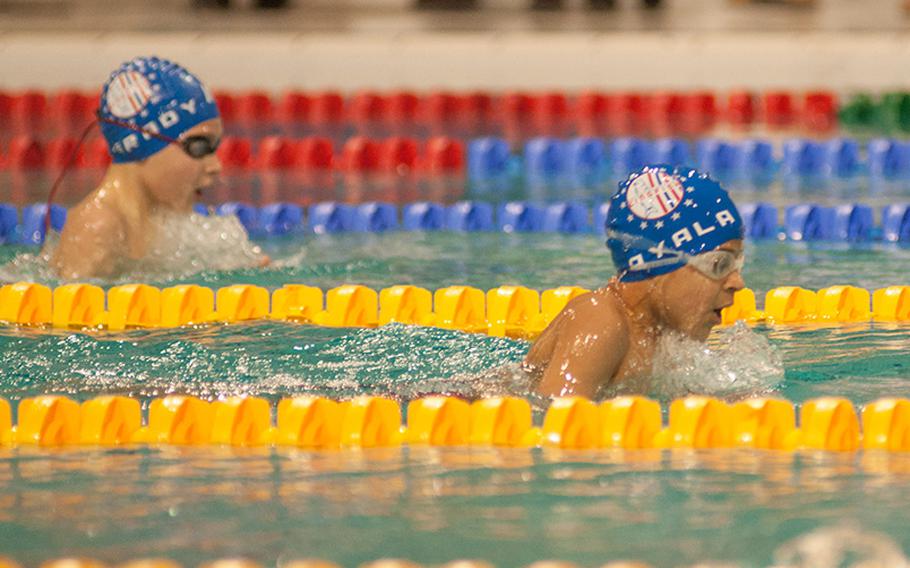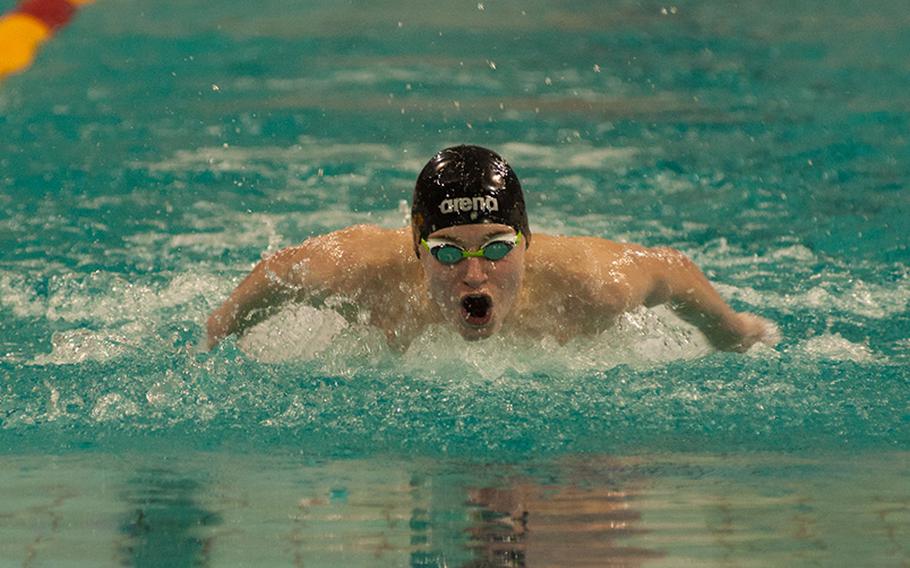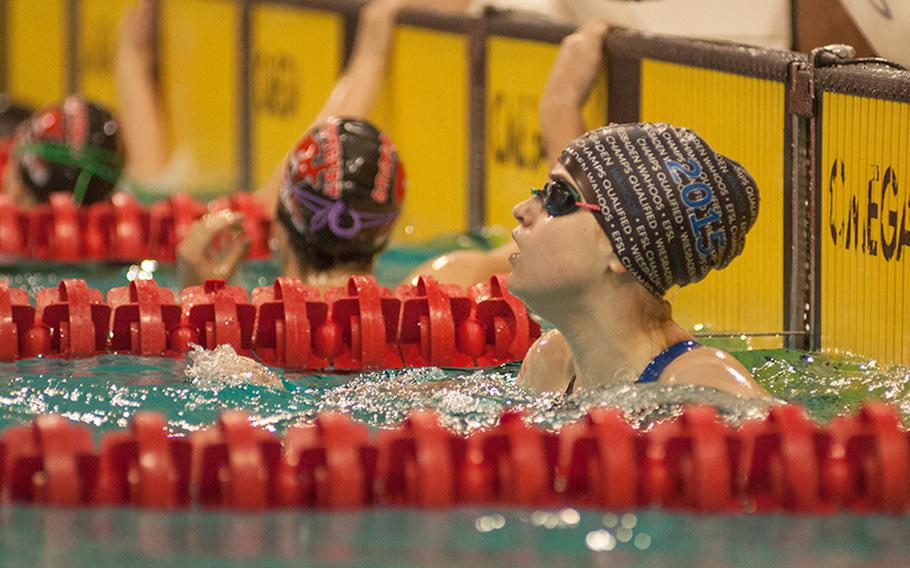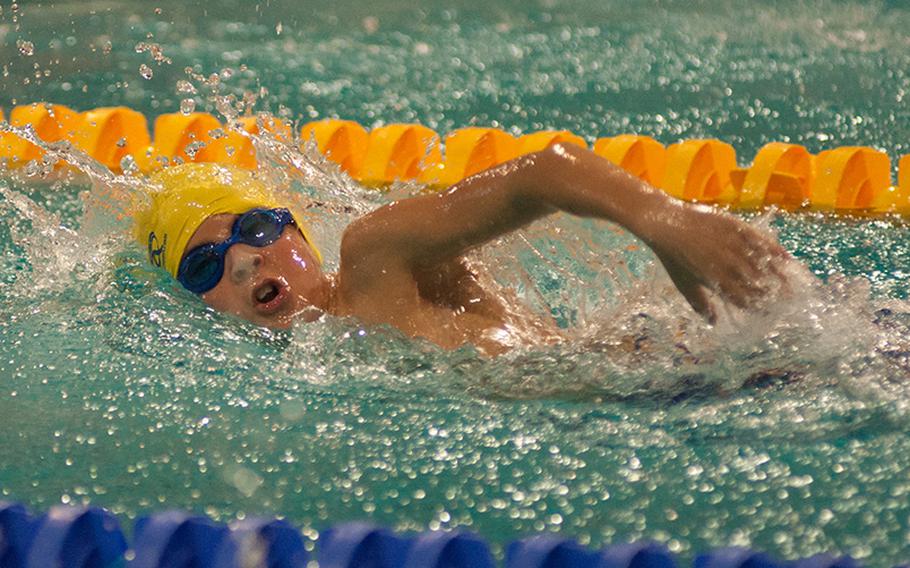 EINDHOVEN, Netherlands — They say nobody is perfect, but four European Forces Swim League competitors put that saying to the test during the final day of the 2015 championships held here Sunday.
Stuttgart's Ella Bathurst, NATO's Sebastian Lunak, Geilenkirchen's Vincent de Munter and Dominic Scifo from Lakenheath all won every one of their races, each winning the maximum 160 points.
In addition, the Orcas' Hylcke de Beer and Lakenheath's Alaina Scifo both placed second only once, each scoring 157 points for the weekend. It was, as Lakenheath's head coach Laurel Greszler put it, a championship that will be remembered for quite some time.
"Every meet is good theater, with highs and lows," she said. "We've experienced a lot of those here today."
Here are some of those highs, broken down by age.
Girls 8 and under
Geilenkirchen's Hylcke de Beer won the 200-meter individual medley and the 50 and 100 freestyles to bring her gold medals total to seven. She narrowly missed a perfect sweep of the championships, losing to Kaiserslautern's Ellis Burrill by .42 seconds in the 50 backstroke. Still, de Beer said she was just happy to be at the championships. "Winning makes it more fun," she admitted.
Boys 8 and under
Kaiserslautern's Markos Ayala kept his successful run going, winning the 200 individual medley and the 100 freestyle. He edged out several other tough competitors in the final points tally, including SHAPE's Maxime Moratona who took home two gold medals in the 50 freestyle and backstroke events.
Girls 9
Maddie Davenport from Vicenza won the 200 individual medley, the 100 freestyle and the 50 freestyle. She ended the weekend with six top place finishes.
Boys 9
This age bracket belonged to Sigonella's C.J. Davis, who won all of his races on Sunday. That brought his total gold medals for the weekend's championships to seven.
Girls 10
Kaiserslautern's Annika Zimmerer won the 200 individual medley and 100 freestyle on Sunday, along with the 100 medley and 200 freestyle on Day One of the championships. Lauren Snodgrass of Naples won the 50 butterfly, and NATO's Kristina Lunak took home gold in the 50 freestyle and the 50 backstroke.
Boys 10
Kaiserslautern's Andrew Hendrickson placed first in Sunday's 50 backstroke and in Saturday's 100 medley and 50 butterfly. His Kingfish teammate Leomar Ayala gold medaled twice Sunday, in the 100 freestyle and 200 individual medley.
Girls 11
Ella Bathurst smashed every standing record in her age bracket. Stuttgart's star swimmer broke last year's record in the girls' 200 individual medley with a time of 2 minutes, 44.09 seconds. She also set new records in the 50 freestyle with a time of 29.37 seconds, the 50 backstroke in 35.47 seconds and in the 100 freestyle in 1 minute, 5.24 seconds.
Boys 11
Naples' Sean Quirk won the 200 medley and the 50 freestyle on Sunday, a nice couple of additions to his three gold medals from Saturday.
Girls 12
There was no dominant performer in this bracket. Aviano's Sian Seeger took home the gold in the 50 freestyle and backstroke on Sunday. Those were in addition to the two gold medals she won on Saturday. Jamisen Casey from Kaiserslautern took home first in the 50 butterfly and Alexia Symak owned the long distances, winning the 200 freestyle on Sunday and the 200 medley and 100 freestyle on day one.
Boys 12
Sebastian Lunak owned this bracket, going undefeated both days of the event. He attributed his performance to a friendly rivalry with Kaiserslautern's Matthew Cermbrano – who placed second to Lunak more often than not. This was a reversal of the natural order of things, he explained. "I'm very excited. The entire season I have never managed to beat him," Lunak said.
Girls 13-14
Kaiserslautern's Nagisa Reed was the top performer with 145 total points. She won the 200 medley and freestyle on Sunday, while Berlin's Shahida Kitzov won the 100 backstroke. Her teammate, Charlotte Kreienbaum won gold Sunday in the 50 freestyle and on Saturday in the 100 freestyle.
Boys 13-14
Geilenkirchen Orca Vincent de Munter was among the undefeated swimmers, taking home the gold in four events on Saturday and four more on Sunday. Nevertheless, he said that he was underwhelmed by his performance on Sunday, but added that he was happy with the records he set Saturday in the butterfly and breaststroke.
Girls 15-16
Jordanne Stillitoe from Lakenheath had a great weekend, finishing atop her bracket with 145 points. She won gold in the 200 medley and in the 100 backstroke.
Boys 15-16
Dominic Scifo remained perfect throughout the weekend, winning all events, including the 50 freestyle, the 200 individual medley, the 200 freestyle and the only event that worried him at all, the 50 backstroke.
Scifo – Lakenheath's top scorer with a perfect 160 – said he was pleased with his performance and is looking forward to the monthlong break between this season and training for next season.
"When you get into the water before school starts, it all feels pointless," he said. "But this is your validation. This is where you know you worked hard."
Girls 17-19
Alaina Scifo came in second only once, to Stuttgart's Lizzie Hodges, scoring 157 points during the weekend. But her sole silver medal placement was her proudest moment of the championships. "I beat my personal best, so that was pretty good to me," she said. "Overall, I accomplished what I came here to do. Win."
Hodges took top honors in the 50 freestyle, taking home the new record of 27.54 seconds and just barely beating Scifo's 27.97. But as Hodges said the 50 freestyle has always been her event. "For seven years running, Alaina has won everything else, but I win the free," she said.
Boys 17-19
Isidro Carrara was Lisbon's sole top scorer, winning his division with 143 points.