Boys soccer
Pick a favorite after defending champs fall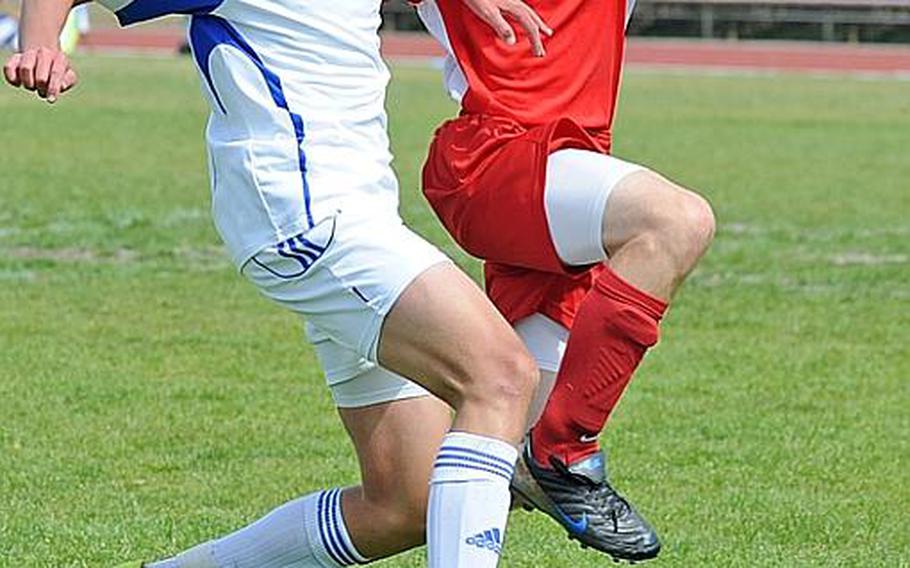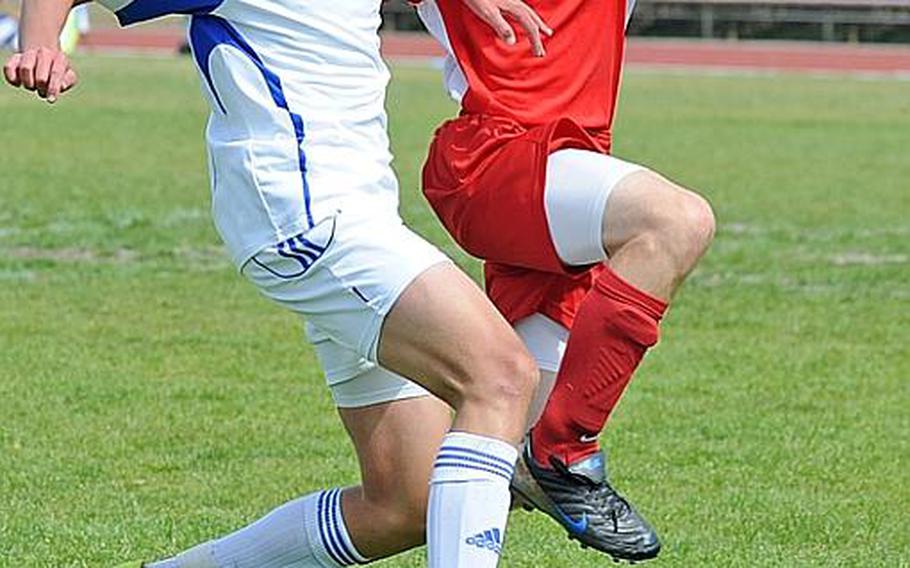 With the defeat of two defending European boys champions in Saturday's regular-season finales, it's now official: This week's European divisions I, II and III soccer tournaments are wide-open.
Defending European D-II champion American Overseas School of Rome lost its first game of the season Saturday, 3-1 to Naples. The other champion to fall, reigning D-I king SHAPE, made less of a thud. The Spartans had already lost one game and tied another this season prior to their 2-0 blanking Saturday at the International School of Brussels.
Naples 3, AOSR 1: Saturday at Naples, Nigel Alexander broke a 0-0 halftime tie with a 47th-minute goal, then with precision throw-ins set up a score by Regan Campbell six minutes later and one by Jasper Bergwerff some 22 minutes after that to lift the Wildcats over the Falcons.
"It's a great way to go to the tournament," Naples coach Craig Lord said Saturday by telephone. "We're excited."
ISB 2, SHAPE 0: Saturday in Brussels, SHAPE endured its second straight shutout while ISB's Alessandro Pryce and Sean Crowley connected for second-half goals.
ISB (5-0, 4-0) clinched the Region I title and goes into this week's European D-I tournament seeded just behind fellow unbeaten Ramstein, which tied SHAPE 1-1 on the road earlier this season.
SHAPE, which dropped a 1-0 verdict to Lakenheath the previous week, goes into the tourney hoping to defend its D-I crown with a 3-2-1 overall mark. The Spartans completed their Region I slate at 3-2.
Lakenheath 1, Alconbury 0: Saturday at Alconbury, a first-half penalty-kick conversion by All-European Jordi Davis was the only shot to get past overworked but far from overmatched Alconbury goalkeeper Gabe Sirwinski.
"The Lancers controlled much of the game and created several great chances," Alconbury coach Jeff Black wrote in an email about his D-III team's game against their guests, who are D-I contenders. "But … Sirwinski was on his game and came up big with save after save."
Alconbury fell to 5-2-1 overall and 5-2 in the region; Lakenheath finished 5-2, 4-1.
Ramstein 4, Kaiserslautern 0: Saturday in Ramstein, All-European Jonathan McClouth broke loose for two goals to lift the unbeaten Royals (5-0-2 overall, 4-0-1 in Region II) to the regional championship and the No. 1 seed for this week's European D-I tournament.
"K-town's defense bottled up the Royals' attack in the first half and continued to apply pressure the entire game," Ramstein coach Dan Nukala wrote in a Saturday email.
However, Ramstein's defense was even better. Led by Christian Arroyo and Dennis Dooley, the Royals "…made it difficult for the Raiders to gain any offensive traction," Nukala wrote.
Jake Mattison and Chritian Turain also scored for Ramstein in a game the Royals led just 1-0 at the half.
Kaiserslautern, like Ramstein ticketed for this week's Division I tournament to be played at several sites in the Kaiserslautern military community, finished the regular season 2-4-1 overall and 2-2-1 in Region II.