DODDS-Europe wrestling
Patch has six champs en route to runaway title
---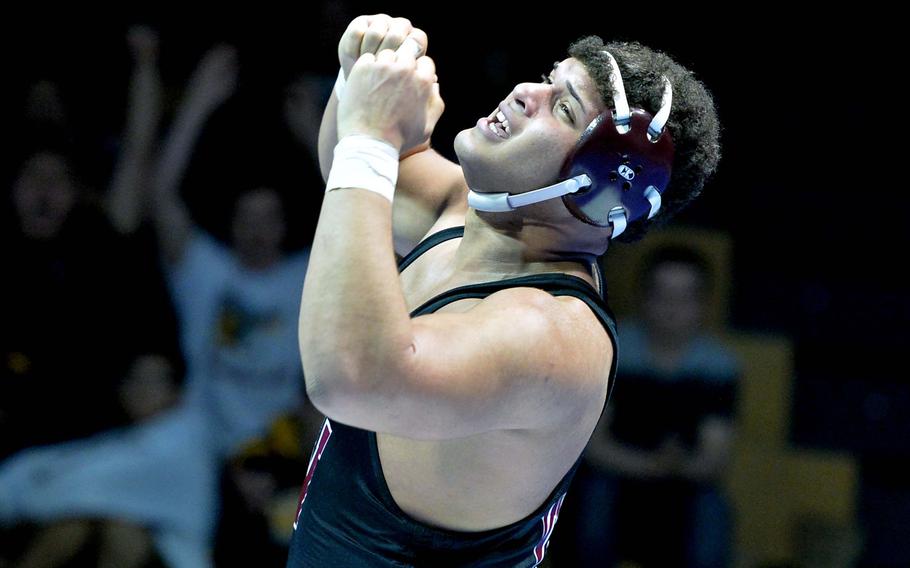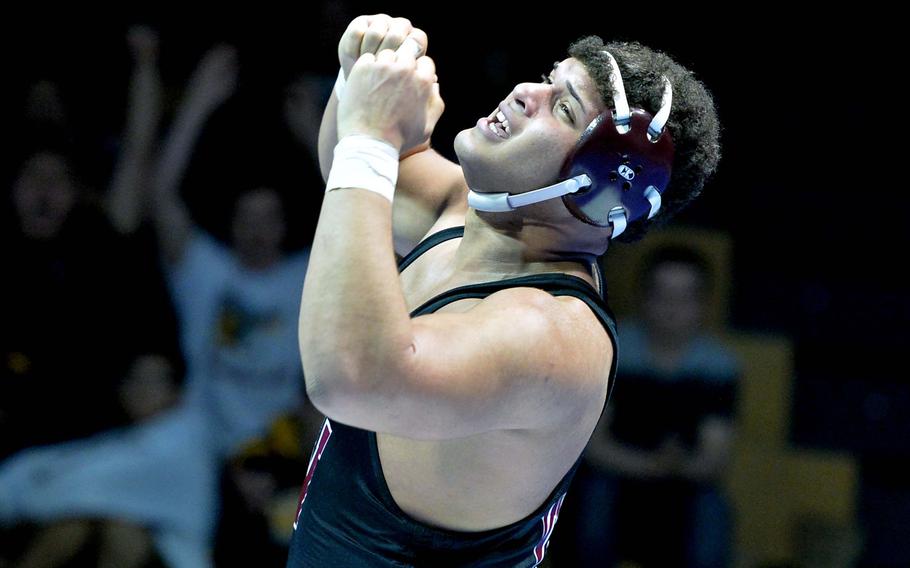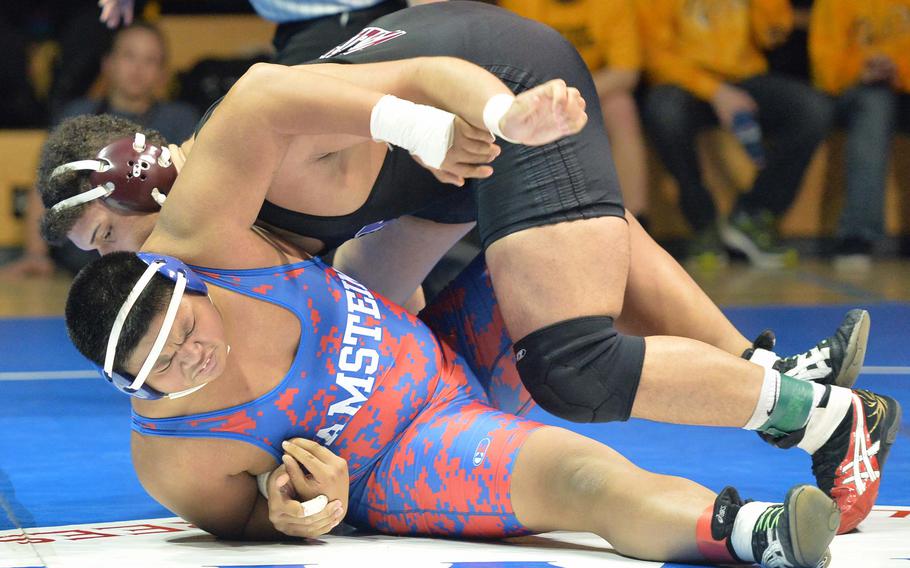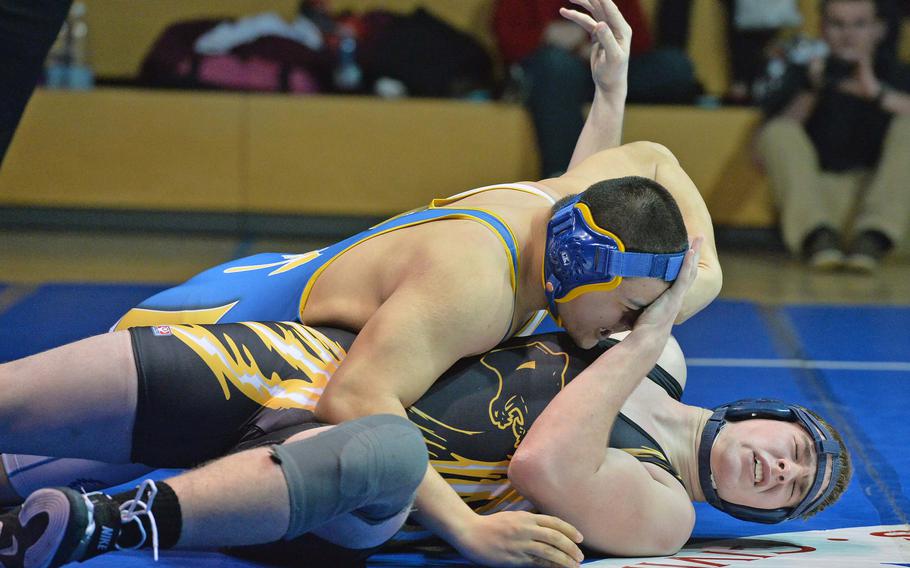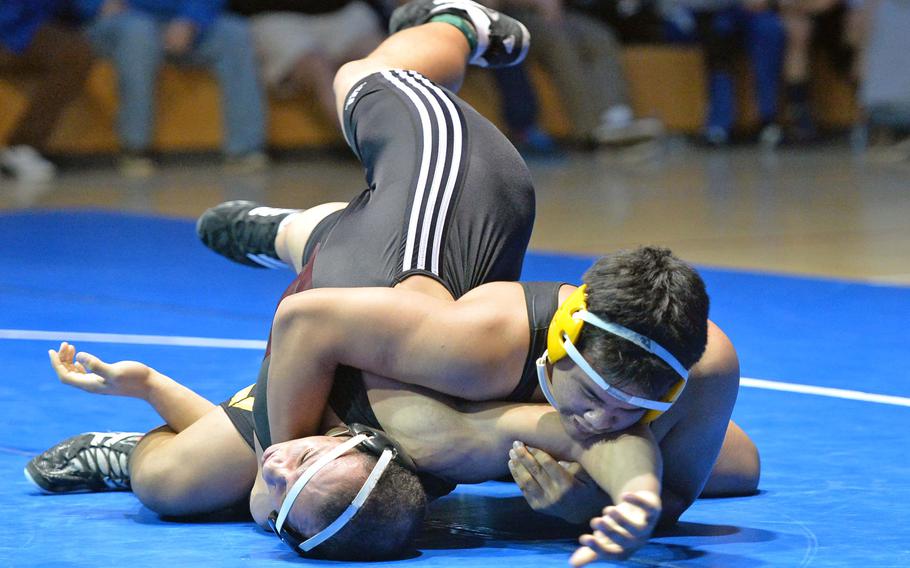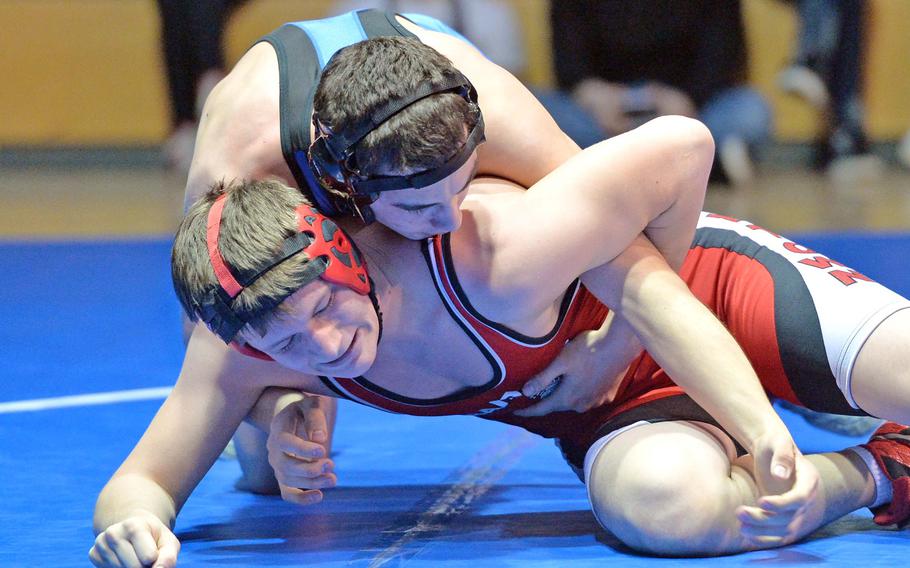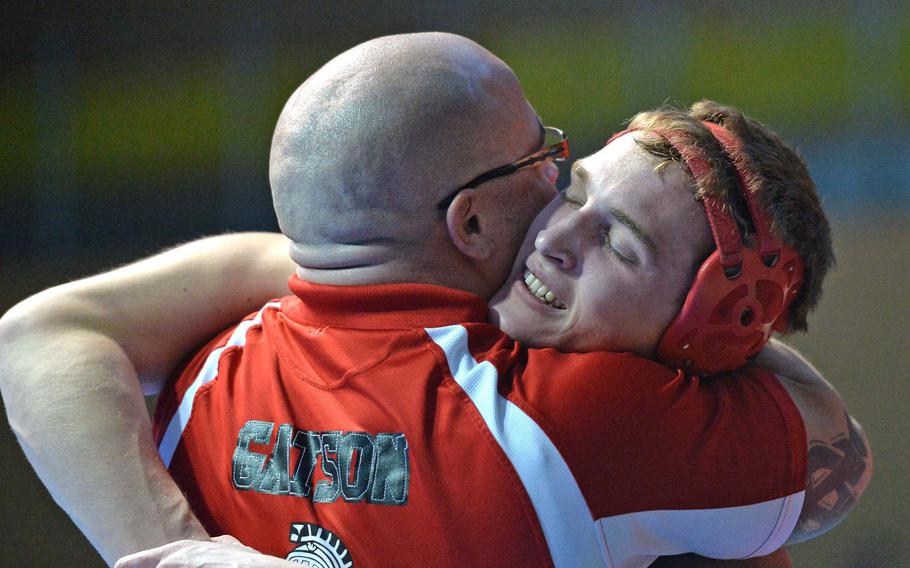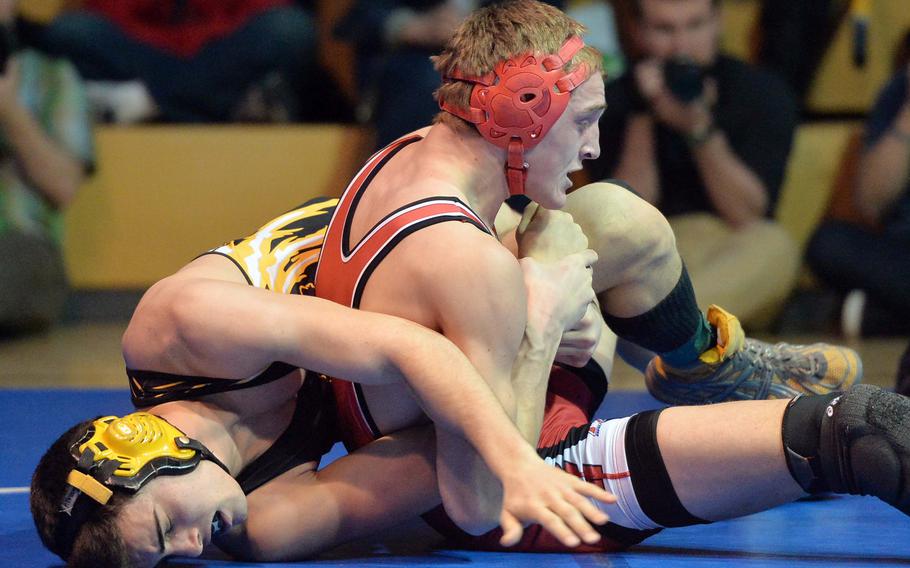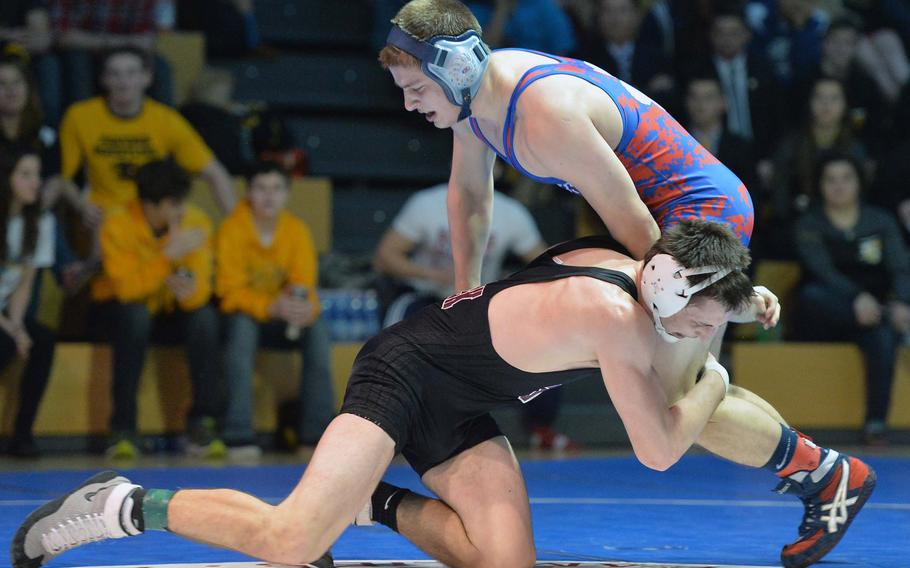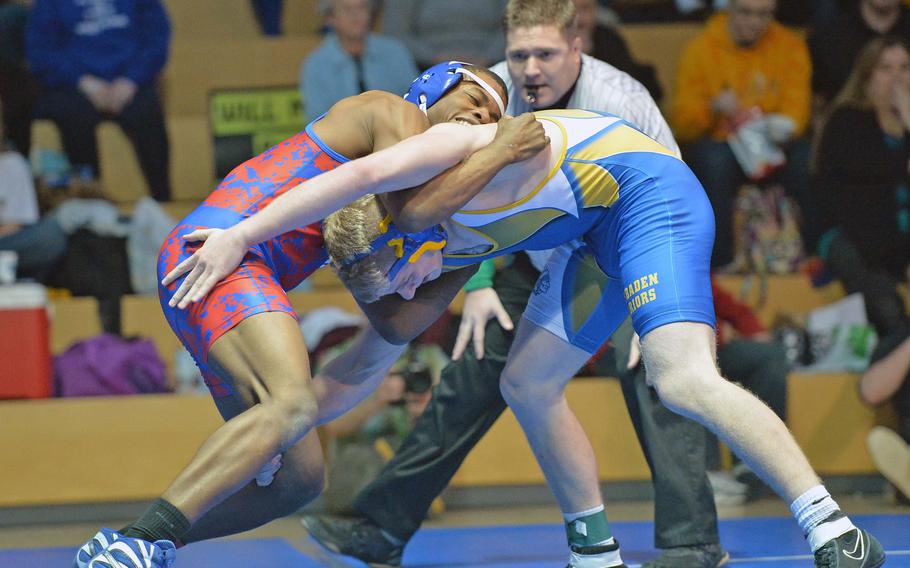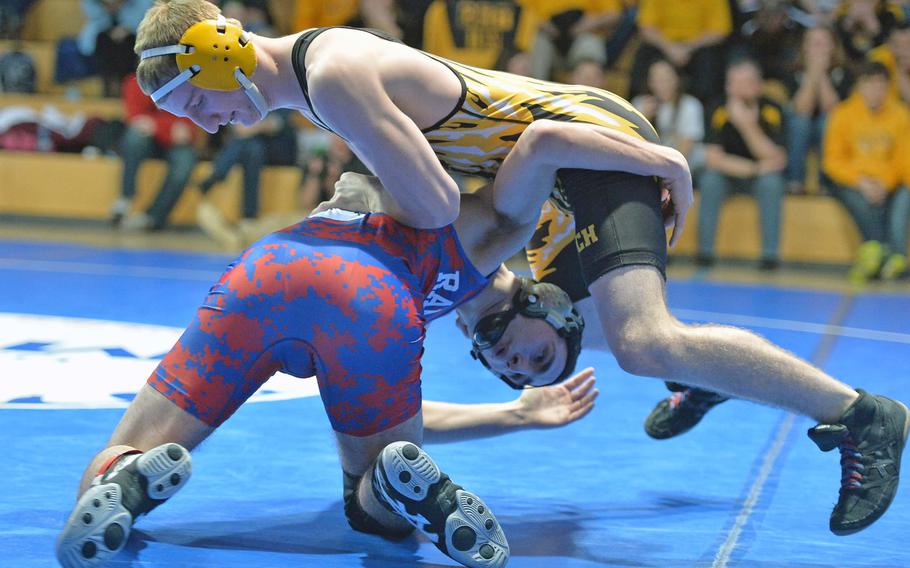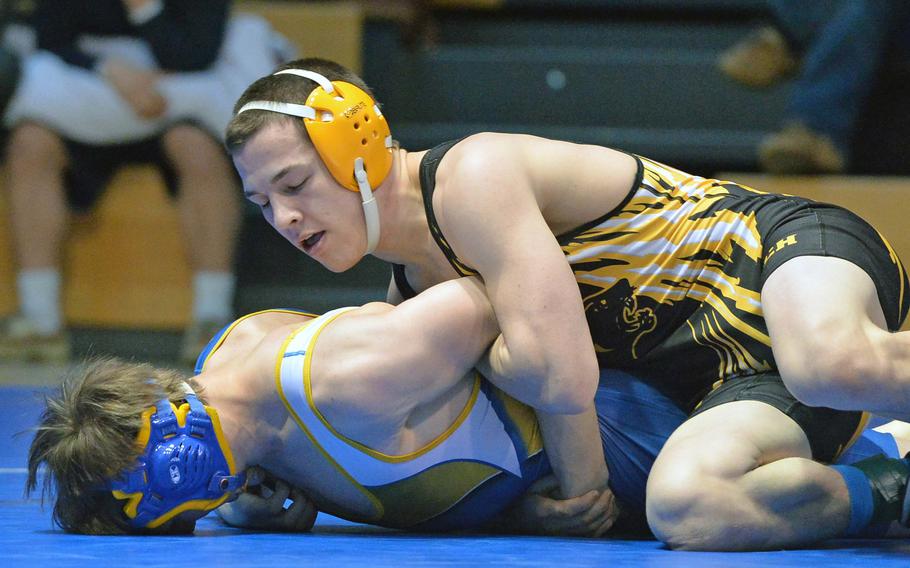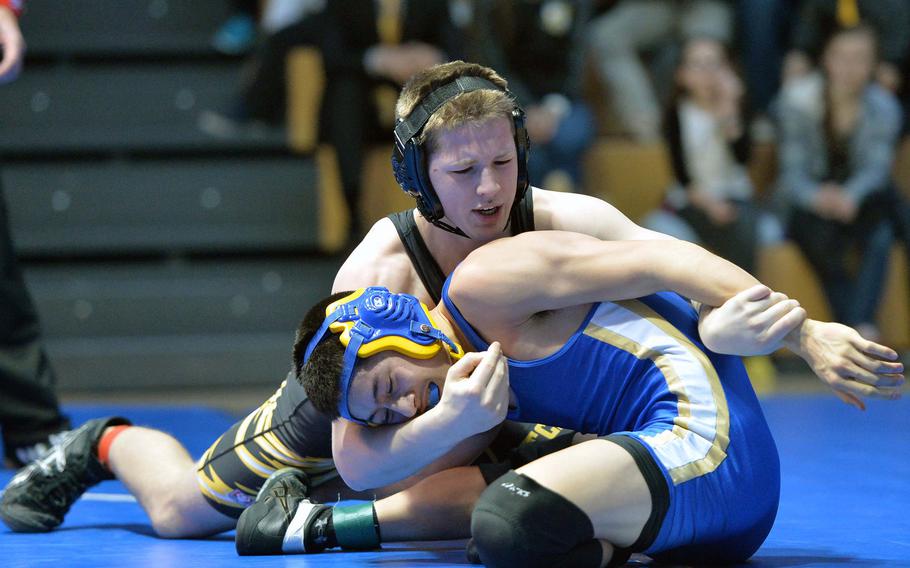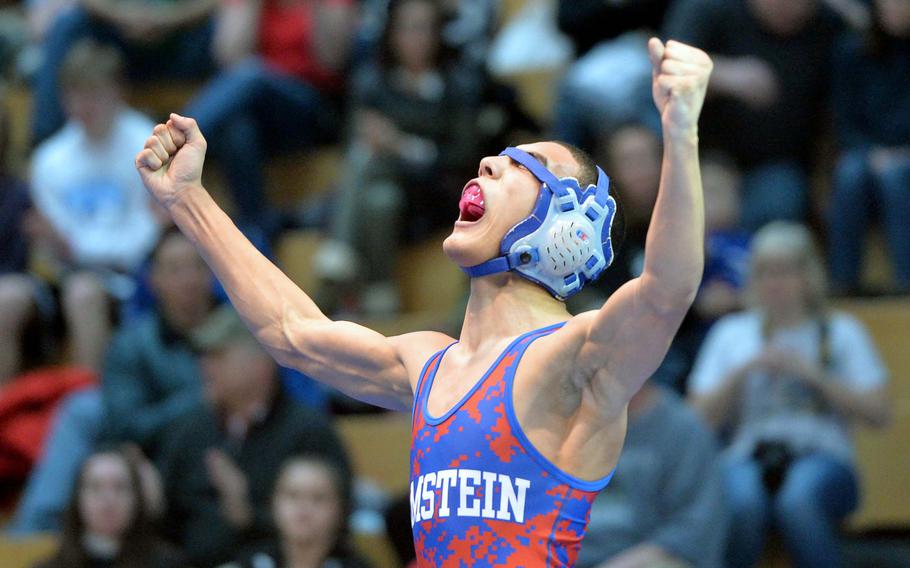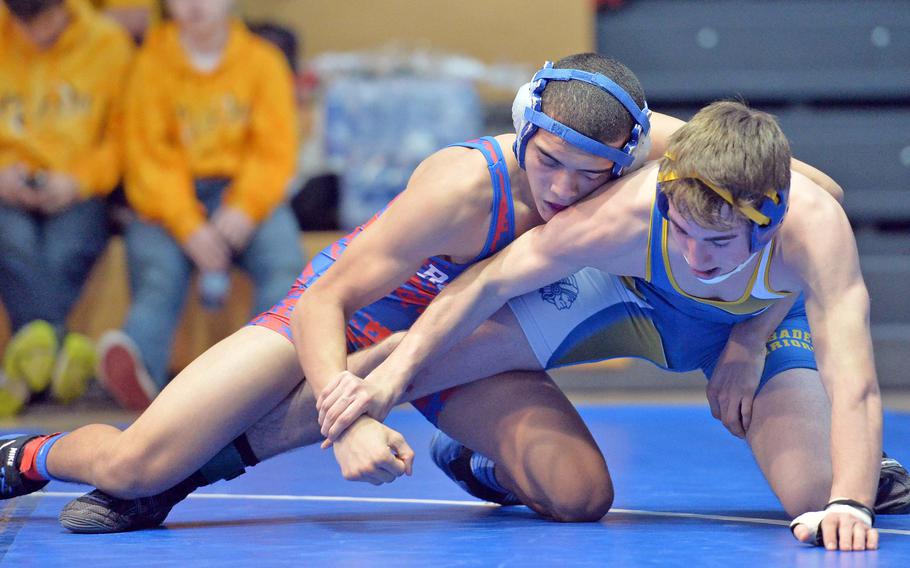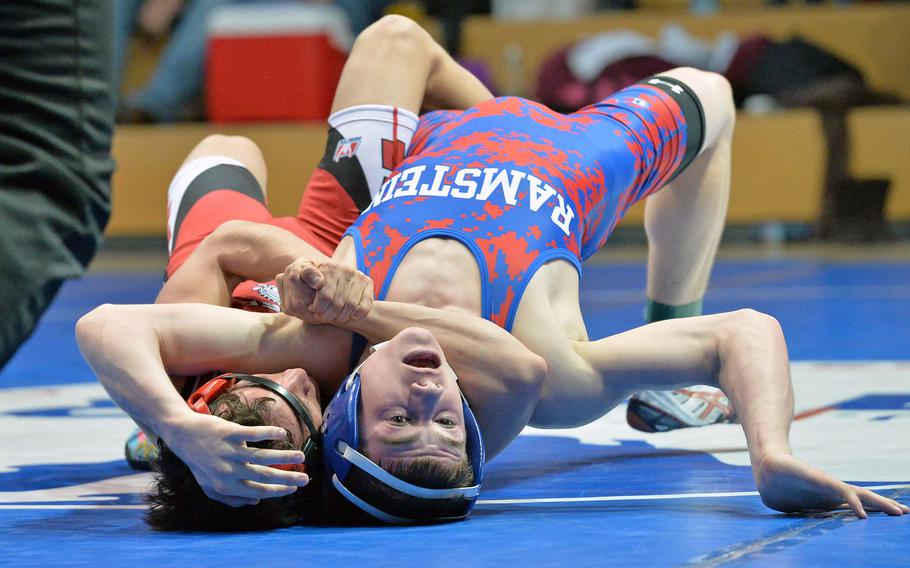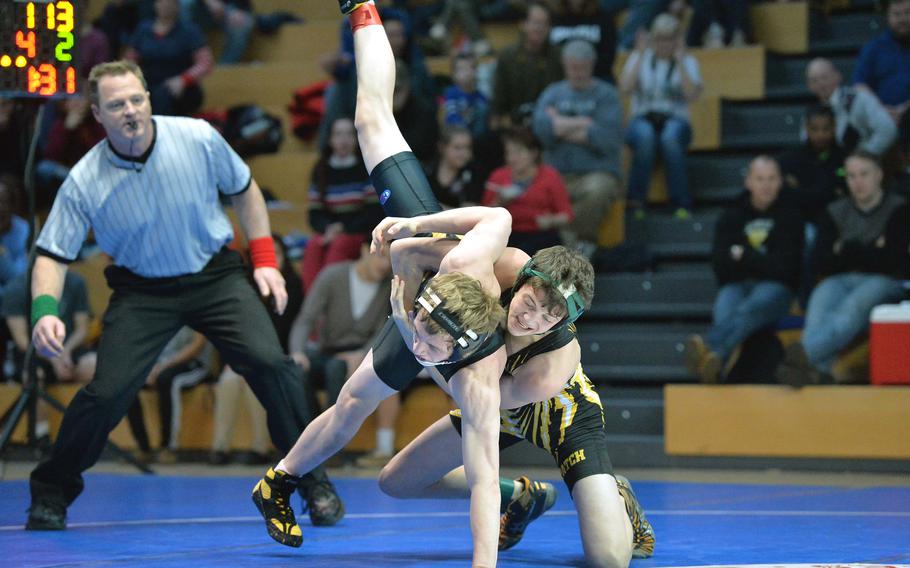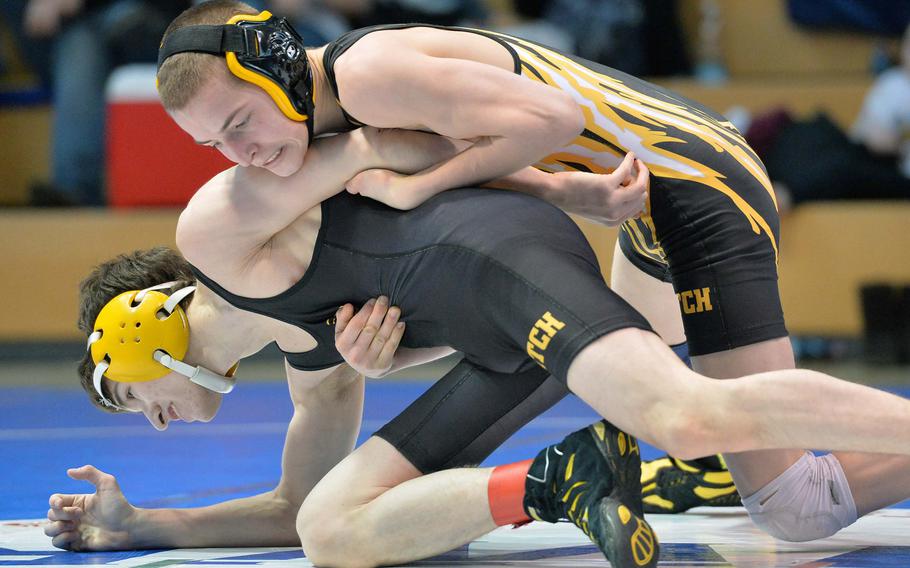 WIESBADEN, Germany – The Patch Panthers drowned the DODDS-Europe wrestling championships in a sea of black and yellow Saturday at Wiesbaden Fitness Center, earning six individual championships, three runner-up finishes and the Division I team title by a 100-point margin.
Patch, which won four straight Division I titles before losing to Ramstein last year, took back the title over a Royals team that was almost as ubiquitous in the set of 14 championship matches that capped the tournament. Ramstein placed six in the finals, with four claiming victory, but settled for third behind runner-up Wiesbaden.
Vicenza repeated as Division II team champion, while Incirlik took the Division III team crown.
Here's a rundown of the 14 European championship matches:
106: The championship round got under way, fittingly enough, with two Patch wrestlers on the mat and yellow shirts in both corners.
Patch freshman Matthew Bolduc took a 15-4 major decision over senior teammate Jonathan Becker in a hard-fought, methodical match.
113: The tournament heated up abruptly with a dramatic and controversial finish between two intense rivals.
When Patch's Christopher Matzke and Vicenza's Peter McCollaum met at the sectional qualifier in Vicenza on Feb. 8, Matzke was penalized after landing a forearm to the back of McCollaum's head. Sectional champ McCollaum and runner-up Matzke both advanced to Wiesbaden as the region's top two qualifiers.
On Saturday, the two staged a hard-fought but clean rematch, an unceasing battle marked by near-falls and reversals from both grapplers. The ending – Matzke earned two points in the match's final seconds to claim a 10-9 decision – sent sections of the crowd into hysterics as Matzke helped McCollaum to his feet and embraced him.
120: A local Rheinland-Pfalz rivalry was settled on a European stage Saturday as Ramstein sophomore Joey Fortunato earned a late 7-6 decision over Kaiserslautern's Matthew Fischer.
Both competitors came into the bout with an impressive body of work. Fischer won at 106 pounds in 2012 and finished second at 113 pounds a year ago, while Fortunato claimed a European title at 106 last year. The two traded victories in the regular season.
Appropriately, Saturday's finale was decided by the thinnest of margins. Fortunato won the title with a reversal in the final five seconds, and went on to be named the tournament's outstanding wrestler.
126: Ramstein celebrated its second win in a row as senior Kenny Berry capped a remarkable season with a rugged 13-6 decision over Wiesbaden's Brendan Sturman.
The match was just the latest triumph for Berry, who navigated one of DODDS-Europe's most arduous classes without taking a loss.
132: Evenly-matched opponents Matthew Hall of Wiesbaden and Robert Call of Patch spent most of their bout in a scoreless stalemate before Call notched the match's first point as the second period expired. He added two more early in the third and held off Hall's attempts at a rally to earn the title, extend the Panther lead and keep the hometown Warrior fans temporarily subdued.
138: Zachary Bolduc joined his brother in the winner's circle and padded Patch's points total with a pinfall victory over Wiesbaden's Joseph Spiszer.
Bolduc's pin of Spiszer was his seventh in as many matches in the tournament, recorded at a combined total of 12 minutes and nine seconds. Bolduc couldn't explain his knack for scoring not just wins, but pins, other than a desire to end matches "as quickly as possible."
That wasn't his primary motivation in Saturday's title match, however. After his freshman brother won, the younger Bolduc approached his brother to offer some motivation.
"He came over to me and said I'd better win," the senior said.
145: The Fields family dynasty continued as Jaden Fields won his second consecutive European championship. Fields, who won European gold at 138 pounds a year ago to follow older brother Caleb as a champion, beat Ramstein's Justin Zapata for the second time of the day to claim the title and give Patch another boost in the Division I points race. Fields earned a 21-7 major decision, his first non-pinfall victory of the tournament.
152: Ramstein's Eric Carter took a 6-2 decision from Wiesbaden's Brayden Lamb to break the Patch string of victories and put the Royals back in the win column. Royals senior Carter finally collected the European title he nearly won in 2013; he lost a 4-0 decision to Patch's DeSean Horton in last year's finale.
"I really wanted it," Carter said. "I came into Europeans thinking no one's going to stop me."
In addition to last year's frustration, that mindset was the result of a grueling regular season that saw Carter go "back to the drawing board" after many weekends. For all he'd seen this season, however, Lamb presented a fresh challenge for Carter.
"I was pretty nervous. I hadn't really had anyone get in on my legs before," Carter said. "I usually get the first takedown."
160: Matt Sharpy delivered another Ramstein victory with a thrilling 1-0 upset win over Vilseck's Will Peters.
Neither wrestler cracked the scoreboard until Sharpy recorded a point in the final seconds of the third period. With Peters on top and the clock ticking below 20 seconds, Sharpy decided to make his move.
He adroitly escaped from Peters' grasp, earning the needed point for an escape in the process. An instant later the match ended, sending the Ramstein cheering section to its feet and Peters looking at the scoreboard in disbelief.
"I knew the score. I knew the time was running down," Sharpy said. "I just went for it. Everything worked out."
170: Anxious for something to cheer for in the midst of the constant Patch and Ramstein triumphs, the Kaiserslautern cheering section seized their moment.
The Raider faithful counted down the final seconds as Arvin Hrushka finished off a steady 11-1 decision over Patch's Daniel Alvarado.
A senior, Hrushka was ecstatic to finally celebrate a title in his last high school match.
"It's awesome. I worked so hard," Hrushka said. "I videotaped my matches, I practiced every single mistake that I made. And it paid off."
182: Bradly Lemon gave Raider fans another reason to celebrate moments later, shocking Eli Spencer of Incirlik with a pin at the three-minute, 40-second mark. Lemon said he entered the match on an even keel, neither overconfident or intimidated.
"I felt pretty neutral about the match, honestly," said Lemon, who had lost his previous meeting to Spencer. "I was confident going in that I could do my best."
195: After sitting out a couple of matches, Patch returned with a vengeance as Andrew Brabazon pinned Vilseck's Kraig Sumpter.
Faced with a raucous crowd, the pressure of a points race and a tough, experienced opponent, Brabazon sought to simply clear his head and perform. "I just kept my mind calm and just wrestled," the junior said.
The runner-up finish was the second in as many years for Sumpter.
220: Wiesbaden's Hunter Lunasin met his match only once over the course of the winter. So he wasn't surprised to find that same opponent waiting for him Saturday.
This time, however, was different.
An aggressive Lunasin recorded a pinfall victory over nemesis Will Miller of Patch, finally overcoming the previously-undefeated obstacle that had stood in his way all season.
The win, the only title the home team claimed Saturday, sent the Warrior fans into a frenzy, screaming and cheering as the banged-up Lunasin hopped on one foot, his arm raised in victory. That ovation would be repeated in the awards ceremony an hour later as Lunasin, who celebrated a football championship with the Warriors in November, shuffled to the top of the medal stand.
285: Vilseck's Armando Saldana became the only wrestler this year to repeat as champion in the same weight class with a pinfall victory over Ramstein's Christian Biacan.
Despite his status as reigning champion, Saldana said he took nothing for granted this weekend.
"I was confident but I didn't underestimate my opponent, and I didn't get too cocky," the senior said. "I worked hard every day in practice to make sure I can compete with the best of them."
Saldana had added motivation to win after watching two of his teammates fall short in their own title matches, saying he hoped to "lift their spirits" with a Falcon title.
Twitter: @broomestripes
---
---
---
---