Obstacles abound as Stuttgart preps for key U.K. road trip
by
Gregory Broome
September 20, 2018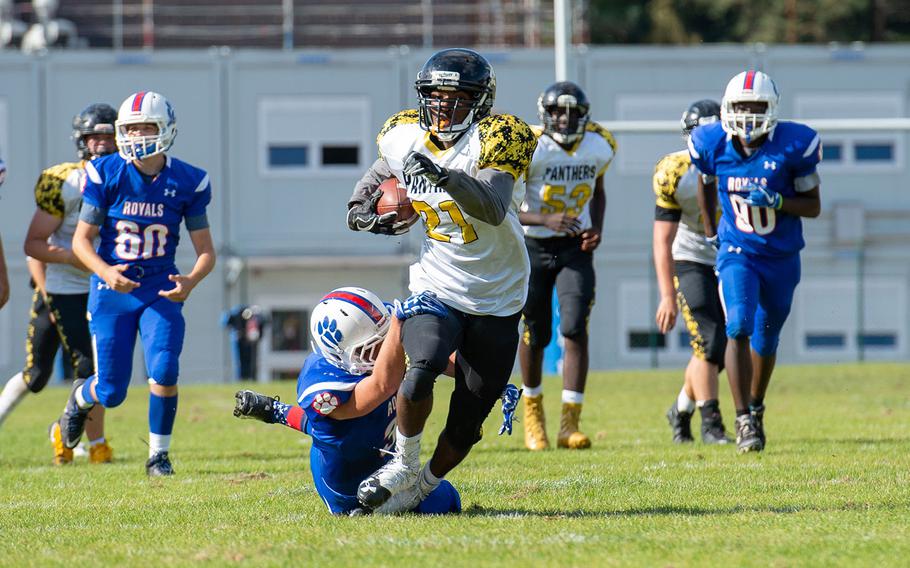 The Stuttgart Panthers knew they'd face adversity as they chased a second straight DODEA-Europe Division I football championship this fall. This weekend, it seems they're facing every possible form of it all at once.
Stuttgart is coming off a discouraging performance against Ramstein. The Panthers' 41-19 loss to the rival Royals, an anticlimactic rematch of the 2017 European championship game, cast the Panthers' repeat title hopes in immediate and significant doubt.
That game put the Panthers in a 0-1 hole in the short five-week playoff race, evoking some unpleasant recent history for the program; Stuttgart missed the postseason the year after winning its breakthrough 2015 title.
Saturday's opponent, Lakenheath, is riding the positive momentum of its dramatic comeback win at Kaiserslautern last weekend. The Lancers, even without that psychological boost, are a solid playoff-caliber squad boasting perhaps the most explosive set of running backs in Europe.
Finally, Stuttgart will face Lakenheath after one of the longest bus rides in Division I football this year. The Panthers have struggled in games at Lakenheath in recent seasons. As stark as Stuttgart's situation seems, it's a bit too early to cite Saturday's game as a must-win tipping point for the Panthers' title defense. Even an 0-2 start is surmountable, if it comes to that, and Stuttgart's remaining three games include two home games and matchups with the two teams that missed last year's postseason.
But scraping for a playoff berth is different than stoutly defending a title, and the Panthers are anxious to bounce back now. Head coach Billy Ratcliff said his team's "focus is significantly better" since last weekend's showing at Ramstein and stressed the need to "remain focused" in England this weekend despite the grueling travel schedule and the dangerous opponent waiting at the end of it.
"This will be a good test for us to see how we respond," Ratcliff said. "We know it is a huge challenge for us."
Twitter: @broomestripes