Division III basketball
Nothing's decided yet in small school tourneys
by
Dan Stoutamire
February 24, 2016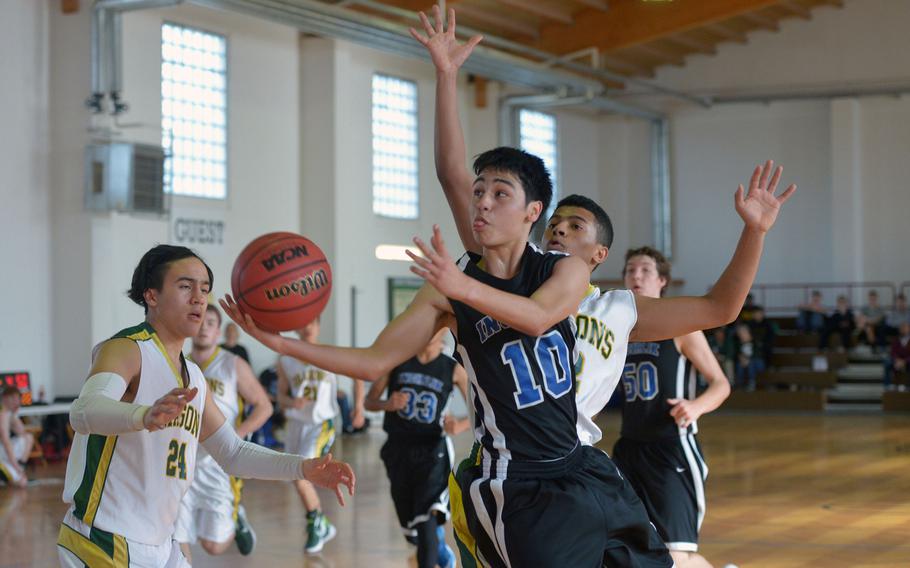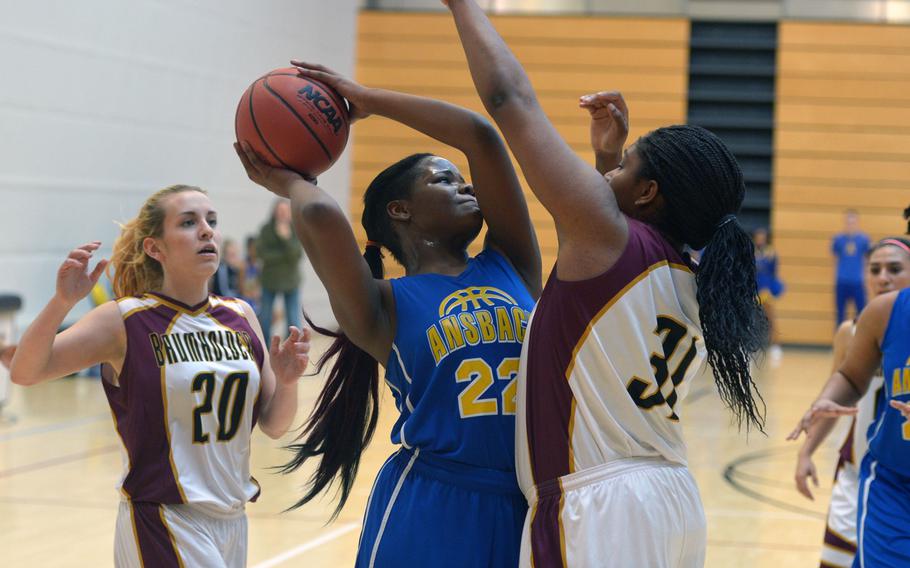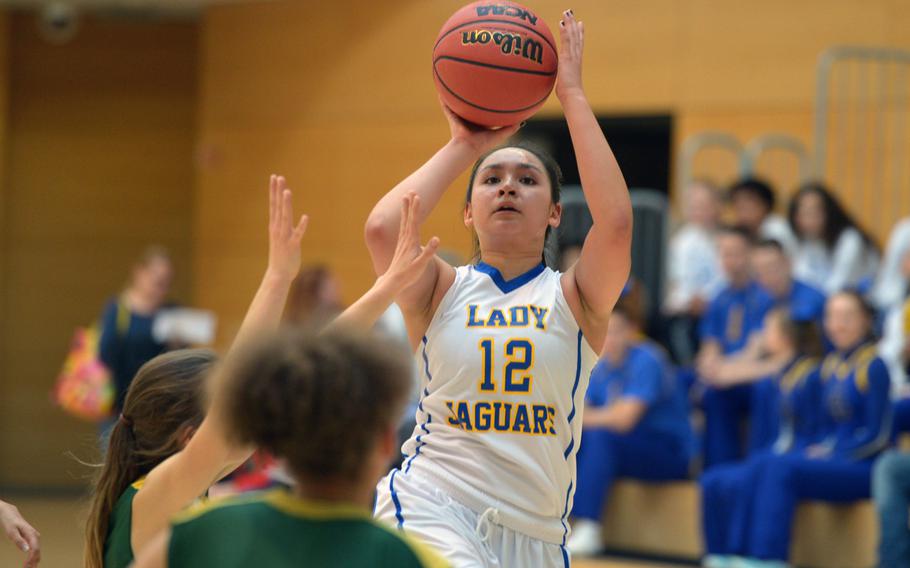 WIESBADEN, Germany — Some of DODDS Europe's smallest schools showed themselves to be strong contenders Wednesday for the Division III basketball championships, while even schools with only losses still have a glimmer of hope with plenty of games yet to play.
Each team played twice Wednesday and has four games left Thursday and Friday. The teams with the top two records will then play for the title on Saturday, with the next best playing for third.
Among the highlights:
GirlsAnsbach 27, Baumholder 21: In what was a tight game all the way through, Ansbach center Khiya Coats made two clutch late baskets in the post to seal the game for the Lady Cougars.
Baumholder had cut Ansbach's lead to two with 2 minutes, 35 seconds left to play, but Coats and company proved too much in the end for the Lady Bucs.
Despite the loss, Baumholder's Eliyah Tilman was optimistic her team could improve and advance.
"It was a little 'meh,' but you can't determine the rest of your tournament based off of one game, you can still get into the championships with one or two losses, it just depends on how you play those games," she said. "That's how you have to think about it, and I have to make my mentality stronger. It comes down to hard work, teamwork, and you have to have fun."
Baumholder bounced back in its next game, topping Incirlik 34-27. And Ansbach remained perfect with a 31-10 win over Brussels.
Incirlik 37, Ankara 3: An overmatched Ankara team's only points came from an Angeline Wright first half three-pointer as Incirlik stamped its authority on the game early and often in a matchup of DODDS' two Turkish teams.
Maja Inthavixay, a freshman point guard at Incirlik who led all scorers with 10 points, said she was pleased with her team's defense.
"I thought we did really well on defense, we were trying out a bunch of new things, kind of experimenting," she said. "I thought when we would change up, we did a good job adapting."
Alconbury 10, Brussels 8: A closely-fought defensive struggle was decided late when Alconbury sophomore guard Jai'anna Gonzales hit a jumper with 3 minutes remaining and Brussels senior forward Lisa Luchford's shot fell just short at the buzzer.
Alconbury guards Ashley Kjorness, a sophomore, and Roni Teti, a junior, were everywhere on defense and combined for a dozen steals, disrupting the Brussels offense.
Teti said the Dragons' cohesion is strong.
"We have an atmosphere kind of like a family, if one player gets hurt we all go to see if she's OK," she said. "Most of the time we laugh and have fun together. It definitely helps us, because we can know where each other are going to be even without talking."
That togetherness wasn't enough to get Alconbury past Sigonella, though. The Jaguars defeated the Dragons 31-24 and then joined Ansbach with perfect days after a 45-10 win over Ankara.
BoysIncirlik 52, Alconbury 47: Alconbury made a game of it after Incirlik led 34-21 at the half.
Despite several good chances to reduce the deficit, the Dragons found it difficult to cut the gap under seven points until the very end and Incirlik senior guard Britain Young's free throws late on iced it for the Hodjas.
Incirlik sophomore guard Jermaine Eggleston's dribble penetration was a constant menace as he finished with 22 points.
"We came together like a puzzle, because everybody did their part," Incirlik senior center Samuel Galbreath said. "We worked together and we came out on top."
The Hodjas made it 2-0 on the day thanks to an earlier 54-15 victory over Ankara.
Brussels 44, Ankara 8: An efficient and mature Brigands team dominated their second game of the day against an Ankara team boasting players from eight different countries of origin.
Brothers Michael DeFazio, a senior, and Dominick DeFazio, a sophomore, combined for 13 of their team's 26 halftime points, and were largely rested during the second half.
In their stead, promising youngsters Aljaz Urbanc, Mark Keller – both sophomores – and Kyle Luchford, a freshman, all impressed.
Despite the losses on the day, Ankara captain Turan Kerimbay, a native of Kazakhstan, said his team would stay focused.
"The thing I like the most about our team is that no matter what, win or lose, even though we might be angry at each other, deep inside we are still a team, like a family," he said, adding that the diversity of the squad "not only gives us different perspectives, but a different pool of abilities and views on the game and styles of play which I think is great for our team."
For Brussels, Wednesday's play – that included a 44-26 victory over Sigonella - means they're among the contenders for the top prize in the division, said Michael DeFazio, who said he has been playing sports with his brother "forever, for as long as I can remember. Since we could walk, really."
"(The) championship is the goal, that's what we want," he said. "We want the plaque with "Number 1" on it."
Ansbach 36, Sigonella 32: The final game of the day saw the Ansbach Cougars hold off a late rally by the Sigonella Jaguars.
Juniors Yadiel Rodriguez, Lamar Finley and freshman Andrew Ogden all chipped in with eight points, and it was Ogden's late three-pointer that was the dagger in the heart of the Jaguars.
For the Jags, much of their offense revolved around the superb ball-handling skills of senior point guard Jason Berlin and the athletic overall play of junior wing Aaron Jacobs.
It's Berlin's final European championships, and despite a rocky start for his team, he's enjoying it.
"It's super special, I've been super excited for the past three or four weeks," he said. "I've been ready to get up here and give it my all. I'm having a good time so far."
The Cougars joined Incirlik and Brussels as Day 1 unbeatens, thanks to a 38-36 victory over Baumholder. The Bucs split their games by defeating Alconbury 39-29.