Girls soccer - Day 1
Naples looks strong on opening day
---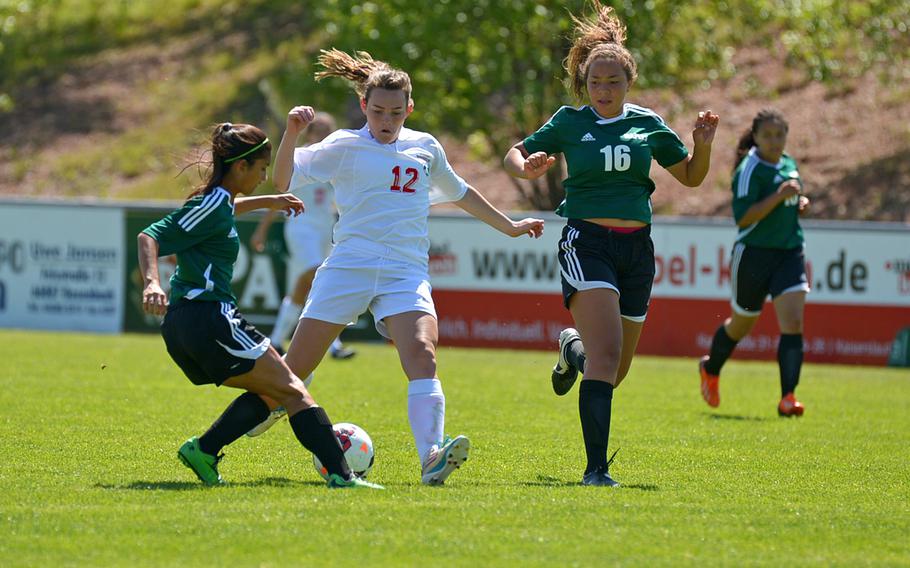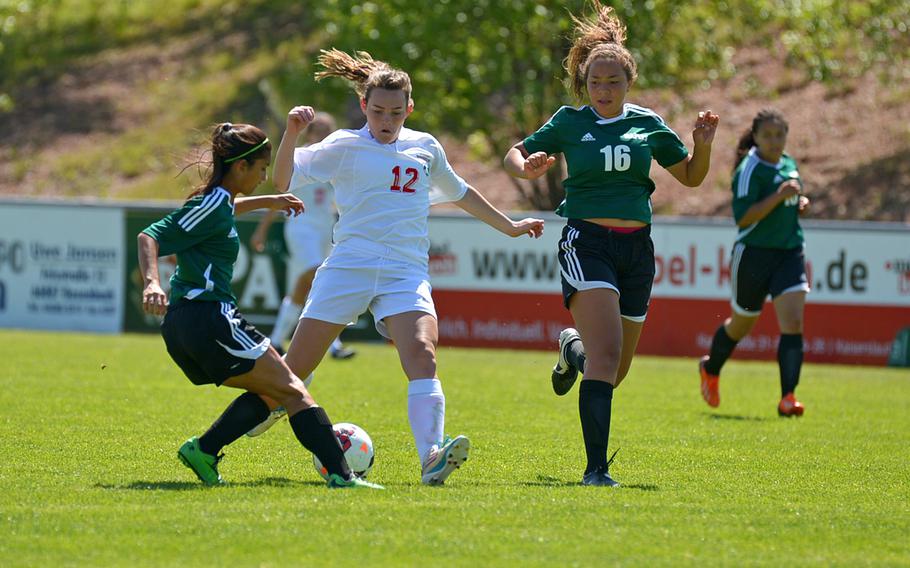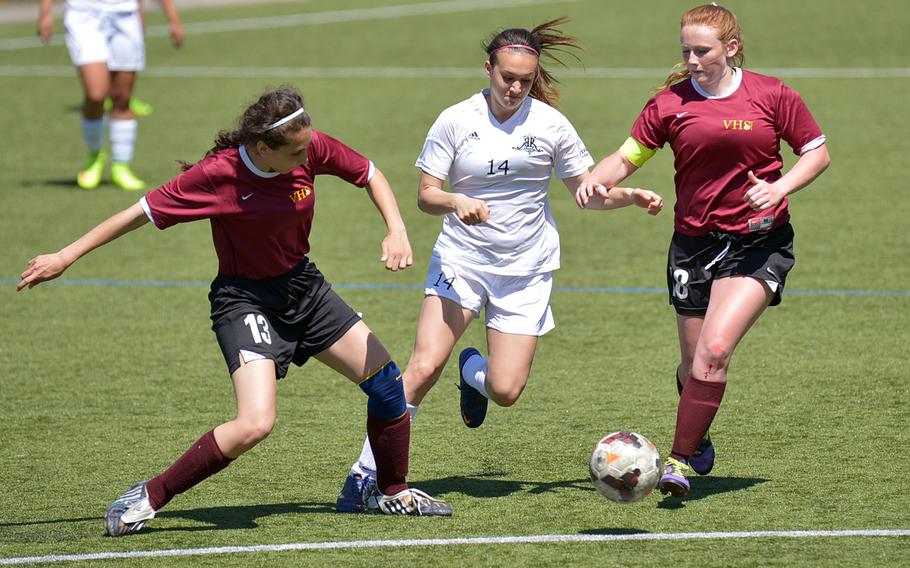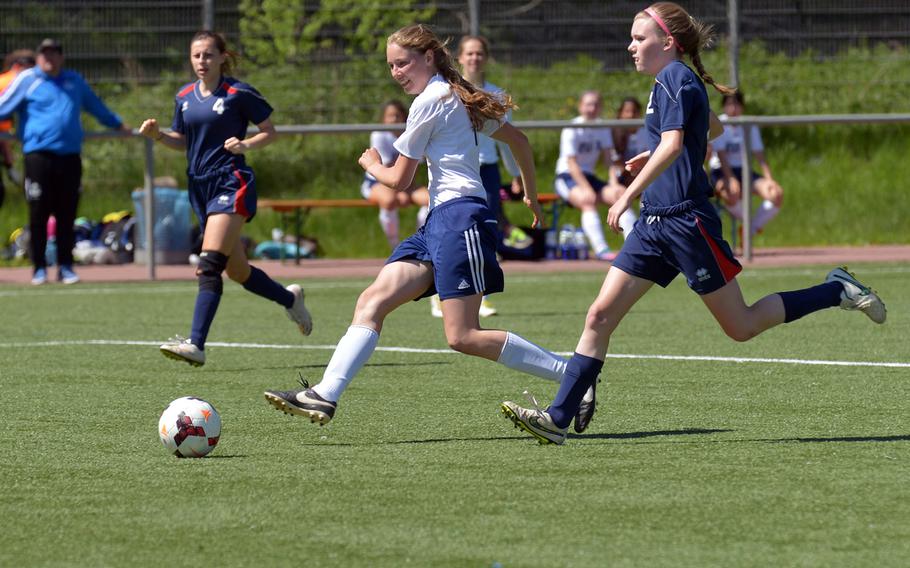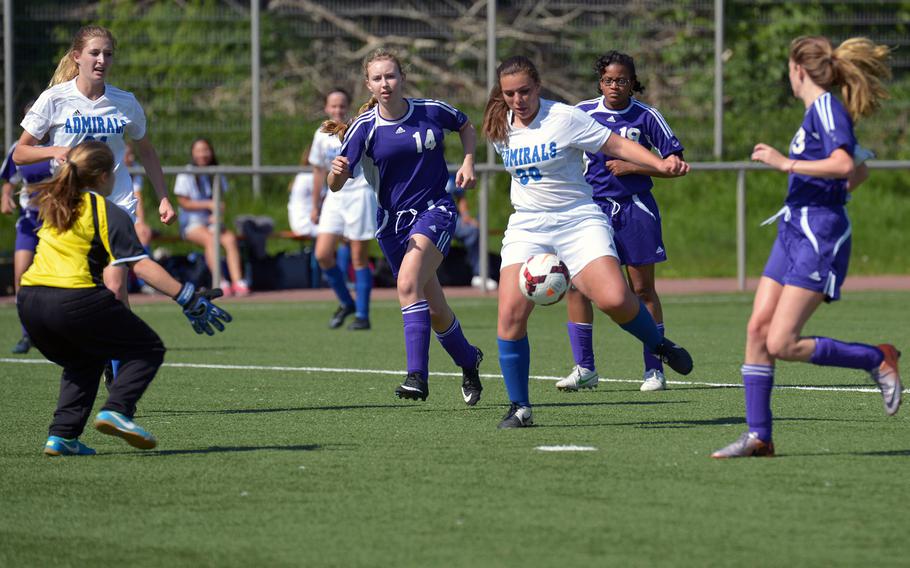 By their presence and their absence, the Naples Wildcats defined the first day of the 2015 DODDS-Europe girls soccer championships.
Naples' promotion from Division II to Division I introduced a dangerous new threat to the established large-school hierarchy. The move also left a power vacuum in Division II that several teams appear qualified to fill.
All of that was on display Monday as the four-day postseason tournament opened at sites around the Kaiserslautern Military Community.
Division INaples 1, Kaiserslautern 0: The deposed Division II dynasty announced its Division I arrival by taking down a large-school legacy program.
Junior Jill Thurston, a key member of some of Naples' recent championship teams, sent a scorching shot from the left wing ricocheting off the gloves of the Kaiserslautern keeper and into the net for the only goal of the game.
Adding to the program's championship tradition is important for the Wildcats, Thurston said. But it's not all that matters.
"It's one of our goals. But it's more important that we play as a team and that we bond, and that people can say that we're a classy team," Thurston said.
The victory completed a perfect opening day for the sixth-seeded Wildcats, who beat SHAPE 4-2 early Monday. The third-seeded Raiders also beat SHAPE, opening the day's action with a 7-2 rout.
Patch, Ramstein coast: The bracket's top two seeds tallied easy early wins.
Top seed Patch had just one game on its opening-day schedule. The Panthers beat Vicenza.
The second-seeded and defending champion Royals blasted overmatched Vilseck at Reichenbach-Steegen, then rushed over to Kaiserslautern High School to blank SHAPE 7-0.
The roads get tougher for both the Panthers and Royals on Tuesday as they look to extend their streak of title game showdowns.
Patch will face Lakenheath and Wiesbaden on Tuesday in hopes of securing a berth in Wednesday's semifinal round. Wiesbaden emerged as the bigger threat Monday in beating Lakenheath 6-0.
Ramstein will round out pool play with a pair of marquee matchups: a champion vs. champion clash with Naples and a date with archrival Kaiserslautern.
Division IIHohenfels 8, Ansbach 0: The Tigers eased into the postseason with a blowout win over a familiar opponent.
Amelia Heath scored a season-high five goals and added an assist. Jessie Gamez added a pair of goals for the tournament's No. 3 seed.
"It was a great way to start it," Heath said. "At first we were nervous, then we got into gear and picked it up." The Tigers survived an upset threat from Rota later Monday, eking out a 2-1 win.
Rota 2, Bahrain 1: Two of the tournament's most geographically distant schools collided in an evenly-matched morning game.
Goals from sophomores Tayla Irby and Brigit Bigelow, both coming after some helpful playmaking from junior Talia Pekari, made the difference as the sixth-seeded Admirals knocked off the ninth-seeded Falcons.
With an annually light DODDS-Europe regular season schedule, the Admirals are used to encountering unfamiliar opponents like Bahrain at the tournament.
"We don't take any team for granted," Irby said. "We like to show up with our 'A' game."
While small populations such as Rota's can make it difficult to field teams and develop depth, it can also create winning chemistry once that team is formed.
"We're really small there, so everybody's really close," Bigelow said. "Honestly, I think we just rely on companionship."
Top seeds dominate: No. 1 Black Forest Academy and No. 2 AFNORTH sailed through their opening-day schedules.
BFA posted two shutouts: 4-0 over Aviano and 5-0 over Bitburg. AFNORTH handled Ansbach 6-1 and Bahrain 7-1.
Preliminary play continues for Divisions I and II as the tournament expands to include Division III on Tuesday. The European championship matches are set for Thursday at Kaiserslautern High School.
Twitter: @broomestripes
---
---
---
---