D-II boys semis
Marymount to battle upstart Bahrain for title
---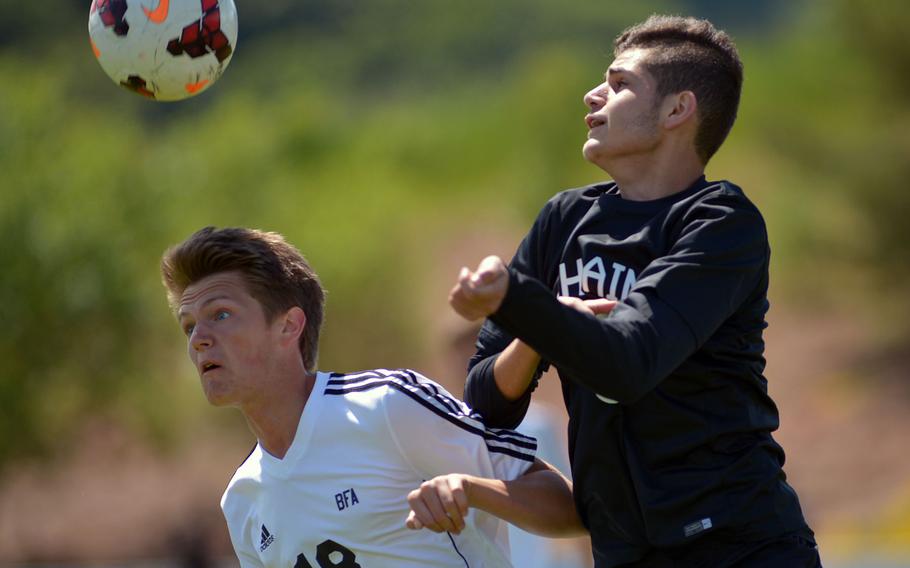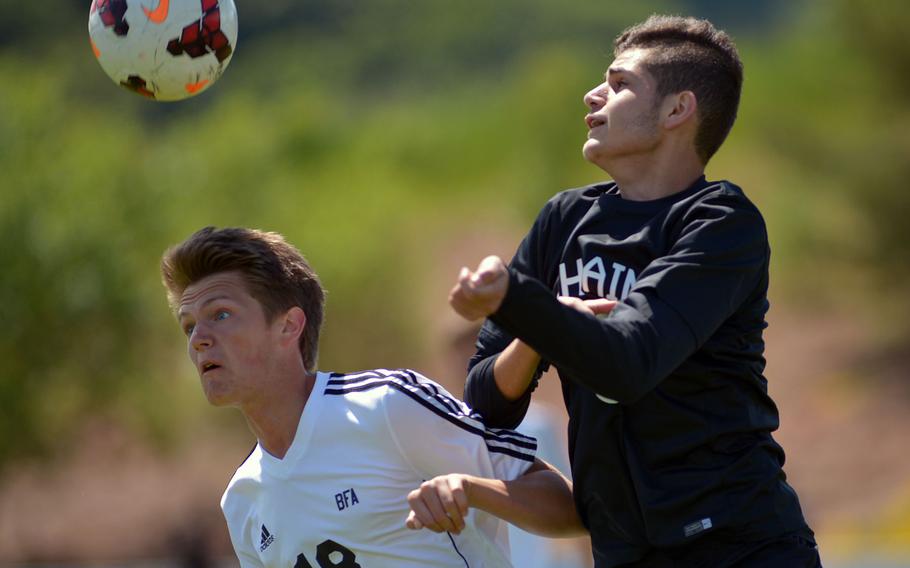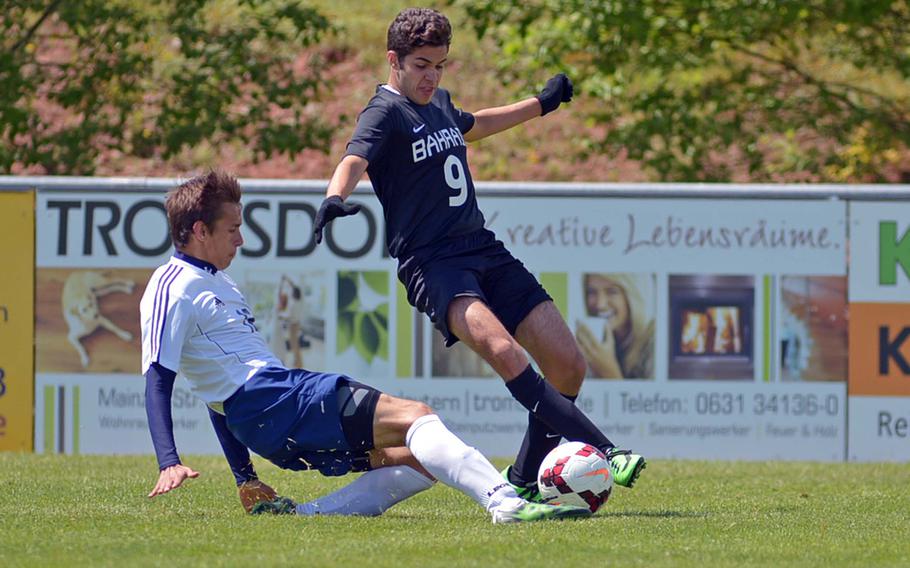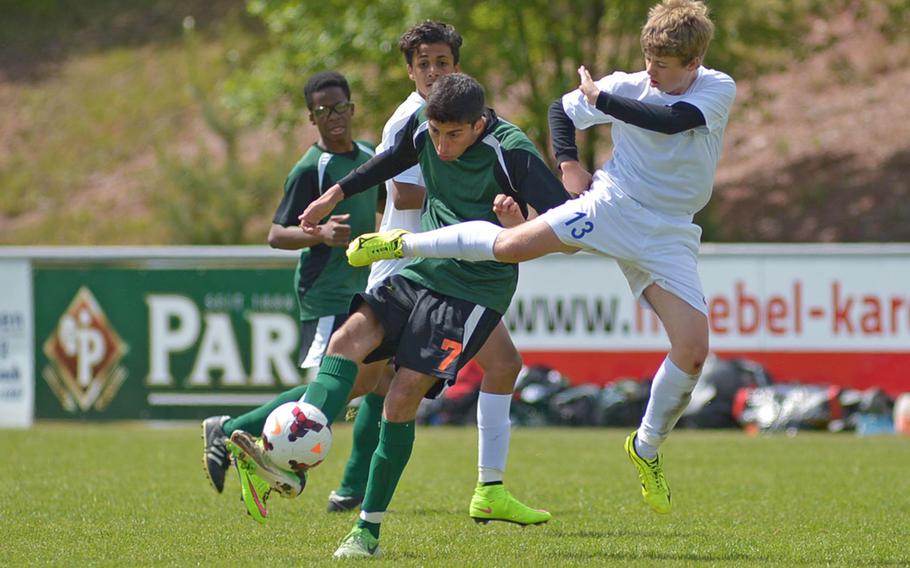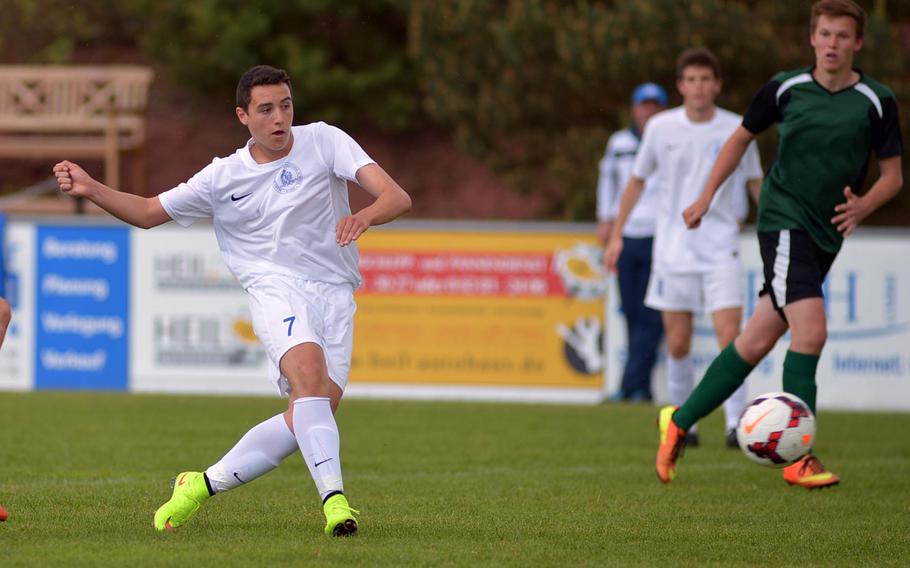 REICHENBACH-STEEGEN, Germany – A repeat challenger failed to take down DODDS-Europe's Division II boys soccer dynasty Wednesday as a new contender earned the right to take its own shot.
The four-time defending champion Marymount Royals beat the AFNORTH Lions 4-2 in one semifinal, a rematch of last year's European title game. In the other semifinal, Bahrain edged Black Forest Academy 1-0. Thursday's title game will be a rematch of the teams' Monday encounter in pool play. Marymount won that game 1-0.
Bahrain 1, Black Forest Academy 0: One of the organization's most remote schools has played its way deep into the heart of DODDS-Europe soccer.
Bahrain extended the most successful tournament run in the program's history with a narrow win over second-seeded BFA. The decisive goal came on a free kick by Asem Marzouq.
Led by senior standout Adeeb Qaisi, Bahrain largely dominated the midfield and produced a number of quality shots on goal. But none found its target until Marzouq lined up his game-deciding ball from the wing and over the top of the BFA keeper.
The team was confident one of its chances would eventually find its way to the net.
"We believed in ourselves," Marzouq said. "We trusted each other."
Bahrain goalie Abdulaziz Kanoo, meanwhile, orchestrated a shutout for the third straight match. The freshman guided his defense with booming shouts of "Away!" whenever BFA threatened and emphatically punched away every shot that reached him.
Bahrain coach Brian Zimmer said his players rose to meet the opportunity of reaching the program's first title game.
"I trust my guys to do what they need to in big moments," Zimmer said. "They came through."
Assigned the eighth seed after a spring without a regular season DODDS-Europe match, Bahrain has emerged as the bracket's breakout team over an impressive two days of pool play. The squad opened with a 2-0 defeat of Rota before falling to Marymount later Monday; shutout wins over Hohenfels and Ansbach on Tuesday put the upstart Falcons in the elimination round.
Marymount 4, AFNORTH 2: The Royal dynasty lives on for at least another day.
Top-seeded Marymount took another step towards its fifth straight championship with a win over the same AFNORTH program it beat for its fourth title last spring. But it didn't come easy against a third-seeded Lion squad bent on redemption.
"I could see the fire in all of them," Marymount junior Lotanna Mba said. "It's all respect from our team towards their team."
Though the Royals yielded their first goals of the tournament to AFNORTH's Claudius Karich and Jesse Timmons, they got twice as much back on the other end of the field. Diego Piorico scored three goals and Francesco Izzo added another for Marymount.
AFNORTH's Eren Yabici said the Lions simply gave up a few too many looks to the potent Marymount offense.
"If you give them a chance, they're going to take it," Yabici said.
But Yabici, one of the team's senior centerpieces alongside Karich and Timmons, was comforted by the knowledge that they gave the title push all they had. "We went out there and we wanted to give it our best," Yabici said. "And I believe we gave it our best."
Twitter: @broomestripes
---
---
---
---