D-II girls final
Lone goal enough to give Hohenfels first title
---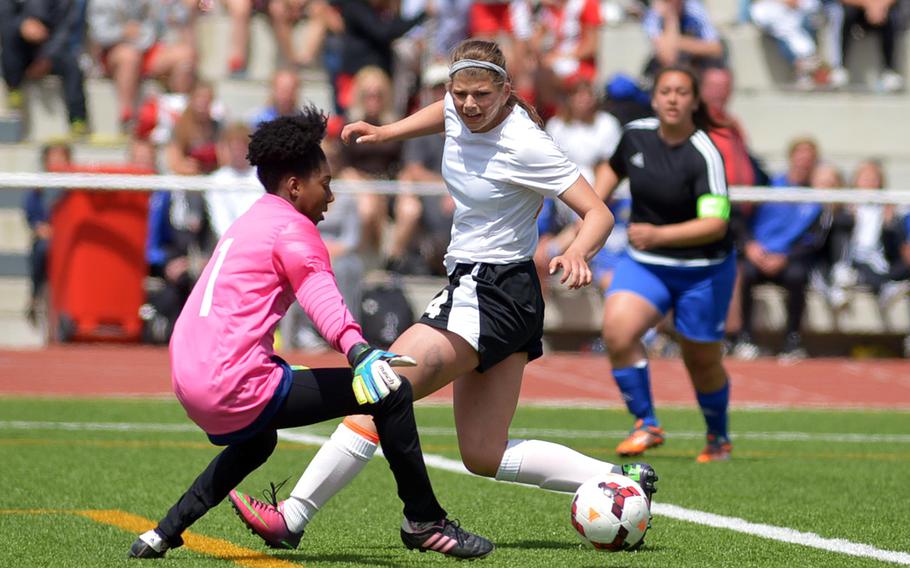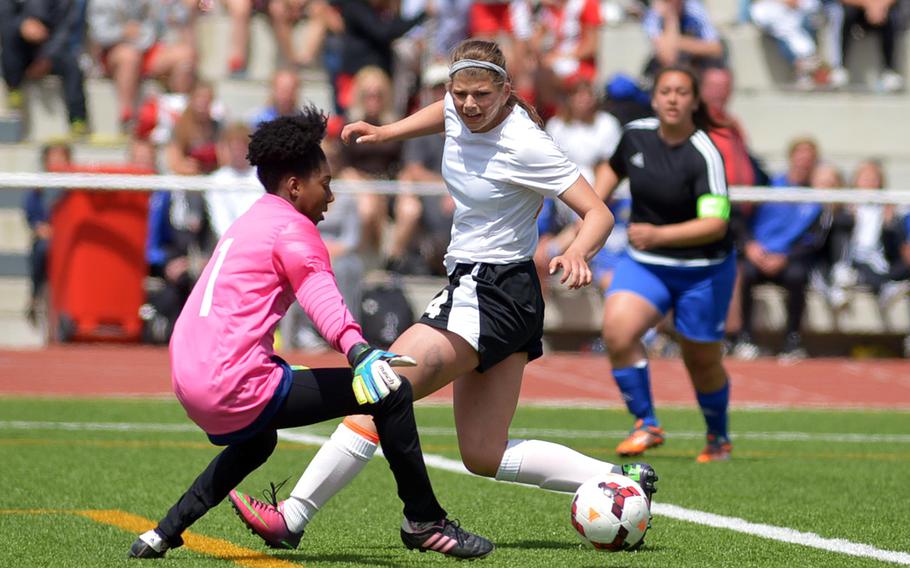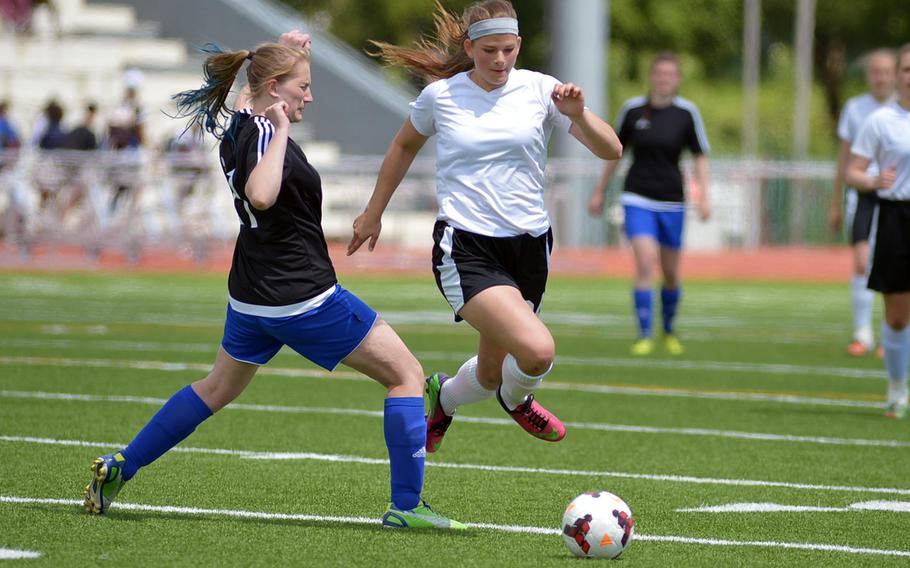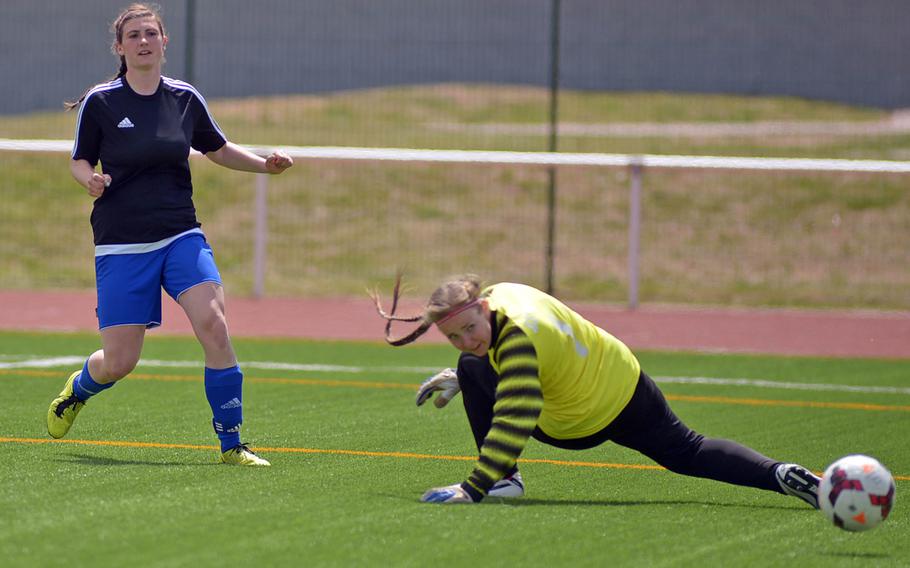 KAISERSLAUTERN, Germany – Among all the shots that clanged off crossbars, sailed just high or wide and rolled tantalizingly parallel to the goal line, there was one that found its way home.
Hohenfels forward Amelia Heath scored a goal 28 minutes into the 2015 DODDS-Europe Division II girls soccer game Thursday at Kaiserslautern High School; over one unceasingly tense hour later, that score was somehow still the difference maker in the Tigers' 1-0 victory over the AFNORTH Lions.
The fateful triple blast of the official's whistle unleashed days of pent-up emotion on both sides.
Hohenfels coach Kathlene Clemmons tearfully joined her team in celebrating the program's first-ever European championship, won by Heath's goal and a prolonged defensive stand that somehow survived every one of AFNORTH's repeated threats.
"Your stomach is in a knot all the time," Clemmons said. "We just had to hang in there."
Its season over, AFNORTH finally collapsed under the mental and physical weight of its four-day odyssey through the tournament. The team was down to a dozen healthy players by the end of the title game, though many of even those allegedly healthy players were limping, wincing and nursing deep scrapes in the stands after the match.
The Lions' physical injuries were matched only by the psychological wound of their shutout loss. The prospect of an equalizing, season-extending goal dangled just out of reach throughout the second half, sometimes dribbling away from AFNORTH players at point-blank range and out of bounds for a harmless Hohenfels goal kick.
"They were working so hard, and they have been throughout the entire tournament," AFNORTH coach Christopher Booth said. "To see the goal in front of you, and just have it not go in, is so frustrating and demoralizing."
Hohenfels, too, saw many of the shots produced by its usually prolific offense go awry on Thursday, continuing a tournament trend.
"We've scored quite frequently this year," Clemmons said. "But in the tournament the tide has turned. Our defense has kept us in this tournament."
Sweeper Bella Sacriste was part of the disciplined backfield unit that withstood AFNORTH's efforts in front of goalkeeper Maia McDaniels.
"They stayed back with me, they knew what they were doing," Sacriste said of her defensive teammates. "It was really intense, especially with all the pressure" applied by the Lions.
Hohenfels applied plenty of pressure of its own in response. Heath, one of a dynamic pair of high-scoring Tigers alongside fellow junior Jessie Gamez, took a deft pass from freshman Milliannie Comas-Ramos and punched in the unlikely game-winner some 12 minutes before halftime.
"I just realized that this was my turn and I really needed to make it work," Heath said.
The Lions, last year's divisional runner-up to Naples, had to scratch and claw just to get to Thursday. A dwindling roster forced them to take two May forfeits – their only losses – and they played International School of Brussels to a 1-1 tie to end the regular season.
A favorable tourney draw handed second-seeded AFNORTH first-day games against overmatched Ansbach and Bahrain. But that was a brief respite: the Lions played Rota and Hohenfels to draws to inch into the elimination round. Suitably, their semifinal against top seed Black Forest Academy went to overtime, with a BFA own goal deciding a 1-0 AFNORTH win.
Hohenfels went 6-2 in the regular season and won three of four pool matches, the exception a Tuesday tie with AFNORTH. The third-seeded Tigers blanked American Overseas School of Rome 3-0 in the semifinals.
Hohenfels becomes the first new Division II girls champion in half a decade after successfully surviving the streamlined bracket. The Tigers supplant Naples, whose divisional dynasty ended before the season when DODDS-Europe's realignment sent the Wildcats to Division I along with SHAPE and Vicenza.
Heath described the kind of guarded optimism Hohenfels carried into its title run.
"We knew we had a really good chance," Heath said. "We were really surprised we got this far. We knew we could do it but we just didn't think it was real.
"It's definitely real."
Twitter: @broomestripes
---
---
---
---