Lancers get first win of season at Falcons' expense
by
Christopher Dennis
September 28, 2019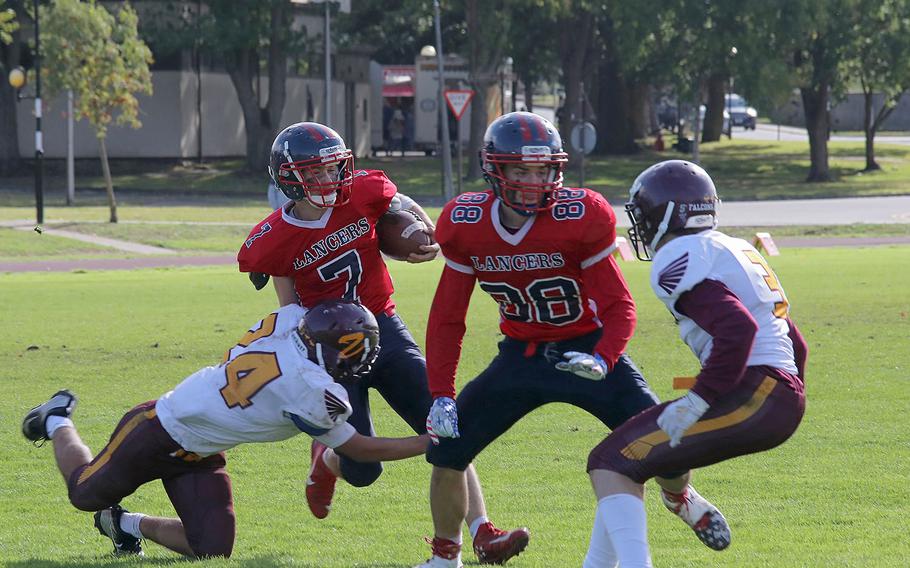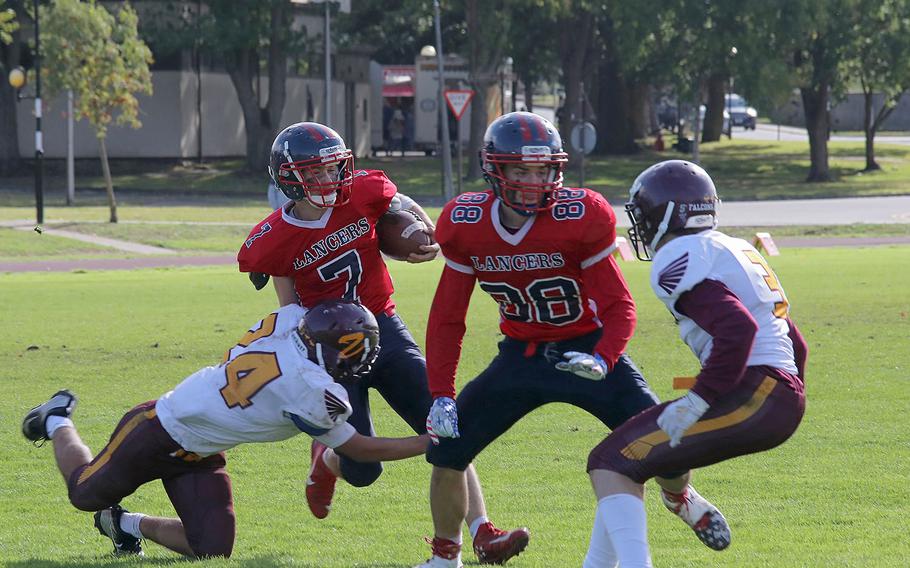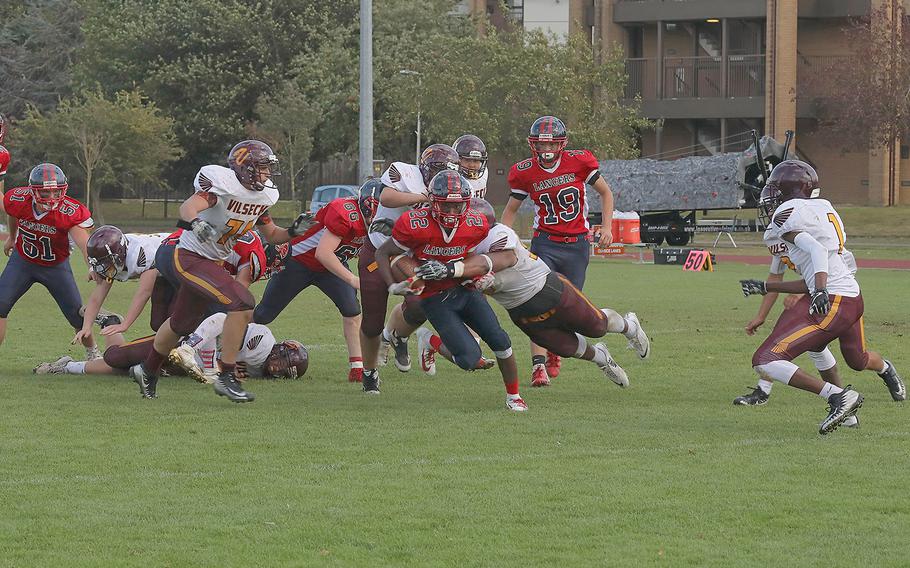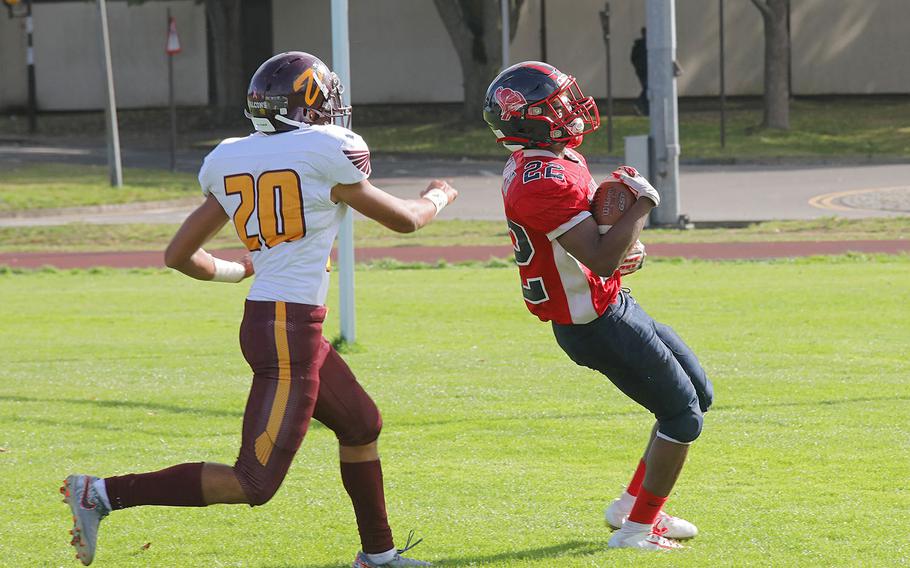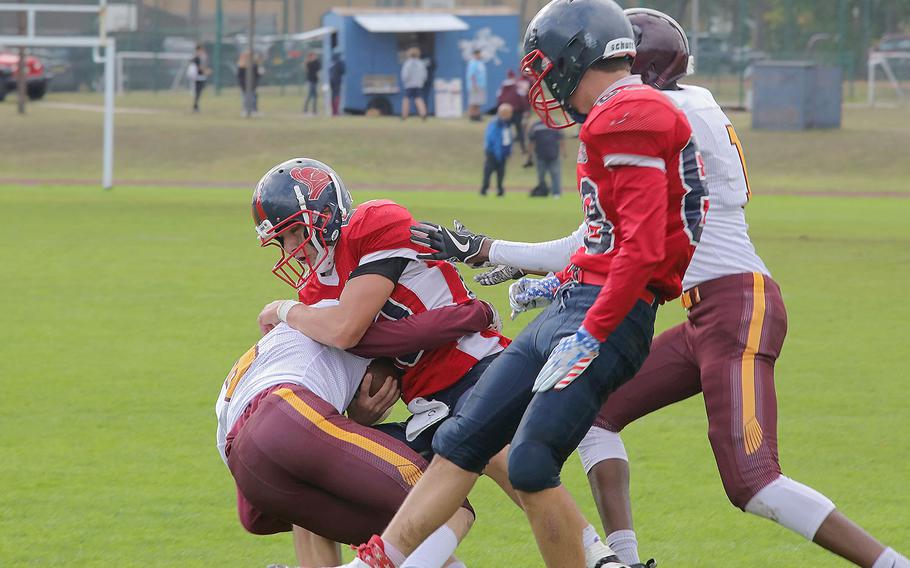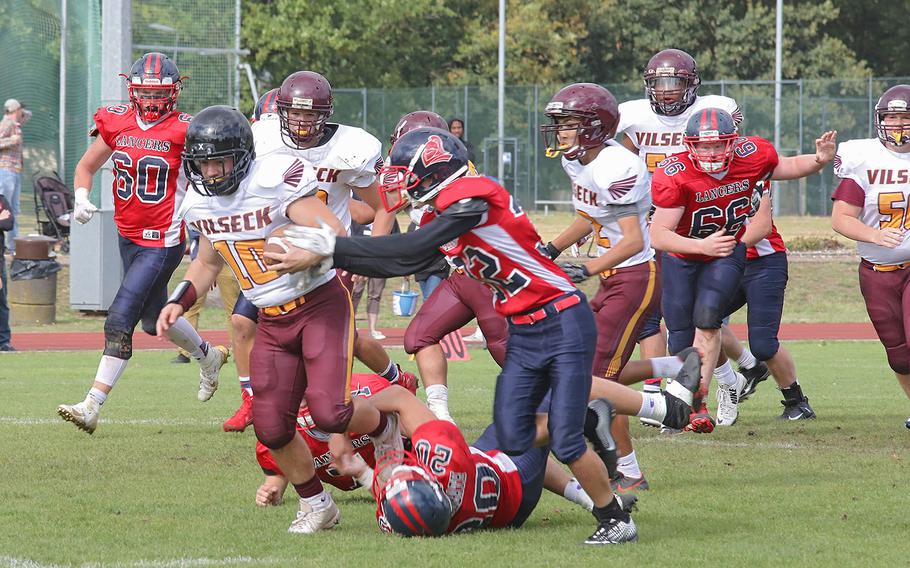 RAF LAKENHEATH, England – Don't count out the Lakenheath Lancers quite yet.
Lakenheath, which reached the Division I title game a year ago, was in danger of falling out of this year's race against Vilseck on Saturday. Instead, the Lancers kept their playoff hopes alive by keeping the Falcons winless in division play with a 25-0 triumph.
Vilseck attempted to break a scoreless tie at the end of the first quarter but missed a field goal.
Lakenheath, 1-3 on the season overall, showed renewed life in the second quarter.
The Lancers' Nick Scifo ran for three consecutive first downs to move the team within 20 yards of the goal. He scored two plays later.
Vilseck's Jordan Leighty, Caleb DeBeltz and Alayne Firth responded with runs to bring the Falcons to within 10 yards of the goal. But the Lancer defense then held firm and the Falcons came away scoreless.
Lakenheath's Evan Butterfield would complete a 10-yard run for a touchdown later in the quarter, giving the Lancers a 12-0 halftime advantage.
Lakenheath's Shayne Brooks would tally the next touchdown with four minutes and 28 seconds left in the third quarter and the team again failed to convert after the touchdown.
A minute and a half into the fourth quarter Lakenheath would get another touchdown and the only successful PAT.
The Falcons had opened their season with a 17-7 victory over the Lancers in Germany, but that game was considered non-conference.
"[Lakenheath] beat us at every aspect of the game, offenses, defense and special team," Falcons coach Jim Hall said. "We thought we were going to come over here and dance on their party, but we didn't realize that they had improved and we hadn't."
Wind definitely played a factor in the game and forced the teams to play more of a running game, both coaches said. "We had a little pass game in mind, but once we saw [the wind] we thought we'd just stick on the ground," Lancers coach Gabe Feletar said.
Feletar said he was happy with the win, but he hopes the team will shift its focus to its next opponent quickly.
"This is just the start," he said. "We know we have a tough game against Wiesbaden next, so we're going to get prepared for that."
dennis.christopher@stripes.com Twitter: @chrisbdennis