Kaiserslautern sweeps a pair from Lakenheath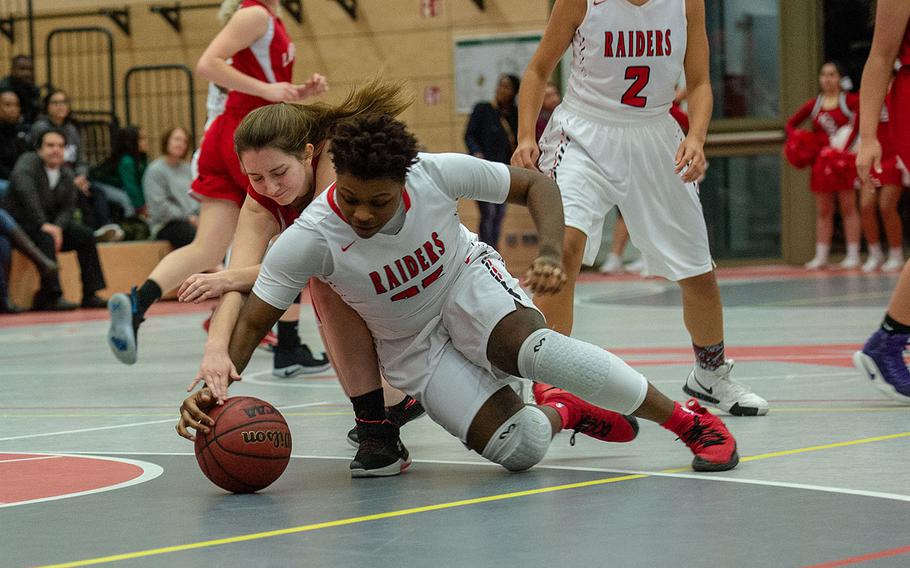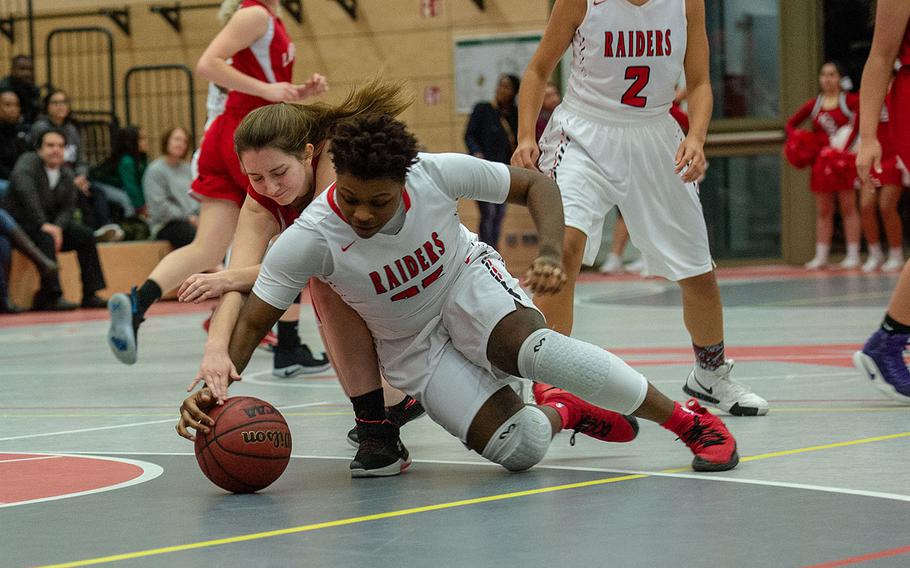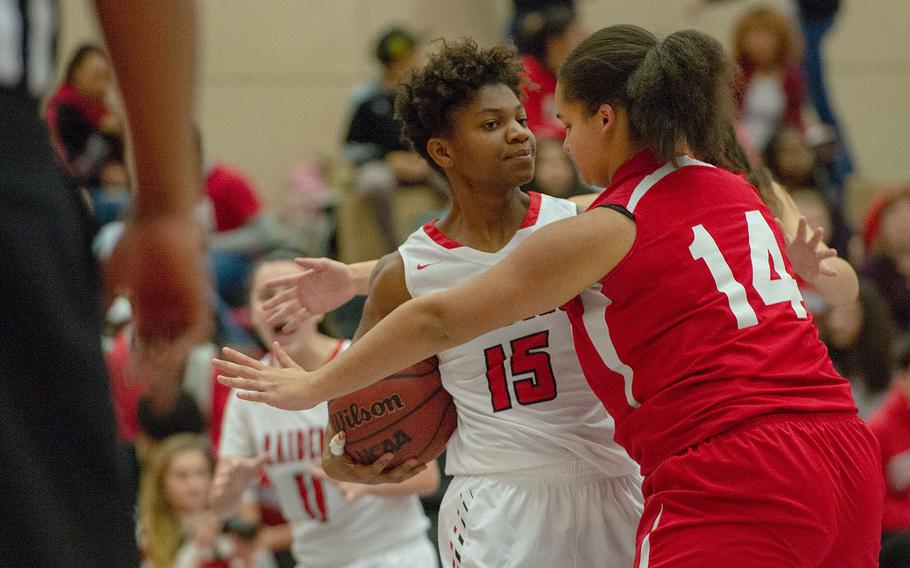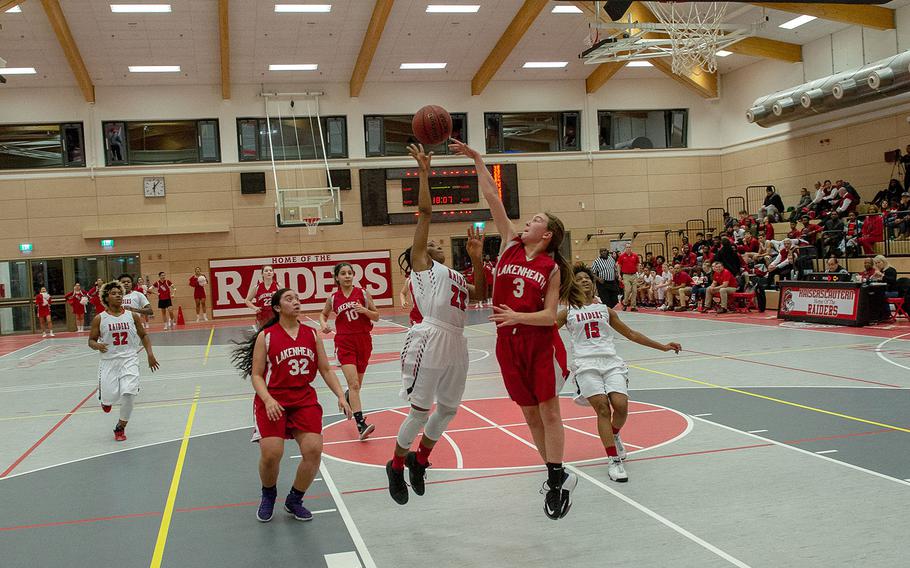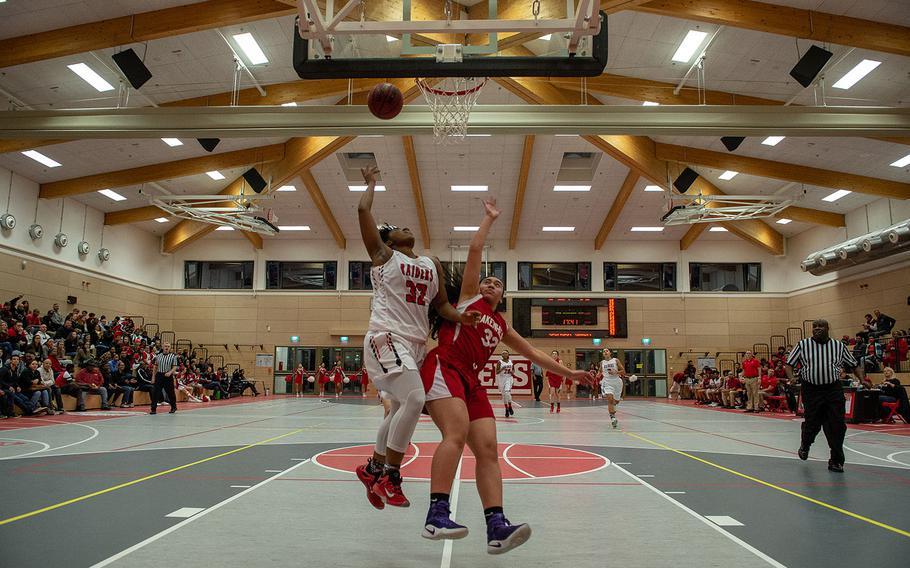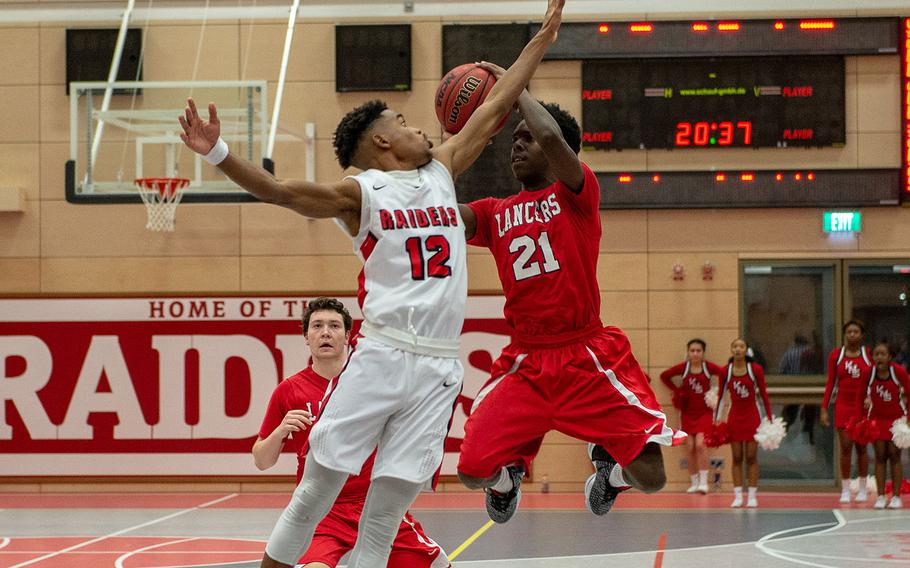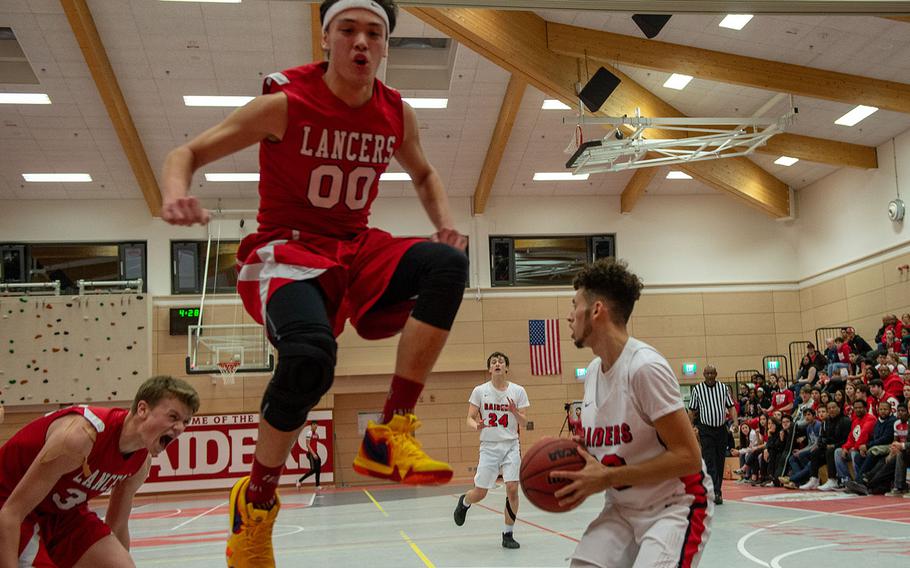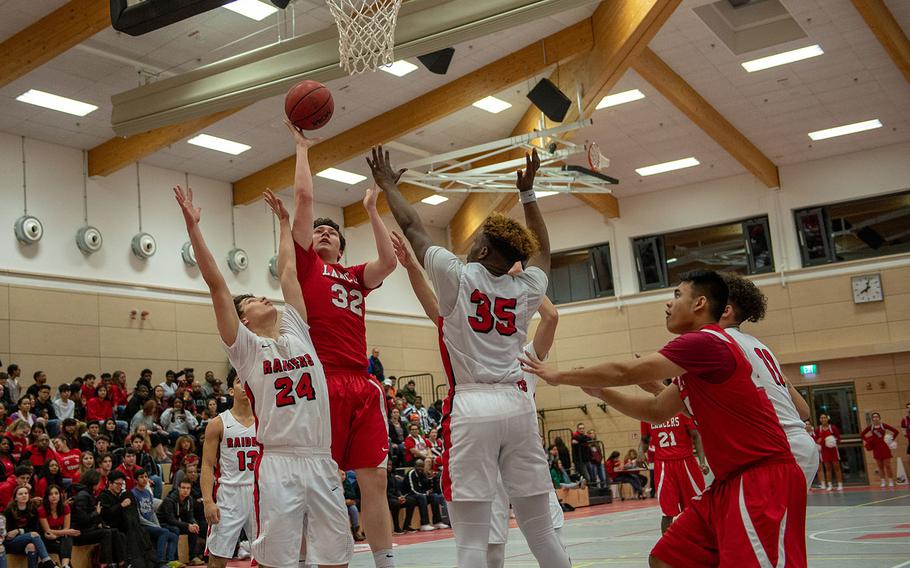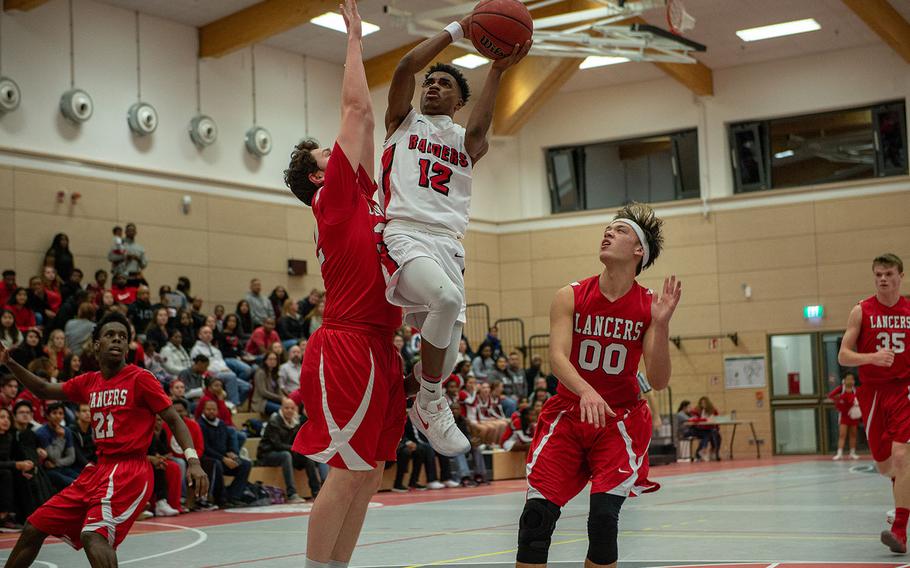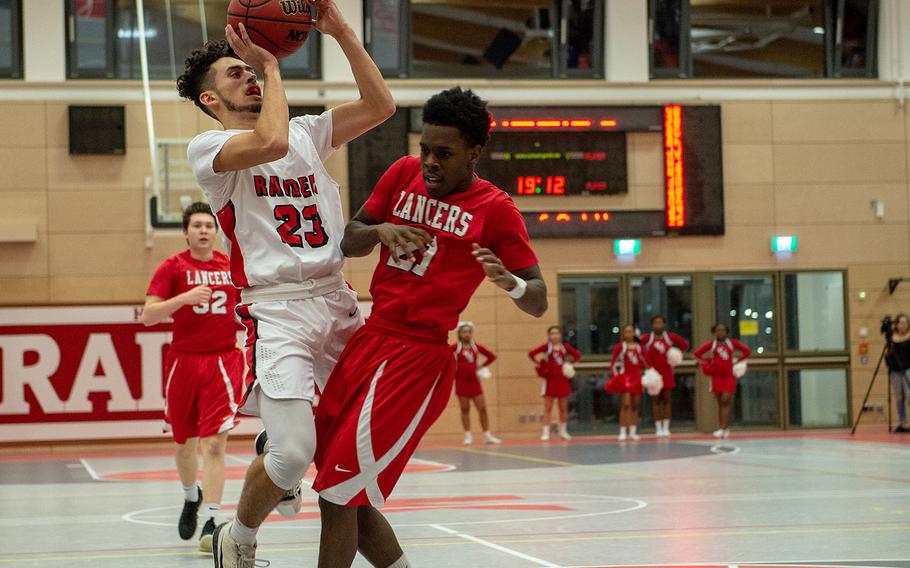 KAISERSLAUTERN, Germany — The Kaiserslautern Raiders were too lackadaisical at the beginning, and too frantic at the end. But the balance they struck in the middle of the game was enough to earn a victory.
The Raider boys fought off Lakenheath surges in the first and fourth quarters to take a 62-59 victory in a DODEA-Europe Division I boys basketball game Friday night at Kaiserslautern High School. The win came after a far less dramatic 37-17 triumph for the Raider girls.
The Lancer boys pounced on the home team immediately, building an 18-12 lead through the first quarter and scoring the first six points of the second, prompting a Kaiserslautern timeout. The Raiders returned to the court with rediscovered energy, leaping into passing lanes and deflecting balls on defense and flying upcourt for transition layups and wide-open corner three-pointers. All that effort, spearheaded by the all-around contributions of reserve guard Brandon Morris, earned Kaiserslautern a more manageable deficit of two points entering halftime.
The Raiders carried that momentum into the second half, and a Tre Dotson three-pointer gave them their long-awaited lead a minute into the half. That advantage grew to double digits by the midpoint of the third quarter, seemingly pointing the way to a comfortable win.
But the mercurial Lancers had another attack in them, and what an attack it was. The Lancers played the fourth quarter with a wild abandon, producing a 22-point quarter that exceeded the offensive output of their previous two quarters. And Lakenheath's fervor infected the home team, dragging the Raiders into a back-and-forth blur of chaos that fueled the Lancer comeback.
Kaiserslautern made just enough plays in the game's final moments, most notably a three-pointer and layup by Ervin Johnson and a pair of clutch free throws from Eric Santiago, to survive the exchange. A potential game-tying Lakenheath three-pointer caromed off the front rim in the final seconds.
Lancers coach Brandy Mayes said her team is prone to mood swings, a tendency responsible for its hot start and finish but also the mid-game doldrums that cost it the win.
"We need to have that attitude, but not so much attitude that it interferes with their ability to play," Mayes said.
Raiders coach Corey Sullivan wasn't thrilled with his team's late-game execution but was pleased for his team to learn such hard lessons in a victory rather than the alternative.
"We've just got to string four quarters together. We can't do that yet," Sullivan said. "Hopefully we'll just learn from it. If we don't, it was bad. If we learn from it, it was good. "Better to win ugly than lose."
Daniel Oleman led Lakenheath with 21 points, displaying the sophisticated footwork and soft touch of a vintage post-up big man. Guard Kyrie Sloan added 15 points, including a buzzer-beating three-pointer from near midcourt to end the third quarter and seven more in the fourth-quarter barrage.
Johnson scored 13 points to pace a balanced Raider offense, while Morris added 10.
GirlsKaiserslautern 37, Lakenheath 17: The Raiders shook off an early deficit and never looked back in a runaway victory.
An overwhelming second-quarter rally erased a fragile 10-9 Lancer lead through eight minutes and replaced it with a nine-point Raider advantage at halftime. Lakenheath scored just seven points in the second, third and fourth quarters combined.
"We tried to put more pressure on the ball, running our press more," said Raider forward Le'Jhanique Brown, who led all scorers with 15 points.
Kaiserslautern remains undefeated in Division I play, a status shared only by reigning European champion Stuttgart. Those teams are scheduled to play Feb. 8-9 at Kaiserslautern.
Raiders head coach Aaron Scalise considered Friday's win another step in his team's steady preparation for a postseason run.
"We've got to get ready for the next opponent," Scalise said. "We've got to constantly get better."
Twitter: @broomestripes