Kaiserslautern-Ramstein round No. 2 is closer
by
Gregory Broome
February 7, 2020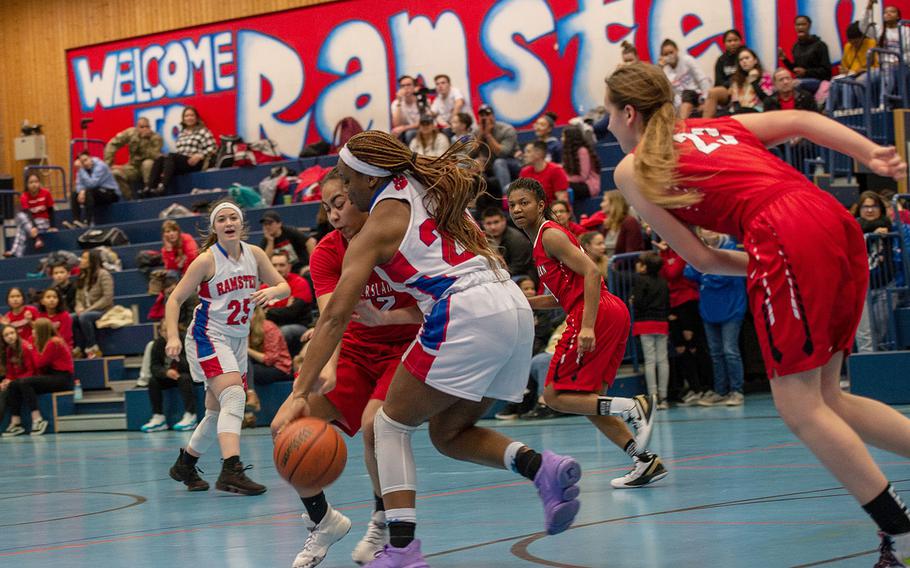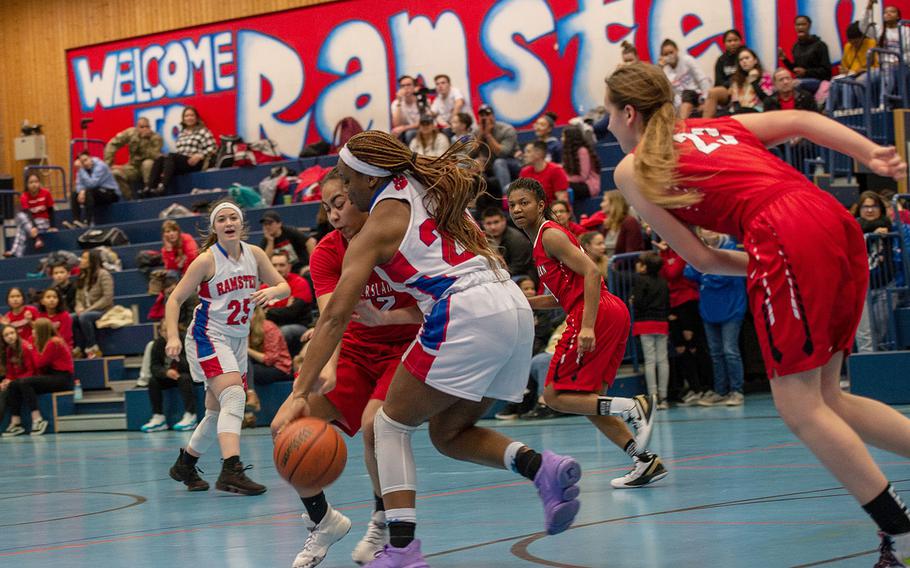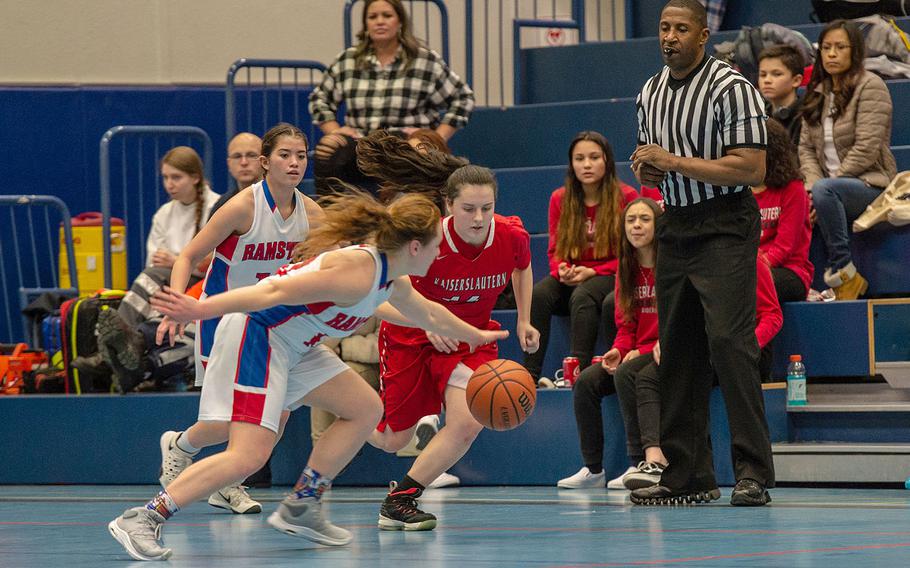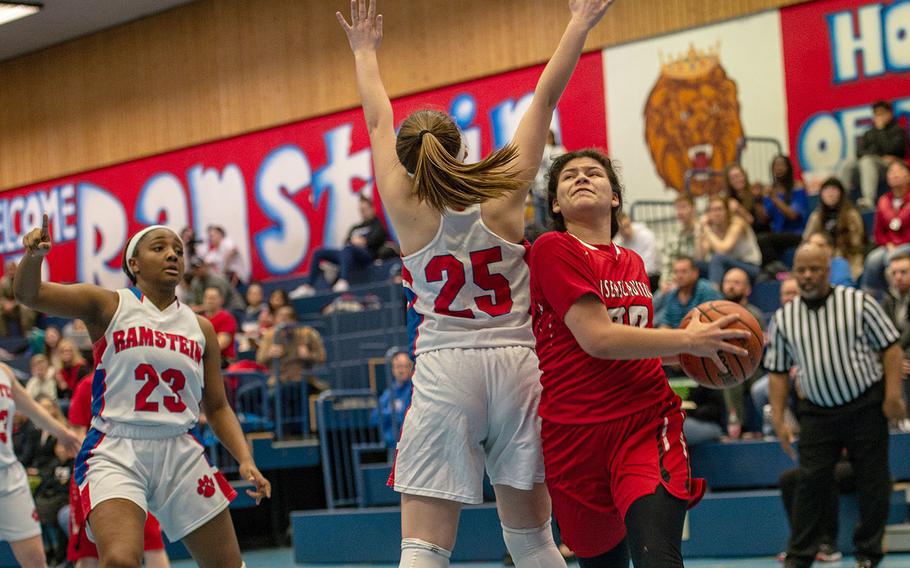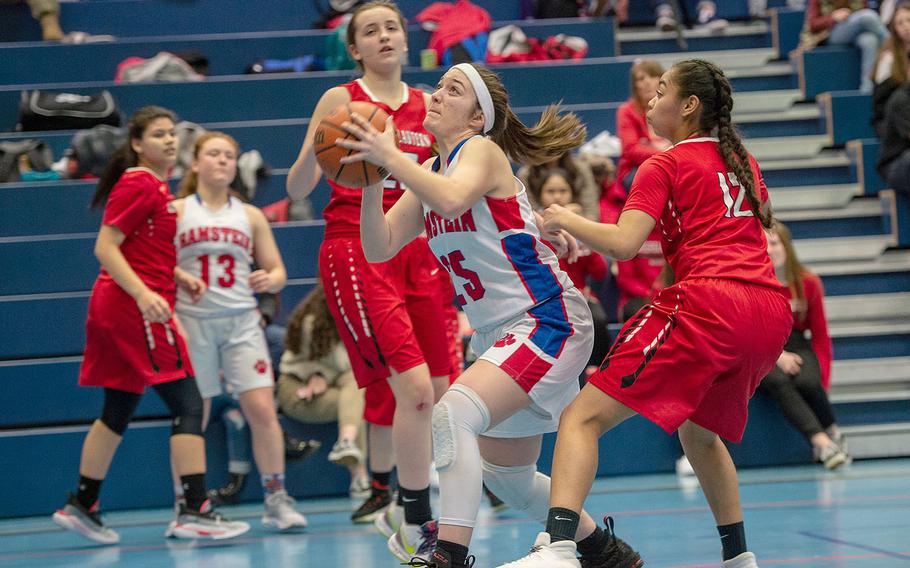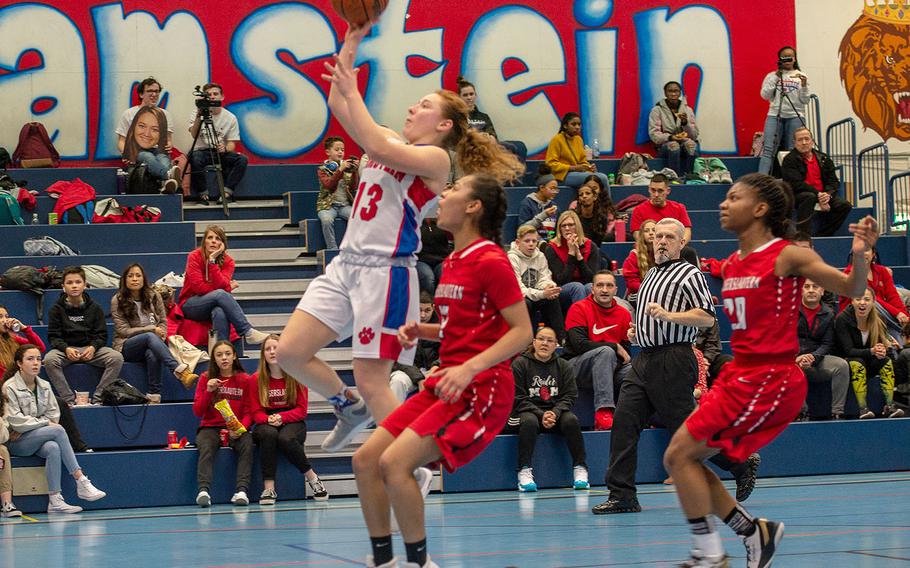 RAMSTEIN AIR BASE, Germany -- The regular season in DODEA-Europe basketball is all about preparing for the tournament. In that sense, the Ramstein Royals won in more ways than one on Friday.
The host Royals earned a conventional girls basketball victory with a 34-30 triumph over upset-minded rival Kaiserslautern. But they also picked up some valuable experience playing through adversity in a game with tournament-style intensity.
"We kept our composure. That was the big thing," Ramstein coach Nathan Brewster said. "Nobody freaked out and lost it."
Kaiserslautern did everything it could to hand the Royals that loss. The Raiders rushed out to a five-point lead at the end of the first quarter and threatened again in the fourth before Ramstein put them away with a couple of late scores.
That back-and-forth finish was far more competitive than the teams' earlier meeting this winter, a 54-27 Ramstein rout on Dec. 17, requiring a proportionate response from the favored Royals.
"Last time it was a completely different game," Ramstein senior Linda Naglack said. "They were very determined. I was for sure scared for a little bit there. But we ended up pulling it together and really playing as a team."
That teamwork took the form of a patient offense down the stretch even in a potentially panic-inducing game situation.
""We had to keep our cool," said Naglack, who finished with eight rebounds and five steals.
"We took our time and kind of chilled and went down the court and did our thing."
While the Royals couldn't sustain that level of savvy throughout Friday's game, Brewster was happy to see it make enough intermittent appearances to earn the victory.
"Execution isn't always there," Brewster said. "But sometimes it is and it's beautiful."
If the Royals are to successfully navigate the Division I bracket, and possibly challenge reigning dynasty Stuttgart, their next step is consistency.
"We've got work to do," Brewster said. "We're not there yet."
Rebecca Moon scored a game-high 14 points for the Raiders, including all 13 of Kaiserslautern's first-quarter points. Teammate Audrey Elisondo posted 12 points, nine rebounds and seven steals.
Alexis Tri led a balanced Royal offense with 10 points, while Shannon McCray added nine points and a game-high 11 rebounds.
BoysKaiserslautern 67, Ramstein 58: At Kaiserslautern, the Raiders earned an exhilarating win over the five-time defending Division I champions.
Kaiserslautern raced out to an enormous first-half lead, pulling ahead 13-8 through one quarter and 43-15 at halftime. A furious Ramstein second-half rally fell well short as the Royals took their second loss of the season.
Darius Camp led all scorers with 26 points in the victory while Tre Dotson contributed 18 points. Jerod Little paced the Royals with 17 points.
The Raiders earned a split on the season series with their archrival. Ramstein beat the Raiders 72-56 on Dec. 17.
Kaiserslautern's regular-season schedule is over after Friday night's set.
Ramstein has one more matchup Tuesday against Division I rival Wednesday. The DODEA-Europe basketball tournaments are set for Feb. 19-22.
broome.gregory@stripes.com Twitter: @broomestripes