Hohenfels' soccer win over AOSR marks redemption for Heath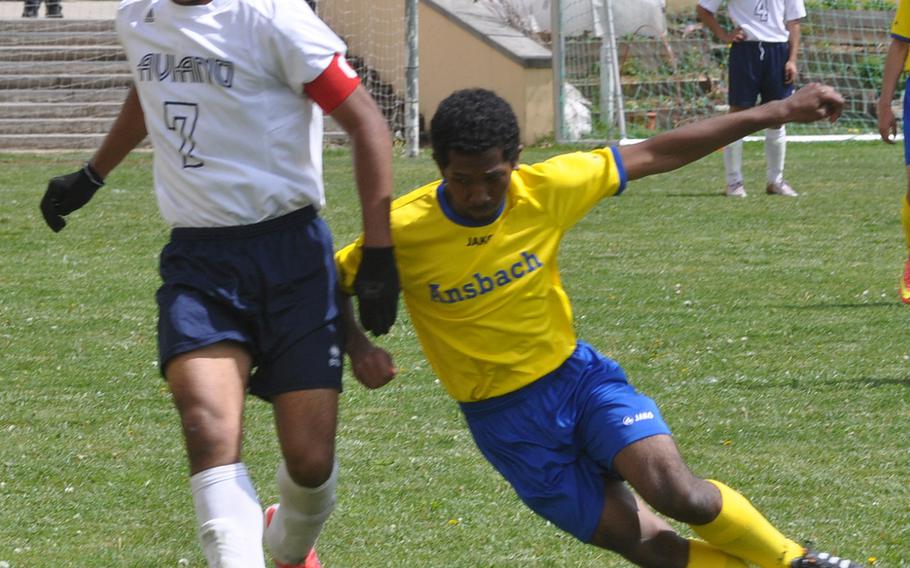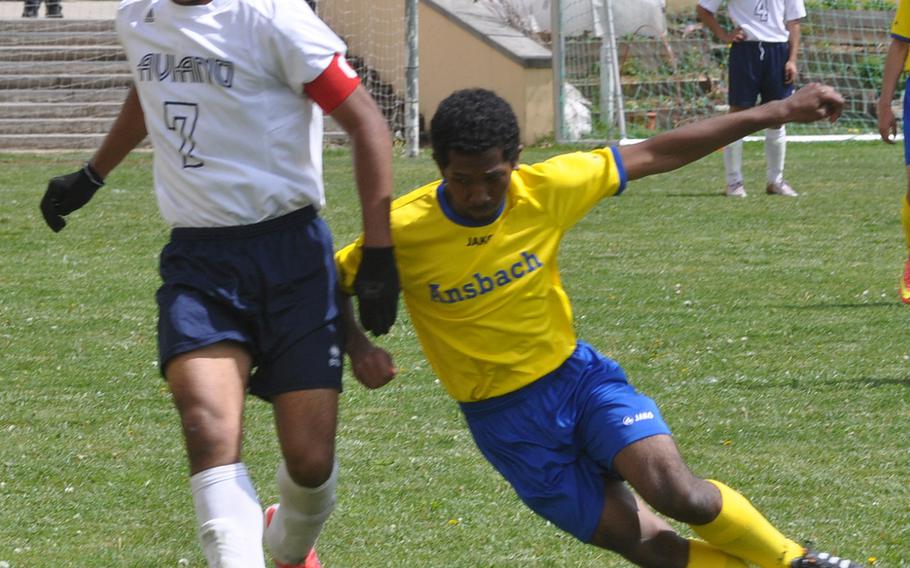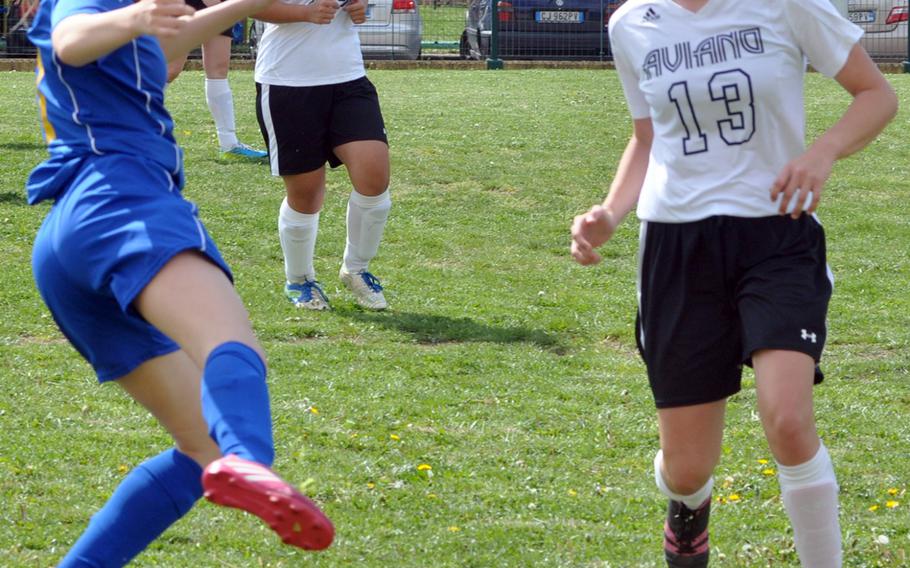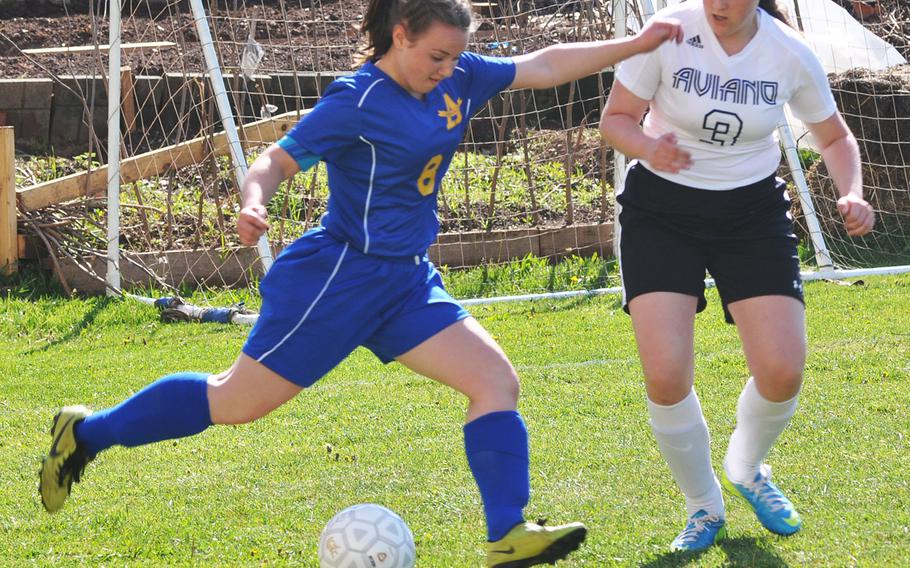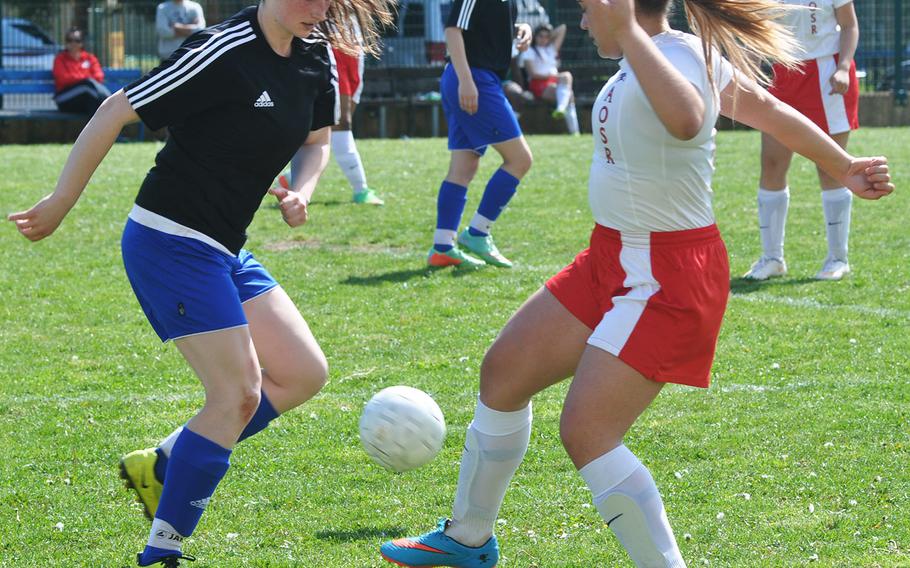 AVIANO AIR BASE, Italy – Redemption in sports sometimes takes only seconds. It may take years. Other times, it never comes.
For Amelia Heath, it took three months.
The Hohenfels junior and her teammates faced American Overseas School of Rome on Friday in the first of a two-day soccerthon at Aviano. The soccer field there sits just a few yards away from the basketball gym where, on Jan. 23, Heath missed the second of two free throw attempts with less than a second left, allowing AOSR to escape with a 41-40 victory in one of the best girls basketball games of the season.
Though she had carried her team the last several minutes after star Shelby Atkinson fouled out, Heath felt she let her team down.
With the score tied at 2-2 in the second half of the soccer game Friday, Heath got her chance. And she responded by not only booting the go-ahead goal for the Tigers, but adding an insurance one later as well.
"I really wanted to play well against them today," Heath said, admitting that the basketball game was on her mind a bit. "We were really nervous in the first half. In the second half, we realized we needed to pick it up."
AOSR took a 2-1 lead at halftime, thanks to goals from Alessia Giombini and Alessandra Valcastelli in the first 15 minutes. Atkinson got one back just before halftime.
"I was thinking: 'Did we leave our team at home?'" Hohenfels coach Kathlene Clemmons said.
She took part of the blame for the Tigers' slow start.
"We knew (AOSR) was quick and skilled," she said. "So we changed our game plan. But it just didn't flow. So we decided to return to how we had been playing."
Hohenfels, off to a 4-1 start after the victory, got a tying goal from Jessie Gamez before Heath's heroics.
Hohenfels boys 5, AOSR boys 1: The Tigers helped Clemmons get a little bit of revenge as well with a convincing victory over the perennial Division II powers.
AOSR mercy-ruled Clemmons' boys basketball team on the same day that Heath's team lost in January. The Falcons would go on later to win the European D-II title.
Friday's soccer game was far from a mercy rule. But the Tigers looked like potential champions themselves, particularly in the second half.
"Our division's championship seems to go through Italy," said Hohenfels coach Shawn Rodman, referring to dominance in recent years by AOSR and fellow Rome school Marymount International. "It was important for us to play well today."
Junior Kiernan Blouin certainly fit that bill. He got the Tigers off to a 1-0 start with a pretty looping shot that the AOSR goalkeeper didn't have a shot at. A few minutes later, he found Alex Lange on a corner kick; Lange headed it in, and Hohenfels was up 2-0.
AOSR got one back on Vishal Sharma's goal on an assist from Alessandro Elia before halftime. But the second half was all Tigers.
Lange bounced in a goal that struck the left upright and then ricocheted into the right corner of the net. Frantz Moise added another when a host of players gathered in front of the AOSR net, battling for the ball. Freshman Cylan Blouin scored the final one.
It was the first loss of the season for the Falcons, 2-1-2.
"We are going to learn from our mistakes and we look forward to playing again tomorrow," AOSR coach Valerio Aureli said. "Definitely, this loss is going to help us."
Ansbach girls 4, Aviano girls 4: The Saints got their first non-loss of the season and the winless Cougars got their second tie in a game filled with mistakes by inexperienced goalkeepers on both teams.
Cougars coach Ashley Spoor said only five players return from last year's team and she sees improvement every game. And Aviano's field – narrower than a regulation field – actually helped her team with spacing a bit, she said.
Ansbach went up 1-0 on Victoria Jaeger's score, but Aviano tied on the first of two goals from Cesilie Friesen. The Cougars were back ahead on Claire Turza's score, but not for long. Jaspreet Hieb tied it again and Aviano went up on Elyse Slabaugh's score, but Jessilynn Smith equaled the score before halftime.
The Saints went up again on Friesen's kick, but Smith matched her to tie it for the final time.
The goals and miscues were enough to get Aviano coach Liz Ferris' heart racing.
"I'm glad I'm too young to need blood-pressure medication," she said.
Aviano boys 3, Ansbach boys 1: The Saints got a boost of confidence from their first match of the season against a team not based in Italy.
Lorenzo King scored twice and Hayden Roers added another goal, more than offsetting a score from Alex Rocha.
Aviano improved to 1-2 in D-II and 2-4 overall.
Playing against D-II perennial powers Marymount and AOSR, D-I schools Vicenza and Naples and D-III power Florence during the season can be a bit wearing, according to coach Louis Lucidi.
"I think we're doing pretty well in the middle of all of this," he said.
Ansbach coach Bruce Collins said his team was a few mistakes from a 1-1 draw. "I think that's how it should have ended," he said. "But that's the way it goes sometimes."
Ansbach plays AOSR and Aviano takes on Hohenfels on Saturday.