Former DODEA football player, now a pro, serves as example to current generation
by
Gregory Broome
April 14, 2019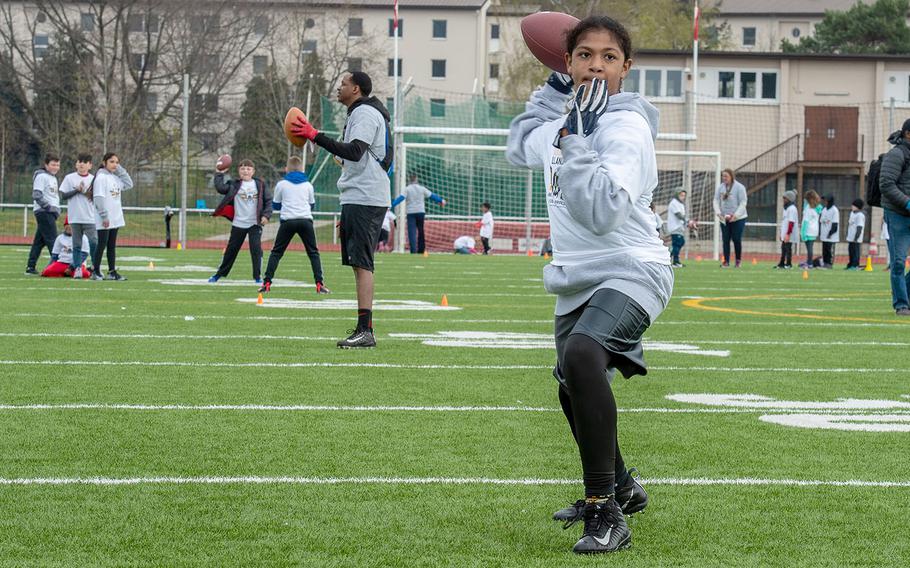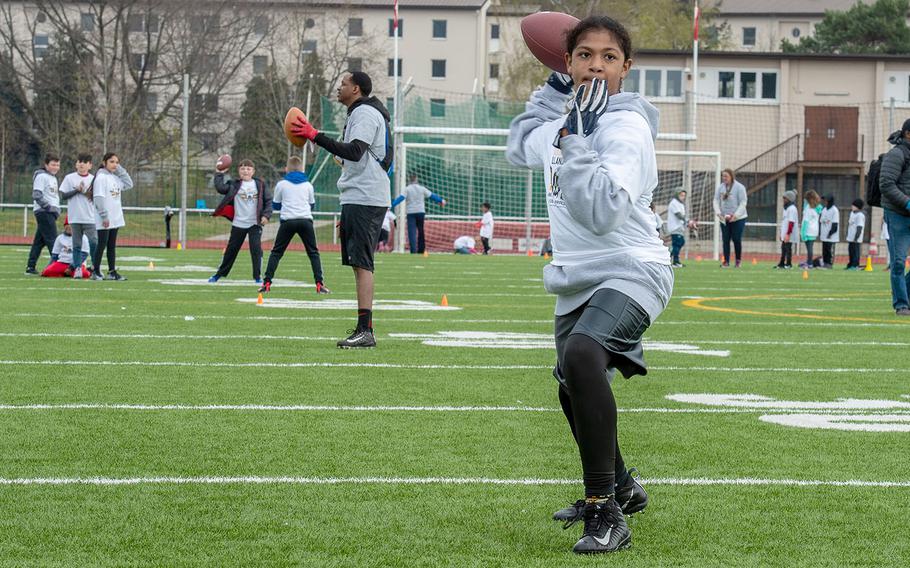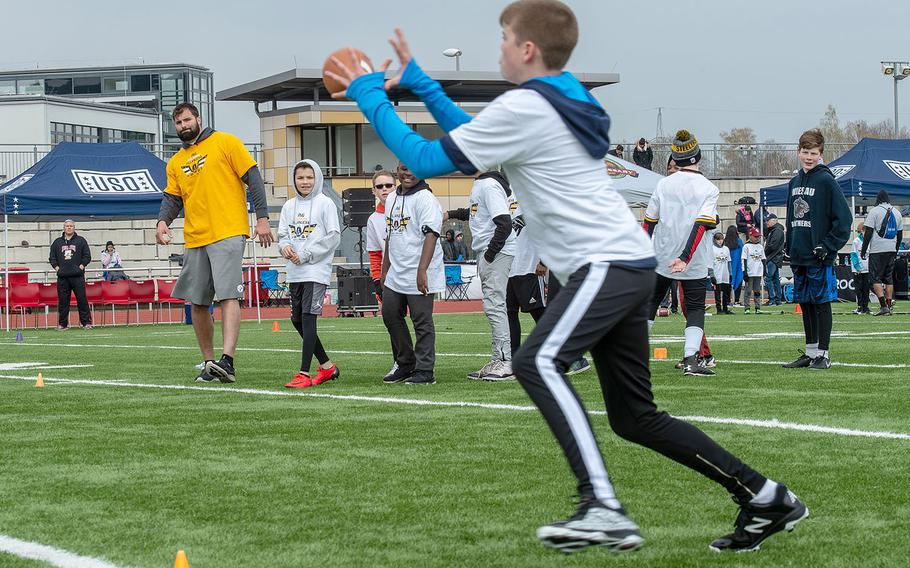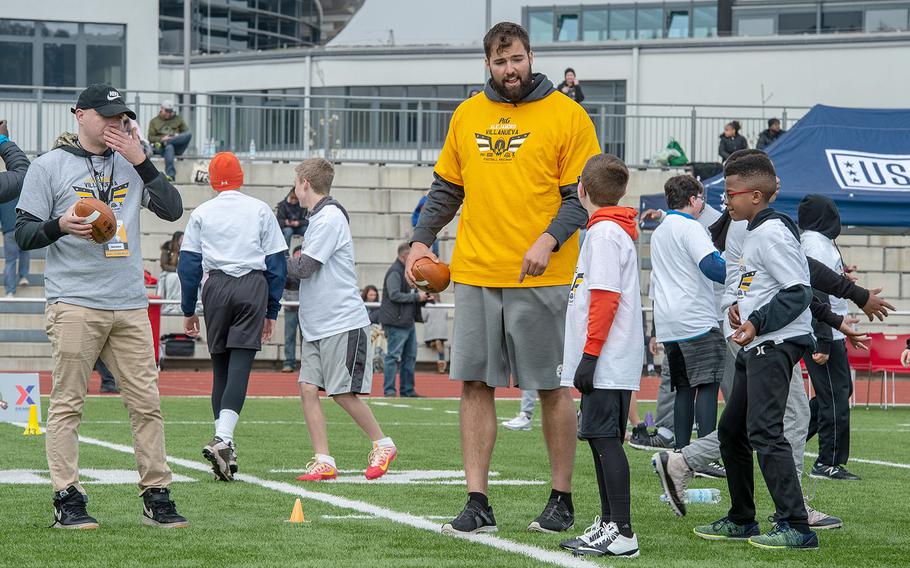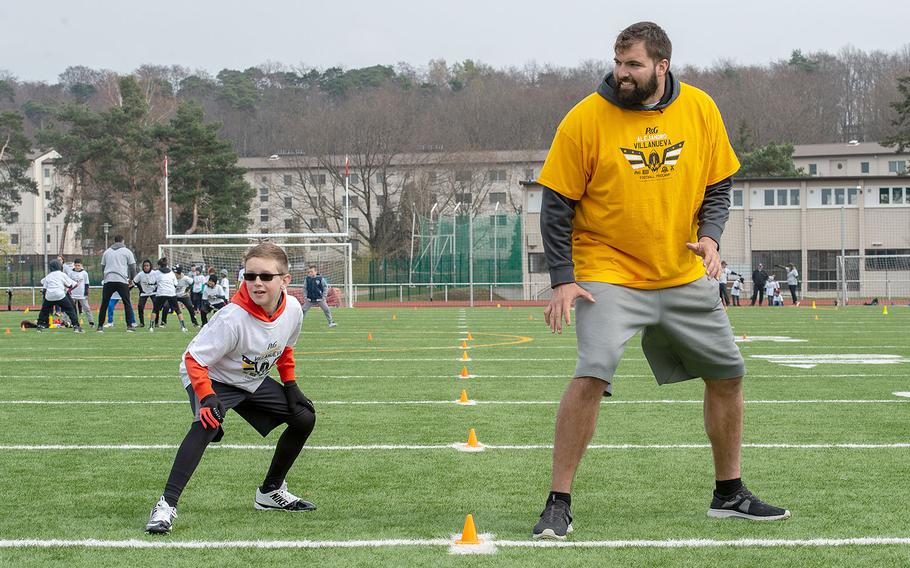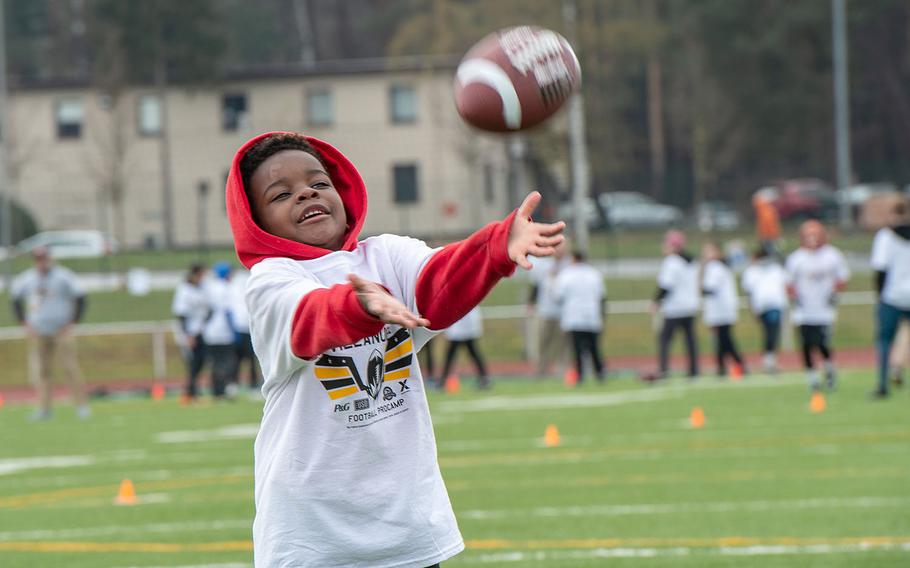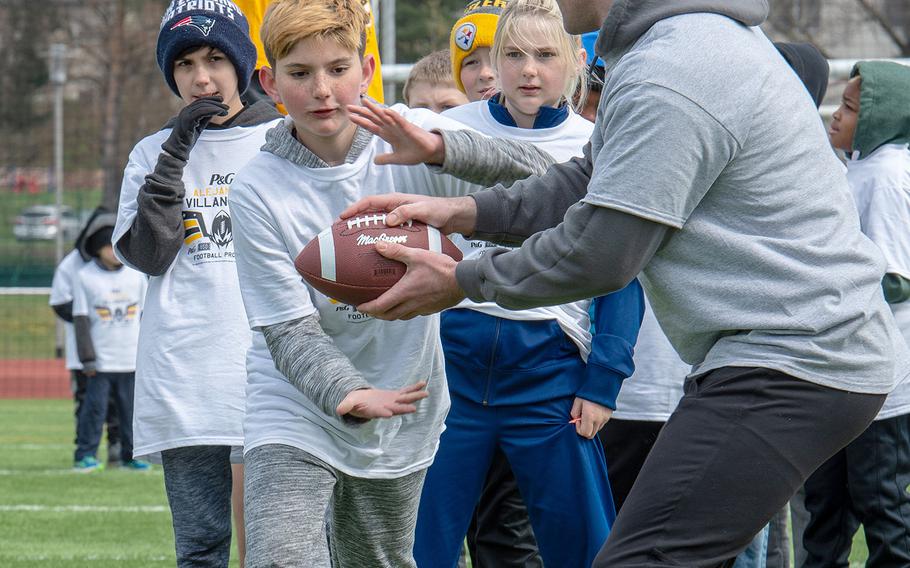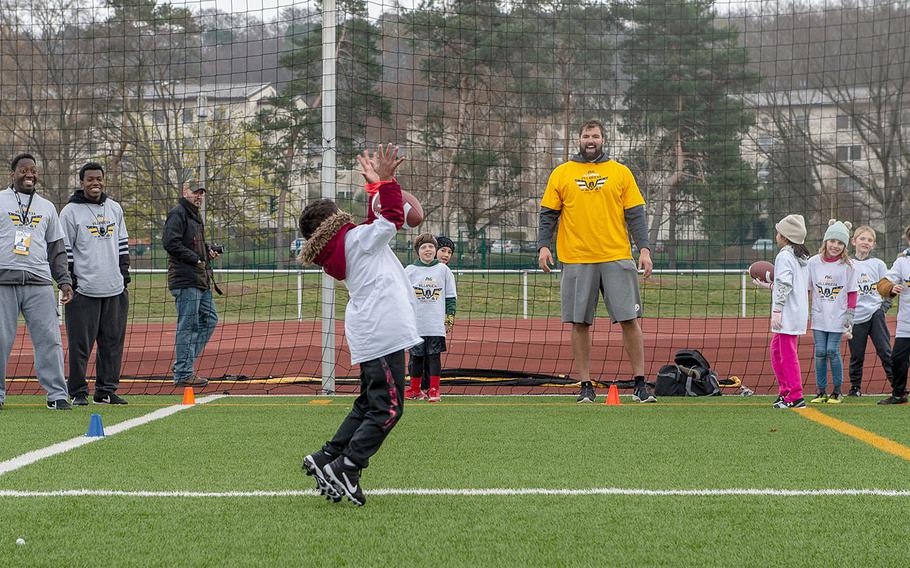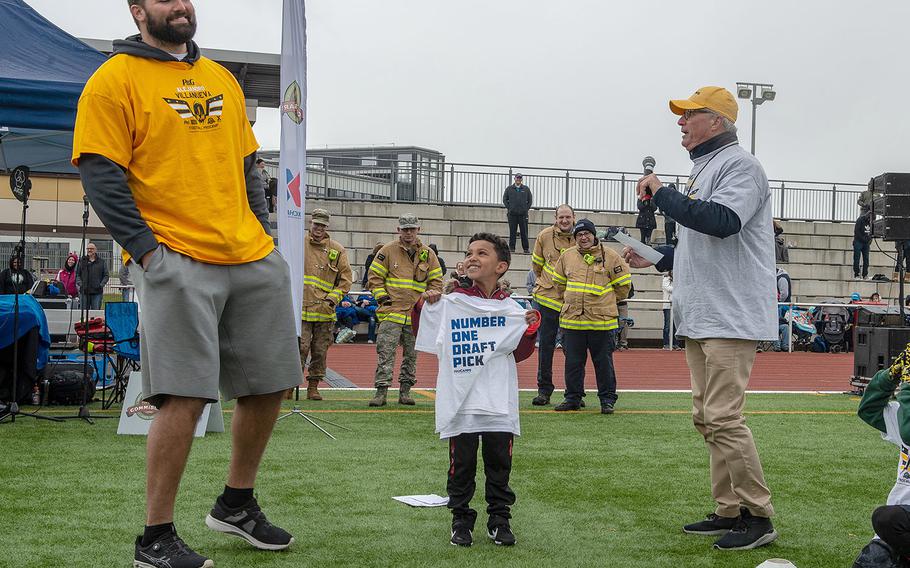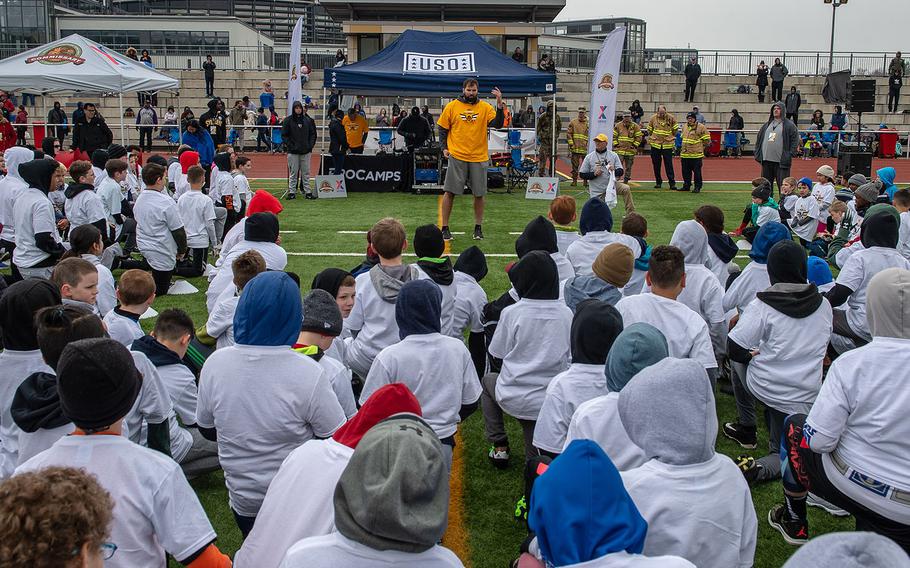 KAISERSLAUTERN, Germany -- The first line of Alejandro Villanueva's resume - All-Pro lineman for the NFL's Pittsburgh Steelers - is enough to draw attention.
But it's the rest of Villanueva's remarkable life story that made him the ideal figure to stand in front of the 200 kids who attended his youth football camp Saturday and Sunday at Kaiserslautern High School.
Villanueva is a proud military kid himself, growing up on bases around the world in a lifestyle very familiar to the families in attendance at the camp.
He's also a graduate of West Point, where he suited up for the Black Knights, and a decorated Army veteran with three tours in Afghanistan. Now a star NFL player, Villanueva relishes the opportunity to again immerse himself in a military environment.
"For me, being able to come back to a military installation obviously does a lot of good for my psyche," Villanueva said. "Being able to stay involved and stay close to the military community."
The two-day youth camp was the centerpiece of Villanueva's' USO-sponsored visit to the Kaiserslautern Military Community, a three-day tour that also included appearances and autograph signings at area commissaries and the Ramstein base exchange.
"This is a world-class event for the community," said Brig. Gen. Mark R. August, commander of the 86th Airlift Wing, who introduced Villanueva prior to Saturday's start of the camp. "I think it hits the parents straight in the heart that, hey, this guy grew up as a military kid.
"To have him be a part of this... That's the sort of role model that these kids can look up to."
Villanueva's path to NFL All-Pro status has beginnings that should be very encouraging to anyone who has played or parented a player at a DODEA school.
Given the generally lower standard of competition and limited opportunities to play in front of scouts and college coaches when compared to stateside sports, playing football overseas is often perceived to be a hindrance to the aspirations of young football prospects.
But that was not Villanueva's experience.
Villanueva attended high school at SHAPE in Belgium, a small school that was happy to offer an abundance of varsity snaps to a young athlete with unrefined skills but plenty of size, potential and work ethic. Villanueva might have never become a Steeler without first being a Spartan.
"I don't think I would have been able to play football had I gone to a regular high school in the United States," Villanueva said. "I was able to play a lot of time. So football became something really fun. If I had been someone playing JV in the United States, or maybe not really seeing the field a lot, it may have been something that didn't interest me.
"I fell in love with the idea of playing sports."
This weekend, Villanueva shared that love with an exuberant group of young athletes.
Villanueva and a squadron of volunteer coaches and coordinators ran the event's 200 campers through a variety of drills, ranging from footwork to blocking to passing and catching, as well as some light two-hand touch scrimmages.
The 6-foot-9 Villanueva, towering over the kids, was a gregarious presence, running drills alongside the campers, encouraging the kids to exhibit their touchdown dances and gently teasing young fans of rival NFL teams.
Not even unseasonably cold temperatures and a few early Saturday flurries could dampen spirits; Villanueva, wearing Pittsburgh Steelers shorts and ankle socks on Saturday, smiled at what he called the "AFC North football weather," referring to the chilly NFL division his team shares with the Baltimore Ravens, Cincinnati Bengals and Cleveland Browns.
Villanueva recalled his own youthful encounter with star wide receiver Larry Fitzgerald at a camp during his high school days at SHAPE, years before he shared an NFL gridiron with Fitzgerald, and expressed his wish to have a similar impact now that he's in that same prominent position.
"I always thought that the impression that you make, maybe on one kid out of 200, can change someone's life," Villanueva said.
Twitter: @broomestripes