Softball - Day 2
Favorites moving to next round on diamonds
---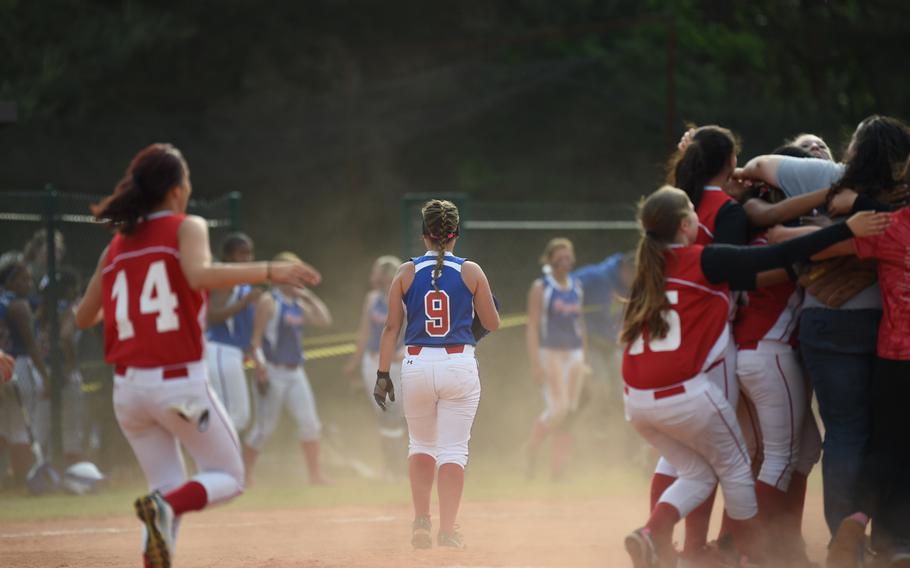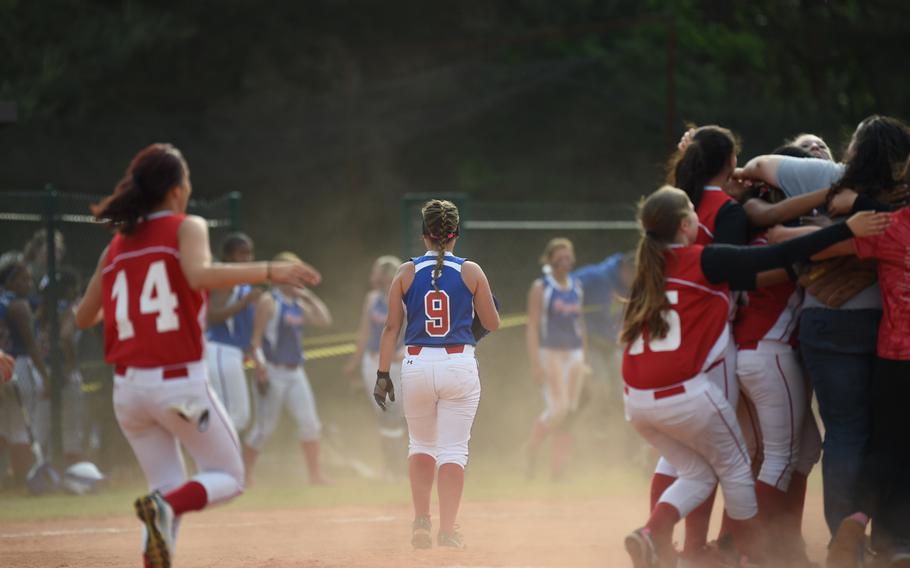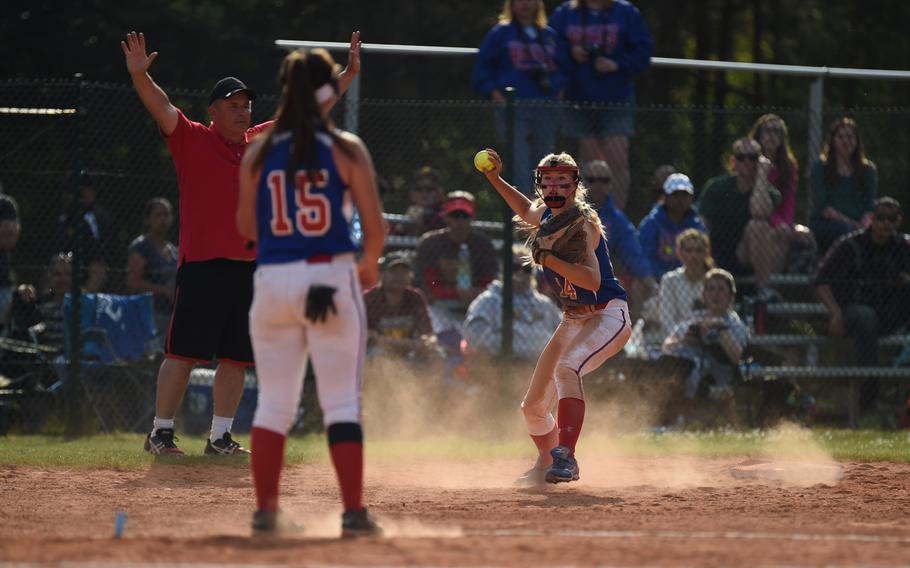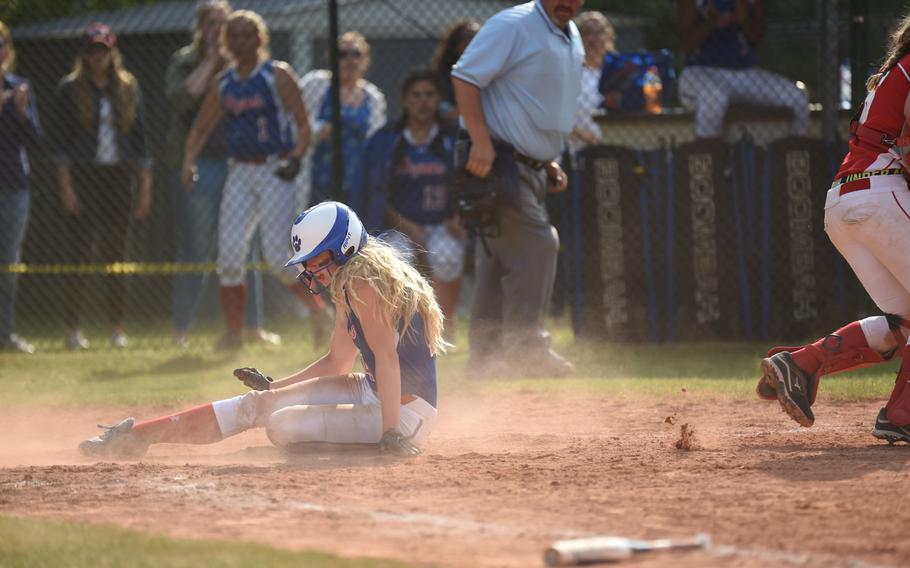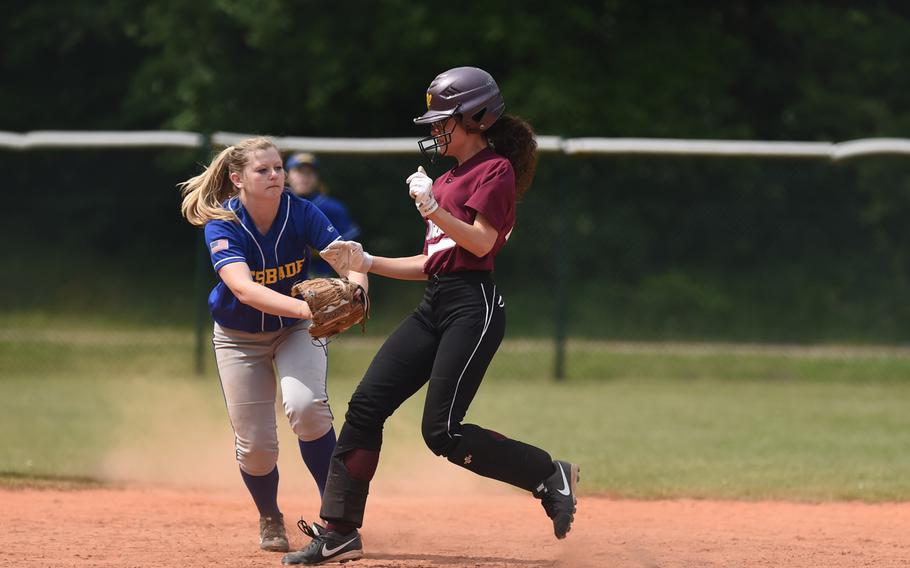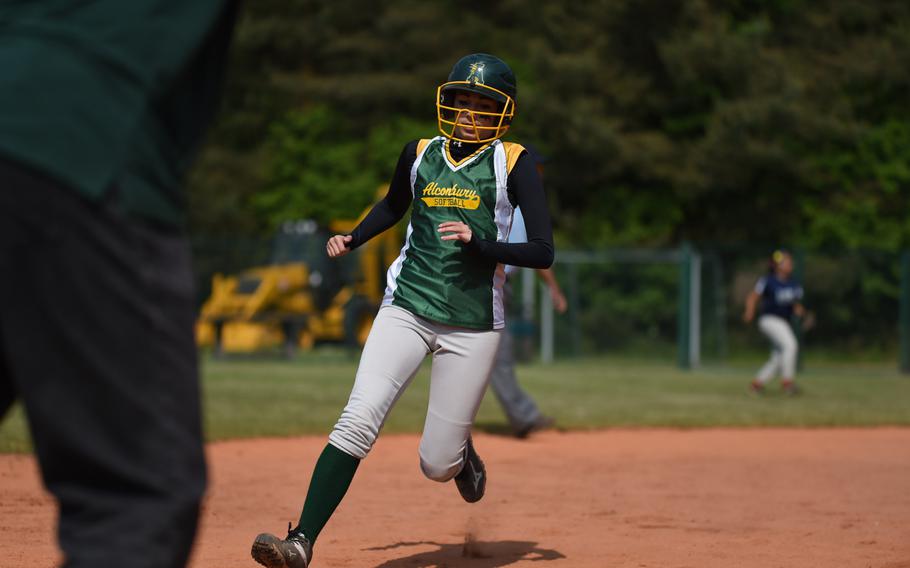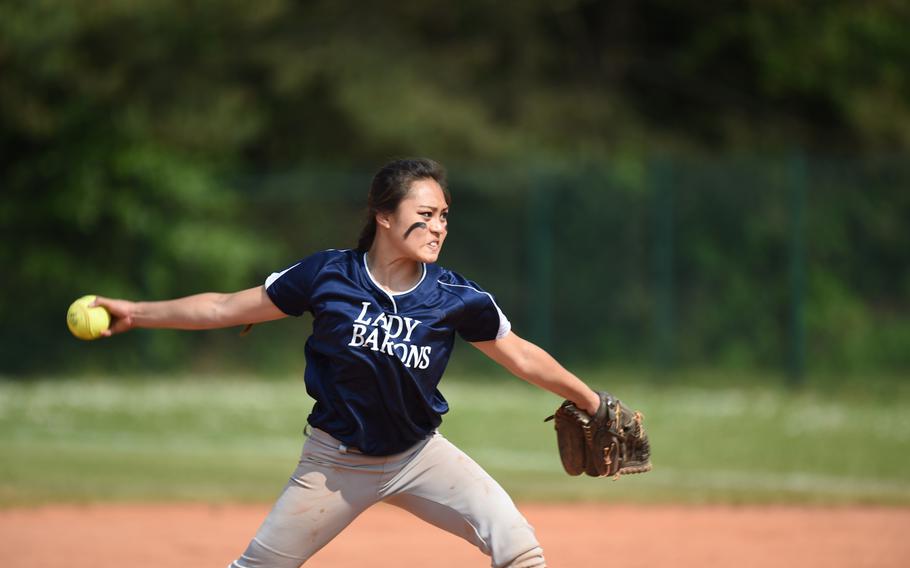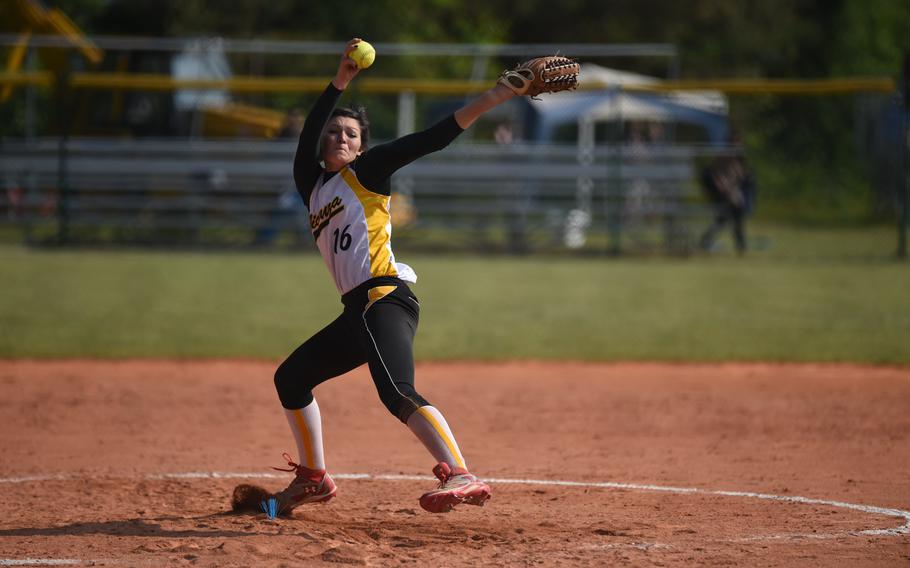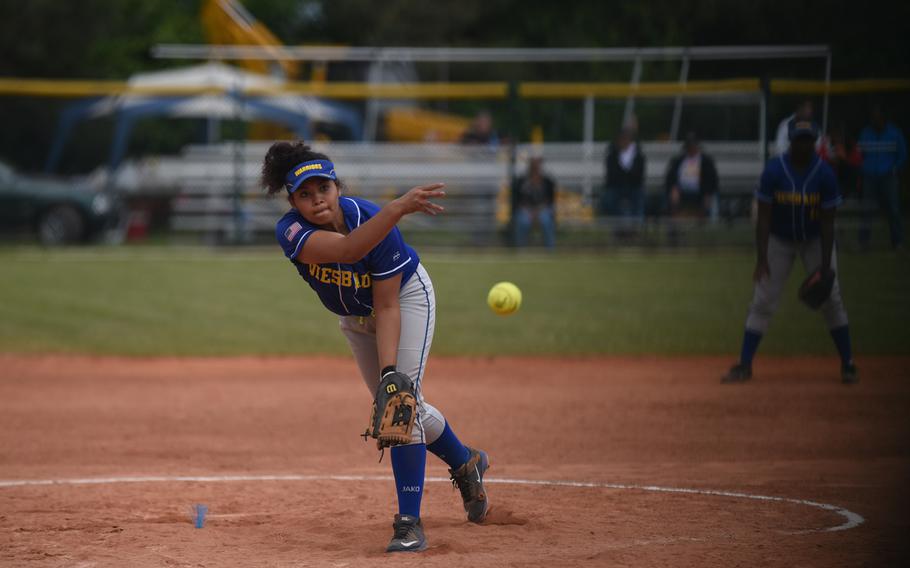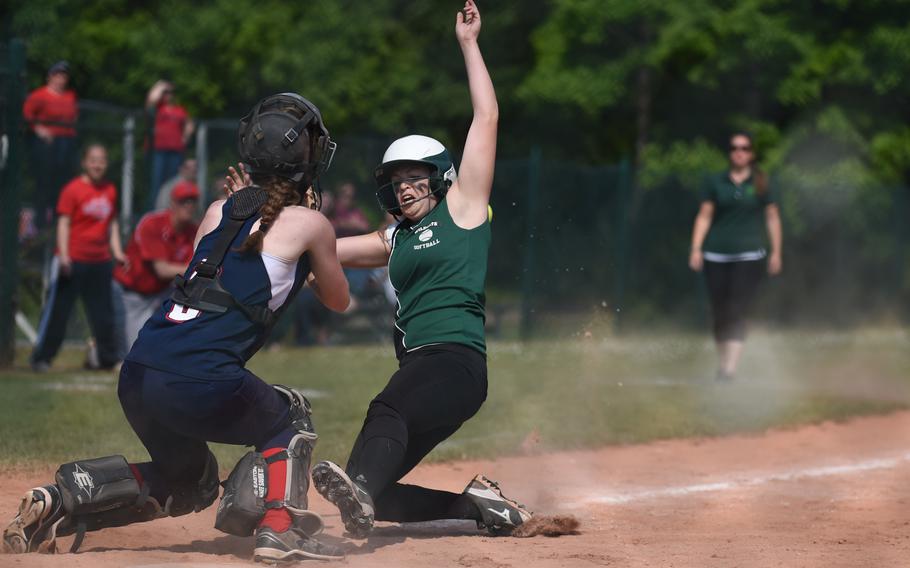 RAMSTEIN, Germany —The stage is set for the semifinal round in the European Softball Championships on Saturday, with the top four seeds in Division I all set to move on after posting wins during early round play.
The big school league's Ramstein, Patch, Vilseck and Kaiserslautern will square off.
In a late upset, Kaiserslautern defeated Ramstein 10-5. A fourth-inning offensive onslaught by the Raiders resulted in eight of the team's runs and sent a signal that the championship this year is up for grabs.
With Patch's 5-2 victory over Vilseck, the panthers will now meet Ramstein in a surprise semifinal encounter.
Coming into the tournament, the longtime rivals were expected to meet once again the finals, but Ramstein's upset loss brings a twist to softball convention.
Patch relied on standout freshman Mackenzie Coleman, who pitched a dominating game that was marked by strong defense by both teams.
Vilseck mounted a comback in the sixth, scoring two runs and loading the bases. But Patch escaped when Vilseck grounded out with bases loaded.
In the seventh, Vilseck again loaded the bases, but was unable to take advantage with any runs.
In the small school league, Aviano and Hohenfels advanced to the semifinals from one pool. In the other pool, Rota, Alconbury and Sigonella tied. Alconbury and Sigonella advanced based on the run differential between the games the three teams played with each other.
The Saints, who have defeated the Jaguars five times this year, meet them again Saturday. Alconbury and Hohenfels play in the other semifinal.
During earlier play Friday, the defending champion Patch Panthers defeated Vicenza, the 2013 and 2014 Division II champions and a newcomer this year to Division I.
While Vicenza fell short of qualifying for the semifinals, the team proved it is a worthy addition to Division I softball, posting one win and losing two closely fought games against teams moving onto the semifinals.
The Cougars' 7-3 loss to Patch was a defensive battle with strong pitching from both starters.
Patch pitcher Elizabeth Hansen, a freshmen, dominated from the mound and was backed up by solid play from her infield.
For Patch, which features nine freshmen on its roster, the win was a confidence builder and a sign that the team has moved on from earlier-season adversity.
Though seeded No. 2, it has been a somewhat less dominant season for Patch, which lost many of last year's starters.
"This team is very young, mostly freshman," said assistant coach Chris Coleman. "They've come a very long way. They really hit the ball hard and that causes people to make (fielding) mistakes."
Vicenza's star pitcher Megan Buffington helped keep her team close with another strong performance.
"We worked hard. There were a couple of errors that we had, but we gave it 100 percent," Buffington said after Friday's loss.
On Vicenza's move to Division I this year, she said her team proved its worth.
"We gave some of the bigger teams some pressure," she said.
That loss eliminated Vicenza and sent Patch and Vilseck – a 4-2 victory over the Cougars Thursday – to the semifinals. Ramstein and Kaiserslautern already qualified with two wins each Friday.
While Vicenza stepped forward, SHAPE - another school that moved up to Division I this year—struggled on and off the field. After suffering a blowout defeats on Thursday, the team withdrew from play Friday.
Two SHAPE pitchers were disqualified from the tournament for a violation of disciplinary rules, according DODDS-Europe athletic director Karen Seadore.
It was a day of few upsets on Friday. However, one surprise came when No . 8 seed Naples – the third school to move up a division this year - defeated fifth-seeded Lakenheath in an offensive battle that ended with the Wildcats on top 16-10.
In small-school play, Aviano put in another dominant performance Friday, making the team a heavy favorite heading into Saturday's semifinal round.
In their 19-2 win over number four seed Hohenfels, the Saints hit with power and fielded with discipline.
Starting pitcher McKenzie Milligan, coming off a perfect game Friday, delivered another strong performance. She also helped her cause from the plate.
The opening inning set the pace of the game for Aviano, which scored seven quick runs, largely behind the hitting of McKenzie and fellow power hitter Shamera Lane. Lane, who started off with a run-scoring triple in the first, followed up in the second with an out-of-the-park home run.
McKenzie, who came close to a homer when she hit a ball against the back fence for a double in the third, said her team is ready for the next step.
"Our team came in confident and we were all playing well. I think this was one of our best games," McKenzie said. "We all have the confidence to go in tomorrow and win."
---
---
---
---