European boys soccer preview
Favorites? Many can make that claim as finals begin
---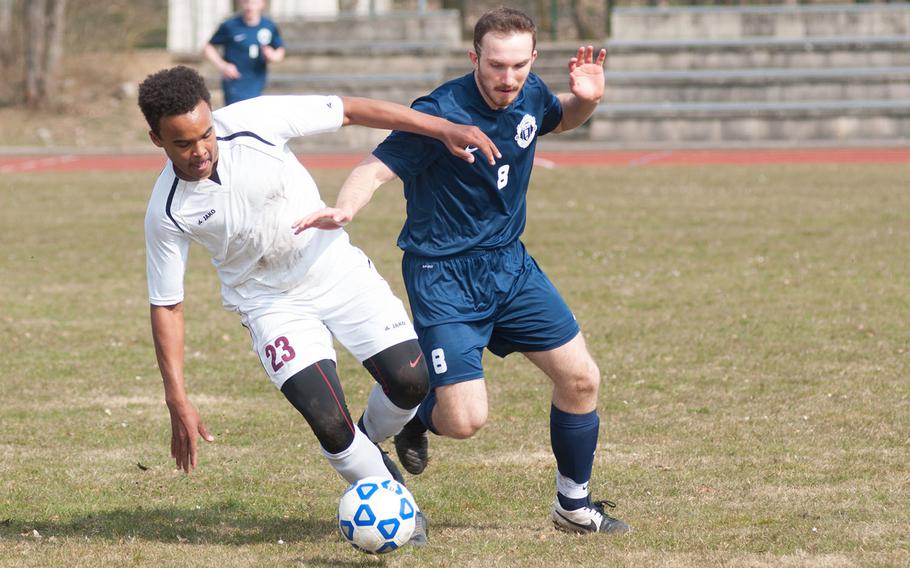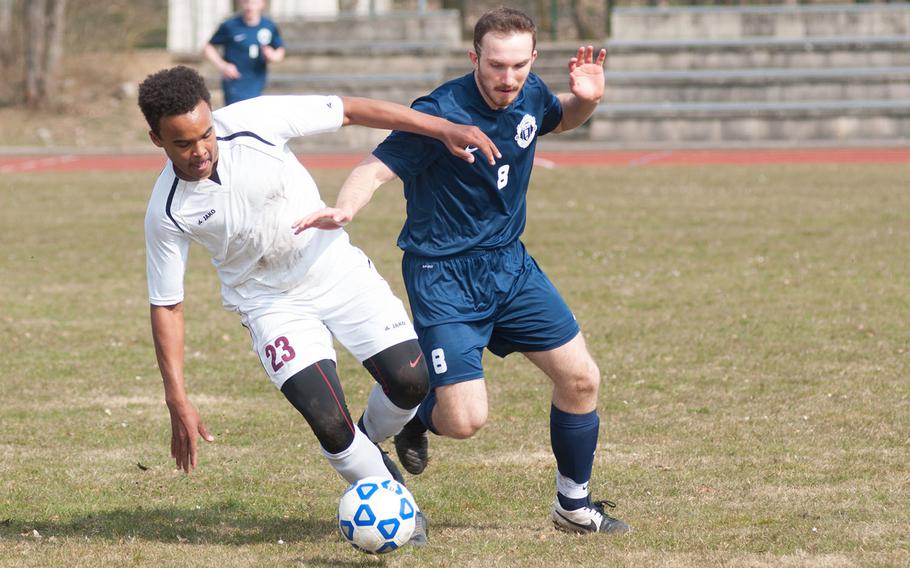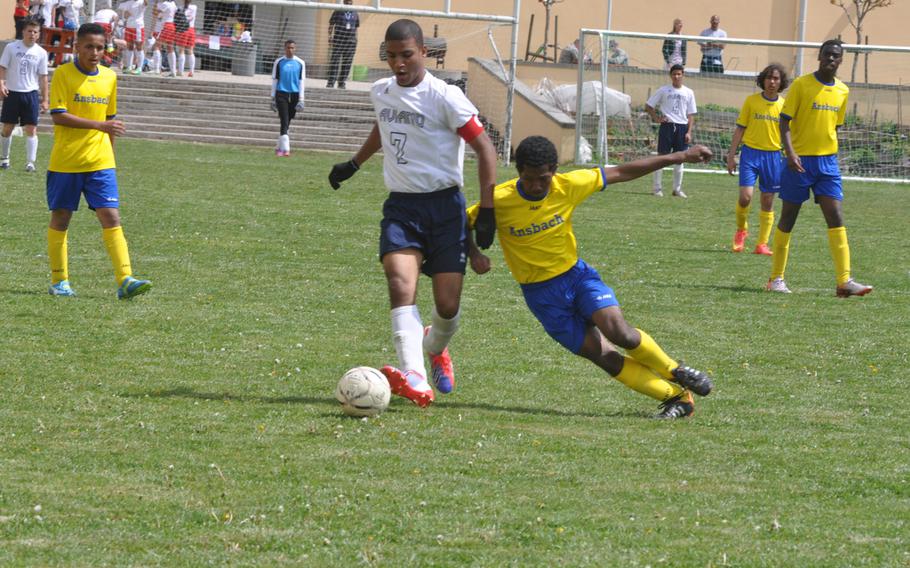 This is why they play the games.
The 2015 DODDS-Europe boys soccer championship tournaments will open without a clear favorite in any of the three divisions. At least a dozen of the nearly 30 teams that will compete for one of the three divisional titles at stake can make a legitimate case that they'll leave with a title. And of those contenders, each has at least one smudge on its record that makes it vulnerable to a premature ouster.
Play begins Monday with Division I and II teams at three sites across the Kaiserslautern Military Community. Division III joins the fray as pool play continues Tuesday at four area sites. Six divisional semifinal games dominate Wednesday's schedule, and three champions will be decided Thursday at Kaiserslautern High School.
Division IA brief regular season has nonetheless packed in a lot of large-school intrigue.
Start with defending champion Ramstein. The Royal drama debuted in March, when the inexperienced group fizzled in a season-opening upset loss to Vilseck. The Royals stayed winless the following weekend in a scoreless tie with a rejuvenated squad from International School of Brussels.
The Royals corrected course to rattle off an unbeaten April in which they blanked both Kaiserslautern and Wiesbaden 2-0. But they faltered again in May, suffering a 2-1 loss to Patch and playing last-place SHAPE to a scoreless tie on Ramstein turf.
Ramstein has played well enough in spurts this year to remain a threat to retain its title. But the Royals have been beatable just as often. That begs the question: if the fifth-seeded Royals aren't up to win again, who's up to beat them?
It might be third-seeded ISB, the 2012 and 2013 champion that appears fully rebuilt from a down year last spring. The Raiders' tie with Ramstein was their only misstep in a 6-0-1 season that featured three solid divisional wins.
If ISB isn't quite ready, new large-school contender Naples might be. The Wildcats posted impressive wins over Patch and Vicenza in the only Division I matches they played this spring, and they'll carry a four-game winning streak and the tournament's top seed into the postseason.
Then there are the teams that actually beat the champs: Patch and Vilseck. Second-seeded Patch has been perfect save for that loss in Italy and is poised for a redemptive run after a heartbreaking elimination a year ago. Vilseck has all but fallen out of contention, however, with three straight divisional losses to Patch, Kaiserslautern and Vilseck.
Last year's runner-up, Kaiserslautern, is a dangerous contender that might be more fearsome if not for a pair of troubling performances. The fourth-seeded Raiders took multiple-goal losses to ISB and Ramstein early in the season; though they've dominated since.
Wiesbaden, Lakenheath, Vicenza and SHAPE round out a newly robust Division I field.
Division IIDODDS-Europe's middle class has long been dominated by Marymount, which will pursue its fifth straight championship this spring as the undisputed top seed. Realignment, which slimmed the division's bracket considerably by siphoning off its largest and smallest schools, could have one of two effects on that status quo.
The absence of traditional contenders such as Naples and Vicenza might make the path to the title that much easier for the Royals. They certainly look formidable, with only a shorthanded loss to Florence marring an otherwise brilliant campaign.
But the new bracket might embolden hopefuls such as AFNORTH, Black Forest Academy and Hohenfels to redouble their efforts. Third-seeded AFNORTH struggled outside of Division II but ran its three-match table within it. Second-seeded BFA matched the Lions' 3-0 divisional mark. Fourth seed Hohenfels won four of five matches in a rigorous divisional schedule.
Meanwhile, fringe contenders American Overseas School of Rome, Aviano, Ansbach, Bitburg and Rota will look to flip the regular season standings over the next week.
Division IIIThe return of Alconbury and Baumholder makes the small-school bracket a much bigger challenge.
Alconbury went 3-0 in its return to the division, easily the most impressive body of work of any of the division's challengers. Baumholder notched a pair of wins in its return, though the Bucs slot in a tier below Alconbury after losing to the Dragons 4-1 on March 28.
The Dragons will enter the tournament as the top seed to Baumholder's second seed.
Florence ranks as the arguable team to beat among incumbent teams. The Boars won their only Division III game, a 1-0 decision over Sigonella, and punched above their weight for wins over Marymount and Aviano.
Complicating things is the presence of Sigonella. The 0-7 Jaguars would appear to be an also-ran in the tournament, until you recall that they won last year's tournament after a winless regular season.
Perennial contender Brussels will look to make some noise after a frustrating 0-7 season, while Menwith Hill hopes to script a memorable final chapter before the school closes this summer.
Twitter: @broomestripes
---
---
---
---