European girls basketball roundup
Favored teams back up seedings
---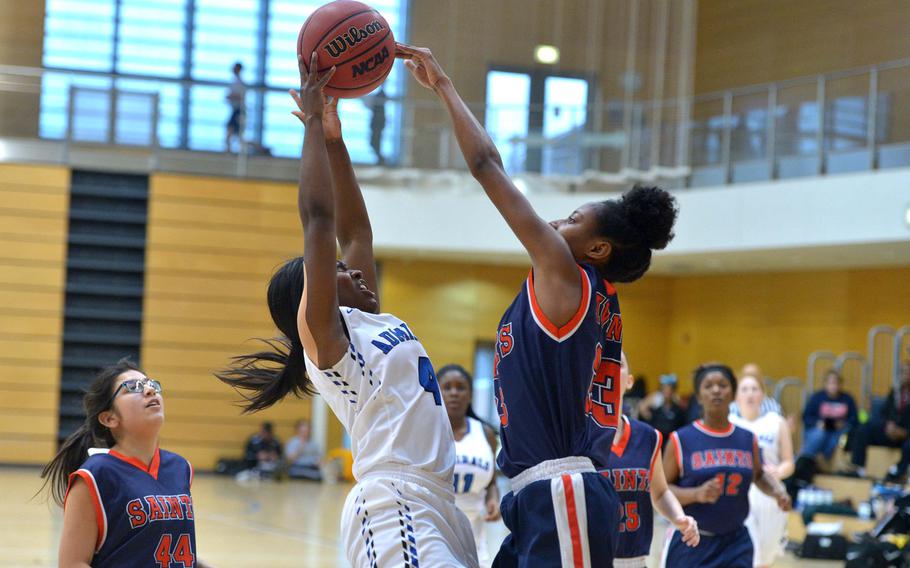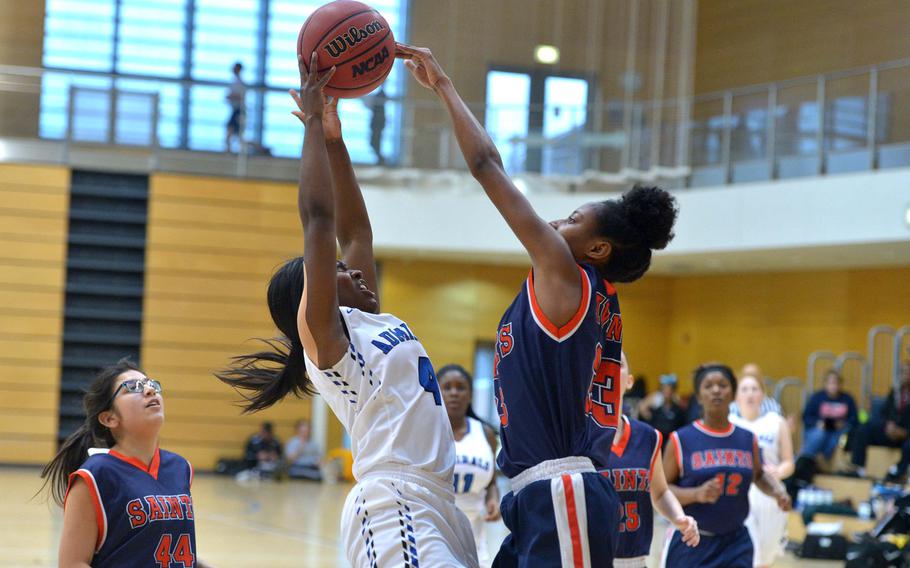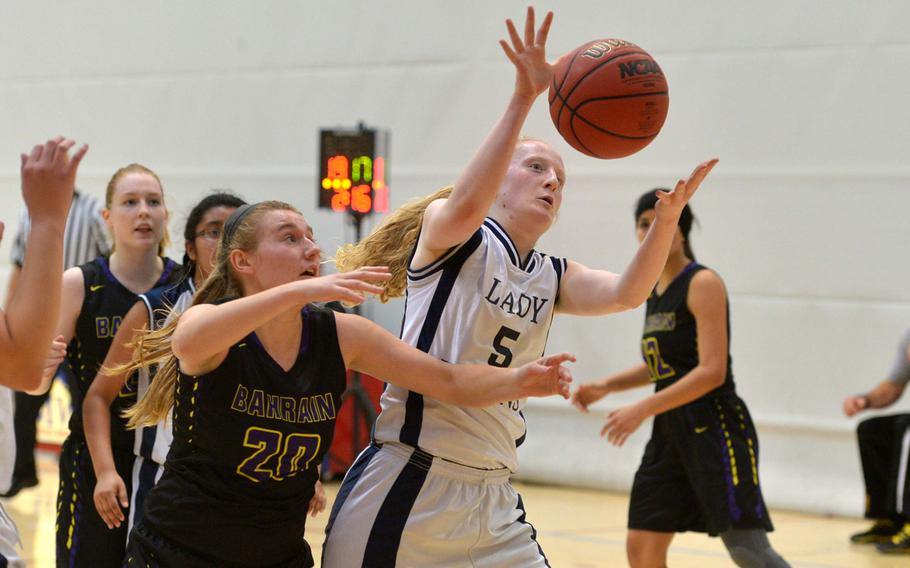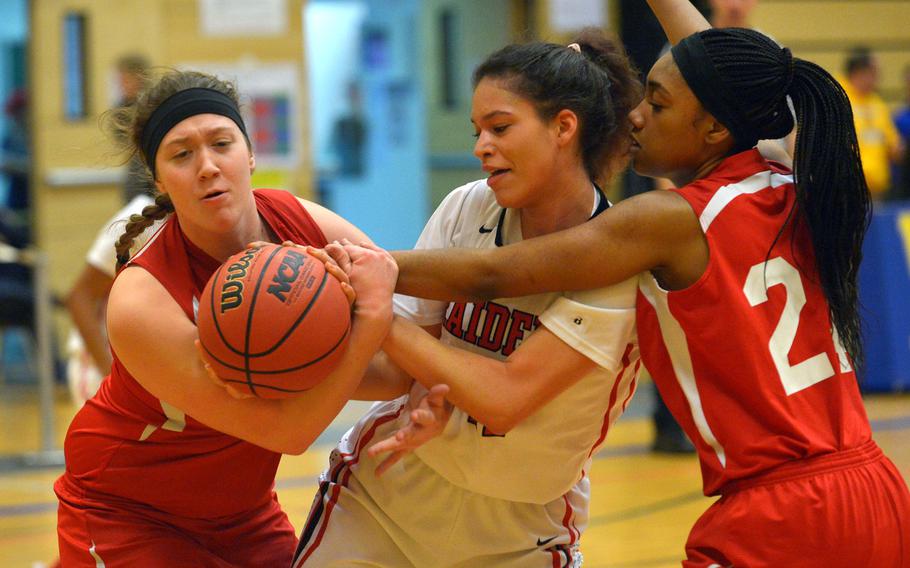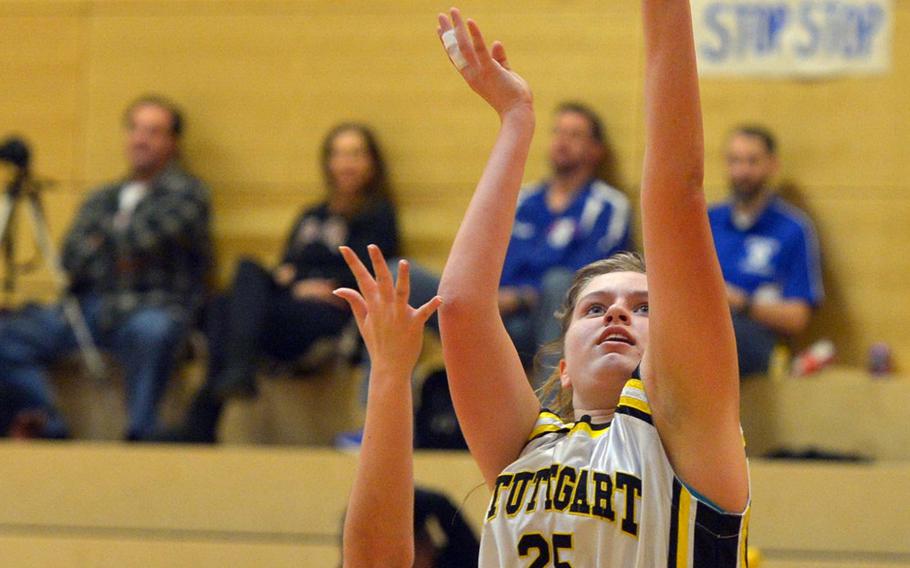 WIESBADEN, Germany — Traditionally-strong programs led the way on the first day of the 2017 DODEA-Europe girls' basketball tournaments in Wiesbaden. Division I's Stuttgart and Lakenheath have already clinched semifinal berths with two wins apiece, and Division II's top-seeded Black Forest Academy has done likewise with two dominant performances.
Thursday will see a pair of interesting clashes in Division III, as Baumholder takes on Sigonella and Ansbach faces Hohenfels at Clay Kaserne. In Division I, defending champs Ramstein will look to hold off a strong Naples team in the afternoon in a game featuring two teams likely to advance to the semifinals.
Division IVilseck 21, Vicenza 11: Vilseck rode a dominant defensive performance to a win over last year's runners-up, Vicenza, which was unable to control the ball with any regularity on offense. Vilseck sophomore guard Tynniesia Wilson was everywhere on both ends and finished with a game-high nine points.
"I felt like we communicated very well and the defense was on point today and looked good," she said. "We executed on offense and that got us the win."
A young Vicenza team is looking to reload for coming seasons, said senior Adrianna Lovelace. "We're definitely rebuilding this year," she said. "We lost four of our starters and the majority of our starters are freshmen and sophomores."
Lakenheath 25, Kaiserslautern 23: The fifth-seeded Lakenheath Lancers held off a late run from fourth-ranked Kaiserslautern, with sophomore guard Reese Estus scoring a team-high seven points.
"I definitely got nervous, but I had trust in my teammates and knew we were working hard," Estus said of the close finish. The Lancers advanced to the semifinals with a 22-16 win over SHAPE in the evening.
Despite nine points apiece from Kiara Lane and CeCe McKenzie, the Raiders fell short and Lane hopes her team can improve on its defense as the tournament progresses.
"When we play great defense, that's what normally gets us going," she said.
Division IIBitburg 29, Bahrain 24: The Barons were able to impose their will in the post as they defeated Bahrain in a relatively low-scoring affair. Post players Elise Rasmussen, with 13, and Amadi Bradshaw, with eight, accounted for much of Bitburg's offense against a relatively-unknown Bahrain team.
"We played them last year in the semifinals and that was a tough game, so we knew that they were going to be coming at us hard and we knew we would have to be playing our game well," Rasmussen said.
Bahrain's seniors are optimistic they can overcome the first-day loss.
"It wasn't our game, but we're going to play harder next game – that's all it is," said captain Michelle Edens. "Most definitely, we can turn it around."
Black Forest Academy 41, American Overseas School of Rome 16: Top-seeded BFA proved its bona fides with a dominant win over a feisty AOSR team.
BFA's strong defense led to turnovers that Kennedy Wilbanks turned into easy layups time after time, scoring 16 points, including 12 of BFA's first 15.
"I've got to credit my teammates, they're the ones who really got me the ball – I just ran off," Wilbanks, a sophomore guard, said.
BFA, which also beat AFNORTH 36-8, clinched a semifinal spot after AFNORTH upended Marymount in the day's final game.
AOSR was paced by the quick Anne Blanchette, whose defense bothered BFA throughout. Blanchette finished with eight steals and was a menace in transition.
"I'm from Canada and played ice hockey when I was younger, so the motto is when you fall down you get back up and continue, and that's something that I'm really proud of," she said. "I put everything that I can into the game."
---
---
---
---