D-II girls semifinals
Falcons, Lions will tangle for championship
By
Matt Millham Gregory Broome
February 21, 2014
---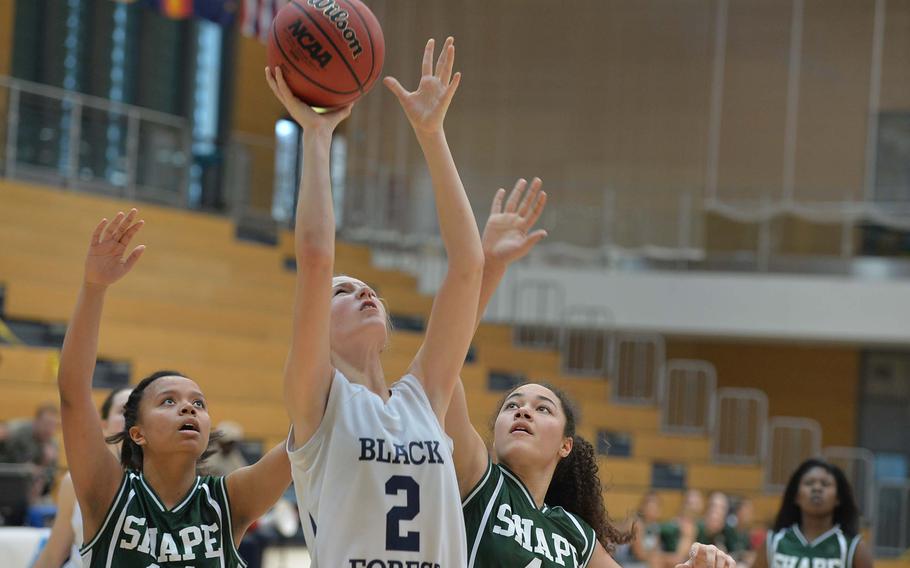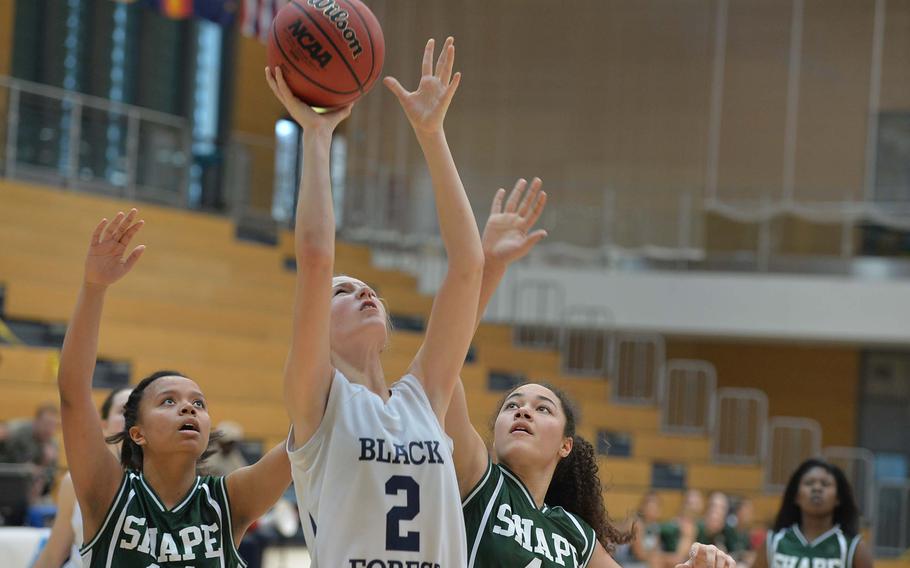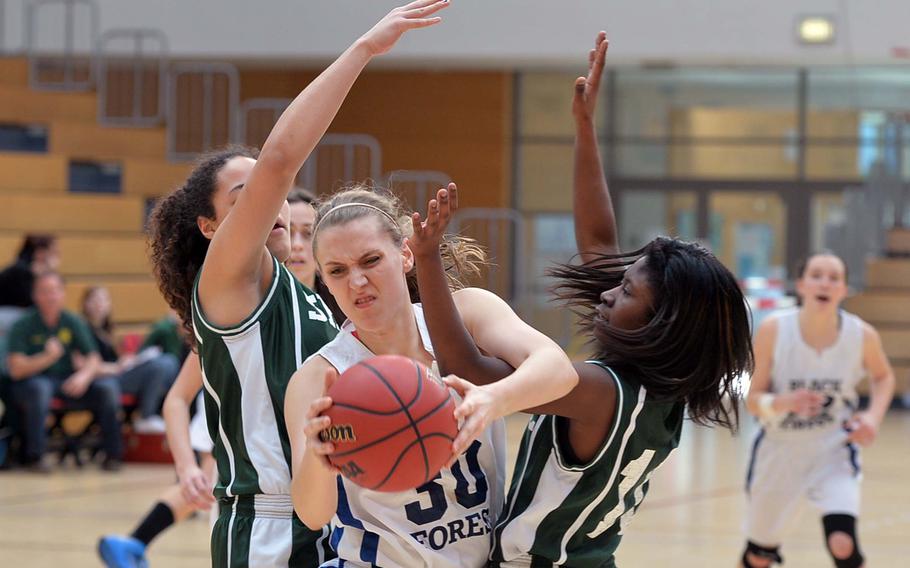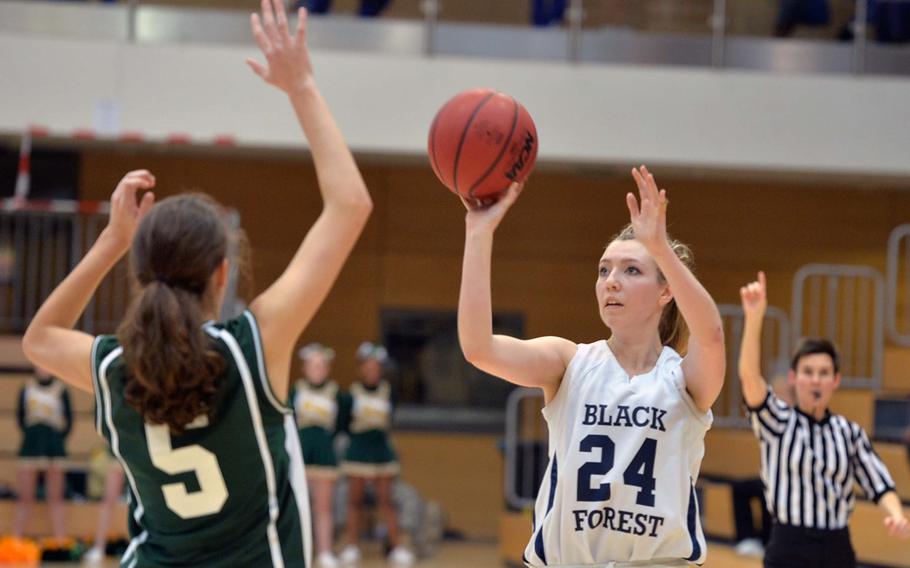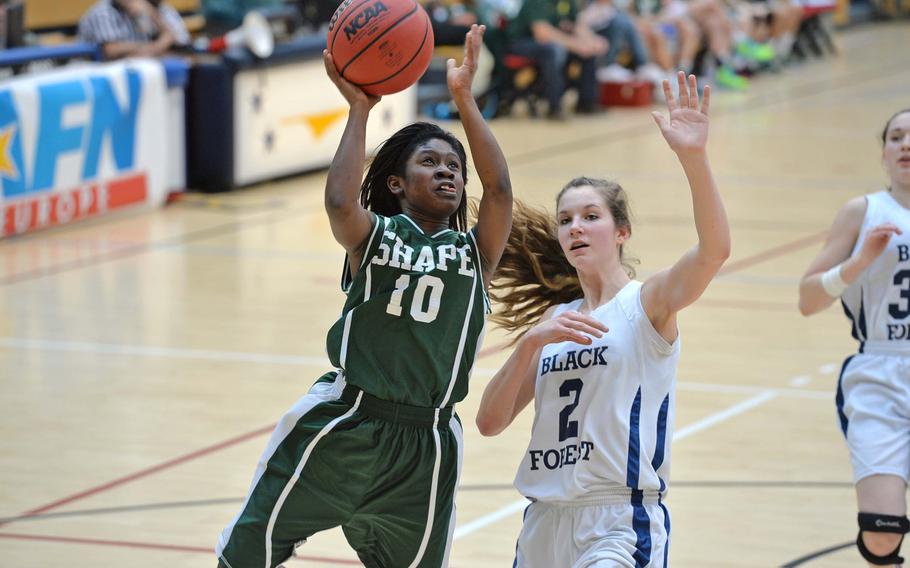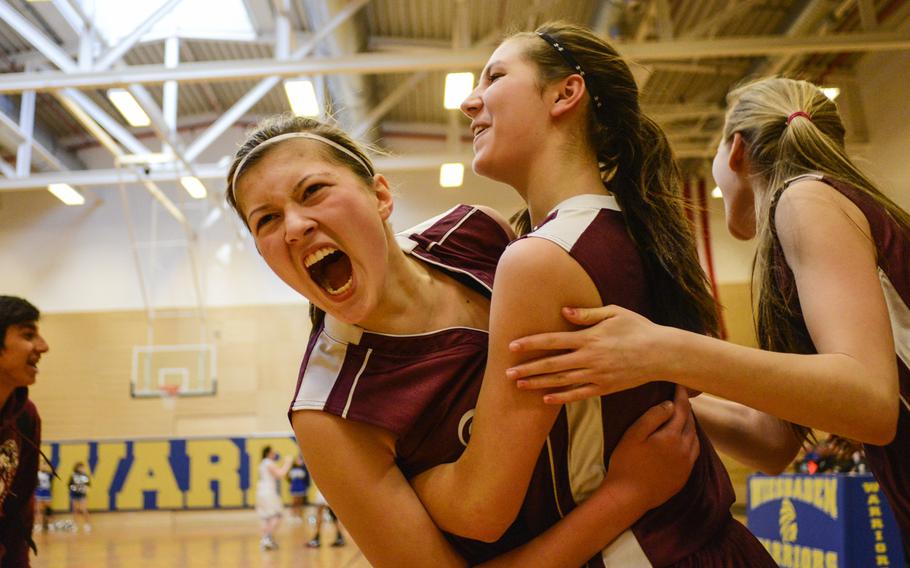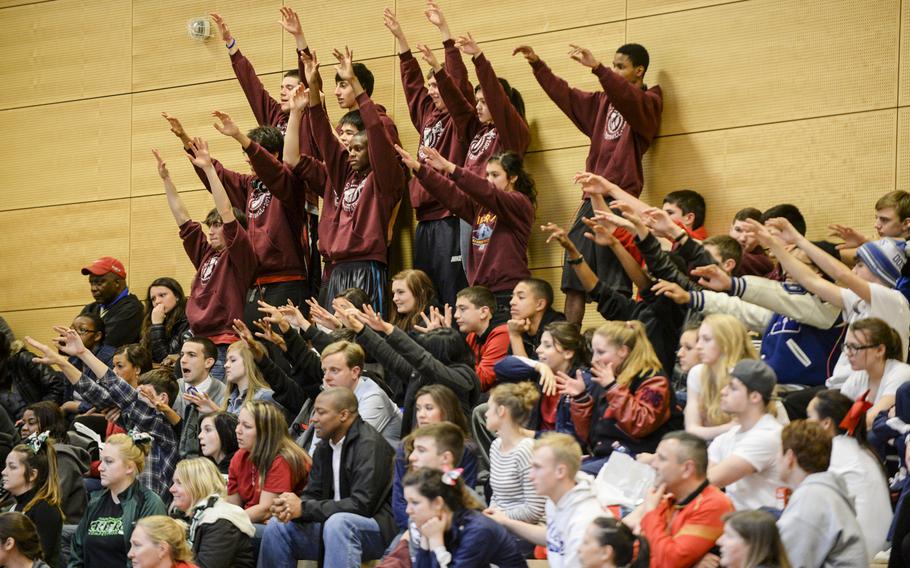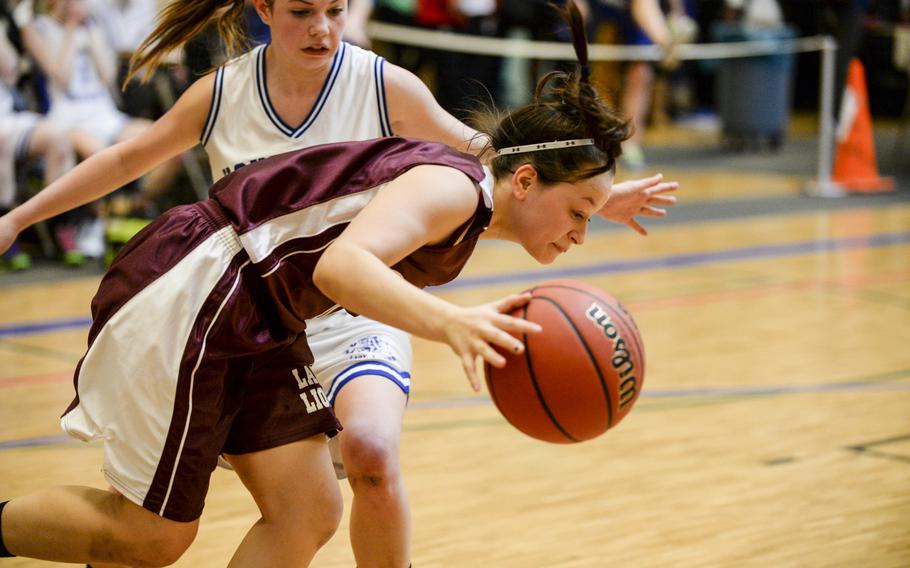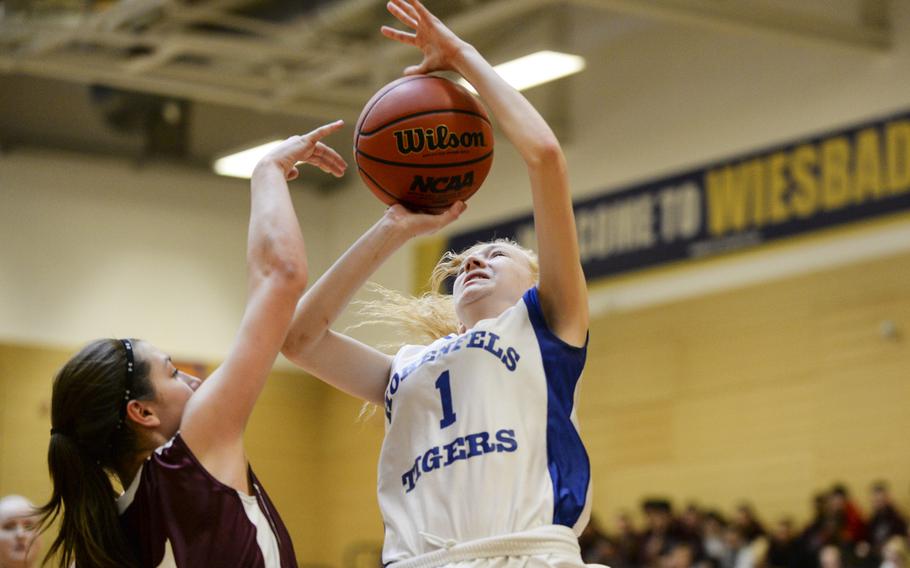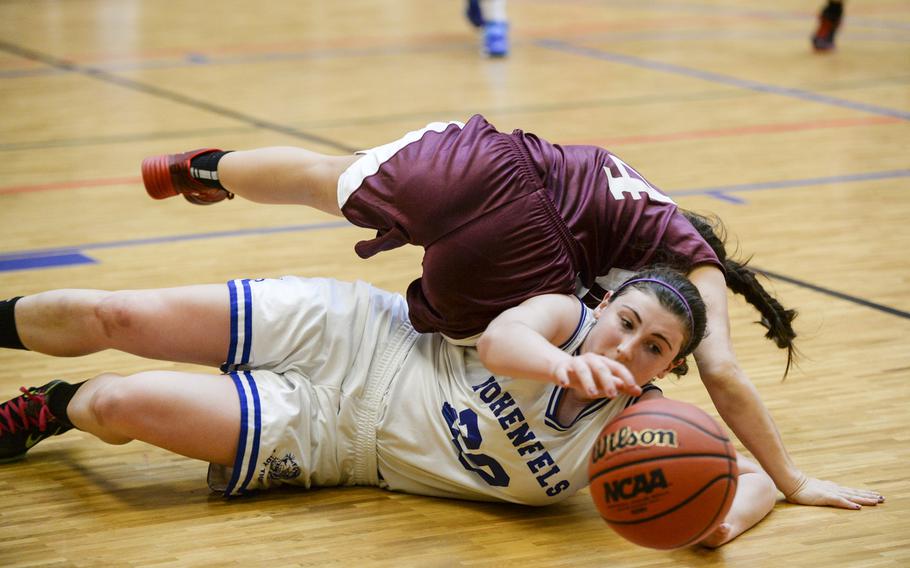 WIESBADEN, Germany – Laden with upsets, the DODDS-Europe Division II girls basketball tournament produced two resilient finalists Friday as AFNORTH and Black Forest Academy grinded out semifinal victories.
The fourth-seeded Lions and fifth-seeded Falcons will play for the title Saturday afternoon. True to form in the topsy-turvy tournament, the lower-seeded Falcons won easily when the teams met in pool play, earning a 27-12 victory.
Black Forest Academy 36, SHAPE 18: The Falcons unleashed their signature brand of defense in shutting down the second-seeded Spartans.
"That's the defense we've been practicing all season, and it worked really well," senior Elysssa Brauer said. "We always keep our eyes open and anticipate."
Attentive followers of the tournament's early rounds could have anticipated Friday's outcome, as the Spartans are only the most recent team to bang their proverbial heads against BFA's brick-wall defense. The Falcons held AFNORTH, Schweinfurt/Bamberg and American Overseas School of Rome to 12 points each in pool play, and ousted Marymount from the round of 16 by a 49-10 margin. A 33-16 win over Ansbach put the stingy Falcons in the semifinals.
SHAPE, even with an extra minute per quarter to work with as the games reverted to regular 32-minute length for the semifinal round, didn't fare much better. They scored just two first-quarter points, had nine points at the half and finally cracked double digits with about two minutes to play in the third quarter.
"That's the nature of our defense," head coach Luke Welbourn said. "We pressure the ball as much as we can."
Hardened by competitive losses to regional Division I titans Kaiserslautern, Ramstein and Wiesbaden, the Falcons were well-prepared to tangle with their fellow Division II squads, against whom they went undefeated in the regular season.
"Those were my favorite games, because they were challenging," Brauer said of the team's six losses to Division I schools. "We grew through those."
Junior Emily Campbell scored 14 points to pace the BFA offense, while Brianne Riffe added 10. SHAPE point guard Gina Rhett scored eight in defeat.
AFNORTH 22, Hohenfels 19: What started out as a contender for dullest game of the entire DODDS-Europe championships turned into one of the most exciting Friday, as AFNORTH rallied from a 10-point deficit to stun Hohenfels.
The game started out with a flurry of missed baskets and turnovers and by the end of the first quarter, the teams had managed to put up a cumulative total of two points.
Hohenfels senior Breann Gotel led her side with four points in first half and a 10-6 lead to close it out.
During the break, AFNORTH coach DC McDonald told his girls to just chip away at that lead one or two points at a time.
Something in the speech must have worked. By the end of the third quarter, AFNORTH managed to narrow what had been a 10-point deficit to six points.
From there, the Lions kept climbing their way back.
Eliska Volencova scored on a one-on-one breakaway to close the gap to four.
With a little more than three and a half minutes left, sophomore Erica Balkcum charged down the center of the lane for another bucket to bring the Lady Lions to within a point.
A minute later, AFNORTH senior Jena Solorzano sank the first of two free throws to tie the game. To shouts of "MVP" from AFNORTH fans, she sank the second to give the Lions their first lead of the game – 20-19.
That's all they would have needed, but Volencova was at the line a moment later for another pair of free throws to put the Lions up by the final margin. Hohenfels scored just one point – a Gotel free throw - the entire fourth quarter.
"We came together as a team, we grouped up and we have love for each other Solorzano said afterward. "And I think that's what did it. We wanted this really bad."
---
---
---
---