Marksmanship AOY
Ehmann was on target all season
by
Gregory Broome
March 2, 2015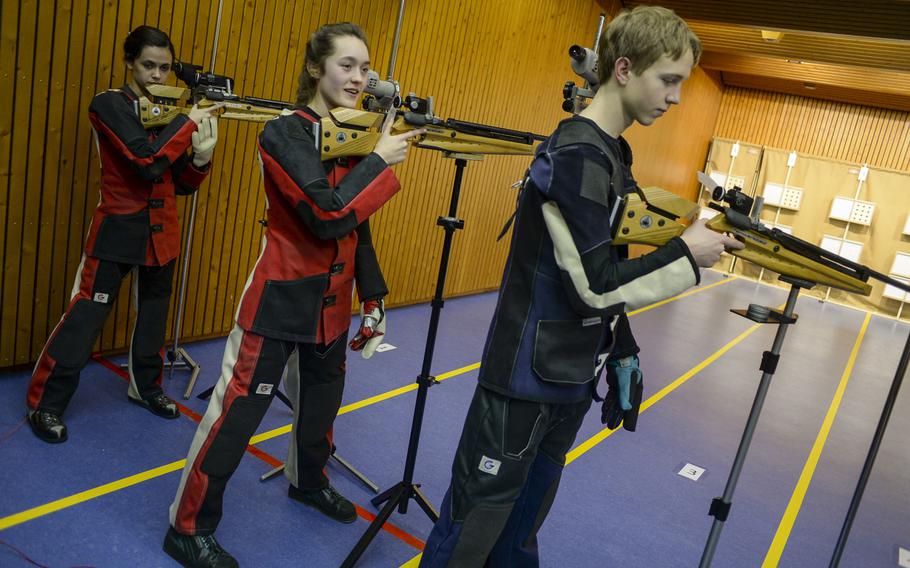 Patch Panthers senior Maggie Ehmann is on the very short list of DODDS-Europe's all-time best marksmanship performers. That would have been true no matter what happened at the 2015 championship meet.
But it certainly mattered to Ehmann.
"I am really, really competitive," she said after that fateful meet.
Had things played out just a bit differently in that championship meet Jan. 31 at Vilseck, Ehmann might have ended her esteemed DODDS-Europe career with business left forever unfinished. Even as her competitors increasingly regarded her with something approaching awe, Ehmann has spent the past four years chasing the European individual overall title needed to lock in her legacy.
As a freshman in 2012, Ehmann helped Patch win the team championship but watched teammate Mercedes Romih take solo gold. As a sophomore, Christy Chanin and Vilseck eclipsed Ehmann and Patch in both the team and individual races. Last year Ehmann entered the tournament as the regular season's No. 1 shooter and clear favorite, but teammate and close friend Caelyn Miller edged her out with a 288 to Miller's 285.
All along, Ehmann was locked in battle not only with those worthy adversaries, but herself.
"In shooting you have to be absolutely still, emotionless," Ehmann said. "You can't let anything bother you. That one little thing can mess you up by one point. And one point's a lot."
Even as those points fell in others' favor, Ehmann's legacy grew. She finished in first place in every regular-season meet this season, pushing Patch's overall dominance of the sport to unprecedented heights.
Rivals shot for second while joking that she should move up to the Olympics to give them a fair chance.
Given that level of notoriety, it seemed impossible that Ehmann had something left to accomplish at the DODDS-Europe level as recently as late January. But going into the championship meet at Vilseck, that somehow remained the case. And some early anxiety in the title meet put her legacy at further risk.
"I think I just got myself a little too worried," Ehmann said. "I thought about it too much."
Ultimately, Ehmann calmed down, and her scores went up. She posted 103 points from kneeling position and 97.5 from standing, both the best in the field. Her 102.2 score from prone position placed her just one full point behind the tournament's top performer. Overall, Ehmann's 302.7 points ranked just above Miller's 300.9, enough to reverse 2014's order of finish and give Ehmann the paperwork needed to substantiate what anyone who'd been paying attention already knew.
There's not a shooter in DODDS-Europe sharper than Maggie Ehmann, the 2015 Stars and Stripes marksmanship Athlete of the Year.
Twitter: @broomestripes