DODEA-Europe cuts basketball and wrestling, adds volleyball and weightlifting
by
Kent Harris
October 5, 2020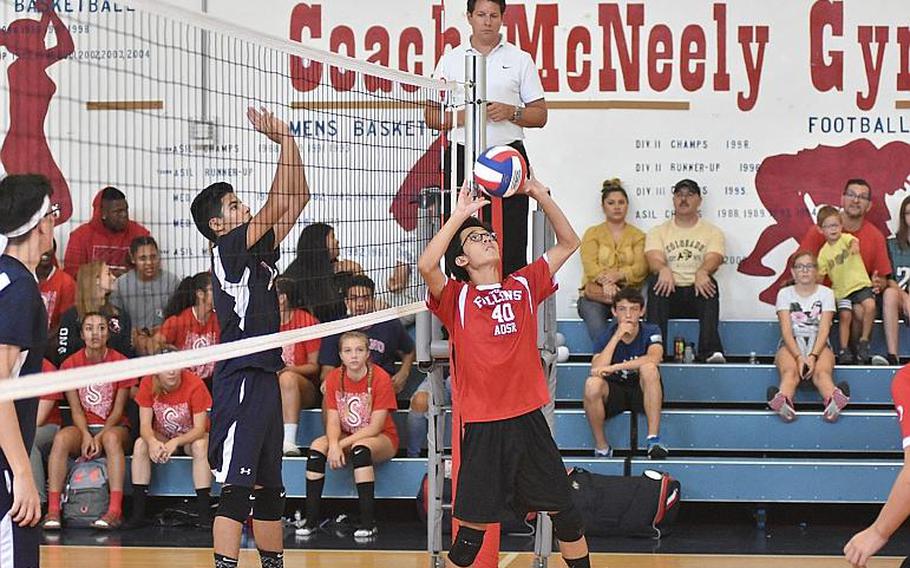 Stars and Stripes is making stories on the coronavirus pandemic available free of charge. See other free reports here. Sign up for our daily coronavirus newsletter here. Please support our journalism with a subscription.
Basketball and wrestling, two sports that always have been on the DODEA-Europe athletics calendar, won't be played this winter — the latest victims of the coronavirus pandemic.
Two other sports will take their places under a plan announced Monday afternoon by DODEA-Europe athletic director Kathy Clemmons.
Volleyball, dropped in the fall along with football in an attempt to curb the spread of COVID-19, will be offered in the winter – not only for girls but for boys. Clemmons said it's the first time the sport will be offered for boys in Europe outside of the Mediterranean. Weightlifting, a sport that hasn't been offered anywhere in Europe, will make its debut in December as well.
Clemmons said that while volleyball isn't regarded as high a risk for spreading the disease as a contact sport such as football, DODEA-Europe determined it would be better to limit the offerings in the fall to individual sports such as cross country, tennis and golf that are the lowest risk.
The fall season started weeks later than it has traditionally as DODEA concentrated on safely transitioning from virtual school into opening classrooms again, Clemmons said. That has largely been successful so far.
Scheduling and details for the winter season are still be worked out, Clemmons said. And local military commands may choose to either not have their high schools field teams or travel to play against rival schools as some have chosen to do during the fall season.
"There is nothing in stone," she said. "I think the schools, our athletes and parents all realize that."
Practices for winter sports are set to start Nov. 16, with two weekends of competitions likely before the Christmas break, similar to a normal winter season.
Clemmons, a longtime basketball coach before assuming her current duties, admits that the season will be far from normal, though.
"It's heartbreaking that we are not able to offer normal athletics to our kids," she said. "Pulling basketball and wrestling is just as excruciating as canceling football."
Marksmanship, traditionally the third sport in the winter in Europe in terms of participation, will be the only carry over. Weightlifting is the one with the most details to flush out, including which disciplines will be offered and how many athletes will compete in an event.
Boys volleyball, played by all four DODEA schools and three international schools in Italy, is also played by DODEA schools in Korea and some in Japan. Clemmons said she's heard interest from several schools in Germany over the years about fielding teams and now they'll get the chance.
She said any determinations on a spring schedule will be made later.
"We're just going to continue planning until someone says: 'Nope, not doing it,' " she said.
harris.kent@stripes.com Twitter: @kharris4stripes