Boys soccer - Day 1
Defending champs not ready to give up crowns
---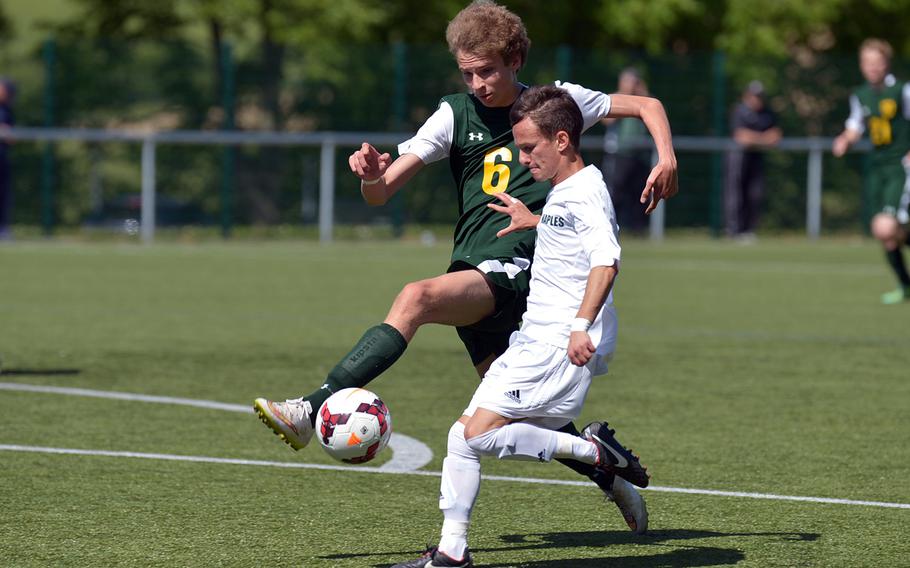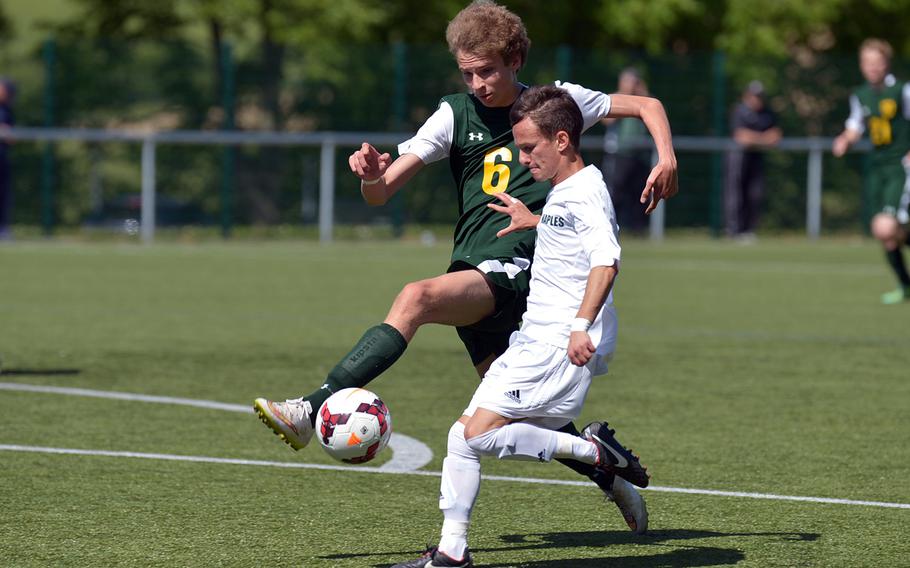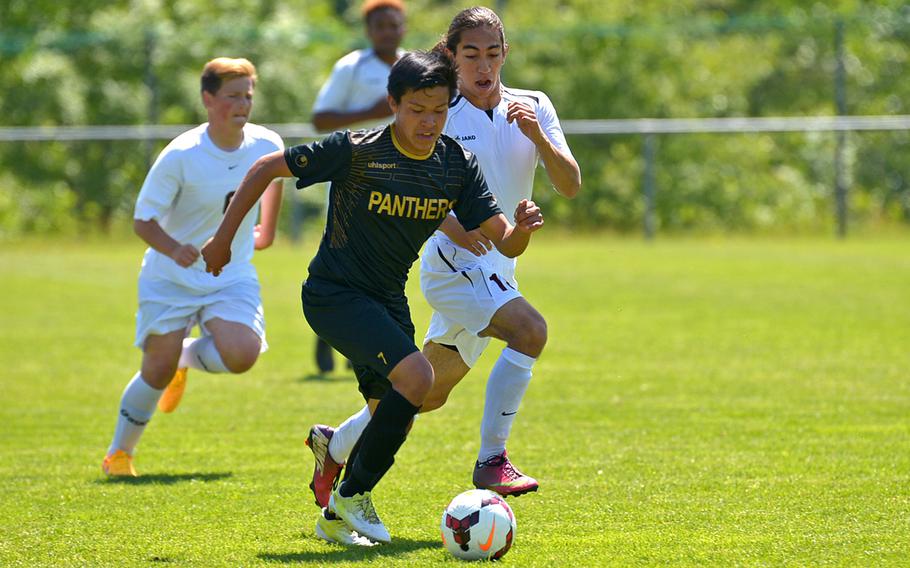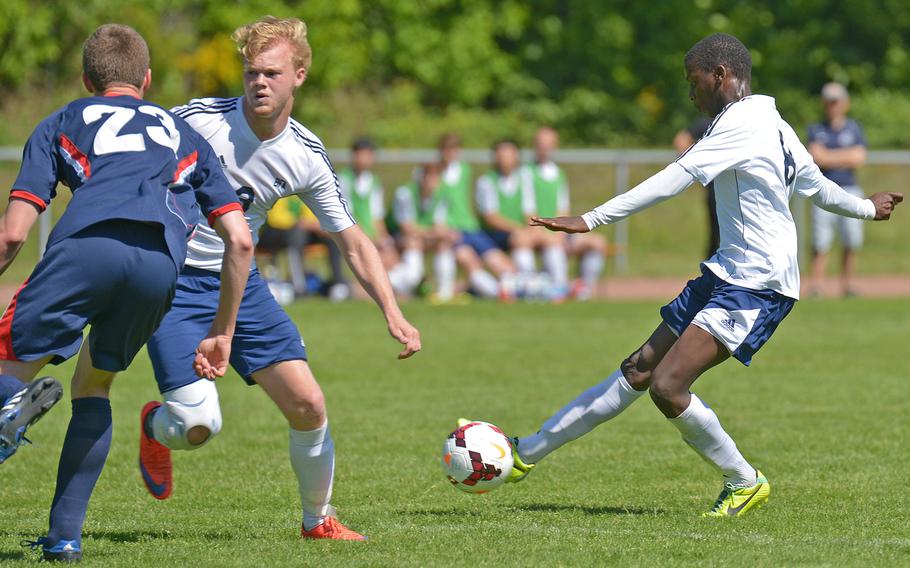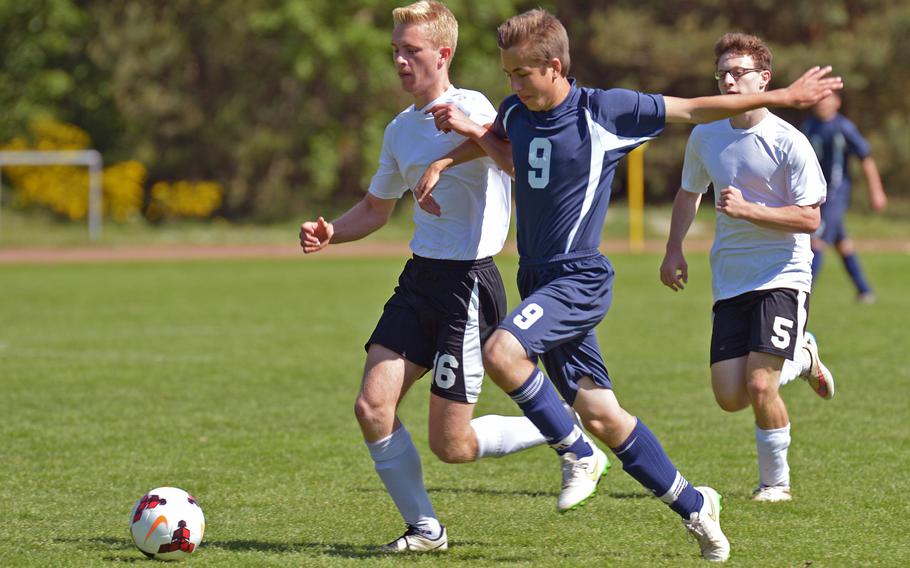 Resilient defending champions in both brackets headlined the first day of the DODDS-Europe boys soccer championships, played Monday at sites around the Kaiserslautern Military Community.
Division I Ramstein and Division II Marymount each posted a pair of shutout victories to open pool-play competition, easing their respective roads to the semifinals and the opportunity to defend their championships.
The Division III bracket opens and Divisions I and II continue pool play on Tuesday. Three European champions will be crowned Thursday at Kaiserslautern High School.
Division IVicenza 2, Wiesbaden 2: A pair of rising young contenders scrapped to a draw.
As teams across the newly expanded Division I rebuild around non-senior talent, the tournament offers valuable experience for future championship runs.
"I think that for all these teams that have a majority of underclassmen...we're doing very well together," Wiesbaden junior Asante Lattimore said. "I think in a couple of years these teams will be really good."
Sophomore Alex Hanes and senior Andrew Thomas scored for seventh seed Vicenza. Sophomore Jaedon Schwartz and junior Eric Arnold produced sixth-seeded Wiesbaden's goals.
The Cougars were a Division II team until this season's realignment. Hanes has taken immediate note of the new large-school competition.
"The level of play is definitely a little bit higher," Hanes said. "Just have to keep striving and hope for the best."
The Cougars played to a second draw later Monday afternoon, a 1-1 tie with Patch. Wiesbaden earned a quality win with a 2-1 upset of third-seeded International School of Brussels.
Patch 7, Vilseck 0: The second-seeded Panthers placed six different players in the scoring column of a wire-to-wire rout.
Dan Bacskai scored twice for Patch, while Micah Williams, Liam Houlgate, Faouzi Diarrassouba, Tyler Kearny and Judge Morgan added one goal apiece.
The well-rounded offense was exactly what the Panthers were looking for on day one of the tournament.
"I think we did a good job today of just passing really well," Patch midfielder Matt Christenson said. "I think that's going to be key in the more high-intensity games."
Ramstein 3, Kaiserslautern 0: A humble fifth seed didn't deter the reigning champs from finding the top tier of the first-day field.
Fans from both local schools lined the hilltop field in Reichenbach-Steegen as the Royals blanked the archrival Raiders in a rematch of last year's title game.
The win was the second shutout of the day for the defensive-minded Royals, who beat Lakenheath 2-0 earlier Monday.
Ramstein's Tuesday afternoon matchup with top seed Naples now looms larger than ever. The Wildcats handled SHAPE and Lakenheath in a dominant opening day.
Division IIAviano 2, American Overseas School of Rome 1: The seventh-seeded Saints pulled off a minor upset with a win over the sixth-seeded Falcons.
Not that Aviano sees it that way. Seasoned by a rigorous regular season schedule, the Saints are undeterred by their spot in the lower half of the bracket and eager to show what they can do.
"We're not worried about that," Saints forward Lorenzo King said. "We just play our game.
"We're confident in each other."
King and fellow junior Kyle Kochan scored goals for the Saints.
The Saints fell short in a second upset bid, losing to BFA 2-0. BFA posted another shutout later in the day, a 5-0 drubbing of Bitburg.
AFNORTH 6, Bitburg 0: The Lions finished third two years ago. They were runner-up in 2014. That, they say, puts them in line for the title.
"You can follow the sequence," midfielder Claudius Karich said. "Hopefully this is our year."
Karich scored two goals in support of a career-high four- goal effort by fellow senior Eren Yabici as AFNORTH launched its title bid by blanking the Barons.
"We're here to win it this year. This is our last chance," Yabici said. "We don't want to graduate without winning this."
AFNORTH's title hopes took a hit later Monday in a 3-3 tie with AOSR.
Marymount holds serve: It wasn't quite a show of dominant force, but the reigning dynasty of Division II recorded a pair of shutout wins.
First the Royals beat Ansbach 3-0, then edged upstart Bahrain 1-0 to escape the day unscathed.
Marymount's schedule gets tougher Tuesday with games against No. 4 Hohenfels and No. 5 Rota. Hohenfels was impressive Monday in a 2-0 win over Ansbach and a 5-0 blowout of Rota.
Twitter: @broomestripes
---
---
---
---