Caserma Ederle summit proves valuable look at rarely seen division rivals
By
Kent Harris harris.kent@stripes.com
January 30, 2016
---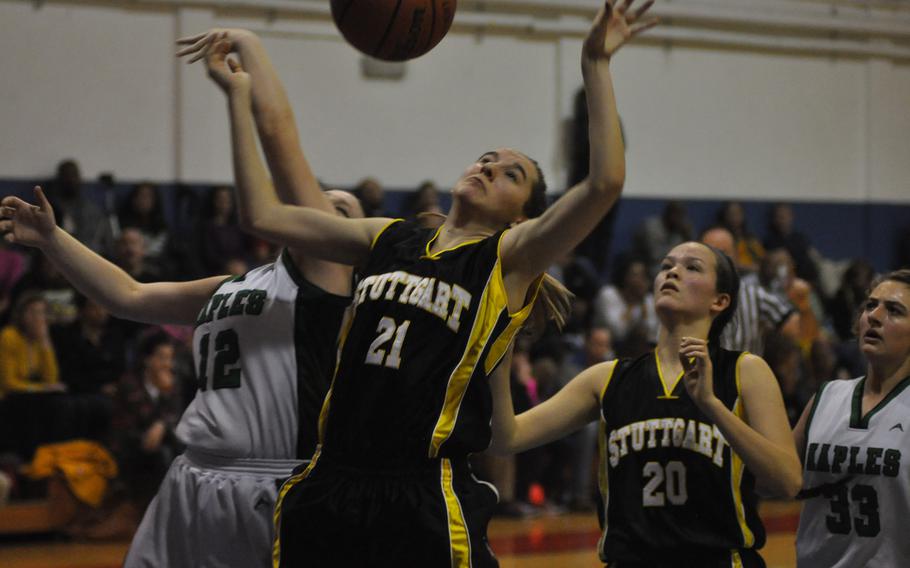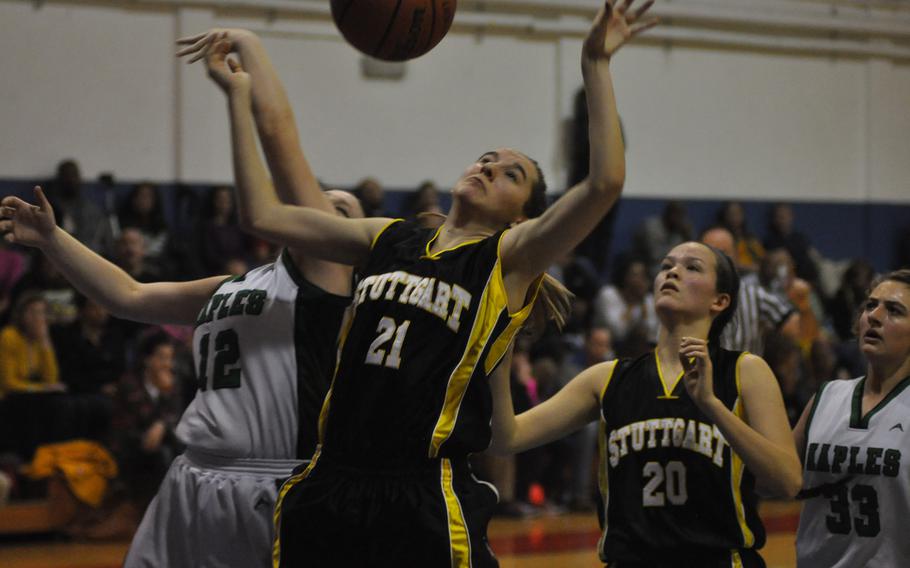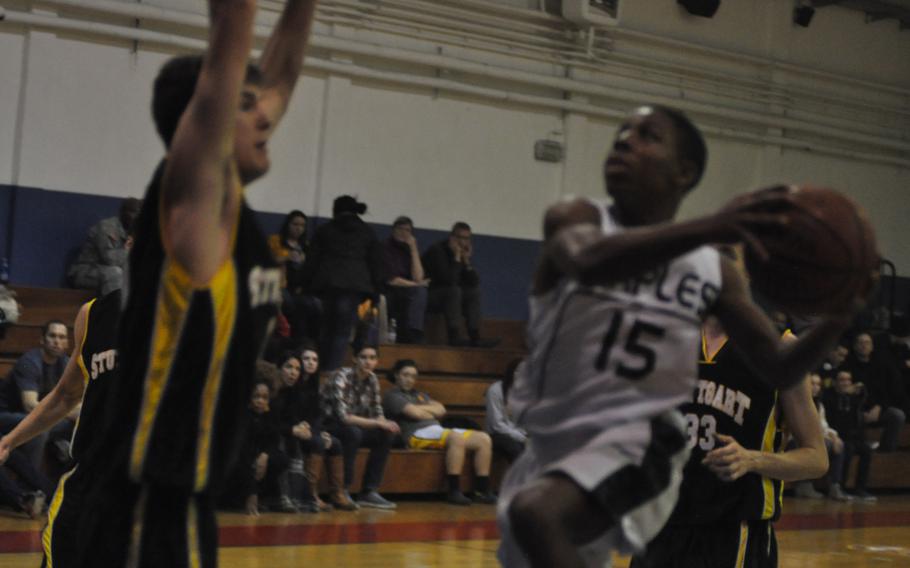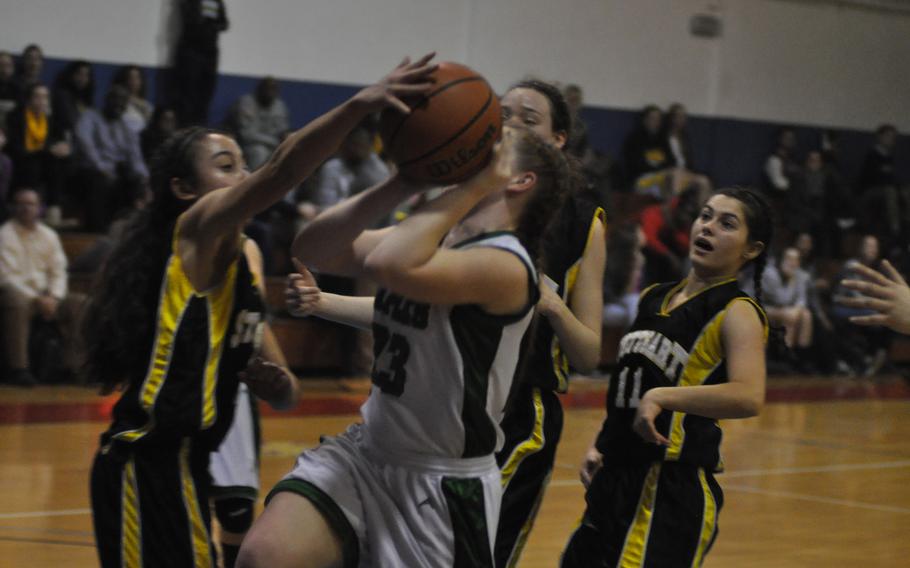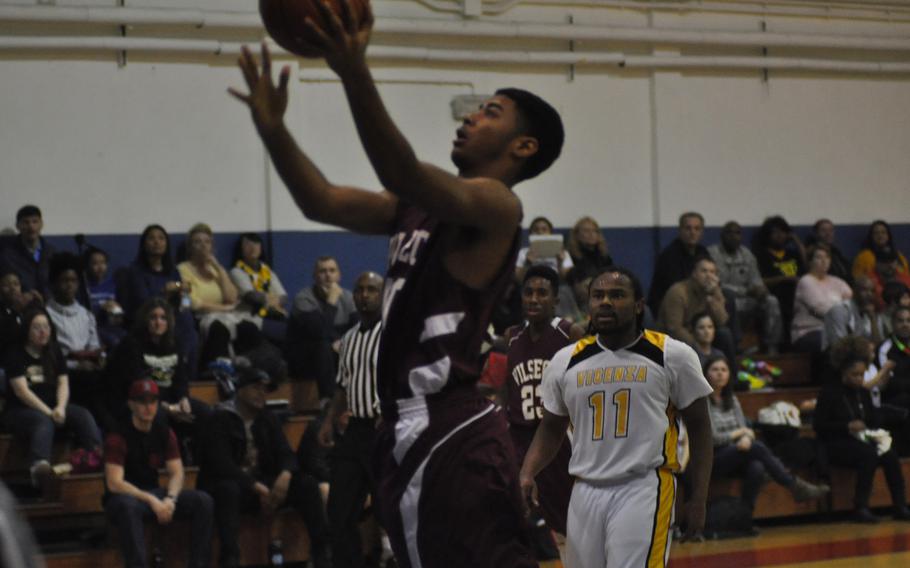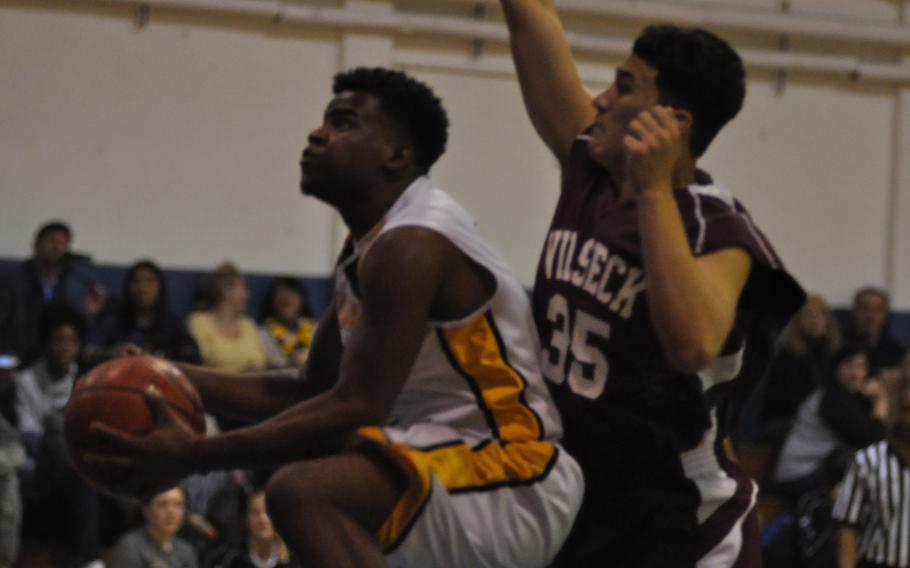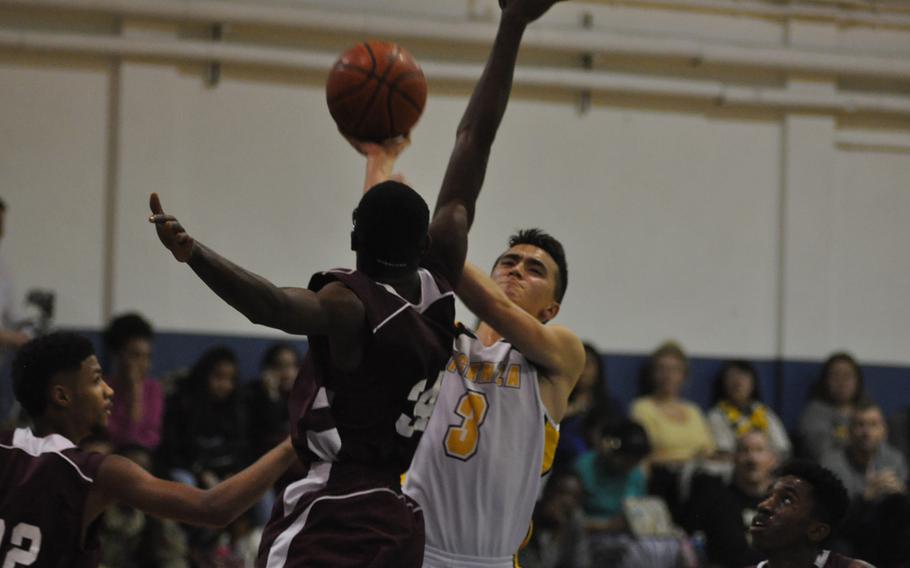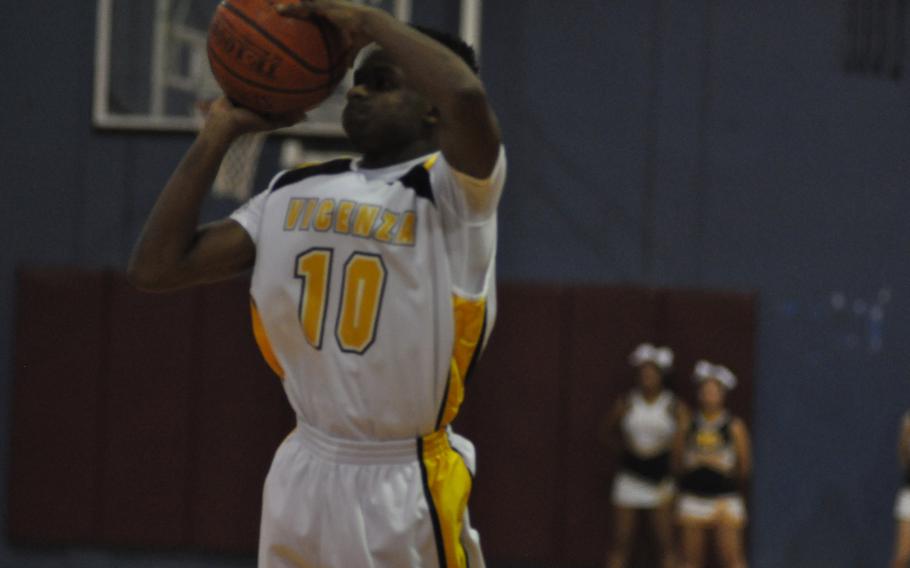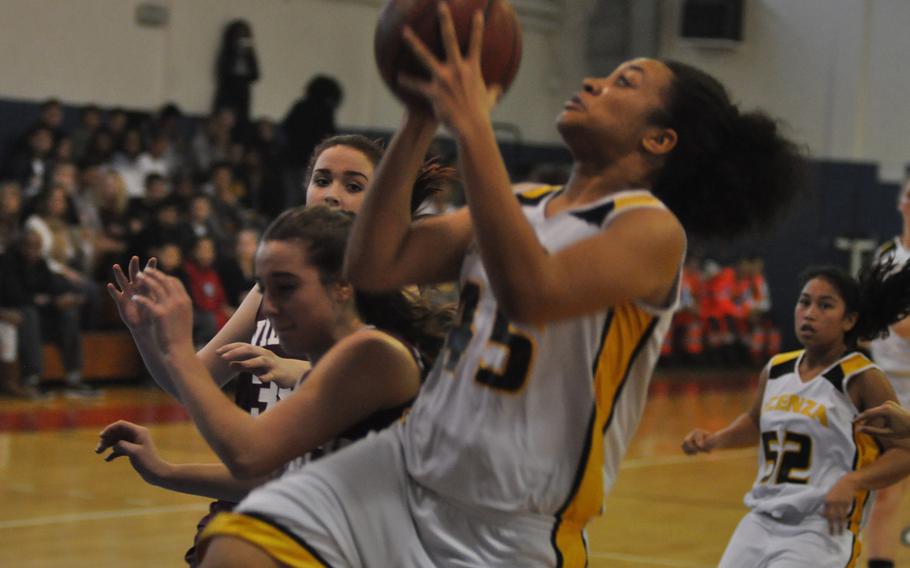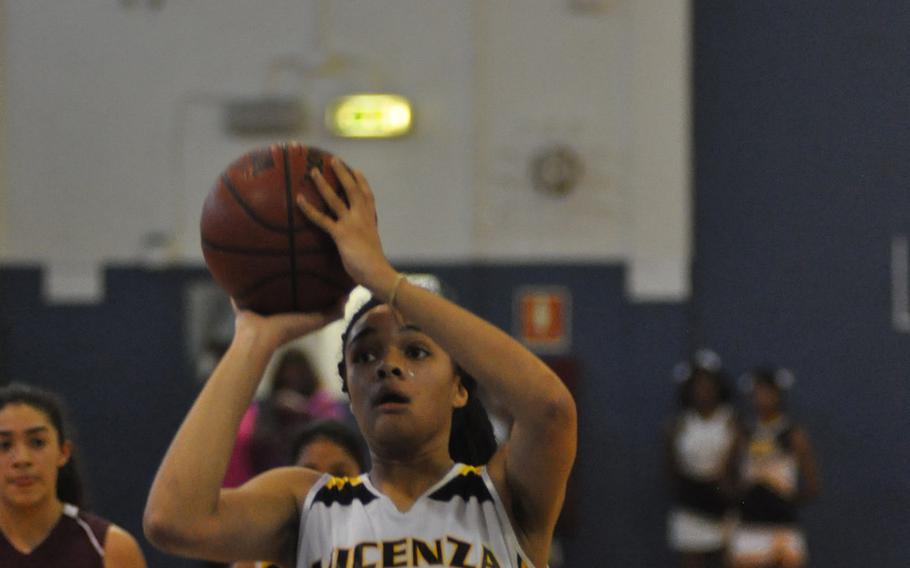 VICENZA, Italy – Those looking for a common theme from Day 1 of an eight-team basketball summit at Caserma Ederle had to do some searching.
One game was a blowout from the start. Another came down to the final seconds. A third saw one team gradually pull away from another. And the final game saw one team self-destruct in one quarter that proved to be the difference.
The common theme? Everyone seemed to think it was a good idea for Stuttgart and Vilseck to travel south over the Alps to take on the host Cougars and Naples in a two-day event that gave all participants a rare look at non-country Division I foes they'll be facing at the European championships.
Girls
Vicenza 45, Vilseck 5: Buzzer-beating shots are often a good thing for the team that makes them. But they're not a good thing if that's almost literally all that goes in during a game.
That proved to the case for Vilseck, which was totally overmatched against the Cougars, who appear to be a co-favorite with Ramstein with less than a month to go in the regular season.
"Their starting five is on par with Ramstein's for the best in Europe," Vilseck coach Adrian Crawford said of the unbeaten Cougars, who scored the first 18 points of the game and only allowed Nia Binning's three-point heave as the first quarter expired in regulation play. The Falcons scored another basket in a fourth period played with a running clock.
Freshman Jordan Wakefield led the Cougars with 12 points in limited playing time, while Adrianna Lovelace and Emma Knapp each added 10.
"We've been looking forward to this weekend for a while to see what DI has to offer," said Vicenza coach Greg DeJardin, whose team's only other DI games are against Naples.
The Cougars should have a tougher game Saturday against Stuttgart, whose only losses have been to the Royals.
Stuttgart 36, Naples 19: Panthers coach Melody Green has three words to sum up her squad: "Chemistry, unselfish, hustle."
All three were in evidence against the Wildcats, who had trouble getting putting points on the scoreboard.
Marissa Encarnacion, the two-time reigning DODDS-Europe girls tennis champion, showed a pretty stroke on the hardwood as well, scoring eight points. The junior point guard also added six rebounds, three assists and six steals. Abby Zipperer (seven rebounds, three assists, three steals) and Gabby Garcia (three assists) also scored eight for the Panthers, who led 14-3 after a quarter, 24-8 at halftime and 31-10 after three quarters.
"Just playing games is good for us," Naples coach Tim Smith said.
Boys
Vilseck 52, Vicenza 48: It was a two-point game with 19 seconds left, but Terron Sizemore hit a pair of free throws and the Cougars never got up a shot during their final possession.
Vicenza led 14-6 after a quarter, but the Falcons gradually chipped away at the lead and the game was tied at 33 entering the final period.
Despite the relatively low score, nine Falcons and eight Cougars scored as both teams liberally substituted, especially in the first half.
Vilseck coach John Sabala gave credit to post players Mario Matthews and Brennen Haight for asserting themselves in the second half. They combined for 16 points and 10 rebounds.
"Everyone who came in had a positive," he said of the team's first DI win. "Any five on the court can win the game for us."
Naples 51, Stuttgart 38: The Panthers held their own for three of the fourth quarters against the unbeaten Wildcats. But that wasn't the case in the third period.
Leading 30-25 at halftime, Naples took advantage of nine Stuttgart turnovers to score a series of layups. The Panthers turned the ball over only four times in the first half, consistently working the ball inside to center Daniel Wettlesean (13 points, 11 rebounds). But they couldn't keep up with the quicker Wildcats once they started turning the ball over.
"You can't get it inside if you can't bring it up the court," Stuttgart coach Bill Lassetter said, adding that his team is averaging more than two dozen turnovers a game. "We'll be tough by tournament time, but we're just making baby steps now."
The Naples duo of Karrington Evans (19) and Terrell Staten (17) led the way. Evans scored many of his points on layups after turnovers, while Staten was responsible for most of the Wildcats' points in the halfcourt offense.
Naples coach Craig Lord said the Wildcats are a much better team when they're running.
"That's the way we have to play," he said. "That's our strength. Speed and defense won the game tonight."
---
---
---
---