D-III boys championship
Brussels boys follow girls' cue to complete sweep
---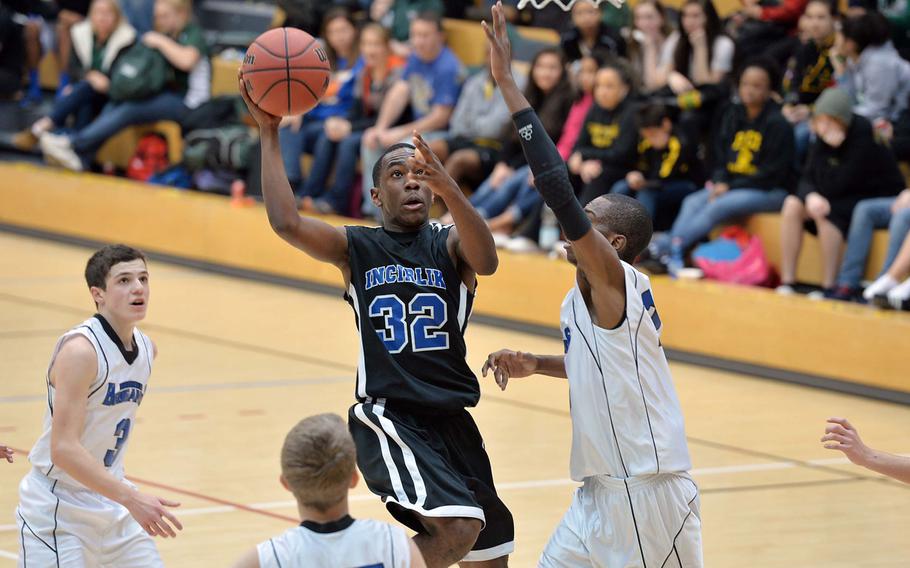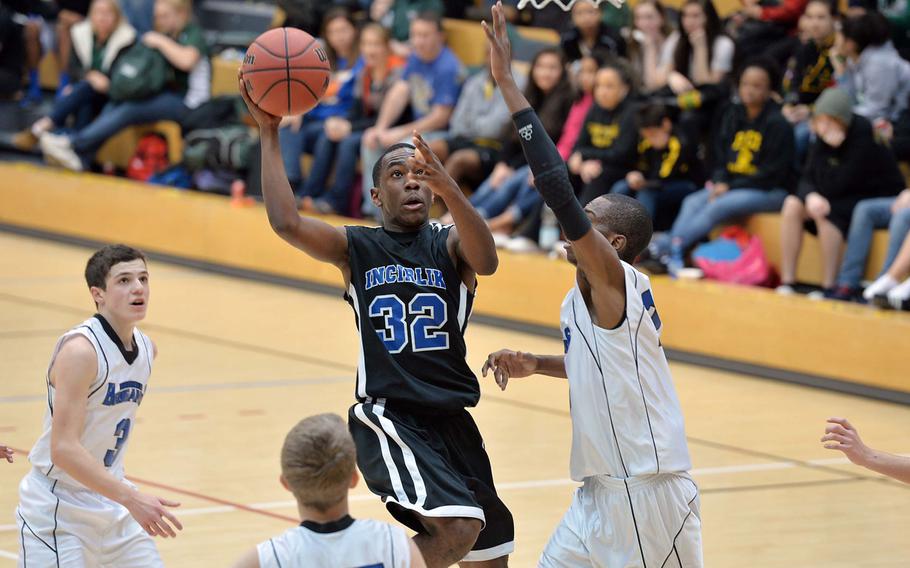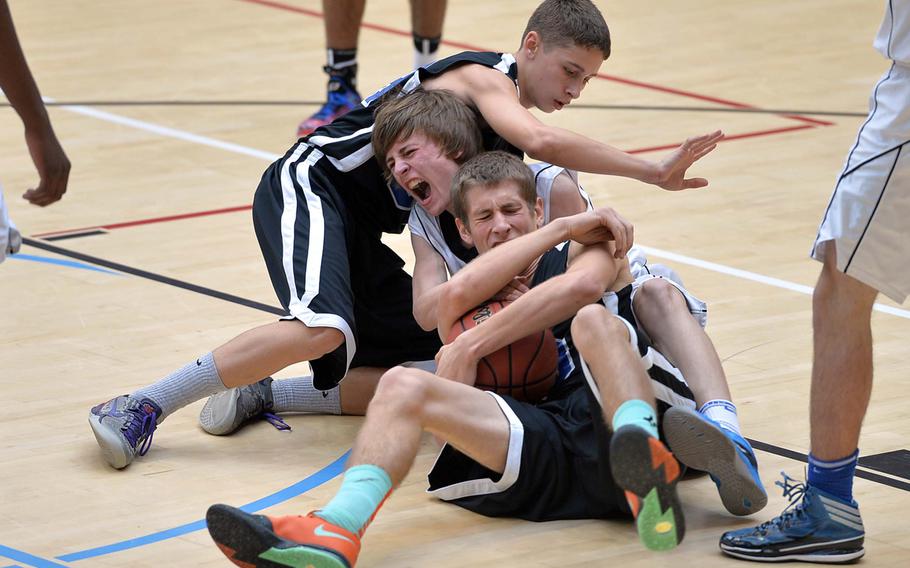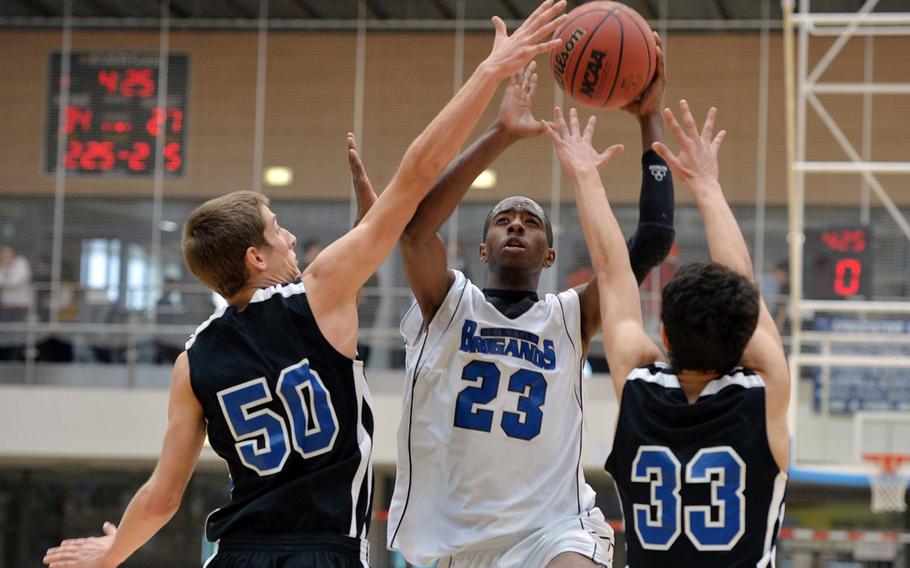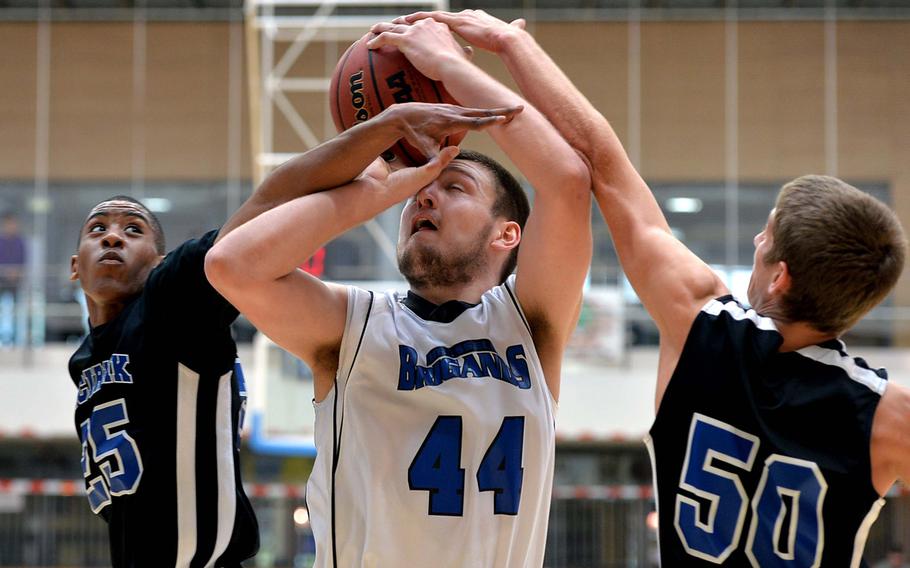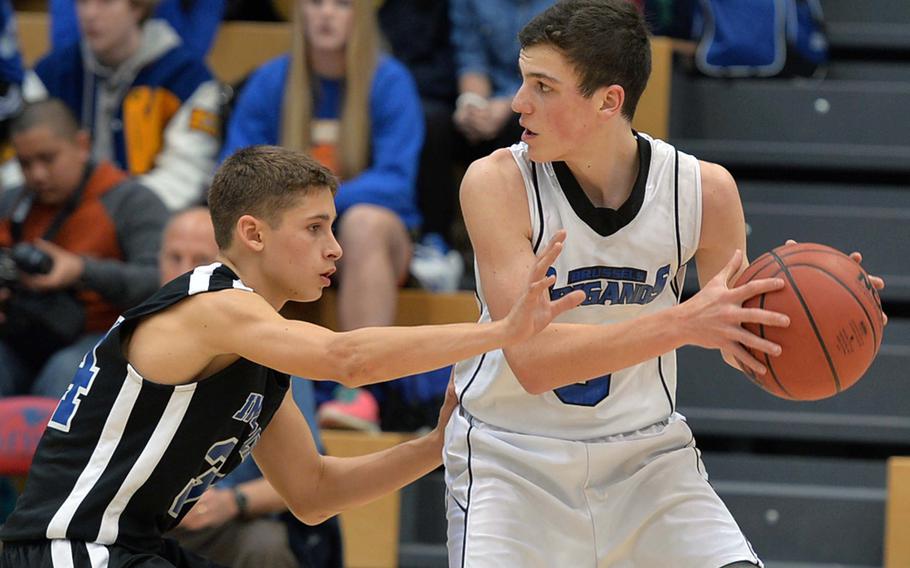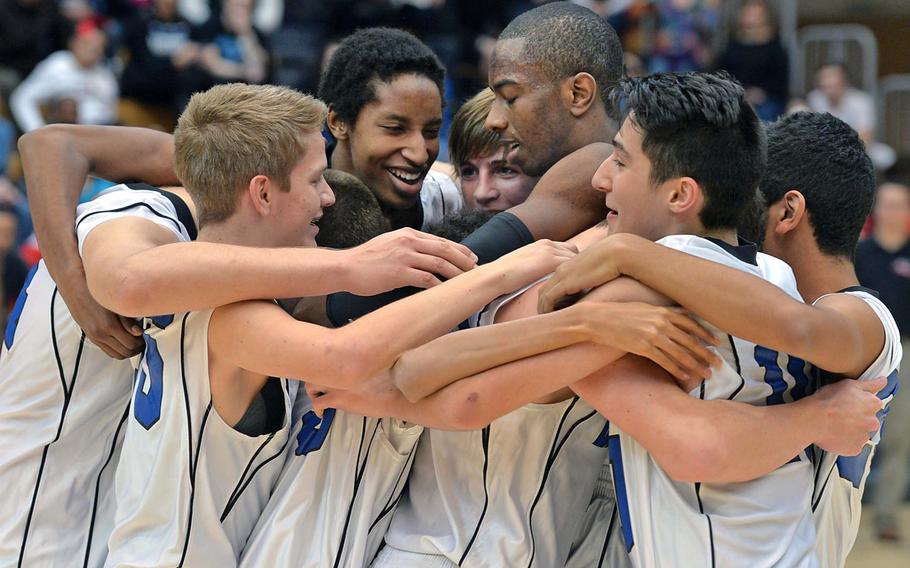 WIESBADEN, Germany – Brussels completed its sweep of small-school basketball Saturday as the Brigands beat the Incirlik Hodjas 41-33 to win the DODDS-Europe Division III boys championship.
The game tipped off just moments after the Brussels girls team claim a title with a thrilling overtime defeat of Sigonella. But the Brigands, who bounced anxiously in the corner of the gym as their classmates claimed a championship, subdued their excitement and took the court with an air of calm proficiency.
"Seeing the girls win, it was pretty exciting," senior Javaughn Harrison said. "I just tried to keep my cool and go out and play."
That's precisely what the Brigands did. The top-seeded squad gleaned quality shots from nearly all of their first-quarter possessions. Harrison made a driving layup, drained a mid-range jumper and converted an offensive putback. Forward Matt Proulx established deep position in the paint, drew two fouls and sank three free throws. Harrison found Michael DeFazio for a corner three-pointer, his second deep ball of the early going.
Brussels coach Chris Vahrenhorst said watching the girls win helped his team avoid its propensity for slow starts.
"I think it jazzed them up," Vahrenhorst said. "Sometimes they come out flat."
The Hodjas, whose remote Turkey campus prevents them from playing a proper DODDS schedule, didn't fare as well under the brightened lights, losing scoring opportunities to bobbled passes, fast-break travelling violations, off-ball fouls and missed free throws. The cumulative total: a 15-5 Brussels lead through eight minutes.
But while nerves were a problem for Incirlik, determination and heart were not.
The Hodjas battled back to within five points at halftime, and trimmed the lead to a single point midway through the third quarter.
When the Brigand lead grew to eight near the end of the third quarter, Hodja sophomore guard Adrian Robinson banked in a buzzer-beating three-pointer to slice it back to five entering the final eight minutes.
Incirlik hung around close enough to send the Brigands on a parade to the free-throw line in the final minute. But Harrison coolly knocked down two free throws with 30 seconds to play that pushed the lead to six and iced the game.
"We had a lot of turnovers to start the game. It certainly looked like we had some nervousness," Hodjas coach Kevin Lehde said. "I'm proud of them. They played hard, they never gave up."
Proulx wasn't surprised at the Hodjas' refusal to concede. A similar script played out when the teams met in pool play Thursday, with Brussels eking out a 34-29 victory.
"We knew what we had to do. We played them before, we beat them before," the senior forward said. "They're a really good team. I'm not surprised they stayed in it."
DeFazio led all scorers with 15 points, including four three-pointers. Harrison had a 12-point, 14-rebound double-double along with four assists and three blocks. Proulx added eight points and nine rebounds.
Cameron Little led Incirlik with 14 points, while Jonathan Catchings added 10.
Twitter: @broomestripes
---
---
---
---