Boys basketball roundup
Baumholder stays hot with sweep of Brussels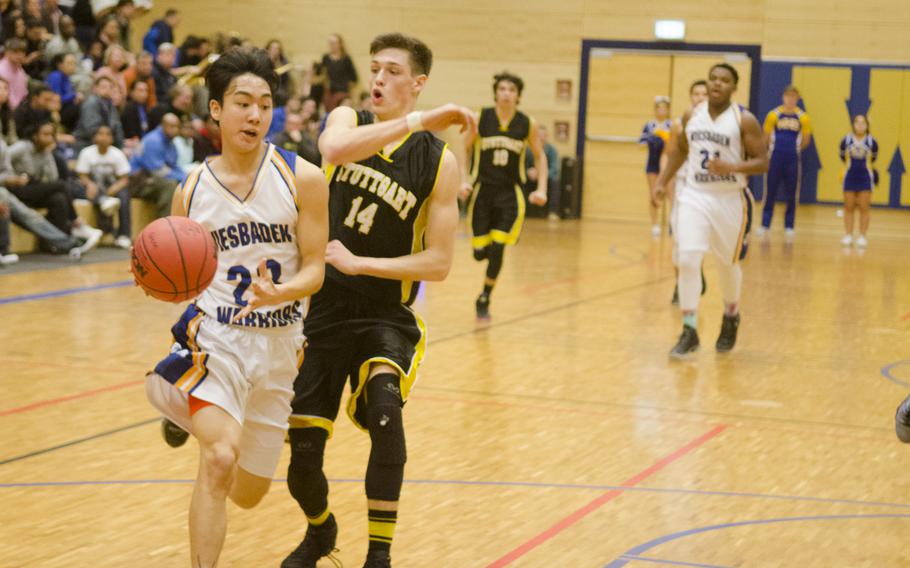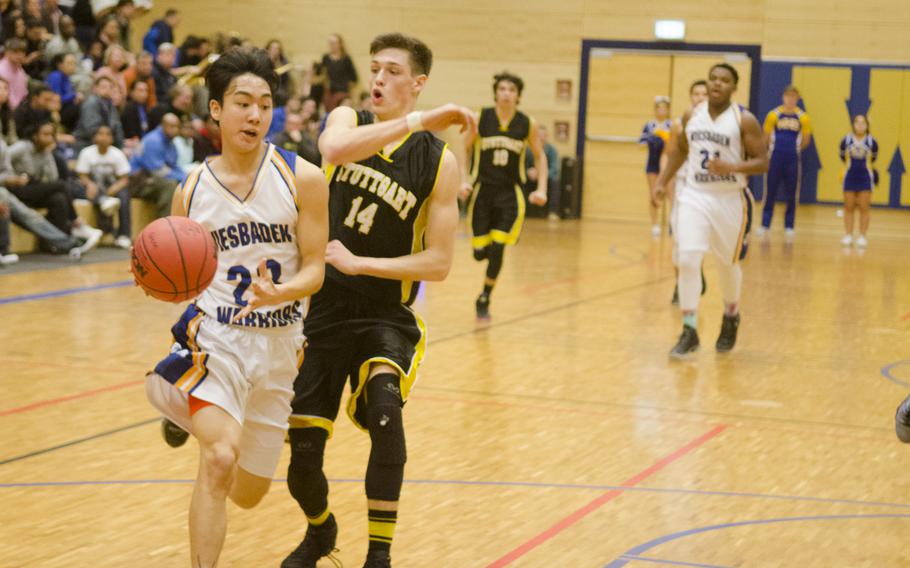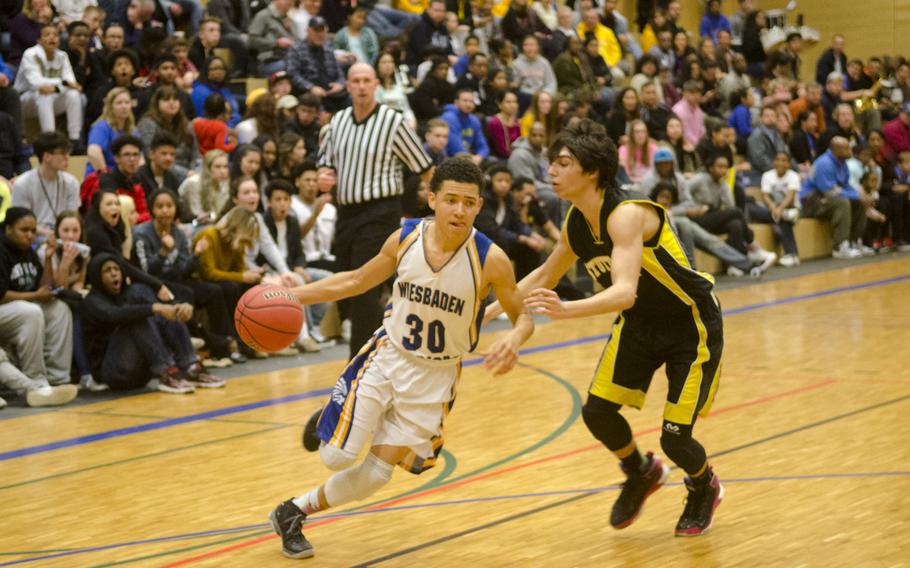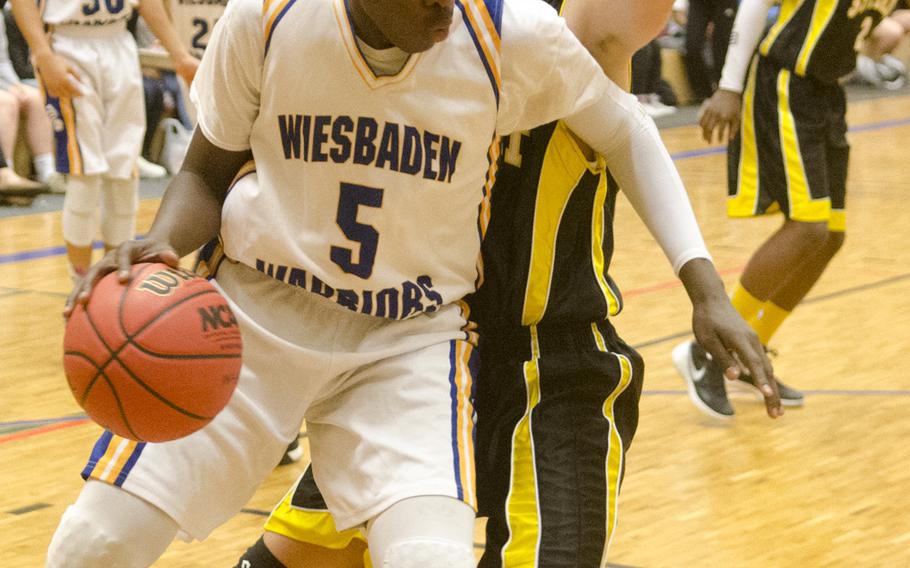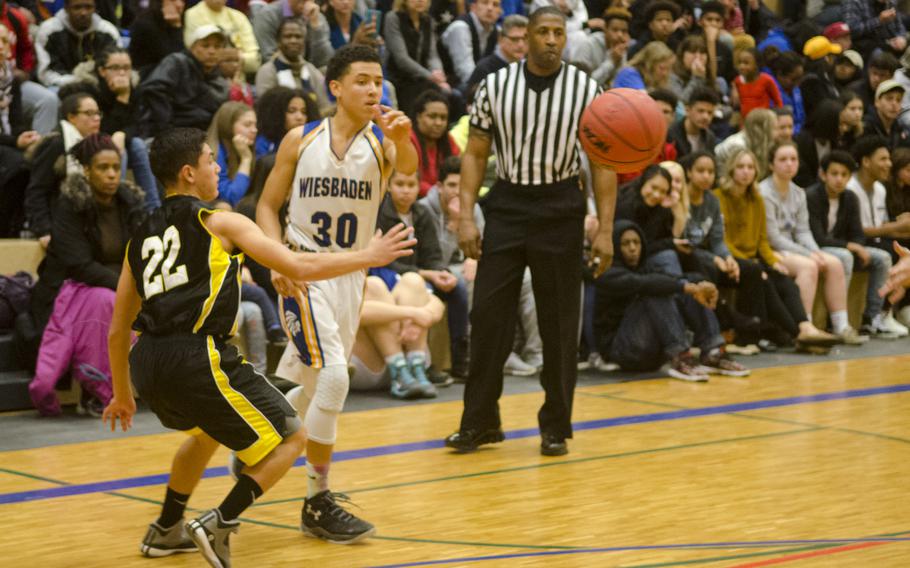 The Baumholder Bucs continued their recent hot streak with a weekend sweep of Division III rival Brussels, taking the wins by scores of 48-33 and 45-31.
Baumholder has won five of the six games its played since the holiday break, with only a one-point loss in a split with Division III rival Alconbury marring the run.
Sophomore Nathaniel Horton poured in game-high scoring totals in both games, posting 20 on Friday and 21 on Saturday, and added seven rebounds in each game. Lester Jungbluth dished out a combined 15 assists on the weekend, and Trey Kendrick grabbed 26 total rebounds.
Baumholder built big early leads in each game, outscoring its host 15-3 in Friday's first quarter and 17-6 in the same span Saturday.
Michael DeFazio scored a combined 23 points for Brussels, while Callum Proulx put up a 12-point, 13-rebound double-double on Saturday.
Bitburg 38/64, AFNORTH 37/40: At Spangdahlem, a pair of explosive scoring efforts from DeJhon Williams paced the Barons to a Division II sweep.
Williams scored 28 points in Friday's narrow one-point win, making five of six three-point attempts in the first half. He poured in another 25 points Saturday, adding six assists and seven steals to his stat line.
Lion star Logan Harless enjoyed his own standout performance in a losing effort. Harless scored 21 points Friday and 22 on Saturday.
The wins snapped a five-game losing streak for Bitburg.
Ramstein 49/60, Black Forest Academy 34/49: At Kandern, Germany, the defending Division I champions withstood a formidable challenge from the Division II Falcons.
BFA hung with the unbeaten Royals in the early going of each game, necessitating a Ramstein run to create separation. That run came in the third quarter Friday as the Royals strung out a one-point halftime lead to seven entering the fourth quarter; a 21-9 second-quarter run Saturday put Ramstein in control of the rematch.
Mitchell McKinney posted a 20-point, 10-rebound double-double for Ramstein on Friday. Keith Little took the lead Saturday with 17 points, including four three-pointers.
Noah Greathouse scored a combined 33 points to pace the Falcons.
Wiesbaden 63/56, Stuttgart 37/54: A buzzer-beating jumper by Isiah Washington earned the Warriors a home-and-home sweep. Washington's clutch shot earned Wiesbaden the two-point win Saturday at Stuttgart, a far tougher victory than the blowout the Warriors recorded Friday at home.
The decisive bucket capped a 30-point weekend for Washington, including 16 on Saturday. Charles Cobbs scored a game-high 20 in Friday's win.
Tristen Phelps scored 16 on Friday and Daniel Wetlesen a game-high 19 the next day to pace the Panthers.
Naples 60/60, Sigonella 24/35: At Sigonella, the unbeaten Wildcats recorded a pair of blowout wins.
The runaway victories moved Naples to 12-0 on the season, placing it alongside 11-0 Ramstein as the only remaining undefeated teams in Division I. The Wildcats face Aviano next weekend in the last two games on their regular-season schedule. Jason Berlin scored a combined 23 points to pace Division III Sigonella.
Aviano 50/50, Florence 19/13: At Florence, Aaron Island and Brandon Vigil led the Saints to a painless sweep of the Boars. Island scored a combined 28 points on the weekend while Vigil totaled 24 to provide the bulk of the Aviano offense.
The Saints enter a tough season-ending stretch run featuring games against Division I opponents Naples and Vicenza.