D-II boys final
Bahrain topples Marymount dynasty in shootout
By
Jennifer H. Svan svan.jennifer@stripes.com
May 21, 2015
---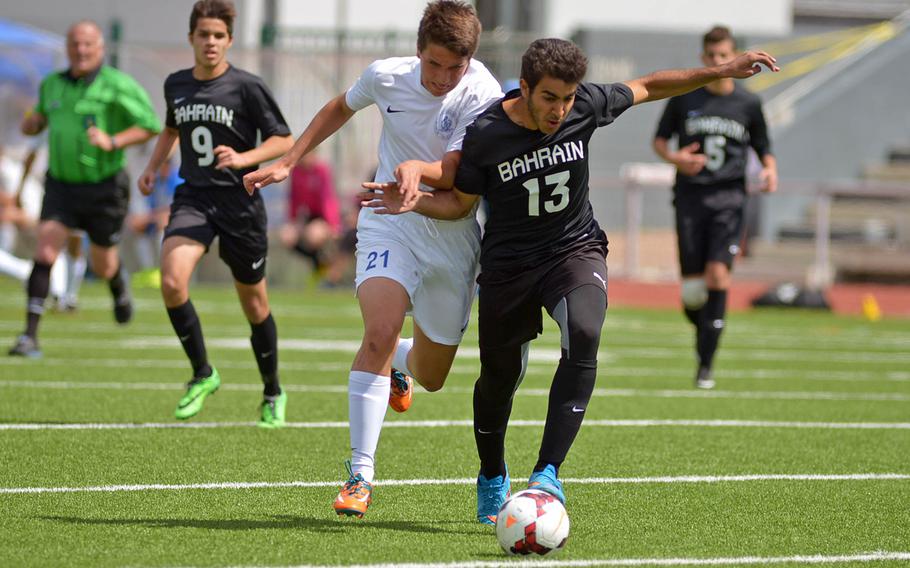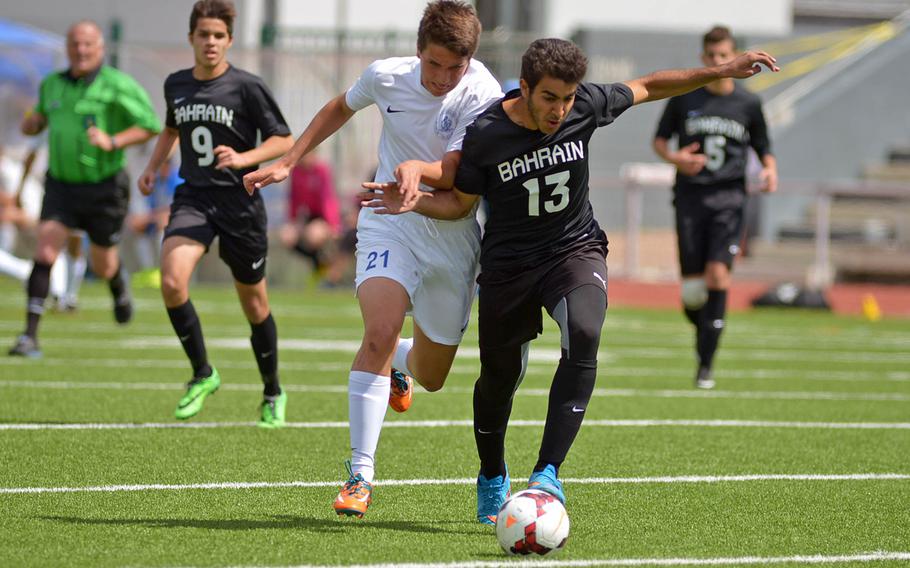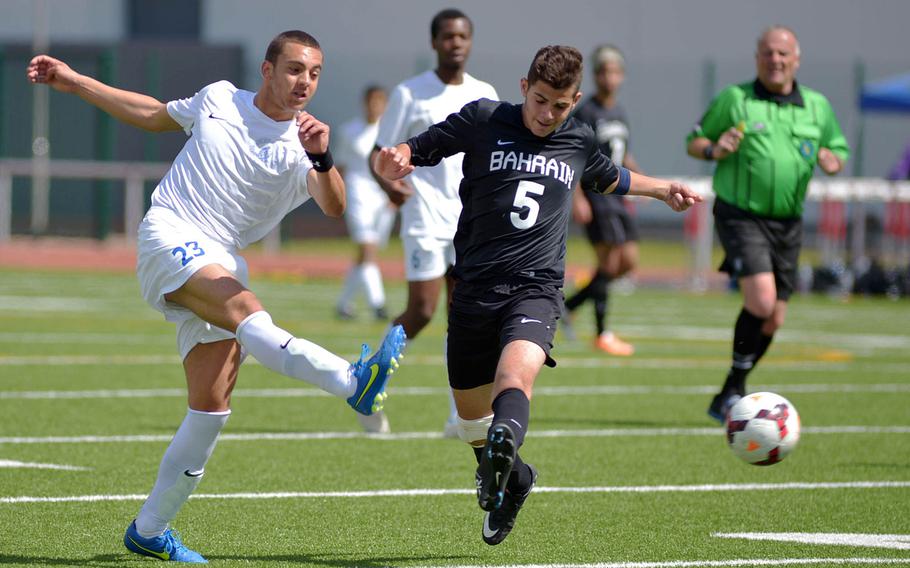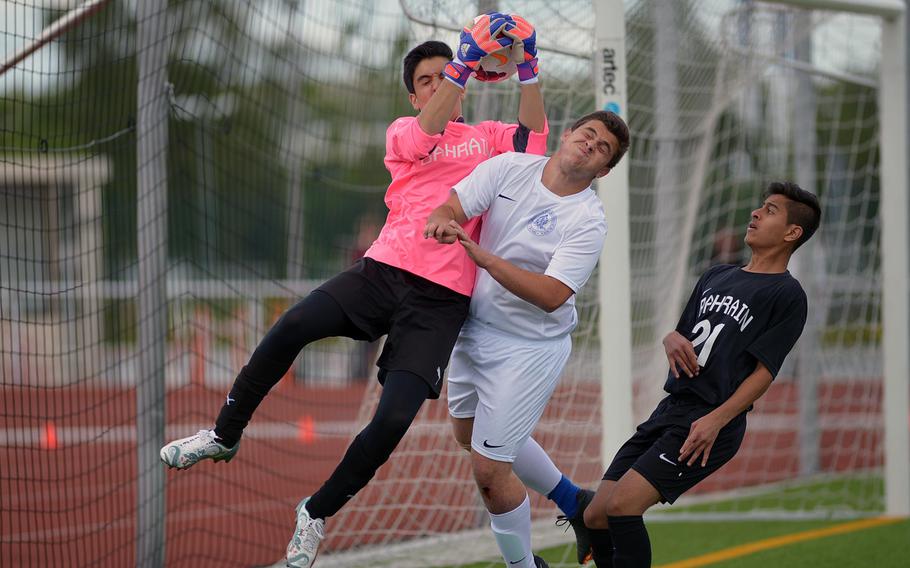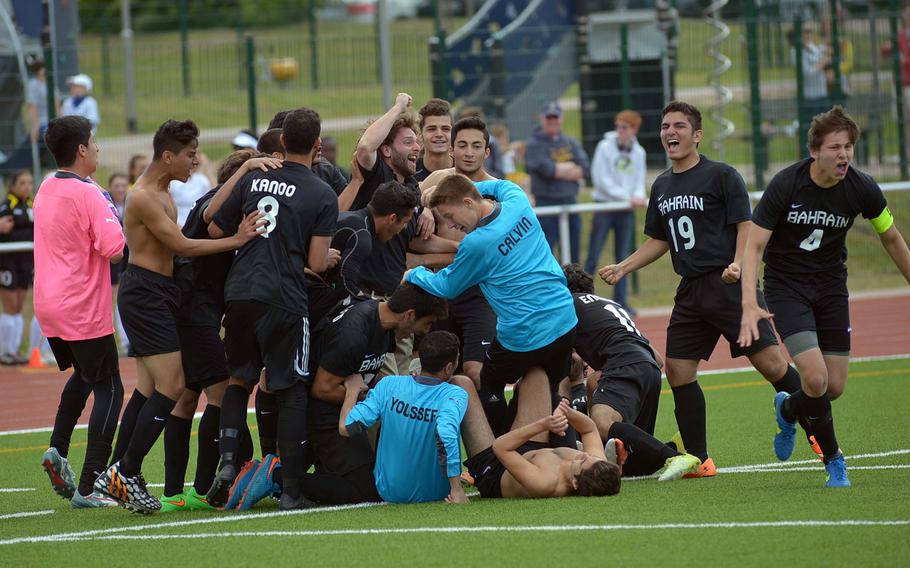 KAISERSLAUTERN, Germany – The Bahrain boys' soccer team achieved the seemingly impossible Thursday by beating four-time defending European champion Marymount in the Division II finals.
It was an emotional win for the eighth-seeded Falcons and one for the record books, marking the first time a Bahrain school has brought home a DODDS-Europe championship in any sport, DODDS officials confirmed.
But it wasn't easy, nor was it quick.
After battling to a 1-1 tie through 80 minutes of regulation, neither team was able to break the stalemate during two subsequent 10-minute overtime periods.
The deadlock sent the game into a tense penalty-kick phase, with each side getting five shots on goal.
Both teams nailed their first four shots with relative ease.
But on the fifth attempt, the reigning champ and the tourney's No. 1 seed finally faltered when junior defender Germano Piccirilli's kick sailed just above the top bar.
Bahrain had one more penalty kick, with a season and a championship on the line. When senior midfielder Yazen Saleh drilled it past Marymount goalkeeper Giammaria Montella, a wild celebration broke out on the field among the Falcons, with players jumping up and down, hugging one another, and ripping off their shirts.
Many of the Royals, meanwhile, hung their heads, fighting back tears even as they lined up to shake hands with their opponents.
"Of course, we are heartbroken. Losing on penalties in the finals" is tough, said Marymount's Lotanna Mba.
For Bahrain, a penalty-kick victory didn't sour the jubilation.
Winning the title was "my dream," Saleh said. "It's the best moment of my life right now. I can't wait to tell my mom."
Senior standout Adeeb Qaisi, who was named the tourney's most valuable player, said the Falcons felt like this was their year.
"We believed that we could do it and finally we did it," he said.
Bahrain coach Brian Zimmer said he saw the potential of this year's squad, but a DODDS-Europe title "wasn't a certainty by any means. It was a rocky road, I'm not going to lie, but they just grew and grew.
"I'm so proud of the guys," he said. "They showed a lot of heart. It's a dream came true."
Zimmer said over the six years he's coached the Falcons, he's seen steady improvement, only to be thwarted in recent years by Marymount in tournament play. Marymount disposed of the Falcons in pool play earlier in the week 1-0 - the same score by which the Royals beat Bahrain in last year's quarterfinals.
In Thursday's finals, it looked like history might repeat itself. About 14 minutes into the first half, Mba drilled the ball past Bahrain's stingy goalkeeper Abdulaziz Kanoo on a free kick, putting Marymount up 1-0.
But Bahrain finally ended its scoring drought against the Royals with a perfectly-placed shot by Saleh that sailed down the middle over the towering Montella with about 9 minutes left in the first half.
Mba said after the game that the Royals thought their early 1-0 advantage would hold. "We didn't think they'd be able to score on us," he said, given the teams' previous matches.
But even after a scoreless second half, Mba said the Royals still felt confident.
"We thought we had more energy than they did going into overtime, but we just couldn't break through their defense," he said.
The Royals felt the pressure with a fifth-consecutive European championship on the line.
"Whenever someone comes into the finals against us, they have nothing to lose. We have a legacy to lose." Mba said.
Nevertheless, "I'm proud of my school and proud of my team. I play my heart out every time and they do as well," Mba said.
---
---
---
---