Aviano sweeps Ansbach in day marred by injury
by
Kent Harris
March 29, 2019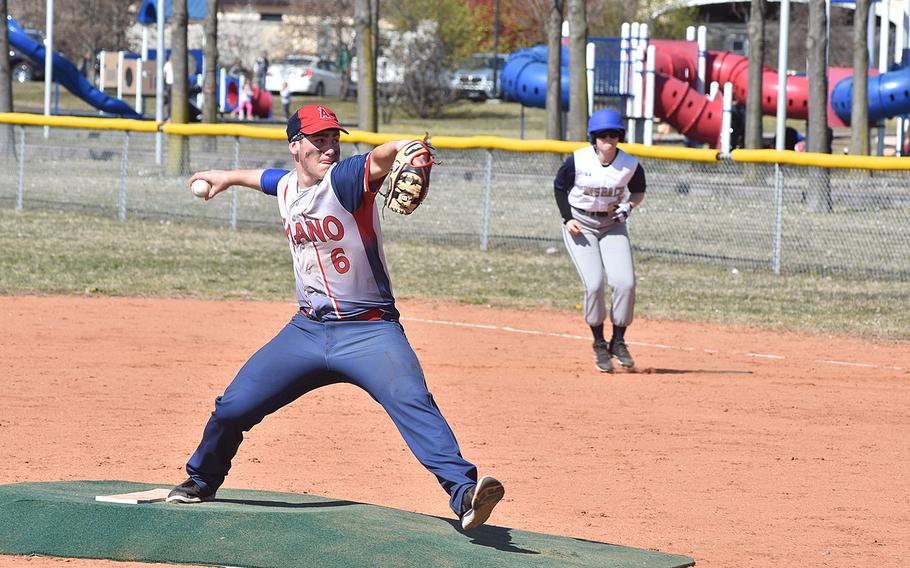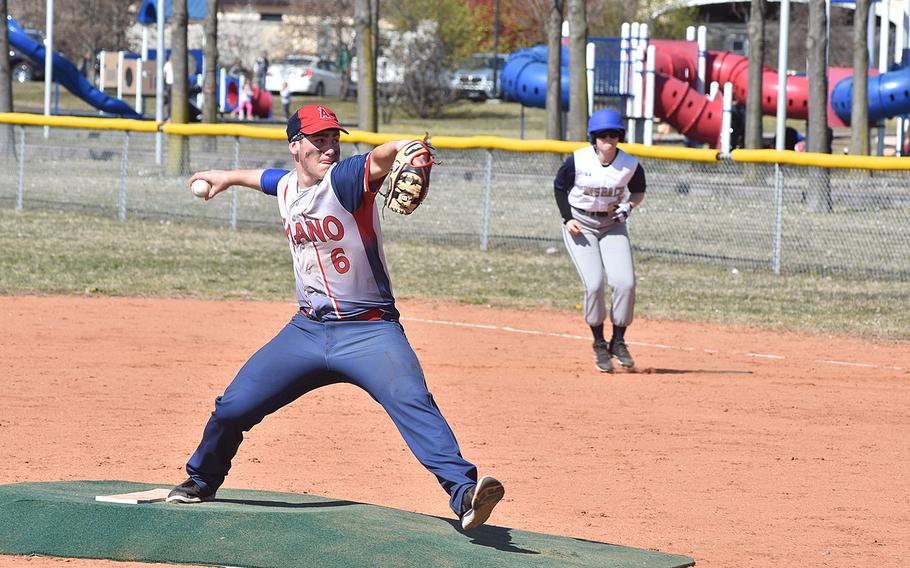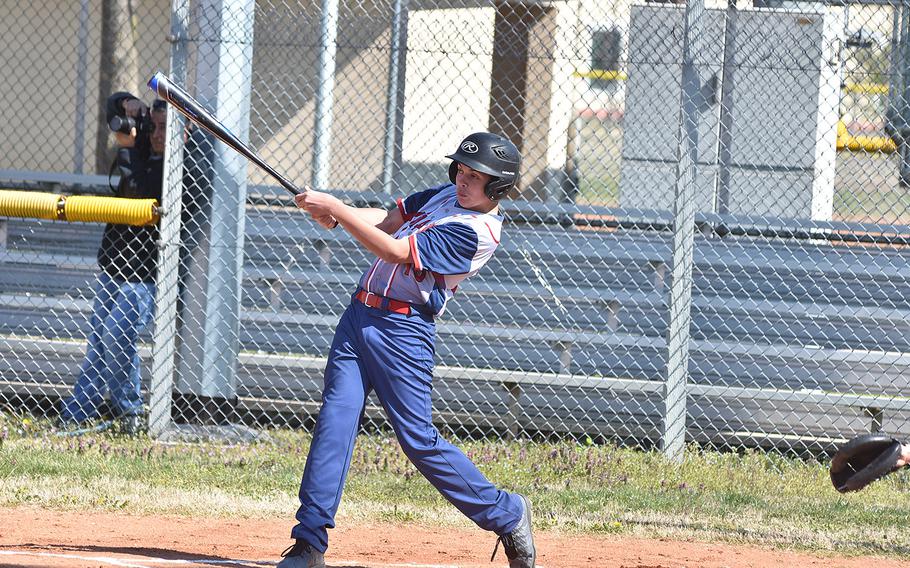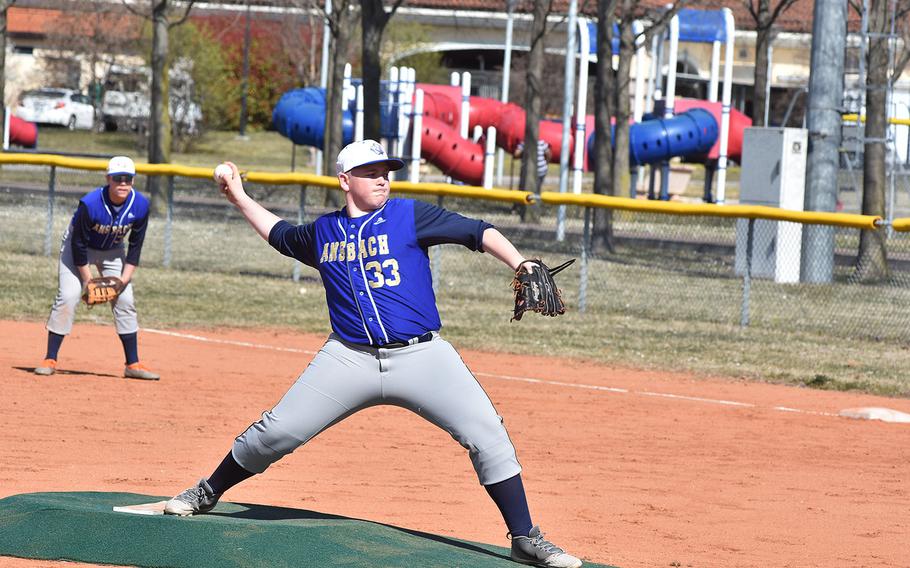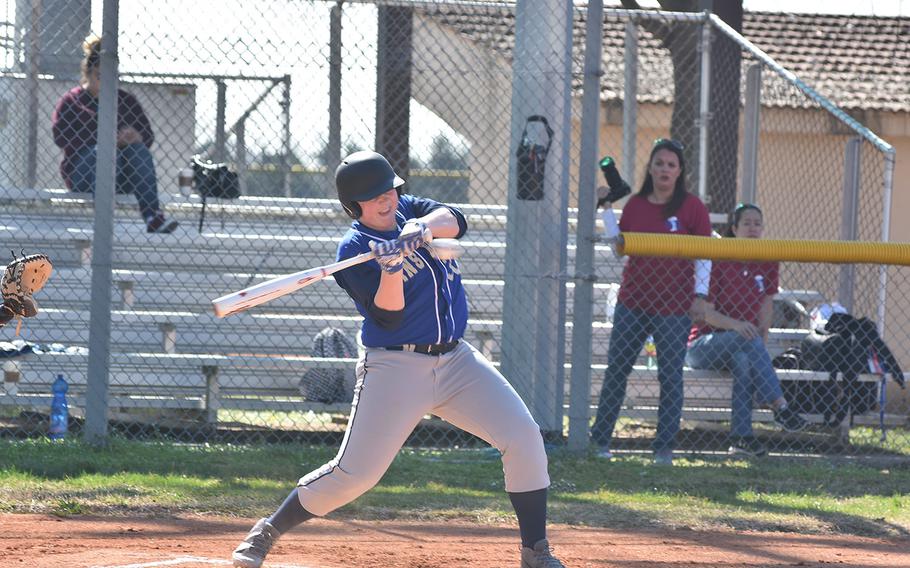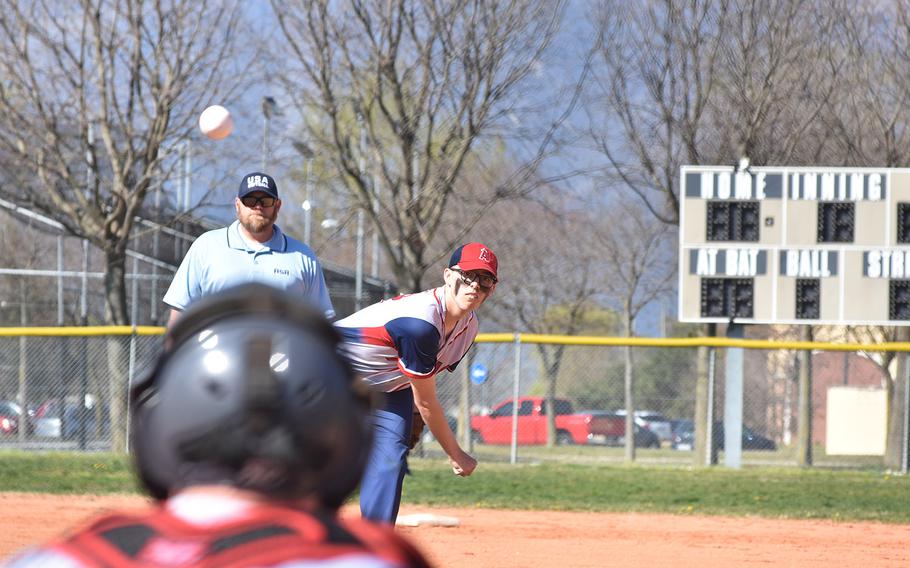 AVIANO AIR BASE, Italy – The second game of the baseball doubleheader between Aviano and Ansbach was going to end in the fourth inning Friday. It was just a question of how.
The Saints had already reached the mercy rule margin and were still batting when the umpires announced the game would end after the inning was complete due to the 90-minute time rule. A miracle comeback from Ansbach in the bottom of the inning was seemingly the only other way it could have ended.
Instead, freshman pitcher Denis Vrsevci was drilled with a line drive off the bat of Aviano's Nick Smith and fell to the ground. He quickly tried to regain his feet, but the umpires had already halted the action and coaches rapidly came to his aid and cared for him until base medical personnel arrived.
The game was then called and Vrsevci – who appeared to have suffered a broken nose – was eventually taken by ambulance to a nearby hospital after being treated by base personnel.
It was a jarring end to a day of baseball between two young teams whose coaches acknowledge have plenty of room for improvement by season's end. The Saints romped to a 16-1 mercy rule decision in the first game, then fell behind 7-2 in the second before rallying for 13 straight runs for a 20-7 triumph with a lot of help from a shaky Ansbach defense.
After an opening weekend featuring four games against Naples and Sigonella, Aviano coach Kevin Lehde said: "I knew where our weaknesses were going to be … and we still have many of the same weaknesses."
Friday's prime weakness was on defense and that was demonstrated in the second game as Aviano committed a pair of physical errors and a few more mental ones in helping the Cougars score seven times in the first two innings.
But Ansbach gave all of them back in the third as Aviano scored five runs in the following fashion: error, out, batter reached base after dropped third strike, infield single that traveled about a foot, walk, hit batter and another hit batter. Three more runs scored before the Cougars got out of the inning – only after an Aviano baserunner was called out for not returning to his base between pitches.
It got worse in the fourth as 10 straight Saint baserunners crossed the plate. The bases were still loaded when Smith drilled a pitch right back at the mound.
There was very little drama in the first game as Aviano pitcher Payne Varnum struck out seven batters in three innings, largely keeping the Saints defense out of the picture. Ayden Howell, Smith, Varnum and Stephen Scavo each had two of Aviano's 12 hits.
Ansbach didn't field a baseball team last year and isn't fielding softball this season, so essentially fields a co-ed team with two girls playing Friday. Several players hadn't played the sport before the season started, according to assistant coach Pablo Vales.
"We're developing," he said. "Each game we try to improve a little bit and we're getting there."
Aviano hosts Naples on Saturday, then has three weeks off before resuming play. Ansbach is back in action again April 20 against Stuttgart.