European track preview
Athletes take to track for last shot at individual, team glory
---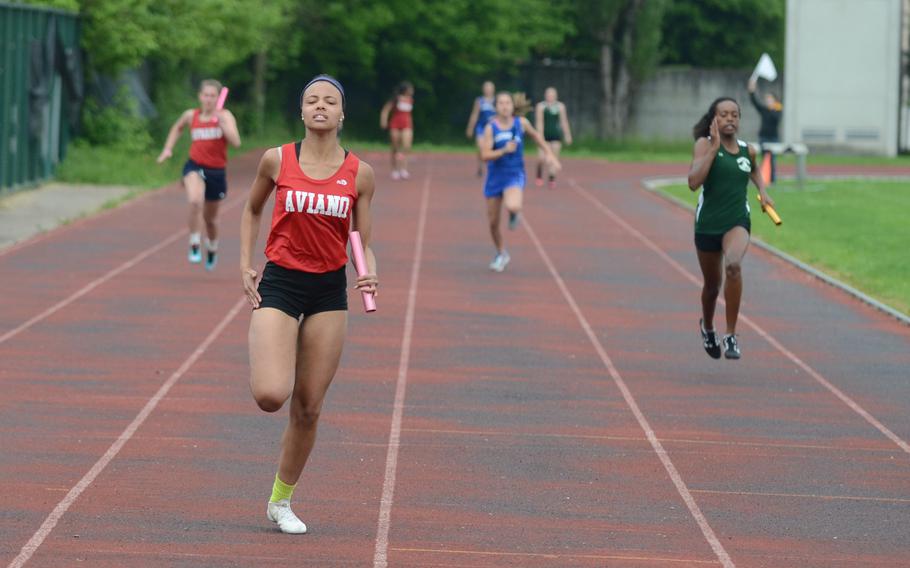 It takes one great performance to win an individual track and field championship.
It takes something far different to win a team championship.
Both of the above will be on the line Friday and Saturday at Kaiserslautern High School as DODDS-Europe holds its annual two-day championship tournament.
While elite specialists from schools of all sizes attempt to turn in that one history-making repetition of the event of their choice, larger programs will look to scatter a mix of winners and top finishers across the tournament's running, relay, jumping and strength events to accumulate a title-winning team point total.
BoysFour different schools have won the Division I boys team title over the last four years. That fact says a lot about the state of the race this spring.
A number of Division I powers have won meets this year, dependent on the particular combination of schools in a given regular season meet.
Patch took top honors in the regular season event that was most representative of the European championships, a May 9 super-meet featuring fellow large schools Ramstein, Kaiserslautern, Vilseck and Wiesbaden.Somehow, the Panthers claimed that win despite just one individual first-place finisher in long-jumper Cyrus Ford, though they also won the 4x400 and 4x800 relay races.
But that formula didn't hold up a week later. The last meet of the regular season saw both Ramstein and Kaiserslautern leap over Patch in the team points race.
Oddly enough, Patch racked up individual wins in that May 16 meet. But Ramstein, the defending Division I champions, boasted superior depth, with only hurdler Chandler Henderson and 3,200-meter runner John Casey taking solo titles.
Depending on the particular matchups, either Ramstein, Patch or another Division I contender could claim the team title. Wiesbaden, Lakenheath, SHAPE, Vilseck and Naples have also won meets this season.
Naples leaves the Division II team title vacant, leaving 2012 and 2013 champion Bitburg in line to reclaim its lost throne behind a solid crew of runners. The Division III crown is up for grabs as 2014 co-champions Schweinfurt and Menwith Hill are closed and closing, respectively.
GirlsRamstein is the first team to simultaneously defend boys and girls team track titles in a half-decade. If the boys do their part, the girls have a good shot at holding up their half of that deal.
The Royals took decisive wins in six of their seven meets this regular season, faltering only once with a runner-up finish to Patch on Aprll 25. Ramstein has the depth of contenders and enough possible event winners to piece together the needed points for a title. That doesn't mean it will happen, however.
Patch won back-to-back titles before Ramstein interrupted its streak last spring, and the Panthers boast similar depth to the Royals. A points race between the two might rather appropriately come down to the relays - in the huge May 9 meet, Ramstein won the 4x100 and 4x800 while Patch won the 4x400 and 1,600 sprint medley.
The division is far from a two-team race, however. Kaiserslautern, the 2011 champion, has finished second in each of its meets this season, not to mention last year's European tournament. But the Raiders could find themselves finally in first if the numbers fall in their favor.
Wiesbaden has also had its moments this spring, including wins in two of its last three meets.
Ansbach is in good shape for a third straight Division II title, particularly with Naples, SHAPE and Vicenza realigned to Division I. Hurdlers Clarissa Paniagua and Hannah Shedden will look to continue the school's tradition of elite hurdlers.
Aviano is a major threat to Ansbach's hopes. The Saints have been tough against Italian competition all spring and finished within 10 points of Ansbach when the two shared a track in April.
Shuttered Bamberg vacated the Division III title upon its closure, leaving 2013 champion Alconbury and fellow new Division III arrival Baumholder the favorites to assume the role.
Twitter: @broomestripes
---
---
---
---