Athletes show off swim skills in pool, social skills outside it
by
Immanuel Johnson
February 29, 2020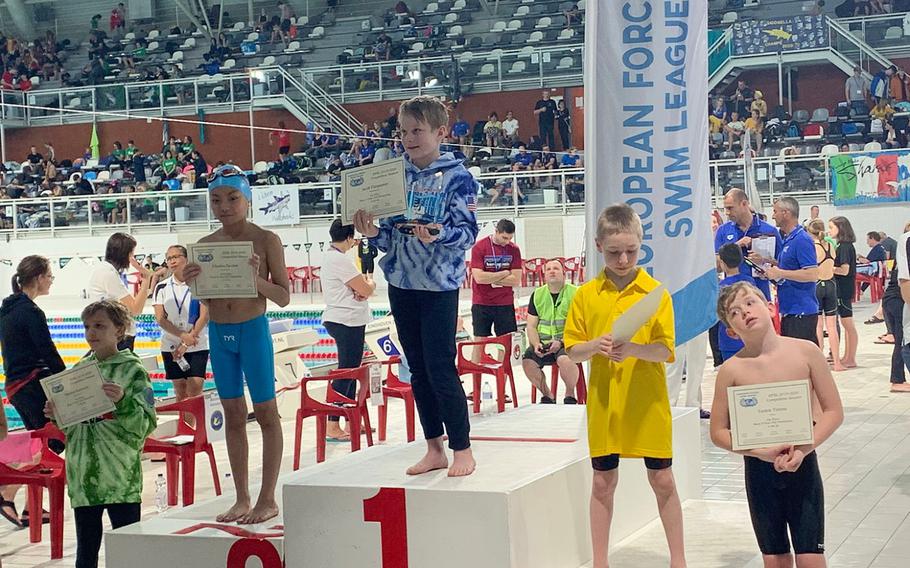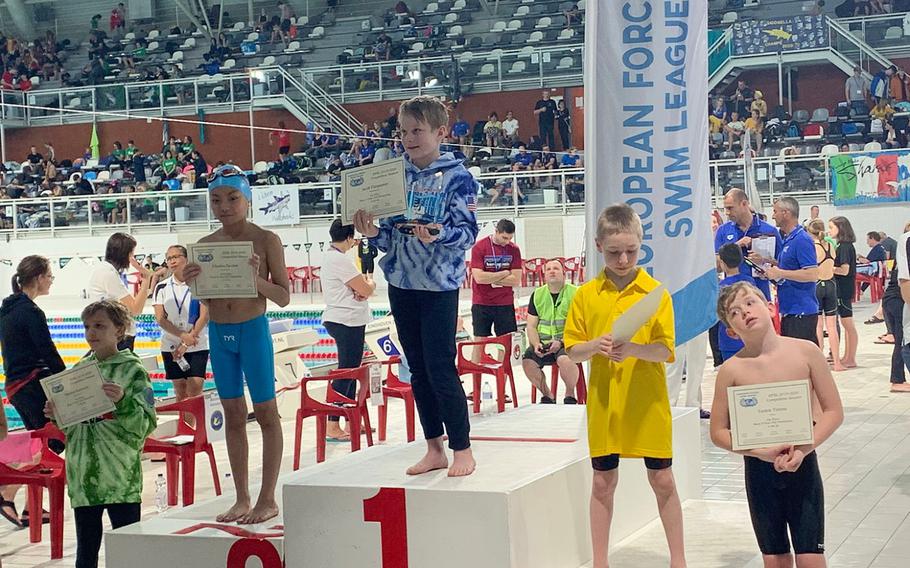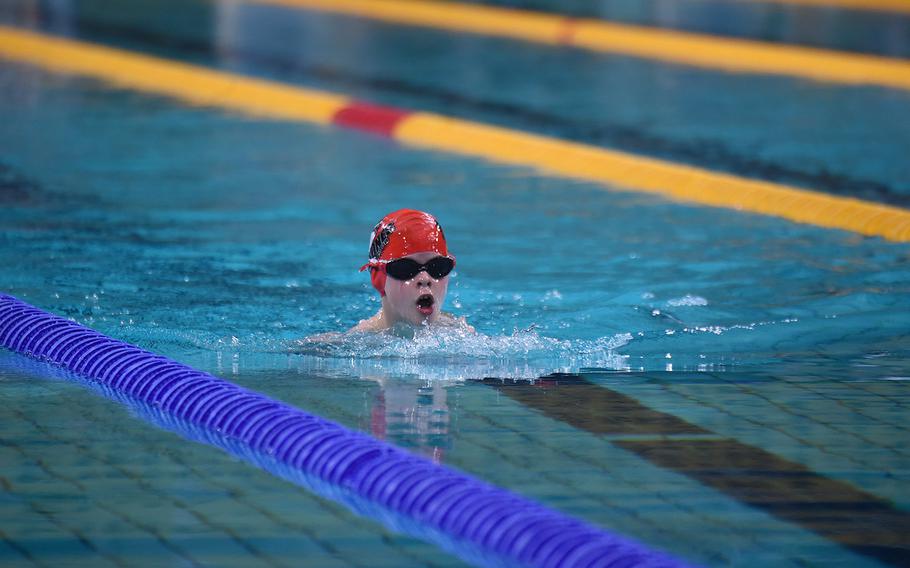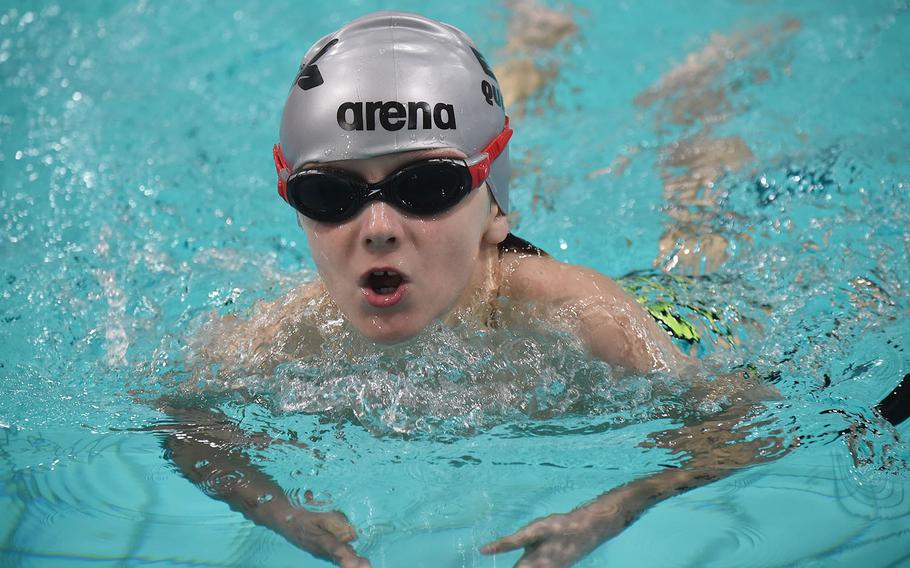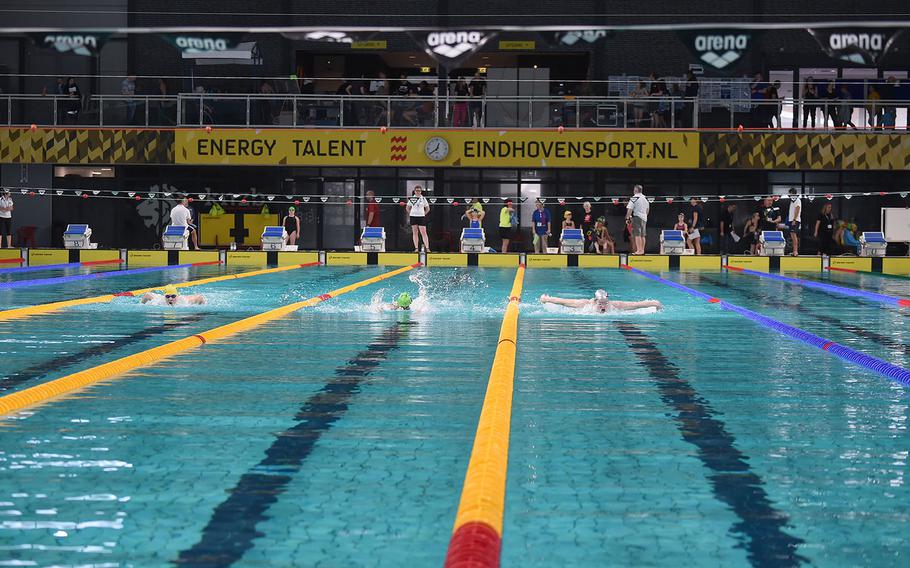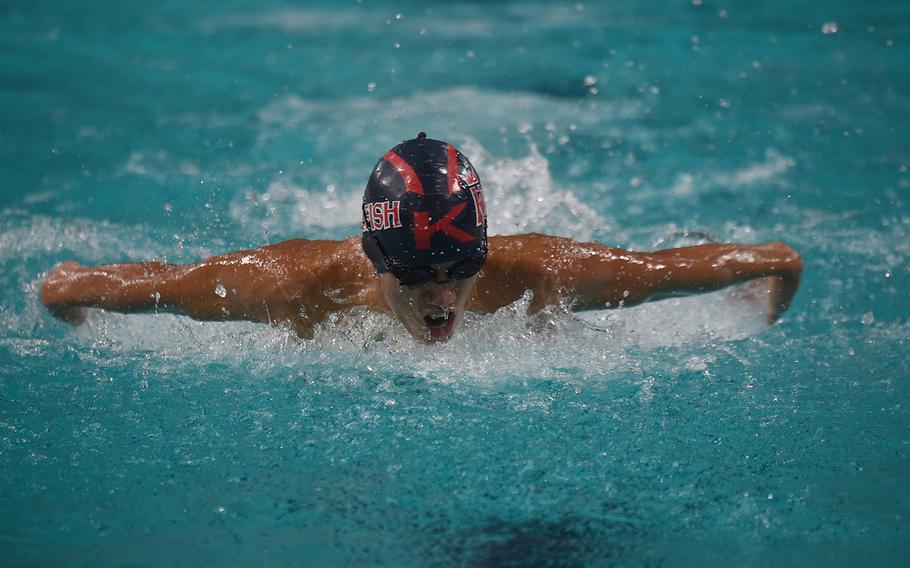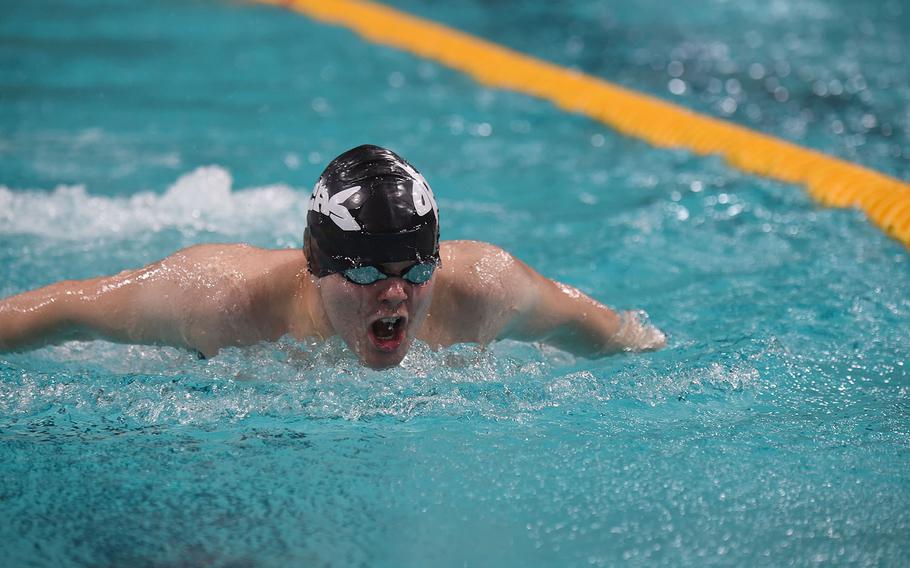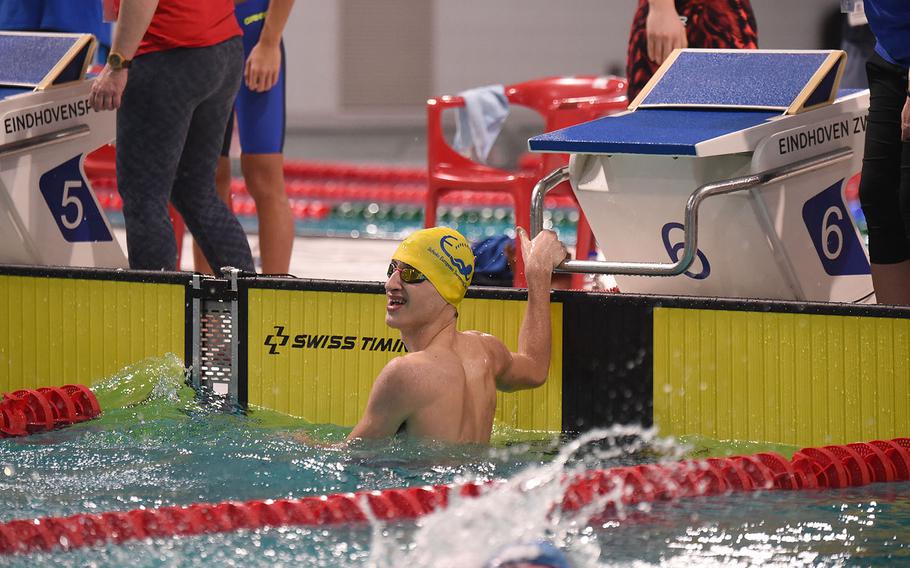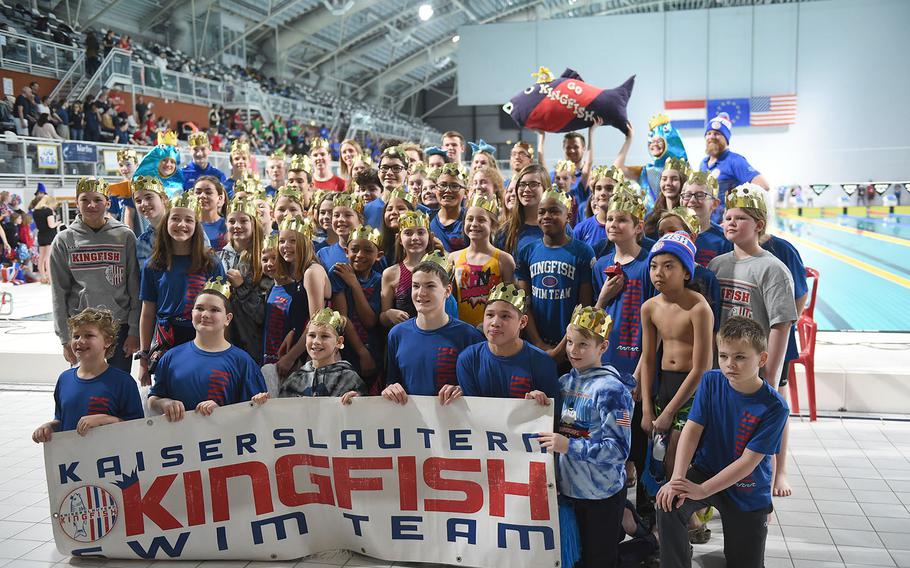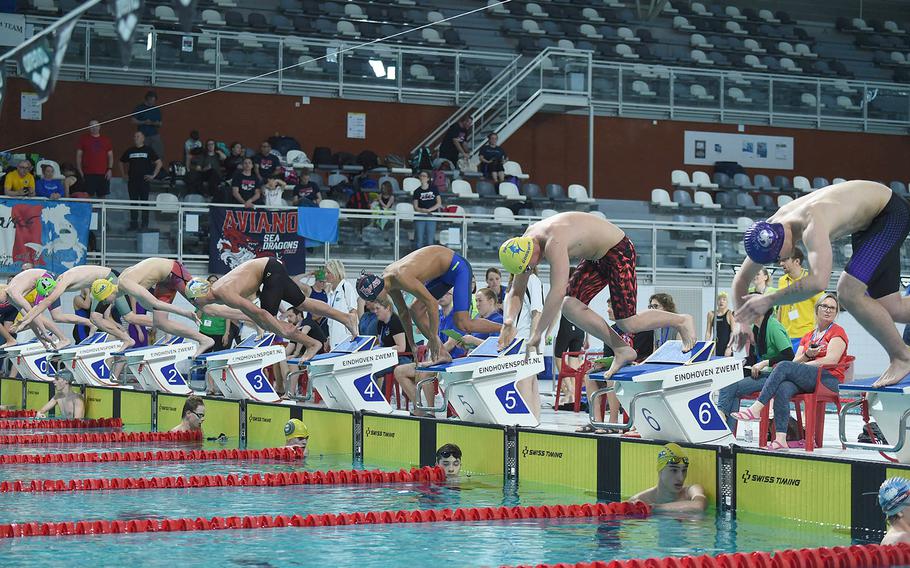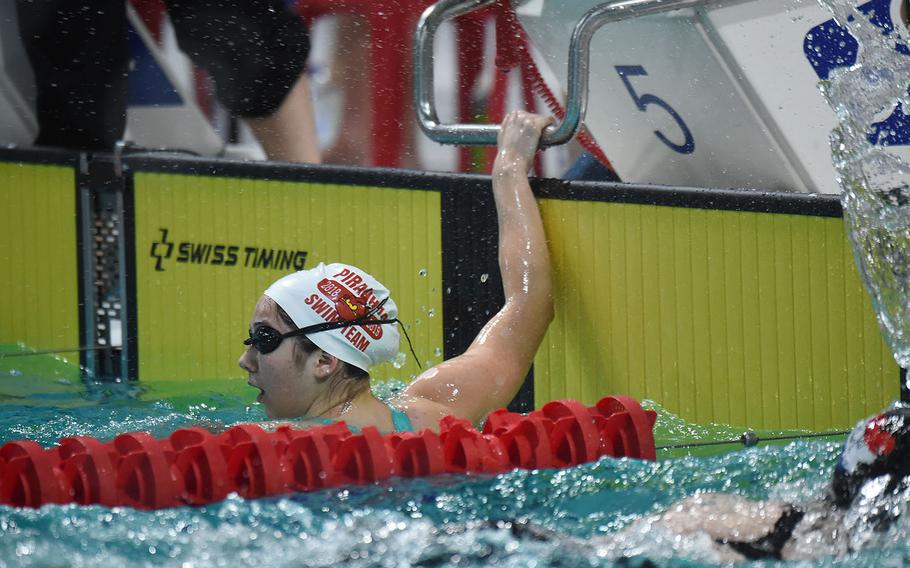 EINDHOVEN, Netherlands ― It's not that hard to make a literal splash at one of the largest sporting events in Europe for American youth.
Of course, every year at the European Forces Swim League, there are those who figurately make a splash as well. That was certainly true Saturday in the first day of the two-day event featuring about 500 swimmers ranging from 6 years old to 19.
A handful of swimmers always seemed to be not only racing all day but doing well in those events.
The standings at the end of the first day saw the Kaiserslautern Kingfish with 1,007 points, the Stuttgart Piranhas in second with 426 and the NATO Marlins International with 366.5.
Leading the Kingfish in points is 17-year-old Abigail Furqueron with 80 points. She took first place in all her events (100-meter freestyle, 100 butterfly, 100 breaststroke, 400 freestyle, mixed 15-19 200 medley relay). Right behind her was 16-year-old Tyler Peng with 77 points and triumphs in all his events (100 butterfly, 100 breaststroke, 400 freestyle, mixed 15-19 200 medley relay) except the 15-16 100-meter freestyle, where he placed second.
Leading the Piranhas in points were 17-year-old Kyle Stevenson with 67 points, 16-year-old Mia McBride with 54 and 8-year-old Madeline Crabtree with 52 (8-and-under 50 butterfly first, 50 breaststroke second, 200 freestyle fourth and mixed 10-and-under 200 medley relay, 12th).
"This is one of two opportunities where high schoolers get to compete against their peers from across the league," Kingfish President Jim Bradford said. "This is our [European] version of a state championship."
This year's version is a bit more high-tech outside the pool as well: a Snapchat filter has been set up specifically for the EFSL championships.
"I thought it was a great fun thing to do, just making sure we get the word out to the kids– they are always taking selfies," Diana Stuart, the Kingfish vice president, said.
Several swimmers said they were taking advantage of the chance to show off on social media with their friends back in their respective military communities and elsewhere.
One of them was Ben Heath, a seventh-grader who swims with the Kingfish.
"I've been here [Eindhoven] a lot, I do get to see a lot of my friends from my old swim team," Heath said. He was previously stationed in Vicenza, Italy. Teams from Italy were questionable to make the trip earlier in the week due to coronavirus outbreaks in that country, but Stuart said they made the trip.
The championships wrap up Sunday afternoon.
johnson.immanuel@stripes.com Twitter: Manny_Stripes