DODEA-Europe track - Day 1
Athletes give it their all in hopes of leaving a mark
by
Jennifer H. Svan
May 24, 2019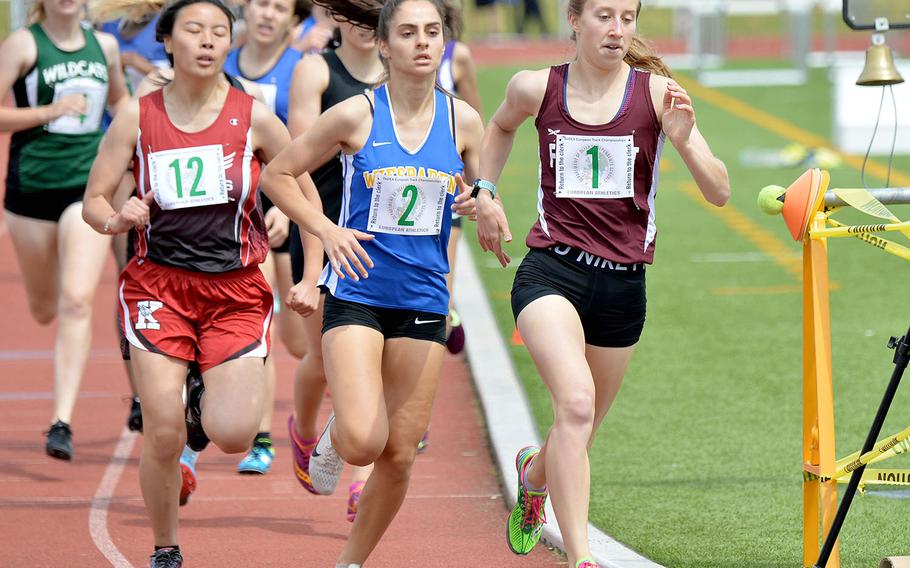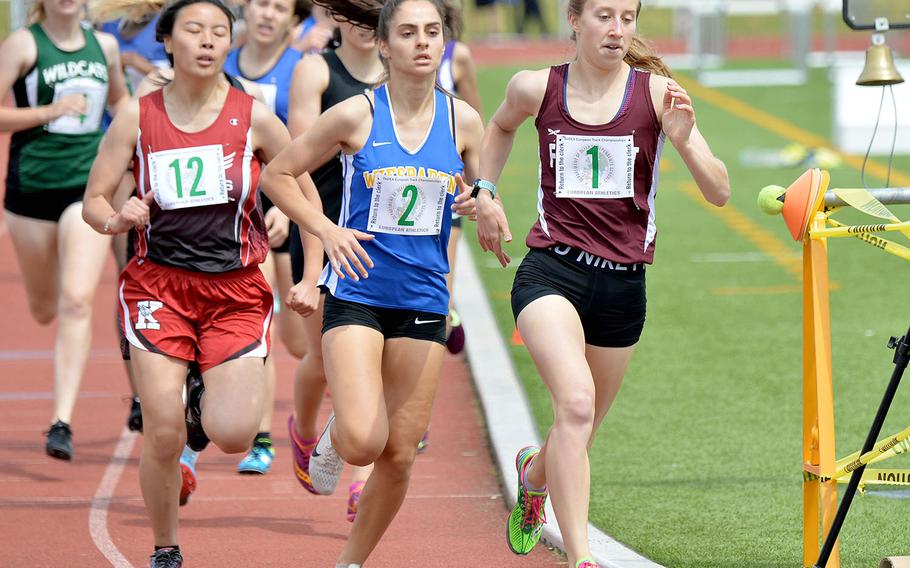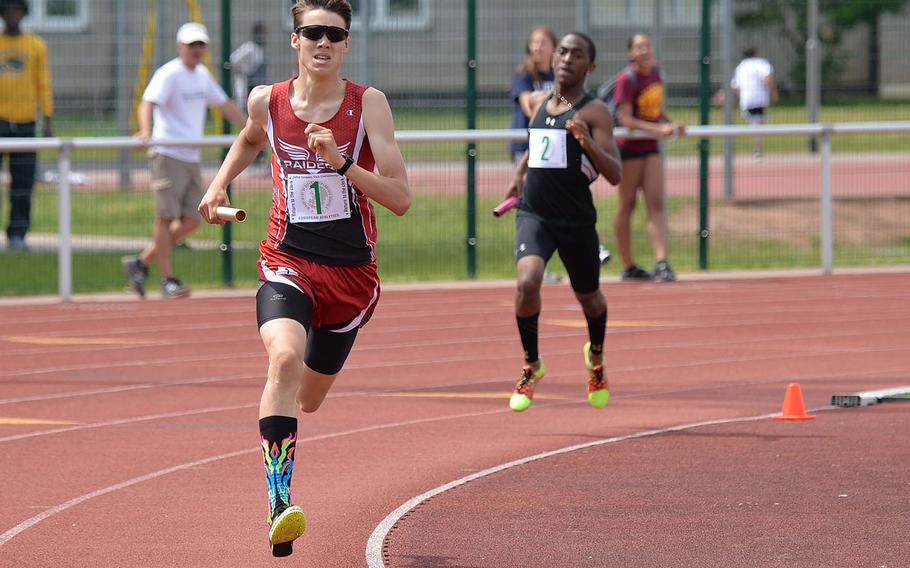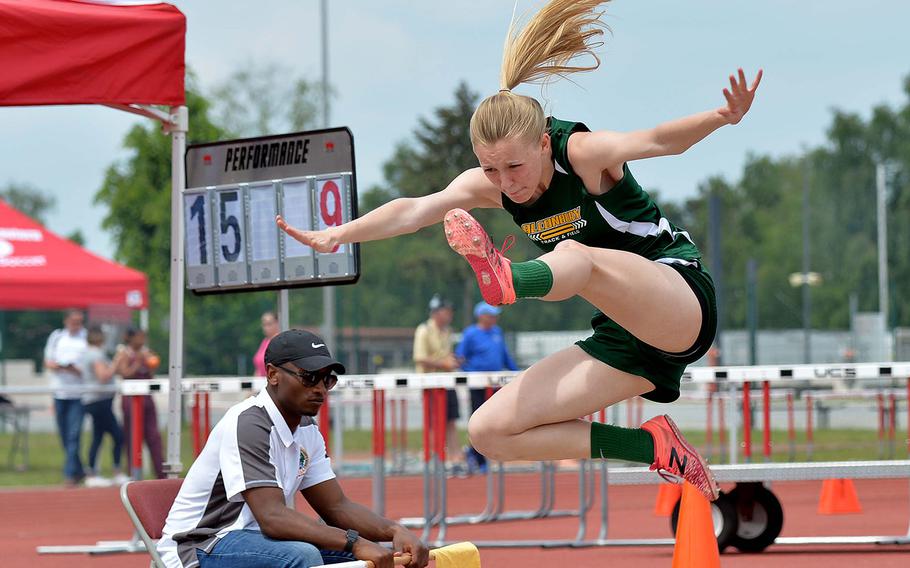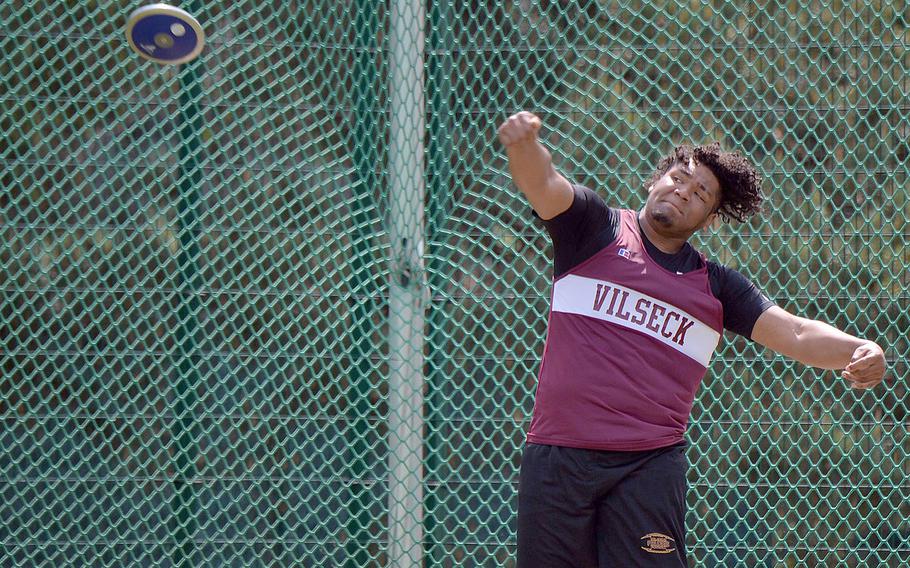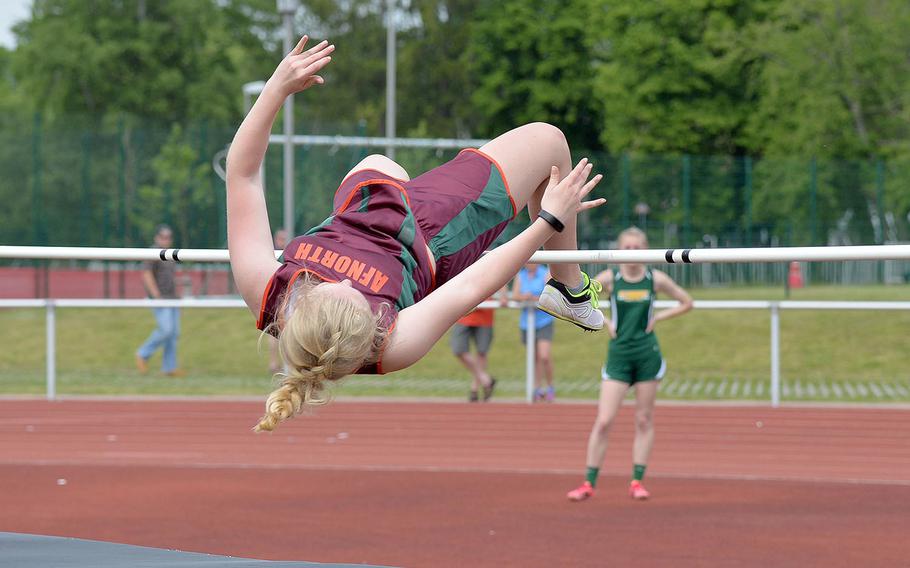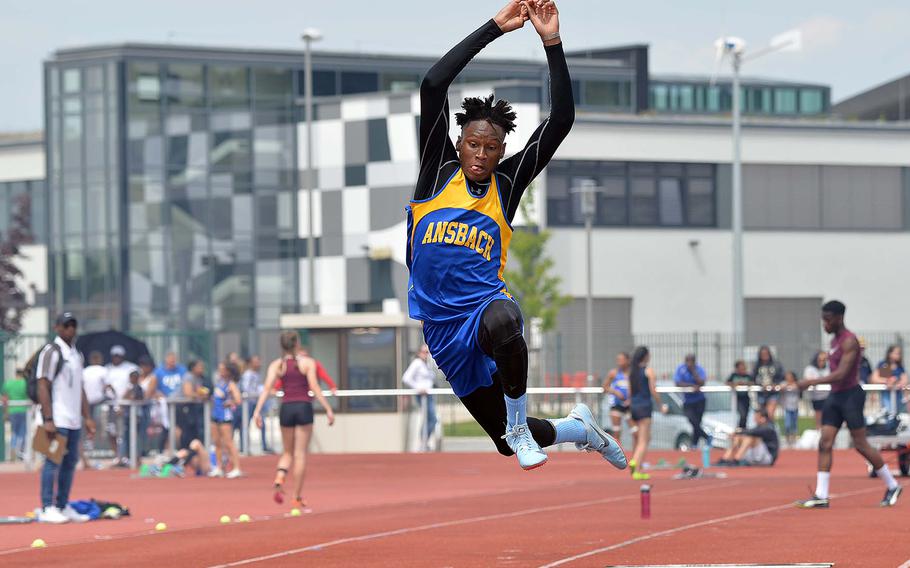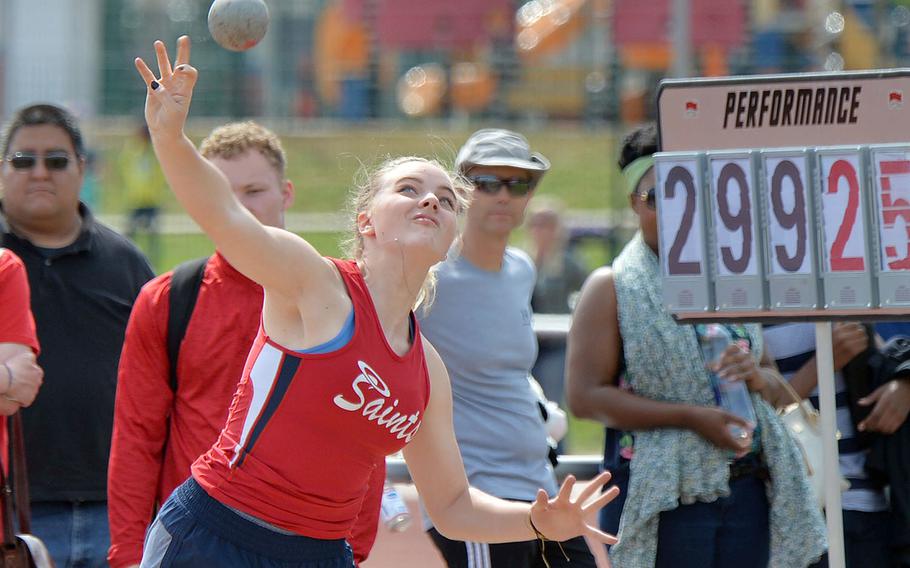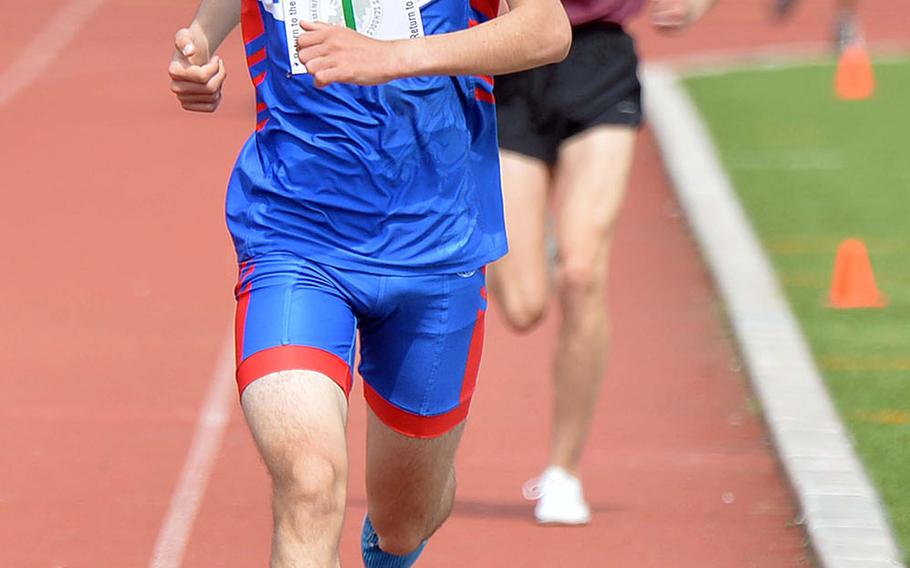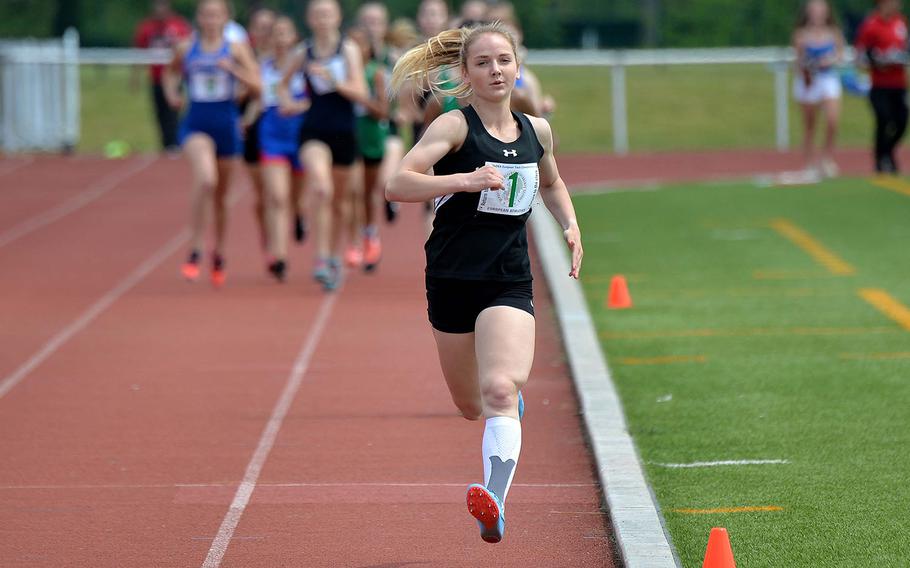 KAISERSLAUTERN, Germany – The conditions at the Kaiserslautern High School track Friday were ripe for fast times.
With no wind under mostly overcast skies, records were set at the 2019 DODEA-Europe Track and Field Championships in two distance events. Both Stuttgart sophomore McKinley Fielding and Ramstein senior Dashiell Rogers erased marks achieved by former athletes at their respective schools.
Running all alone in the 1,600 meters, far from the rest of the pack, Fielding gutted out a finish in 5 minutes, 8.49 seconds, breaking the old record of 5:10.26 from 2015 by former Panther star Julia Lockridge. Rogers ran eight laps in 9:49.21 to set a new mark in the 3,200. The old record of 9:51.34 was set only one year ago by Rogers' former teammate Jose Serrano.
For both runners, it came down to a race against the clock. Rogers, however, said he didn't look at the clock – even with the record on the line.
"I don't like to run with a watch because it stresses me out too much," he said. "I just like to focus on running my race.
"The weather was good. I just felt good today," he said.
Fielding said everyone cheering helped her, as did teammate Tatiana Smith, a senior who finished fifth.
"I'm really happy I got the record this year," she said.
Friday's lineup at Europeans featured finals in four running events and five field events. A slew of qualifying heats set the stage for a busy day of finals in the sprints and most relays on Saturday. Field events begin at 10 a.m.
The Kaiserslautern 3,200 relay team started off the day with its first title in the event since 2013. Seniors Esteban Saldana and Orlando Rojas, junior Yadiel Rojas and sophomore Griffen Parsells ran an 8:18.58 to beat runner-up Stuttgart by about four seconds.
"It felt amazing," Orlando Rojas said. "We started training (for this) in December. It felt great." The same quartet finished third at Europeans last year and set winning the relay as the goal for this year.
Kaiserslautern was entered with the fastest time in the relay – but seedings were not always a predictor of outcome Friday. Several athletes eclipsed their qualifying marks, pre-meet seedings or, in some cases, personal expectations, tossing a perfect throw or landing a career-best jump when it counted.
AFNORTH freshman Victoria Morris won gold in the high jump when she cleared 5 feet – and surprised no one more than herself.
"My personal best is 4-9, so I had no idea I would be able to jump five feet, and I'm like the shortest girl out there," she said.
Alconbury senior Marissa Kastler leapt 16 feet,11.75 inches – about 9 inches farther than she ever has - to win the long jump. "When I jumped, I crouched down and was like, 'Oh, my gosh, that felt good,'" she said.
"It's pretty amazing," she said, of her first European title. "I'm shaking."
Other newcomers to the winner's circle included Vilseck junior Jonas Matthews in the discus and Ansbach senior Matayo Kabuye in the triple jump.
Matthews, fourth in the discus at Europeans a year ago, said he knew it was a good toss as soon as it left his hands.
"I felt it," he said. "It came out of my hands perfectly."
Aviano freshman Elizebeth Woodruff out-heaved a field stacked with upperclassmen in the shot put. Her throw of 34 feet, 10 inches, was just over 7 inches farther than runner-up Caprinia Goode, a junior from Ramstein.
Frankfurt junior Gracie Wetli won her first DODEA-Europe title in the 800. She ran 2:23.70 to hold off Wiesbaden freshman Myriam Friel by just over one second. Fielding was third in 2:27.57.
"It was great to be able to run here with everybody," Wetli said, adding that the competition in DODEA is stiffer than it is at international school meets.
svan.jennifer@stripes.com Twitter: @stripesktown