AOSR, Marymount continue to handle the competition
by
Kent Harris
April 21, 2018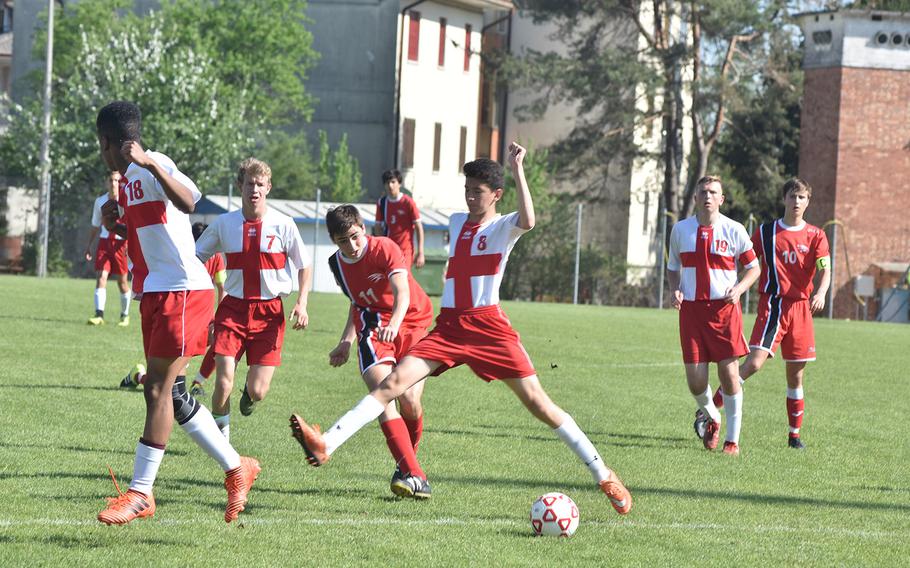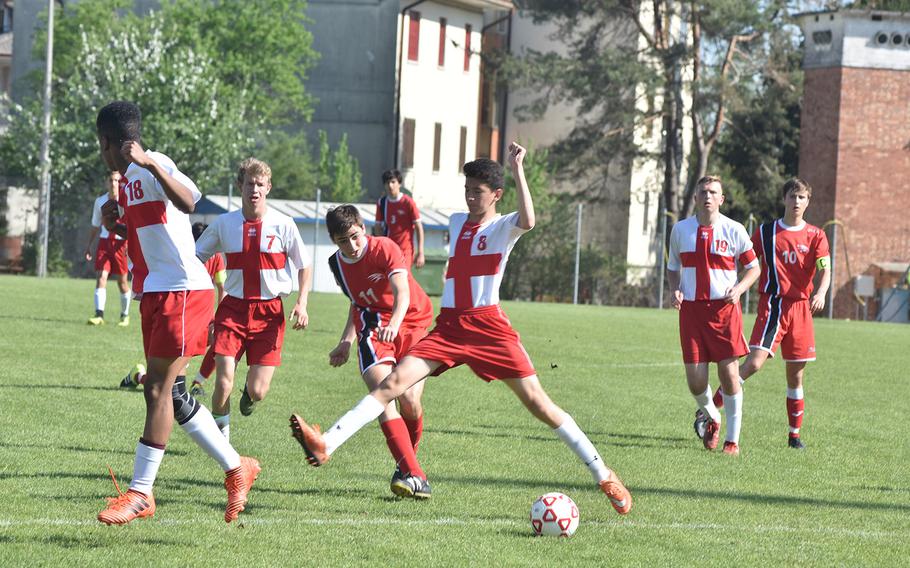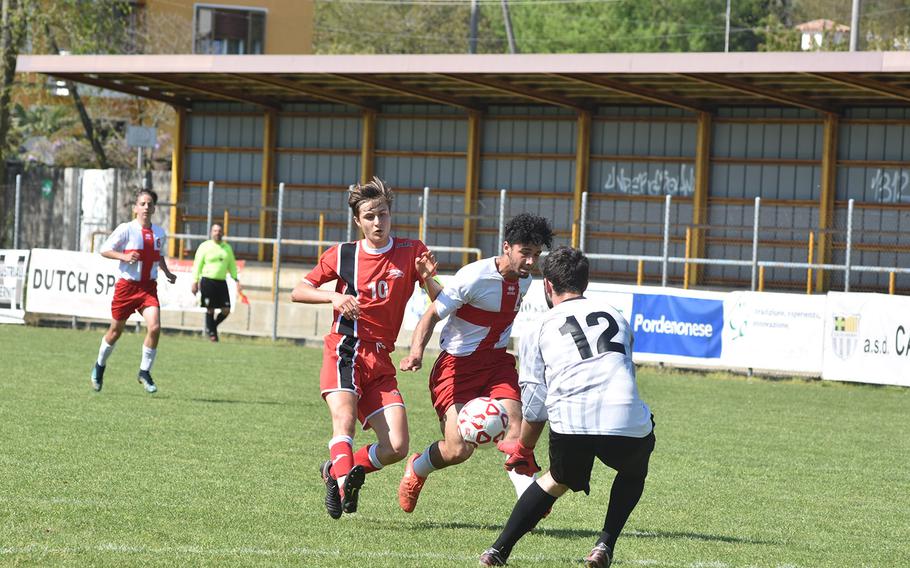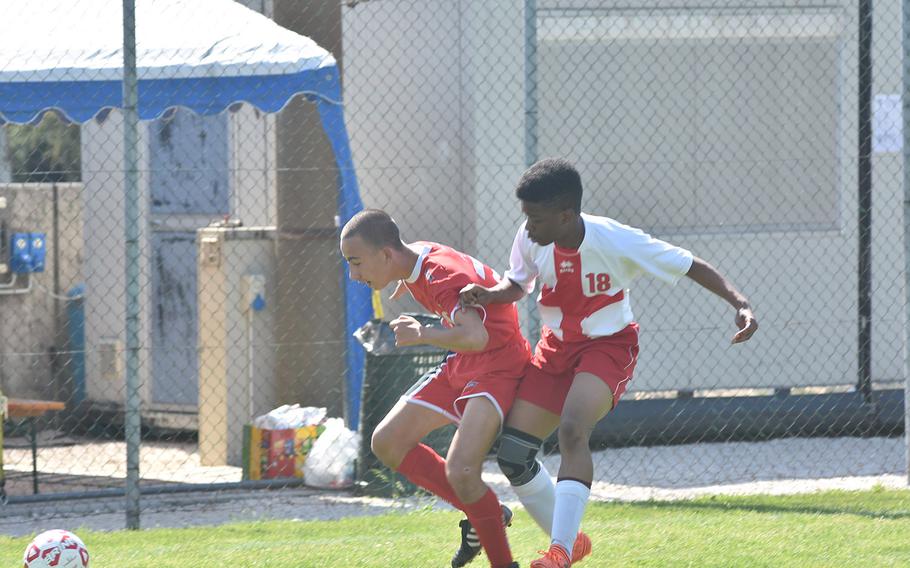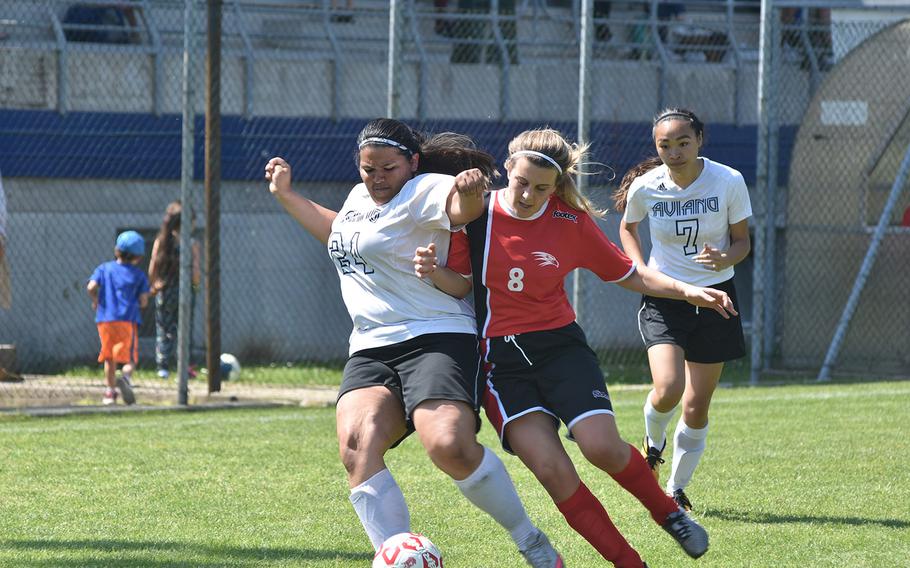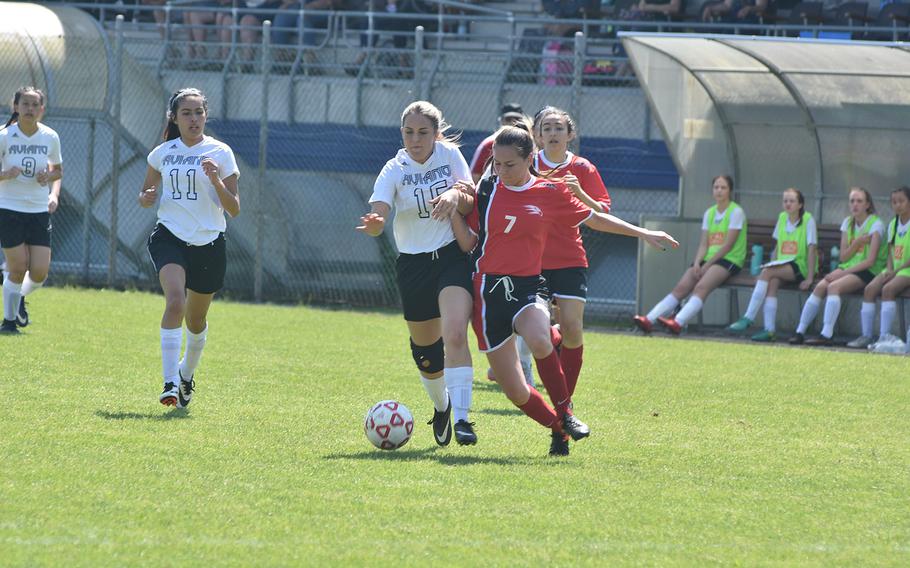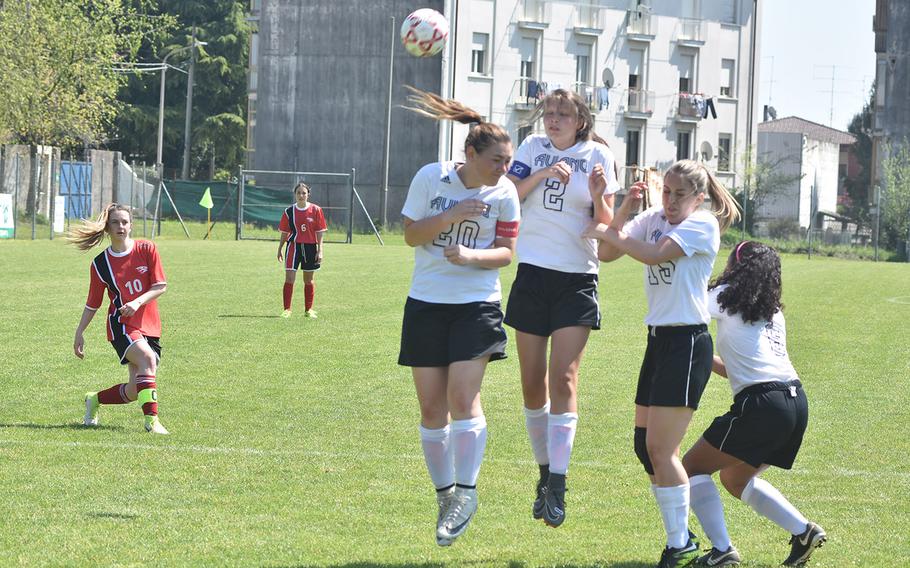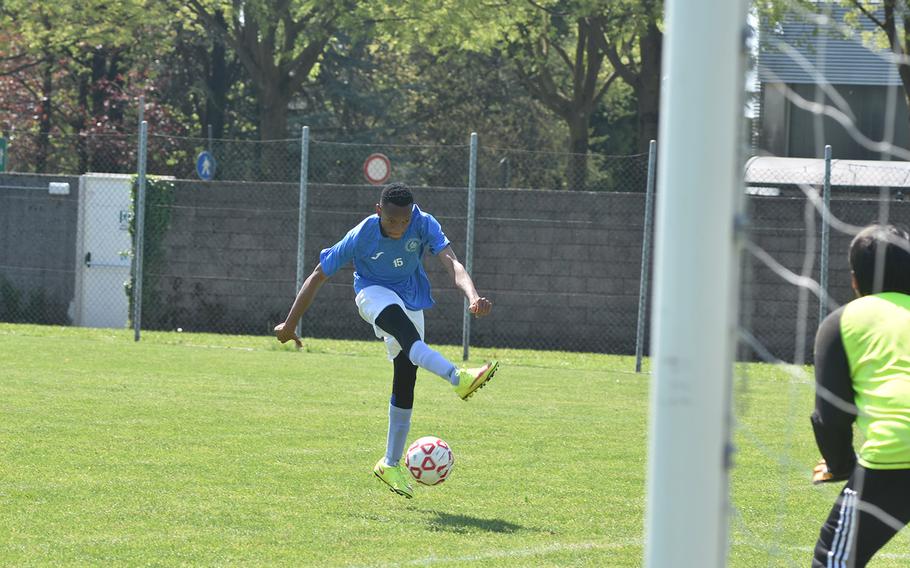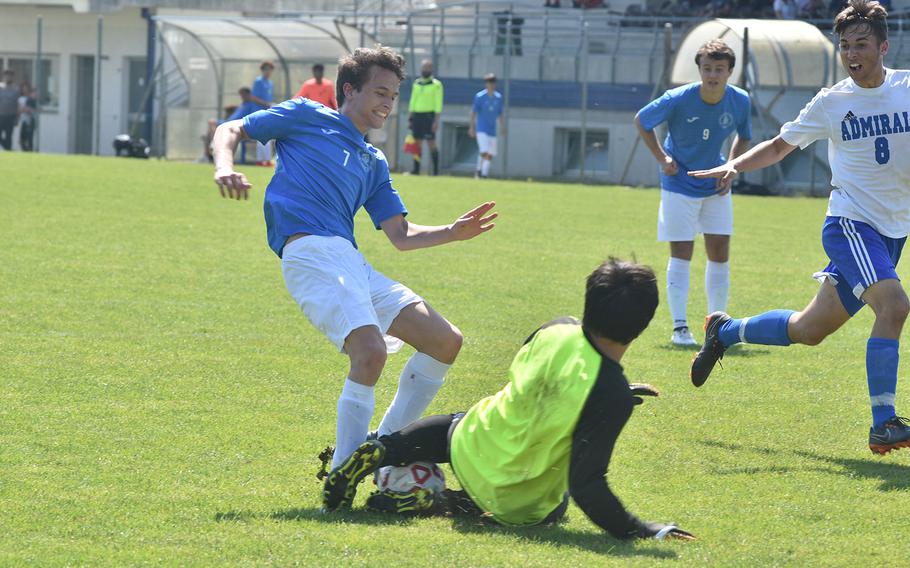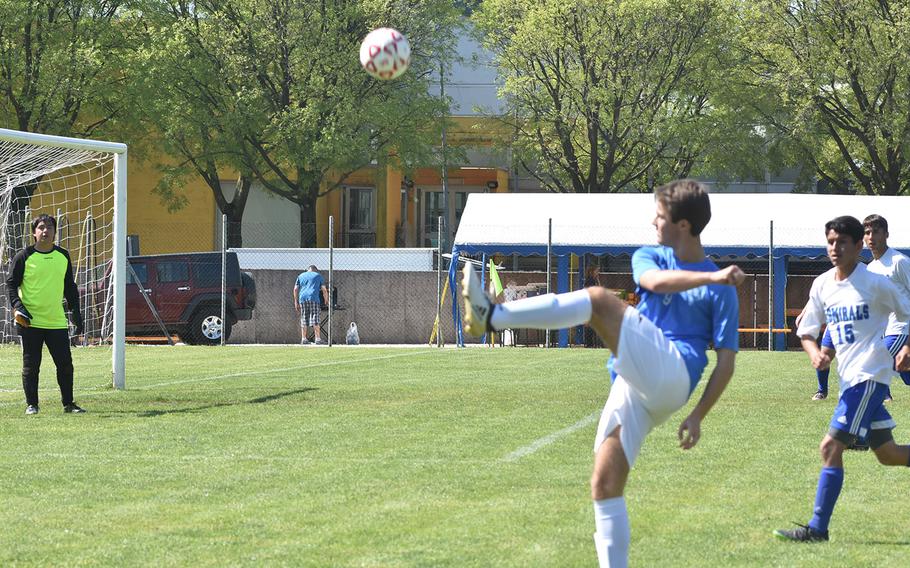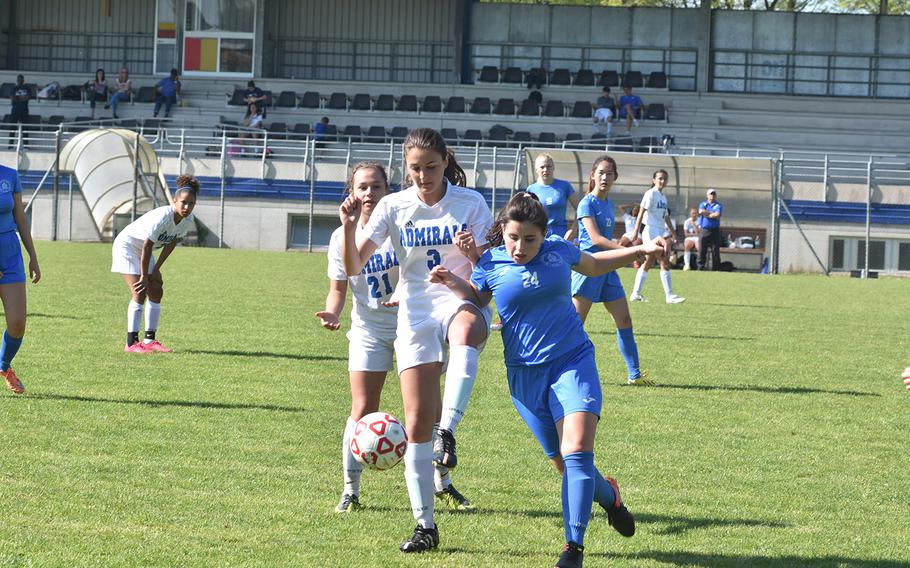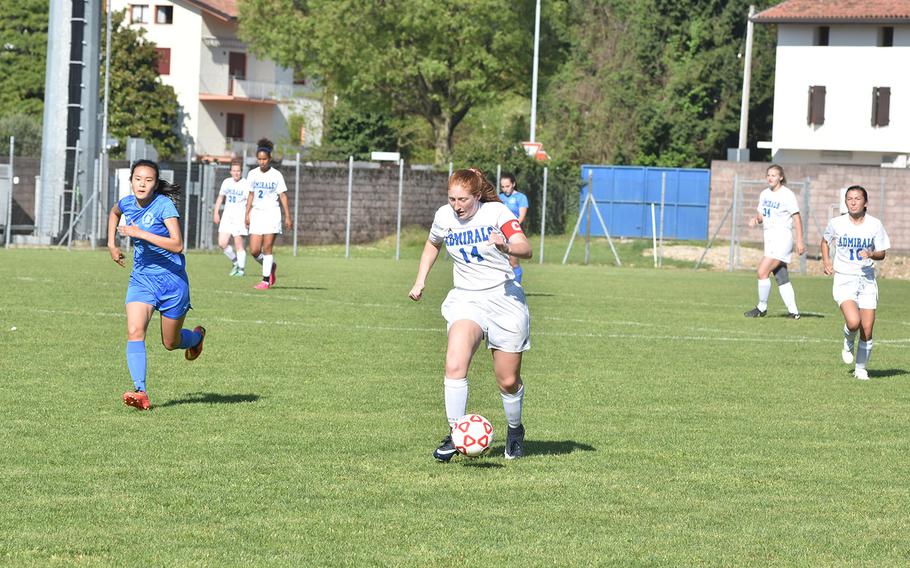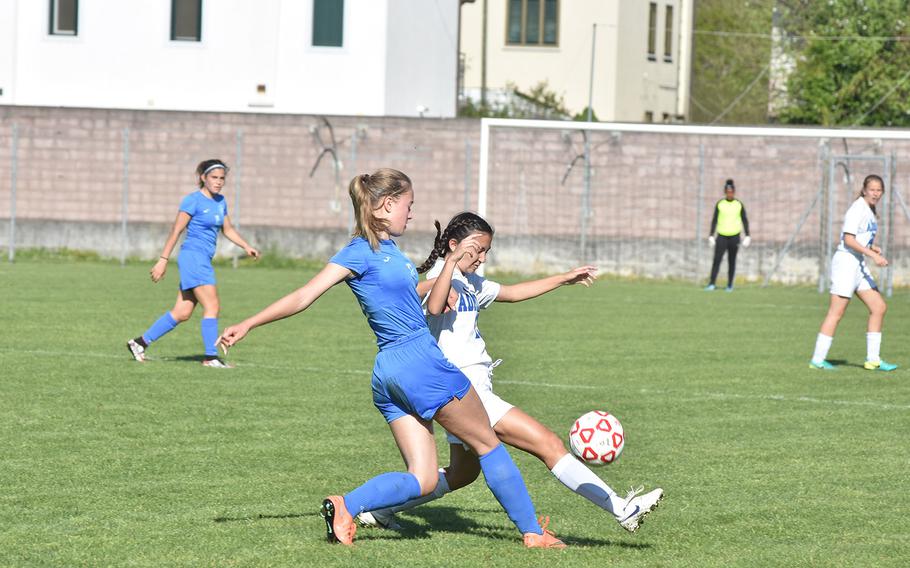 AVIANO, Italy – The DODEA European soccer championships will be held in Kaiserslautern, Germany in about a month. But it looks increasingly like the road to the boys Division II title will wind through Rome once again.
American Overseas School of Rome and Marymount showed they're the top D-II schools south of the Alps on Friday and Saturday at the expense of the host Saints and visiting Rota.
The two Rome-based schools have spent most of the past decade facing off in the title game and it would take an upset to keep them from doing so again this season.
The Royals voluntarily played nine on nine against the injury-depleted Admirals on Saturday and cruised to a 7-0 victory behind the superlative goal-scoring of junior Mario Freilino. He scored his team's first four tallies before halftime and also added an assist.
That came a day after the Falcons topped Rota 7-1. It wasn't so easy for AOSR on Saturday, though, thanks to a gutsy effort by the home team.
AOSR 2, Aviano 1: It figured to be a busy day for Aviano standout goalie Giacomo Fabbro and he did get a decent workout.
But the Saints defenders helped keep the ball from getting that far for much of the game and Aviano looked like it might get a tie until about 15 minutes left, when Fabbro aggressively chased down a charging Alessandro Ianni along the sidelines, stopping his shot. But it deflected right to Luca Baldestine, who drove it home to break the tie.
The Falcons had opened the scoring when Fabbro challenged a ball away from the net and Ianni took advantage and the Aviano defense failed to clear the ball before it crossed the goal line. But the Saints struck back after halftime as Luke Farrington lofted a shot over the goalkeeper and into the back of the net from a tough angle left of the goal.
AOSR coach Valerio Aureli said his team wasn't taking Aviano lightly or looking forward – though the team's ultimate goal is a European championship.
"Of course," he said. "But we're taking it one game at a time. Aviano always plays us tough."
Aviano coach Ian Birch wouldn't exactly admit he was surprised by the result, but said he believed it will give his team some more confidence it can play with the top teams.
"I feel the boys stepped up against a very tough team with a very good resume," he said.
Marymount 7, Rota 0: Freilino put on a clinic, scoring again and again to set the tone.
Highlights included one instance where he quickly pivoted 180 degrees before rocketing a shot into the net from straight on and another when he essentially launched a bicycle-style kick without actually leaving the ground.
AOSR topped the Royals 5-3 on March 24. But that won't mean much if/when the two squads meet again in Germany.
GirlsRota 2, Marymount 1: The road to the girls title might swing more to the west after an impressive three-game performance by Rota, though a few Germany-based teams are going to have something to say to that as well.
The Admirals dispatched AOSR 4-1 on Friday, then took care of Aviano 6-0. Marymount, the early leader atop the D-II standings, made a closer game of it on Saturday, but fell behind 2-0 to a pair of Hailey Gruetter scores early and never quite recovered.
Still, the program's best start in many years has first-year coach Matt Lunn encouraged. "I think we were a little shell-shocked," he said. "But instead of giving up that third, fourth or fifth goal, we battled and made a game out of it and that's something we might not have done the last few years."
Rota coach Clarice Brown wouldn't commit to being a front-runner.
"We just came here to play," she said. But she then added with a smile: "We hope to be in there at the end."
AOSR 3, Aviano 1: The Falcon girls also look stronger than they have in a while and they had far too much balance for the Saints, who rely on standout Hailey Pulliam to carry the offense.
"We could probably do that with someone like Denise (Rapp)," coach Gaia Ciccarelli said. "But I've been telling them to share the ball, pass it around. We want to give everyone a chance to come up and try to score."
Rapp scored twice and might have had another one, but teammate Zoe Mobili made sure another shot that eluded the Aviano goalkeeper made it in by tapping it across just before it would have likely rolled in otherwise.
Aviano coach Robert Tiffany said his team will continue to experiment with lineup changes and formations to try to get Pulliam some help on offense. The senior scored Aviano lone's goal, but only after AOSR led 3-0.